New Products

New Products notices are compiled by the Antic staff from information provided by the products' manufacturers. Antic welcomes such submissions, but assumes no responsibility for the accuracy of these notices or the performance of the products listed.


IC1050 CONTROLLER
(disk enhancement)
Innovative Concepts
31172 Shawn Drive
Warren, MI 48093
(313) 293-0730
$21.95, 1050 disk drive
CIRCLE 219 ON READER SERVICE CARD
Write to the back side of a 5 1/4 inch floppy without having to notch it. The IC1050 Controller works on all 1050s, including those with upgrades. The three-position switch on the IC1050 Controller has the following modes-Standard, Protect Off (will write to any disk) and Protect On (will not write at all). The Controller has a two-color LED for monitoring its write-protect status, and no soldering is required.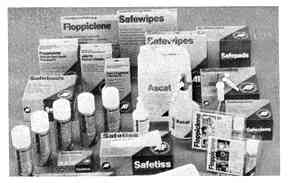 FLOPPICLENE
(disk drive cleaner)
Tech-Sa-Port
P.O. Box 5295
Pittsburgh, PA 15206
(412) 661-2629
$34.95
CIRCLE 222 ON READER SERVICE CARD
The wet portion of the Floppiclene wet/dry system cleaning disk loosens foreign particles, and the dry portion wipes them off. Floppiclene contains 20 100% disposable cleaning disks (so there's no recontamination of the head), plenty of cleaning solvent, a reusable disk envelope, two anti-static screen wipes and two lint-free wipes for drying off the monitor.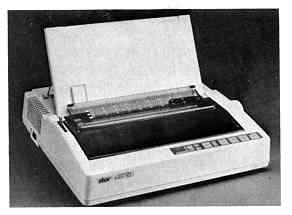 STAR NR-10
(dot-matrix printer)
Star Micronics America, Inc.
200 Park Avenue, New York, NY 10166
(212) 986-6770
(800) 537-8270
$549
CIRCLE 221 ON READER SERVICE CARD
How does 60 characters per second (cps) sound-in near letter quality? How about 240 cps in draft? That's the speed of the Star NR-10 and the wider-carriage NR-15 ($799), according to the manufacturer. These parallel printers require no DIP switch manipulation-all controls are on the front panel. Features include auto paper feed, tractor feed and forward or reverse feed, an expandable 12.6K print buffer.


PRINTPOWER
(printing software)
Hi Tech Expressions
1700 Northwest 65th Avenue
Suite 9
Plantation, FL 33313
(800) 848-9273
(305) 584-6386 In Florida
$14.95, 64K disk
CIRCLE 223 ON READER SERVICE CARD
Print greeting cards, invitations and announcements in two-fold horizontal, two-fold vertical and tent card formats with PrintPower from the people who gave you AwardWare (reviewed in Antic, November 1987). PrintPower prints signs, posters, flyers, stationery, letterhead, memos, notepaper and banners, and the onscreen template lets you visualize your work as you create it. The program features six typefaces with seven variations each and three different type sizes; line-by-line editing; 40 different borders and 60 different graphic designs.


1050 DETECTIVE
(disk utility)
Del Coin Services
803 Eisenhower Drive
Augusta, GA 30904
(404) 738-2139
Requires 48K, 1050 disk drive,
BASIC Rev. A or C
$19.95
CIRCLE 218 ON READER SERVICE CARD
The 1050 Detective lets you explore the Serial Input/Output area of Atari 8-bit computers and shows you how to control your 1050 drive-even one with modifications. Included programs are in BASIC, sometimes including machine language subroutines, and several type-in programs are included in the 29-page documentation.


CHILDHOOD SOFTWARE SURVEY
(resource list)
High/Scope Educational Research Foundation
600 N. River Street
Ypsilanti, MI 48198-2898
(313) 485-2000
$20
CIRCLE 220 ON READER SERVICE CARD
Yes, there is a significant amount of Atari 8-bit software listed in this book. The 1988 Survey of Early Childhood Software helps parents and teachers find just the right software for children aged 3 to 6. Nearly 300 comprehensive, practical descriptions rate each program on ease of use, educational value, instructional design, computer compatibility, skills required and amount of adult supervision needed. Titles are listed by computer brand name, content area and overall rating.


---
Return the favor. When you call a manufacturer or supplier about a product you've seen advertised or otherwise mentioned in ANTIC, please tell them so. This will help us to continue to bring you the latest information about products that will make your Atari computer an even more valuable investment in the future.
-ANTIC ED