Users Group
ACENET Boosts User Power
17 SoCal groups join forces
by Gregg Pearlman, Antic Assistant Editor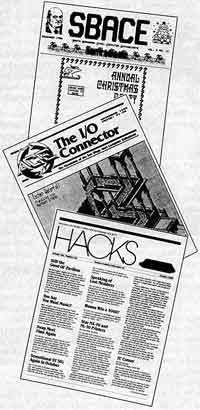 The first Atari Fair probably would not have happened in September 1986 at the Glendale Civic Auditorium, if not for ACENET—the consortium of 17 Southern California users groups between Santa Barbara, San Diego, Riverside and Long Beach. A 1987 Southern California Atari Fair is now scheduled for September 19-20 at the Glendale Civic.
ACENET first met in September, 1985. Its president is John King Tarpinian, a gregarious IRS agent who is also the president of the Hooked On Atari Computer Keyboard Society (HACKS) in North Hollywood. The ACENET officers meet approximately every three months.
Tarpinian had written to Atari Chairman Jack Tramiel about the possibility of a fair. After Atari Users Group Coordinator Sandi Austin called to tell the HACKS president that Tramiel says yes, Tarpinian met with Atari executives including Jack Tramiel; Sig Hartmann, Executive Vice President of Business Development; and Neil Harris, Marketing Communications Director.
Atari put up the front money for the convention hall and other major expenses, and ACENET was to repay them from the profits. If the show lost money, the groups would not owe Atari anything. "It worked beautifully," says Tarpinian.
At the April 1987 West Coast Computer Fair in San Francisco, ACENET demonstrated several current products at its booth, including the QMI laser printer and the BTL hard disk (reviewed in Antic, April 1987).
"ACENET got started because the competition between various clubs here became detrimental for no good reason," says Tarpinian. "It turned out that individual clubs regularly shared members. In fact, probably 20% of ACENET members belong to at least two clubs. So now each club tells its members about other nearby clubs. Somewhere down the line we plan to take the 'best-of' articles from all the individual club newsletters and produce a quarterly magazine."
HACKS' phone number is the same as ACENET's. Tarpinian's best "guesstimate" is that ACENET has about 5,000 members. Some clubs count individual memberships and others count family memberships. Membership numbers range between 60 and 300. There's no one huge users group in the greater Southern California area.
The original 11 clubs in the consortium have almost doubled in size since the beginning. "We hadn't found the other clubs yet," says Tarpinian, "and some even thought they were too small to be included in ACENET. They didn't know what we were about." Few clubs in the area don't belong to ACENET now.
ACENET has more white-collar workers than blue-collar workers, says Tarpinian. "I've got three or four chiropractors. Two members are computer company marketing reps who actually sell other brands of computers." Most members are in their late 20s or early 30s.
ST users make up 90% of the new members. "Most clubs have 8-bit and ST SIGS," says Tarpinian. "Some have programming SIGS. We're compiling a 40-page 'Introduction to Your Atari' booklet. Each club will get a master to copy for their new members."
HACKS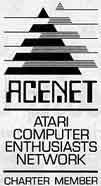 The HACKS 8-bit SIG has a 6502 programming class taught by Mark Manyen of Software Toolworks, who wrote Golden Oldies (reviewed in
Antic
, May 1987).
The HACKS newsletter is eight pages long. Its editor, club vice president Kitts Anderson, finds the material for the articles at the meetings. Then another member, Lew Marchese, "who just happens to own the largest graphics/art shop in Los Angeles, does all the paste-up and typesetting for free," says Tarpinian. "So we can afford to have it offset-print on a heavier bond paper. People really notice the newsletter because it looks so good. I send a copy to about 300 manufacturers every three months.
ACENET itself does not have a BBS, but most of the clubs do. HACKS' official systems are Magic Castle for the 8-hit, run by Dave Evans—which is where you'll often find Robert Jung (A-Rogue, Antic, May 1987)—and Infinity for the ST. And another BBS, ST Jungle, has been added. Officers from the other clubs have access to all three.
The Infinity BBS, run by Mark Krynsky, is supported jointly by ACENET and Logical Choice, an Atari-only store in North Hollywood. "We have a symbiotic relationship with that store," says Tarpinian.
HACKS SURVEY
About 70 of HACKS' 160 members attend the general meetings. Most ACENET clubs get about 40% attendance at meetings, according to Tarpinian. HACKS membership has increased about 5% a month—that's a net increase, taking into account the attrition rate.
"I'd say that the HACKS membership is 45% ST, 55% 8-bit, with about 20% having both," says Tarpinian. "At the Atari Fair, 2/3 of the attendees were 8-bit users. The vendors discounted the software a little, and the people were delighted. When the 8-bitters saw a decent selection for a change, they went nuts with their credit cards. The retailers were tickled pink."
Only about 10% of HACKS members use hard disks, mostly because of the prices. Everyone else uses floppy drives—Tarpinian says he doesn't know anyone who still uses cassettes.
The most popular floppy drive is the 1050, and the most popular printers are Epsons and their clones. On the 8bit, the 1030 and XM301 are the most popular modems, and the Avatex is the most popular on the ST.
The online services used most often are CompuServe and Genie. Bulletin board systems are probably used even more. "PC Pursuit has opened up a new world for people," says Tarpinian. "For a flat $25 a month, they can call any public BBS in the nation. Those that have it swear by it, and I really think it's helped." (More details about about PC Pursuit in this issue's Communications department.)
The main 8-bit programming languages are BASIC and assembly, and C is most widely used on the ST. About 25% percent of HACKS members are programmers, and about half have more than rudimentary programming knowledge. Perhaps 10% of HACKS members do hardware projects.
In order of importance, here's what HACKS members use their Ataris for:
Word Processing
Telecommunications
MIDI
Finance
Games
Education
Programming
"We have several members over 60 years old," says Tarpinian. "They do a lot of work with genealogy programs."
MIDI enthusiasts are prevalent too—several professional musicians live in the area. "There's a MIDI-only computer store down here called MIDI City," says Tarpinian. "For MIDI, the Macintosh tended to be the machine of choice—for those with money. For the next level of musician, those who make a living at it but don't necessarily have money to bum, the ST is the one. Programs cost less for the ST, and the musicians don't have to buy so much add-on hardware.
"A musician named Charles Faris helps our MIDI SIG. Nobody's heard of him, but he has 87 gold albums and 35 platinum albums—he does all the in-house arranging for John Williams and George Lucas. Hybrid Arts, the makers of MIDImate, help us out too."
DEALING WITH ATARI
"I've had no problems with Atari—but I've learned that if you need something, you should phone them first and
then
send the request in writing. Then everything runs relatively smoothly," Tarpinian says.
Tarpinian deplores the lack of Atari software (especially 8-bit) in stores. "But at the fair, Logical Choice found out how rabid the 8-bit users are. They now keep at least 100 8-bit titles in their store."
PIRACY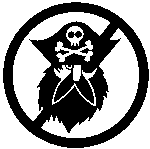 "Someone once called me and said 'I'd like to buy a copy of FORTRAN'," says Tarpinian. "I said, 'Well, we're a computer club, not a retail store.' 'No, no, no,' he says, 'I want to buy a
copy
.' I said, 'That's illegal.' He said, 'So?' I just hung upon him. First time I'd ever had someone do that."
That summarizes the basic feeling of HACKS—and ACENET in general—about software piracy. "Our club has some CIA agents as members," says Tarpinian. "If you're caught pirating, you'll get booted out. But I've never had a problem at a club meeting. So many of our members make their living from the computer industry, and piracy does nothing but hurt it. The people who were 14 when they bought their first computers are 23 or 24 now, and they've grown up. I just get angry with copy protection because I can't put a protected program on my hard disk."
ACENET CLUBS
Atari Anonymous (AA), Upland. (714) 624-7975
Atari Computer Association of Orange County (ACAOC), Fountain Valley. (213) 691-0107
Canejo Valley Atari Users Group. (805) 499-7723
Electronic Resources Atari Users Group (ERACE), Escondido, San Diego County. (619) 489-9872
Hooked on Atari Computer Society (HACKS), North Hollywood. (818) 760-1831
Jet Propulsion Laboratories Atari Computer Enthusiasts (JPLACE), Montrose. (818) 240-2070
Los Angeles Atari Computer Enthusiasts (LAACE), Granada Hills. (818) 780-1723
Long Beach ACE. (213) 542-3204
North Orange County (NOCCC) ST SIG. (714) 557-4955
Pasadena Area Local Atari Computer Enthusiasts (PALACE), Monrovia. (818) 441-5070
Real Atari Maniacs (RAM), Oxnard. (805) 983-3044
Riverside Users Group for Atari Computers, (RUGAC). (714) 784-3834
San Diego Atari Computer Enthusiasts (SDACE). (619) 582-2730
Santa Barbara Atari Computer Enthusiasts (SBACE). (805) 967-8415
Santa Clarita Valley ACE, Canyon Country. (805) 252-6881
South Bay ACE, Southern Los Angeles County. (805) 325-3745
West Los Angeles Atari Users Group, Beverly Hills. (213) 552-4739
Magic Castle BBS. (213) 658-7378
Infinity BBS. (818) 760-0943