Disk Bonus
J. D. Casten's Maximlllian B.
Super disk Bonus Game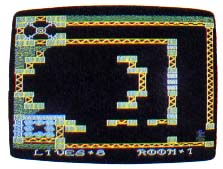 With six games published by Antic since his April, l984 debut with Risky Rescue, J.D. Casten has been this magazine's most popular 8-bit action game programmer. This popularity was earned despite the unusual difficulty of typing in Casten's listings, which tend to make heavy use of graphics built from the Atari special characters.
Casten's most recent submission, Maximillian B., made Antic's editors regretfully conclude that J.D. had finally crossed over the line where it would be a cruel and unusual punishment for readers to type his listing. Not that the listing was excessively long---it runs on 8-bit Atari computers with at least 48K memory and a disk drive. But it contained so many special characters that the required second data-loader listing would have brought the total type-in length to over 200 sectors. That's almost 40 sectors longer than the biggest programs we've ever published--- around 10 pages of typing, much of it just line after line of data numbers.
But we didn't want this game to get away entirely, because Maximillian B. is in many ways Casten's toughest player challenge yet. It requires you to plan ahead strategically while you are in the midst of fast and tricky arcade maze action on a complex series of graphics screens.
Fortunately, we are able to bring you Maximillian B. as this month's Super Disk Bonus, MAXIII.BAS. So you won't miss out on the latest deadly mission facing the Inspectors of Mysterious Mishaps at Ickted Industries. Our hero, Maxy, is the motorized cousin of that adventurous duck, Slyvester Biffdrop, who starred in Antic's Escape From Epsilon (June, 1984) and Biffdrop (December, 1984).
The rest of Antic's Casten programs are Box-In (December, 1985), Advent X-5 (November, 1984) Rebound (January, 1987) Rebound Construction Kit (February, 1987) and Easy 80 (July, 1987). TYPO II line codes for the older graphics games were provided in the July, 1985 issue.
DISK DESK
Phone the Disk Desk at (415) 957-0886 for shipment of this September, 1987 Antic Disk within 24 hours-- only $5.95 on your Visa or Master-Card. Or mail a $5.95 check to Antic, 514 Second Street, San Francisco, CA 94107.
PROGRAMMERS: Now you call submit your larger more ambitious 8-bit or ST programs to Antic for consideration as a possible Super Disk Bonus. Any programming with a runtime version is eligible.
Listing1:MAX.BAS Download