New Products
New Products notices are compiled by the Antic staff from information provided by the products' manufacturers. Antic welcomes such submissions, but assumes no responsibility for the accuracy of these notices or the performance of the products listed.
HARD DRIVE ADAPTER
Lurie and Associates
P.O. Box 7315
Van Nuys, CA 91409
(818) 780-1723
$625
This Hard Drive Adapter gives your Atari 800XL or 130XE a storage capability of 128 million characters. It plugs directly into the parallel bus interface for speediest transmission. Used with the MYDOS hard disk operating system, it can access eight 16Mb logical drives. The complete 5625 system includes a 10Mb hard disk.
CIRCLE 130 ON READER SERVICE CARD


800XE PLUS
(memory upgrade)
Triple C Computers
6807 226th Avenue N.E.
Stacy, MN 55079
(612) 462-4435
$45, 800/1200XL
The 800XE Plus board and RAM chips ($25) give your 800XL 256K of memory. It's entirely compatible with the 130XE. 1200XL owners must send their computers to Triple C for installation ($30).
CIRCLE 131 ON READER SERVICE CARD


PEGGAMMON
(entertainment software)
Artworx Software
150 N. Main Street
Fairport, NY 14450
(800) 828-6573-National
(716) 425-2833-New York
$17.95, 48K disk
This new, innovative approach to backgammon can be played against either a friend or the computer and features 3-D graphics and full joystick control. The board editor lets players take back a move or set up a situation to be played out.
CIRCLE 134 ON READER SERVICE CARD


SPELL IT!
WORD ATTACK!
(educational software)
Davidson & Associates
3135 Kashiwa Street
Torrance, CA 90505
(800) 556-6141-National
(213) 534-4070-California
$49.95 each, 48K disk
Leam how to spell 1,000 of the most commonly misspelled words in Spell It!, and learn the meanings and usages of 675 new words in Word Attack! These lively arcade games feature fast-action animation and add-your-own-words editors.
CIRCLE 136 ON READER SERVICE CARD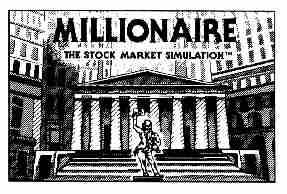 MILLIONAIRE
(entertainment software)
Blue Chip Software
6744 Eton Avenue
Canoga Park, CA 91303
(818) 346-0730
$29.95, 16K disk
If you want to be big in the stock market, why not try Millionaire. This popular interactive simulation was just ported over to the Atari. From the makes of the Tycoon commodity market simulator
CIRCLE 132 ON READER SERVICE CARD


COMPUTER CONNECTION MYSTERIES SOLVED
(book)
Howard W. Sams & Co.
4300 W. 62nd Street
Indianapolis, IN 46268
(317) 298-5409
$15.95
This 272-page manual details peripheral connection instructions, investigating the hows and whys of connecting a personal computer to its peripherals. The book is organized as a troubleshooting guide featuring case studies and useful technical illustrations, and stresses the importance of software.
CIRCLE 135 ON READER SERVICE CARD


MARK 4:22 WORKSTATION I
(workstation organizer)
BMW & Associates
515 Michigan Avenue
Troy, OH 45373
(513) 339-8093
$109.50
The solid steel Mark 4:22 organizes and protects your entire work system, compacting it into an area of less than 1.5 cubic feet. A slide-out keyboard tray gives you easy access, and the top shelf holds two disk drives. Store power supplies, a modem or a third drive in the third upper compartment, and put the monitor on top.
CIRCLE 140 ON READER SERVICE CARD


HI-RES 16 FONT LIBRARY,
TYPESETTER TUTORIAL
(printing software)
White Lion Software
P.O. Box 357
Ridge, NY 11961
(516) 924-6071
Eliminate the rough, blocky appearance of the printface from Rubber Stamp and Typesetter with Hi-Res 16 Fonts ($26.95, 48K disk), which have four times the resolution of ordinary Atari 8 x 8 fonts. Create anything, from business graphics to newsletter to letterhead. This two-disk set contains 23 text fonts and two graphics fonts. Typestyles include crate, 3-D, roman and stencil. Also from White Lion is a Typesetter Tutorial book ($24.95 for Volume 1).
CIRCLE 141 ON READER SERVICE CARD
---
Return the favor. When you call a manufacturer or supplier about a product you've seen advertised or otherwise mentioned in ANTIC, please tell them so. This will help us to continue to bring you the latest information about products that will make your Atari computer an even more valuable investment in the future.
-ANTIC ED