BY GREGG PEARLMAN, ANTIC JUNIOR EDITOR
For Sale: Atari Voices
Speech-related products for 8-bit and ST

If you are interested in experimenting with computer speech, but don't wish to build this issue's Talking Typewriter circuit board, check out the following products for Atari 8-bits and STs.
8-BIT
COVOX VOICE MASTER
A voice synthesizer like the SPO256 chip used in Talking Typewriter creates speech electronically by stringing together artificial sound elements. The Covox Voice Master ($89.95) digitally records and manipulates your own voice, storing the electronic signals in the memory of your Atari. Voice Master consists of a small white box, a telephone operator-type headset, connecting cables, a program disk and documentation.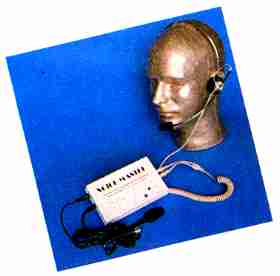 Put on the headset, boot the demonstration program on the disk, press [R] for record, speak into the microphone, press [P] for playback, and the computer will repeat what you said-in your own voice.
Play blackjack with Voice Master. This demonstration really shows off its voice-recognition capabilities. Say how much you want to bet, whether you'll hit or stand, and Voice Master will respond accordingly
First you're given a list of blackjack commands and keywords to say into the microphone. These are stored in memory, and the computer recognizes the keywords when you play. However, you must be consistent. Try to make sure all the words have a unique sound, so the computer doesn't misinterpret what you say. And say the words the same way you did when you recorded them.
If you need to practice adding up cards for black-jack, try the talking calculator, which recognizes and reproduces your voice as it adds, subtracts, multiplies and divides.
Or try the clock program, which speaks the time when you press the [SPACEBAR], and it can even wake you up in the morning with the alarm you set the night before-also in your own voice.
The Voice Harp Composer is also featured. Sing, whistle or hum into the microphone and your notes will appear on the screen. Play back the recording and edit what you hear. You can add, change or delete notes, alter the note lengths, change octaves, tempos, voices, key and just about anything else.
Voicemaster adds new BASIC commands (19 on the Atari 800) for use anywhere in your own programs. These include LEARN, SPEAK, TRAIN and RECOGnize.
Related Covox products include the Speech Construction Set ($49.95), which uses cut-and-paste to simplify the editing of speech recordings and to modify the various elements that constitute the speech. The Talking Disk ($5) gives a taste of what can be used in your own programs and has speech examples in English, Spanish and German.
Covox Inc., 675-D Conger Street, Eugene, OR 97402. (503) 342-1271.
CIRCLE 270 ON READER SERVICE CARD


SOUNDMOUSE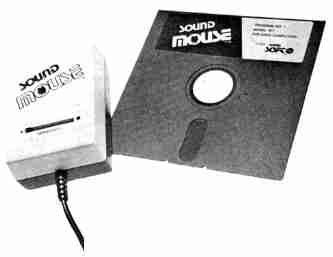 Soundsoft's SoundMouse ($39.95) is voice-activated, but instead of playing back sound to you, it continuously transmits paddle values to the computer. It plugs directly into the joystick port and listens-low-pitched sounds are what it hears best.
A sensitivity control lets the Sound-Mouse respond to a wide range of noises, making it suitable for an equally wide range of applications. The package includes imaginative games and graphics that demonstrate the sensitivity of the SoundMouse. The graphics program demonstrates displays that flash or change color, depending on the sound you make. The SoundMouse Band-a guitarist, drummer and keyboard player, keep up with the beat of any music you play nearby.
Soundsoft Inc., P.O. Box 740, 10 Maple Avenue, Andover, NJ 07821. (20) 786-6060.
CIRCLE 271 AN READER SERVICE CARD


PARROT
Alpha's Parrot sound digitizer ($39.95) can put the Beatles, Ella Fitzgerald, the Vienna Boys Choir or anyone else on your Atari. And not just singers-the Parrot can play back almost anything, from birds singing to sirens blaring. The Sound Sampler hardware plugs into joystick port 2 and feeds the sound into the computer. Its mini-plug jack accepts sounds from microphones, tape recorders, radios, televisions, VCRs or compact disk players.
The software includes programs for the Sound Sampler, the Emulator, a BASIC subroutine and demos. The BASIC subroutine can be added to your own BASIC programs to play sounds you've created or saved with the Parrot.
The Emulator processes the sounds saved with the Sampler. You can manipulate them in almost any way, creating unique special effects. The Sampler graphs the sounds and allows modification with the joystick.
The Play mode turns your computer's keyboard into a synthsizer. You can load sounds you've created, select the type of sound you want- horns, telephones, etc. ,-and the top three rows on the keyboard give you three octaves of notes for each sound.
Alpha Systems, 4435 Maplepark Road, Stow, OH 44224. (216) 374-7469.
CIRCLE 272 AN READER SERVICE CARD


ST
1ST BYTE PRODUCTS
These talking, graphics-oriented ST software packages ($49.95 each) are educational products containing reinforcement-type activities for children ranging from pre-schoolers to seventh-graders. No add-on hardware is required.
MathTalk lets your children enter their own arithmetic problems from school. Speller Bee is a spelling tutor that lets children enter words from their own spelling lists.
KidTalk, a creative-writing program, lets you combine male and female voices to tell stories you've written. It will read them back by word, letter or sentence, and you can control speed, pitch and tone.
First Shapes teaches younger children (ages 3 to 8) about geometric concepts such as shapes and comparative size. Children can use the Toy Factory to build toys on screen with shapes, and the screens can be dumped to a printer for use as coloring books.
First Byte, 2845 Temple Avenue, Long Beach, CA 90806. (213) 595-7006.
CIRCLE 273 AN READER SERVICE CARD


FINALLY SOFTWARE
Finally's talking products are also entirely software-based. Dr. Xes ($49.95) is a sophisticated talking version of the famous Eliza program, a mainframe-based artificial intelligence emulator developed in 1966 that mimics a psychotherapy session.
Talker ($69.96) is a full-function, talking word processor that can read text back word for word, or by character or sentence. The program is a great tool for the sight-impaired who can touch-type or have a large-character keyboard. Talker uses pull-down menus and a straightforward command structure.
Senor Tutor ($69.95) speaks and teaches conversational Spanish, taking in standard phrases for travelers. Lessons change, so you never see the same ones twice, and variable quizzes help monitor your progress.
Finally Software, 4000 MacArthur Boulevard, Suite 3000, Newport Beach, CA 92663. (714) 854-4434.
CIRCLE 274 AN READER SERVICE CARD


HIPPO SOUND DIGITIZER
Sample, modify and play back up to 40 seconds-about 20K of memory-of high-quality sound with this hardware/software package. The Hippo Sound Digitizer ($139.95) can edit sounds, copy, cut-and-paste and reverse them, save and load them to disk, or produce real-time echo and reverberation effects.
Hippopotamus Software, Inc., 985 University Avenue, Suite 12, Los Gatos, CA 95030. (408) 395-3190.
CIRCLE 275 ON READER SERVICE CARD