New Products
New Products notices are compiled by the Antic staff from information provided by the products' manufacturers. Antic welcomes such submissions, but assumes no responsibility for the accuracy of these notices or the performance of the products listed.
---
HARDBALL
(entertainment software) Accolade
20833 Stevens Creek Blvd. Cupertino, CA 95014 (408) 446-5757
$29.95, 48K disk
CIRCLE
215
ON REARER SERVICE CARD
HardBall gives you command of the physical action and strategic decisions of baseball-in colorful 3-D perspective. Hit and run. Steal. Sacrifice. Leap for long fly balls or dive for grounders. Play Ball!


CARDIAC ARREST!
(educational software)
Mad Scientist Software
2063 North 820 West
Pleasant Grove, UT 84602
(801) 785-0535
$69, 48K disk
CIRCLE 216 ON READER SERVICE CARD
Cardiac Arrest! is a training simulation in the form of a a video game. It has been used in hospital classes by emergency physicians, nurses and paramedics. It is particularly valuable for reviewing the treatment of rare causes of cardiac arrest. Now available to the public, this program challenges you to think your way to the right treatment under emergency conditions.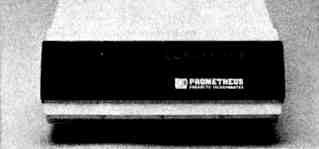 PROMODEM 2400
(modem)
Prometheus Products Inc.
4545 Cushing Parkway
Fremont, CA 94538
(415) 490-2370
$595
CIRCLE 221 ON READER SERVICE CARD
Promodem 2400 operates at 300, 1200 and 2400 baud. It is Hayes-compatible, has a built-in speaker and two phone jacks, auto-redial and call monitoring. It offers several add-on modules, including an optional plug-in Communications Buffer ($149) that can be expanded to 512K. Another option is a 12-character front panel alphanumeric display ($99) that shows time and online status


SF/JAPAN SCENERY DISKS
(flight simulation)
SubLogic Corp.
713 Edgebrook Drive
Champaign, IL 61820
(800) 637-4893-National
(217) 359-8482-Illinois
$19.95 each, 48K disk
CIRCLE 217 ON READER SERVICE CARD
Fly beneath the Golden Gate Bridge. The San Francisco STAR Scenery Disk covers the San Francisco area in great detail. The Japan disk lets you practice flying in the area from Tokyo to Osaka. Sublogic's scenery disks require are not stand-alone programs; they require either Flight Simulator I or II, or Jet.


CARINA BBS
(telecommunications)
Carina Software Systems
12390 57th Road North
Royal Palm Beach, FL 33411
(305) 793-2792
$69.95, 48K disk
CIRCLE 220 ON READER SERVICE CARD
This expandable, module-based bulletin board software package is written in understandable BASIC and includes XMODEM upload/download transfer protocol, message editor with word processor-like functions and a total of 44 commands, including 17 sysop functions. It operates at 300, 1200 or 2400 baud and works with most DOSs and BASICs


MORE! GRAPHICS
(printing software)
The Pierstorff Company
131 W Main Street
Woodland, CA 95695
(916) 666-3530
$19.95, 48K disk
CIRCLE 218 ON READER SERVICE CARD
For use with Broderbund's Print Shop software or compatible programs, More! Graphics contains a library of 128 designs, symbols, characters and letters, plus 11 background designs for overlaying text or numbers.


MARK 4:22
(computer stand)
BMW and Associates
515 Michigan Avenue
Troy, OH 45373
(513) 335-2092
$99.95
CIRCLE 223 ON READER SERVICE CARD
This sturdy steel workstation organizer with black plastic trim gets your power supplies and cables out of the way. It holds two Atari 1050 disk drives, has a place for your 8-bit Atari computer and can support a monitor, a hard disk and whatever else you can fit on top of it.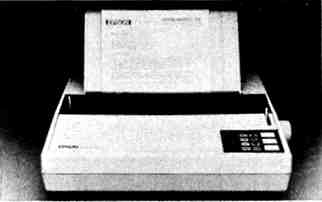 EPSON EX-800
(printer)
Epson America
2780 Lomita Blvd.
Torrance, CA 90505
(800) 421-5426-National
(213) 539-9140-California
$749
CIRCLE 225 ON READER SERVICE CARD
This speedy dot matrix printer is rated by Epson at 250 characters per second in draft speed and 45 cps in near letter quality. It features a 7-color option and has an 8K buffer. Automatic sheet load and bi-directional tractor are standard. Users can choose from eight typestyles by simply pressing buttons on the top panel.


---
Return the favor. When you call a manufacturer or supplier about a product you've seen advertised or otherwise mentioned in ANTIC, please tell them so. This will help us to continue to bring you the latest information about products that will make your Atari computer an even more valuable investment in the future.
-ANTIC ED