new products
INSIDE THE PERSONAL COMPUTER
(pop-up book)
Abbeville Press, Inc.
505 park Ave.
New York, NY 10022
(212) 888-1969
$19.95
How do you teach small children-and adults-about computers? The latest passport to computer literacy is an adorable pop-up book that describes and illustrates the workings of a microprocessor, video tube, disk drives and more. Pop-up construction lets you move parts and look inside models. It's a great way to learn, and may intrigue adults more than kids.

TAC-3
(joystick)
Suncom 260 Holbrook Drive
Wheeling, Ill 60090
(312) 459-8000
$14.95
Suncom's latest Totally Accurate Controller features three fire buttons, two on the base and a third on top of the grip-contoured handle. It is solid, responsive and backed by a two year guarantee. The Antic staff members who used the TAC-3 were pleased with its performance and excellent construction

QUEST OF THE SPACE BEAGLE
(game)
Avalon Hill
4517 Hartford Road
Baltimore, MD 21214
(301) 254-9200
$35
48K-disk
This is the sequel to Jupiter Mission 1999. Like its predecessor, this two-disk game is actually several arcade games held together by a common story line. In the Space Beagle, you're lost in a strange galaxy. As you try to get back home, you battle fighter ships, travel the Labyrinths of Kamerra, and eventually explore the entire known universe with allegedly authentic star maps as you search for Earth.

POPCOM X100
(modem)
Prentice Corp.
266 Caspian Dr.
P.O. Box 3544
Sunnyvale, CA 94088
(408) 734-9810
$475
One of the hottest new modems, the Popcom is an autodial/autoanswer, 300/1200 baud modem with audio monitor and voice-over-data, a feature that allows you to pick up the phone and talk to the person at the other end while your computers are on-line. It is simple to use and automatically adjust to cabling pinout arrangements and telephone line status-simply plug it in and it's ready. Alas, it doesn't have any status lights.

PITFALL II: LOST CAVERNS
(game)
Activision, Inc.
2350
Bayshore Frontage Road
Mountain View, CA 94043
(415) 960-0410
$32.95
18K-cartridge
Follow Pitfall Harry as he seeks the Raj diamond in the Caverns of the Incas, in this sequel to the best-selling arcade game Pitfall.
INVESTOR'S EXPRESS
(on-line brokerage)
Fidelity Investments
82 Devonshire Street
Boston, MA 02190
(617) 292-7040
$49.95 registration fee, $15/month and 40 cents/minute during peek (7:00 a.m. to 6:00 p.m. weekdays), 10 cents/minute during nonpeek hours.
This service allows you to trade stocks and options, analyze your portfolio and obtain stock quotes with your Atari. You can also display projected dividend yields, review a schedule of capital gains and losses, and follow IRA and Keogh portfolios.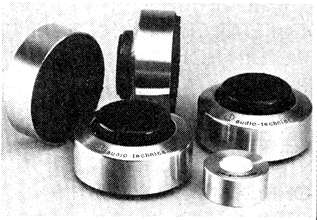 AT605 AUDIO INSULATORS
Audio-Technica
1221 Commerce Dr.
Stow, OH 44224
(216) 686-2600
$27.95
Found in high-end audio stores, these feet are perfect for reducing the "shake, rattle and roll" caused by printers. The suggested retail price includes four round energy absorbers, each encased in a brushed chrome housing.