new products
GRAPHICS MAGICIAN PICTURE PAINTER
(graphics program)
Penguin Software
830 4th Ave.
P.O. Box 311
Geveva, IL 60134
(312) 232-1984
diskette - 48K - $39.95
Hundreds of pictures can be stored on a disk and, literally, thousands of colors are available when using the Graphics Magician Picture Painter. Full use of the 128 colors on the Atari, including blending of them, enables you to get those many shades. Text may also be added to pictures, and the various brushes allow the user to add detail and shading to creations. And, when you want to recall art from your own programs, this package lets you do that too.
THE COLOR SHARPENER CABLE
(peripheral)
Bytes and Pieces
550 N. 68th St.
Wauwatosa, WI 53213
(414) 785-1100
$24.95
add $2.00 for shipping and handling
The Color Sharpener is said to drastically increase the color intensity on color monitors. Using a 5-pin din plug which attaches to the monitor, it augments the intensity of the luminous part of the signal, thereby offering a substantially sharper picture. Satisfaction is guaranteed, or your money will be refunded. Dealer inquiries are invited.
ROME AND THE BARBARIANS
(game)
KRENtek software
P.O. Box 3372
Kansas City, MO 66103
cassette and diskette - 32K - $35.00
The year is 400 A.D., and half a dozen tribes of barbarians are simultaneously invading the Roman Empire. As the supreme military commander, you initiate defense strategies which, when combined with the chaotic activities of the barbarians, insure that no two games are alike. Played on a scrolling map of Western Europe, your final challenge is who else?-Attila and his Huns.
50 MISSION CRUSH
(game)
Strategic Simulations, Inc.
883 Stierlin Rd., Bldg. A-200
Mountain View, CA 94043
(415) 964-1353
diskette - 40K - $39.95
As the commander of a B-17, you must deftly manuever your way through fifty life-threatening raids over France and Germany. It is your responsibility to hand-pick your crew, determine your plane's bomb/fuel ratio, and select the cruising altitude. After each mission, you will be evaluated and awarded points by the computer, on the basis of various criteria. Survive all fifty missions and make it to Brigadier General, and SSI will honor you with a Certificate of Achievement.
PHYSICS EXAMPLES I
(educational program)
Conduit
The University of Iowa
Oakdale Campus
Iowa City, IA 52242
(319) 353-5789
diskette - 48K - $60.00
additional user's notes - $3.00
additional copy of software - $10.00
For secondary and college levels, this package of four programs covers topics in introductory mechanics and is suitable for individual student use or classroom demonstration. Each program simulates an experiment and allows students to vary parameters to see how they affect the results. The 37 pages of User's Notes included in the package introduce the concepts simulated in each program and provide students with a series of exercises. This program is made only for the Atari 800.
COMPUTER TITLEBOUT
(games)
Microcomputer Games, Inc.
4517 Harford Rd.
Baltimore, MD 21214
(301) 254-9200
diskette - 48K - 30.00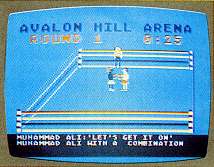 If you're a professional boxing fan who wants to test the "Raging Bull" within, Computer Titlebout will give you the opportunity to slug it out with the best. This game contains in-depth statistics on over 300 famous fighters, past and present, and allows you to either recreate their own well-known bouts or dream up some matches that should have happened, but never did.
SKWRITER
(educational program)
Atari, Inc.
1265 Borregas Ave.
PO. Box 427
Sunnyvale, CA 94086
(408) 745-2000
cartridge - 16K - $39.95
Young people, ages 6-14, can improve their word-comprehension skills and increase their vocabulary by playing Skywriter, just one of the games in the new Atari Learning Software line. As word-filled clouds drift through the sky, a player must ensnare them with it plane and connect them to form compound words. A colorful city-scape screen, charming music, and plenty of challenges inspire learning, and, if level eight is mastered, the player receives a special award of merit.
600XL MEMORY EXPANSION MODULES
RC Systems, Inc.
121 W Winesap Rd.
Bothell, WA 98012
(206) 771-6883
32K model, AM2 - $79.00
48K model, AM1 - $99.00
These memory modules plug directly into the back of the Atari 600XL computer, increasing the computer's total read/write memory capacity to 32K or a full 48K. Automatically recognized by BASIC and machine language programs, they will not conflict with program cartridges.
ATARI AUTOMATIC STATION SWITCHER
(peripheral)
Micro Systems Support
Suite 101, Lincoln Savings Bldg.
16325 S.W. Boones Ferry Rd.
Lake Oswego, OR 97034
(503) 635-5659
$214.00 - includes package of four standard-length cables
Fully automatic, the Atari Automatic Station Switcher can speedily network four computer systems to one set of peripherals. By connecting four stations to a disk drive and printer, the user gains the economy of sharing expensive peripherals without wasting time on awkward manual switching. The space-saving system is obviously perfect for small offices or classroom situations.
NUBASIC
(programming utility)
Galasa Software
16835 Algonquin St., Suite 199
Huntington Beach, CA 92649
(213) 836-7000
diskette - 16K - $19.95
Nubasic, compatible with the 400, 800, 600XL, and 800XL computers, is a 3K binary program which is co-resident with BASIC. It provides many new and useful direct-mode commands, and binary disk files can be loaded from BASIC (a function which is especially useful for loading short machine-language routines into page 6). Advantages are: low cost and memory requirement, no need for a right-cartridge slot, combination of function keys, and detailed documentation.
SUPER SKETCH
(graphics tablet)
Personal Peripherals Inc,
Merrick Park
930 North Beltline, Suite 120
Irving, TX 75061
(214) 790-1440
$49.95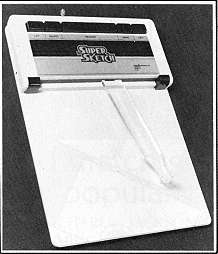 The graphics tablet, Super Sketch, allows users to easily create exciting computer graphics in color. By simply moving the stylus control as you would a pencil, Super Sketch will reproduce the movement on the screen. Brilliant colors can be "painted" in with the push of a button. The manufacturer claims that it is easier to use than keyboard controls, does more than joysticks, paddle and mouse controllers, and is less expensive than touch pad products. Its own software cartridge is included in the package,
FROM SCRATCH
(application program)
HomeSpun Software
9 Peter's Path
E. Setauket, NY 11733
(516) 689-7163
cassette - 16K or 48K
diskette - 48K
$24.95
Sometimes it takes longer to find a recipe than to cook it. From Scratch!, the recipe-filing system, will organize your favorite dishes, as we]] as print out shopping lists for the necessary ingredients. Also, recipes can be quickly found for leftovers, and yield conversions can be made easily.
ASSEMBLY LANGUAGE TUTOR
(educational program)
Microlaser Software Inc.
Box F
Mendon, NY 14506
(716) 624-9318
$49.95
Assembly Language Tutor, is designed to provide machine language programmers with well-documented, actual-working source code specifically for Atari computers. Learn how to do I/O, graphics, scrolling, display list interrupts, floating point, player/missiles, plot and draw, and much more. The tutorial also possesses a BASIC to Assembler conversion program which will convert most BASIC statements to Assembler source code. Two disks and documentation are included.
PARALLAX-AT
(printer interface)
Axiom Corporation
1014 Griswold Ave.
San Fernando, CA 91340
(213) 365-9521
$99.00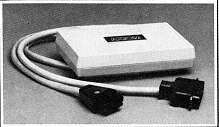 ParallAx-AT is a compact expansion interface that connects any parallel-input printer to any Atari computer and operates just like the Atari 850 Interface, but without the serial ports. This interface is compatible with all Atari software designed to run with a standard parallel-input printer. Also, the open socket on the ParallAx-AT can be used for "daisy-chaining" other Atari peripherals such as cartridges and disk drives. Cables and connectors are provided.
New Products notices are compiled by the Antic staff from information provided by the products' manufacturers. Antic welcomes such submissions, but assumes no responsibility for the accuracy of these notices or the performance of the products listed.