new products
Return the favor: When you call a manufacturer or supplier about a product you've seen advertised or otherwise mentioned in ANTIC, please tell them so. This will help us to continue to bring you the latest information about products that will make your Atari computer an even more valuable investment in the future.--ANTIC ED
FLIPSKETCH
(graphics Utility)
Dynacomp, inc.
1427 Monroe Ave.
Rochester, NY 14618
(800) 828-6772
In NY -- (716) 442-8960
16K -- cassette -- $19.95
24K -- diskette -- $23.95
Flipsketch combines a powerful drawing program with impressive animation features to let you animate your drawings. Its low-resolution graphics allow you to create as many screens as possible( up to 56 screens with 40K). These screens include one background frame. You use a joystick to design each frame, choosing from up to 24 different colors. You can animate your work in one of two ways: sequential animation (each screen is displayed in the order in which it was created) or programmed animation (screens are displayed in any order you desire). Drawings can be saved on disk or cassette.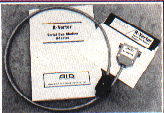 R-VERTER
(modem adapter)
Advanced Interface Devies, Inc.
P.O, Box 2188
Melbourne, FL 32902
(305) 676-1275
$49.95
The R-Yerter allows you to use most modems and other RS-232C devices with vour computer without using an interface module. The accompaning software package includes a smart-terminal emulator and an RS-232C device handler. It requires no other peripherals, doesn't use a joystick port, and comes with a built-in 3-foot cable. It's said to be compatible with any RS-232C device that excepts TTL-level inputs(most do).
HOME APPLICATIONS AND GAMES FOR THE ATARI HOME
(book)
Little, Brown and Co.
34 Beacon St.
Boston, MA 02106
(617) 227-07390
$14.50
There's something for everyone in this assortment of 24 programs for the Atari, including 13 application programs and 11 games. Each of the fully-coded programs is accompanied by a complete description of its function, a line-by-line explanation of how it works, and a string and numeric variable table. As a result, a reader can either key in a given progam and run it as is, or modify it for his or her own use.
MENUWRITER
(application program)
Dynatech Microsoftware, Inc.
7847 N. Caldwe!l Ave.
Niles, IL 60648
(800) 621-4109
In IL- (312) 470-0700
48K -- diskette -- $29.95
With the touch of a single key, non-programmers can load and run computer programs from "menus" that are generated automatically by MenuWriter, one of Dynatech's CodeWriter program. Up to 20 different screen/menus can be created, each showing up to 15 directory entries. After the user tells MenuWiriter what he or she wants to do and how the files are to be indexed, the program automatically translates these English instructions into computer "code" and runs the requested program.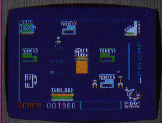 SPARE CHANGE
(game)
Broderbund Software
17 Paul Dr.
San Rafael, CA 94903
(415) 479-1170
48K diskette
$34.95
Slapstick humor, sight gags, surprises and action fill this zany comedy game. You're the game-happy owner of a Spare Change Arcade that's invaded by two fun-loving Zerks. It's your job to stop them from pilfering tokens from the arcade. The only way to do this is to keep them occupied -- use every trick in the book, from popping popcorn to playing their favorite tunes on the jukebox. A "Zerk Control Panel" lets you instantly modify the Zerks' behavior, if you can stop laughing long enough.
MPP-1150 PRINTER INTERFACE
(printer interface)
Microbits Periphieral Products
225 W. Third St.
Albany, OR 97321
(503) 967-9075
$99.95
This new interface from MPP, which replaces the Atari 850 Interface Module, doesn't require that you change a ROM chip, as did their previous model. The computer-end plugs directly into the Atari's serial I/O port. The other end of the three-foot cable is a Centronics plug, compatible with most non-Atari parallel printers. The interface also features an Atari-style serial jack, so you can daisy-chain other peripherals. It's compatible with all software and all models of Atari computers.
SUPER-TEXT
(word processor)
Muse
347 N. Charles S Baltimore, MD
(301) 659-7212
48K--diskette
$99.00
This word processor is designed for use with the Atari 400/800/1200XL computers. According to the manufacturer, it is suitable for business, home or educational applications. It offers standard editing functions, including a find-and replace function and a preview mode; print formatting includes page numbering, automatic page breaks, superscripts and subscripts. It also has the ability to create a printer driver and contains Atari DOS.

AGENT USA
(educational game)
Scholastic, Inc.
730 Broadway
New York, NY 10003
(212) 505-3567
48K--diskette
$29.95
This action adventure game features a spy who saves the U.S.A. from an alien force. It teaches American geography knowledge of distance, direction and time, decision making, and problem solving while involving youngsters in a nonaggressive story. The game's action moves cross country and takes place on trains and in train stations with local city sky lines as backdrops. Colorful visuals and lively music make it an entertaining learning experience. Support materials for students and teachers are also included.
MCPEN
(light pen)
Madison Computer
1825 Monroe St.
Madison, WI 53711
(608) 255-5552
$49.95
McPen is a high-resolution light pen that permits precise vertical and horizontal positioning on the monitor screen. It allows you to answer questions, create drawings, choose options and play games while retaining full functional use of your keyboard. In addition, a sensitivity control on the stand lets you finetune McPen to suit your individual needs.

SPACE COWBOY
(game)
Microcomputer Games, Inc.
A Div. of The Avalon Hill Game Co.
4517 Hartford Rd.
Baltimore, MD 21214
(301) 254-9200
48K--diskette
$21.00
This fast-paced arcade game challenges its cowboy hero to run a gauntlet lined with robot lasers and other thrilling pitfalls. The only path to freedom is a narrow walkway. Will he make it? Only you and the cowboy know for sure.
BAR MITZVAH COMPU-TUTOR
(educational program)
Davka Corp.
845 N. Michigan Ave., Suite 843
Chicago, IL 60611
(800) 621-8227
In IL -- (312) 944-4070
48K -- diskette -- $49.95
Bar Mitzvah-Compu-Tutor is an instructional aid, that helps prepare Jewish young people for bar or bat mitzvah. Each copy of the program is customized to include the English an Hebrew names of the student who will use it. The program allows the student to progress at his or her own pace. English translations of all texts used in the program, as well as an original commentary on the Haftarah, are also provided.
DIGI-VOICE
(utility)
Gemini Software
32 Dennis Lane
Buffalo, NY 14227
(716) 893-5115
32 K--diskette
$39.95
Now you can add ears to your Atari. This program digitizes the human voice, or any other sound, and lets you play back and edit the results and incorporate them into your programs. It can graphically analyze sounds for the best possible reproduction, while dazzling you with colors. The program disk comes with a audio card that plugs into the Atari joystick port.
DECISIONS
(application)
Lateral Software
P.O. Rox 605
Stanton, CA 906SO
(714) 826-3970
48K---diskette or cassette
$37.50
Using a method of logical analysis, Decisions helps you make reasoned choices among several alternatives. It can assist individuals, families, and businesses in making difficult decisions quickly, accuratey, and confidently through the use of features such as fully prompted inputs and help screens. A helpful reference manual is included.
New product notices are compiled by the Antic staff from information provided by the products' manufacturers. Antic welcomes such submissions, but assumes no resposibility for the accuracy of these notices or the performance of the product listed.