New Products
AN ATARI FOR KIDS
(book)
Dilithium Press
8285 SW Nimbus, Suite 151
Beaverton, OR 97005
(800) 547-1842
In OR - (503) 646-2713
$7.95
AN ATARI IN THE CLASSROOM
Activity Workbook - $5.95
AN ATARI IN THE CLASSROOM
Teacher's Guide - $14.95
In An Atari For Kids, a circus theme is the delightful means by which a knowledge of BASIC is imparted to children ages 8-13. Three teachers collaborated on this text, which teaches good programming skills with a focus on problem solving, improved thinking skills and creativity. A complementary activity workbook and teacher's guide are available separately.
POPCOM - MODEL XIOO
(modem)
Prentice Corp.
266 Caspian Dr.
P.O. Box 3544
Sunnyvale, CA 94088
(408) 734-9810
$475.00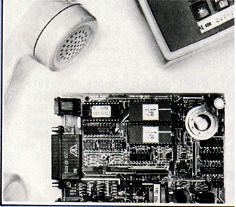 Capable of true-voice and data switching at your work station, the Popcom XIOO modem eliminates the need for separate phone lines for your telephone and computer. The task of dialing multiple calls to switch between voice and data is also made obsolete. Popcom provides complete call-progress monitoring, and can detect dial tones, busy signals, remote ringing and even line-current disconnect. It can be installed almost anywhere.
DROL
(game)
Broderbund Software, Inc.
17 Paul Dr.
San Rafael, CA 94903
(415) 479-1170
48K - diskette
$34.95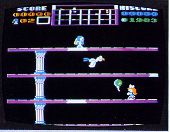 Two lost children have fallen under the spell of a witch doctor and are wandering, zombie-like, through the underground corridors of an ancient civilization. Taking the technology of the future to this antiquated world, you attempt their rescue with the aid of a rocket backpack. a laser gun and a radar scope. But beware, An amusing and unlikely collection of villains will attempt to prevent you from reuniting the children with their mom.
MICROINDEX
(reference tool)
Serious Personal Computing
PO. Box 7059
South Nashua, NH 03060
(603) 888-1376
monthly - $99-00 per year
abridged - $49.00 per year
journal-specific annuals
$5.00 - $12.00 per issue
Antic is, of course, among the magazines listed in Microindex. a comprehensive index to microcomputing-oriented periodicals. Article data includes title, author, page, length, journal, issue, reader level and rating. Article types include features, articles, product reviews and announcements. Microindex is intended to organize the vast amount of information disseminated in a large number of periodicals, and is designed for people of all ages and computing levels.
ALPHACOM 81
(printer)
Alphacom, Inc.
2323 So. Bascom Ave.
Campbell, CA 95008
(408) 559-8000
$16.95
Atari cable - $44.95
Alphacom's latest printer, the Alphacom 81, is a high-performance, dot-matrix printer that boasts an eighty-column line width and full graphics capability. it prints one hundred characters per second, and advanced thermal technology allows it to do so quietly.
THE WIRE TREE
(power source)
Networx
203 Harrison Place
Brooklyn, NY 11237
(212) 821-7555
$69.95

Engineered specifically for personal computers, The Wire Tree provides reliable protection against voltage surges, spikes and radio-frequency interference (RFI), which can damage circuitry and affect computer memory. The four-outlet, filtered power supply can be mounted easily, in any position, and a unique cable support organizes its power cords, draping them neatly to the rear of the work station.
MICROCOMPUTER RESOURCE GUIDE FOR THE INDIVIDUAL INVESTOR
(reference book)
American Association of Individual Investors
612 N. Michigan Ave., Suite 317
Chicago, IL 60611
(312) 280-0170
$16.00
This resource book by Dr. Norman Nicholson is designed to fill the financial community's need for a computer user's guide to investing. As the editor of an- investment newsletter, Dr. Nicholson brings his knowledge of financial-information services and time-sharing systems, as well as his understanding of microcomputing, to this 163-page publication.
BUSY BABY
(educational program)
Royale Software
Serpent JRd., DMHP #15
P.O. Box 351
Deerwood, MN 56444
(218) 534-3711
32k - diskette - $34.95
Busy Baby's main character is a wandering infant who must be guided through 26 levels of play - one for each letter of the alphabet. The game's primary purpose is to instill knowledge of the alphabet in the minds of young users, but it involves challenges that may also attract an older audience.
THE ART OF COMPUTER GAME DESIGN: REFLECTION OF A MASTER GAME DESIGNER
(book)
Osborne McGraw/Hill
2600 Tenth St.
Berkeley, CA 94710
(800) 227-2895
In CA - (800) 772-4077
$14.95
Although technical expertise comes in handy when designing games, the most important factor involved is creative vision. Chris Crawford, Atari programmer par excellence, teaches this and other noteworthy lessons in his guide to game design, which is based on his own programniing discoveries and experiences.
KLEEN LINE CONDITIONER
(computer-line conditioner)
Electronic Specialists, Inc.
171 So. Main St.
P.O. Box 389
Natick, MA 01760
(617) 655-1532
From $292.00-$977.00,
depending on watt load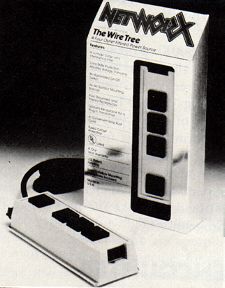 Designed to protect sensitive computer equipment, this series of portable computer-line conditioners is available for 250, 500, 1000 and 2000-watt loads. The conditioners deliver 120 volts at three percent regulation for 90- to 140-volt input variations. With three percent THD sine-wave output, the KLR series offers input-spike suppression, transformer-surge suppressions wide-band pre-filtering and isolated winding-line noise elimination. All models are available in decorator-styled cases.
TRIGA ELITE JOVSTICK
and TRIGA COMMAND II
(joysticks)
Electra Concepts International Corp.
125 Wilbur Place
Bohemia, NY 11716
(516) 567-4783
Triga Elite - $23.95
Triga Command - $10.95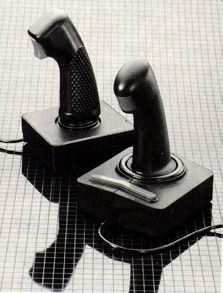 If your trigger finger is itching for a new toy, Electra has two new offerings for you.
The Triga Elite's index-finger-operated firing button offers unmatched speed, while its independently operated continuous-fire bar lets you blast your way to higher scores.
Its sister, the Triga Command 11, sports a contoured, "helicopter-style" handle with a diamond-cut texture, which makes the stick easy to grip and comfortable to use. Improved accuracy and speed are said to be possible due to the devices index-finger-controlled trigger action.
Both joysticks are compatible with the Atari 400/800 and 2600 systems, but only the Triga Elite can be used with the new XL computers.