Antic Pix Computer Furniture
By Caitlin Morgan, Editorial Assistant
Atari computer owners usually take great care in selecting software and peripherals, but their attention to the storage needs of these items often lacks a similar focus. If this dilemma sounds all too familiar, read on and discover the possibilities for organization that await you. The following furniture items and accessories have been specially designed to help tidy up your small corner of the Atari computing world.
Please note: If shipping and handling charges are not listed for a particular item, call the manufacturer to request this information.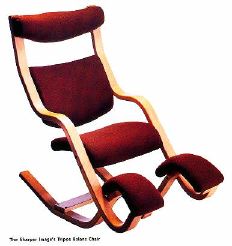 THE TRIPOS BALANS
The Sharper Image
650 Davis St.
San Francisco, CA 94111
(800) 344-4444
$499.00
Add $30.00 for shipping and handling
The Tripos Balans is a chair with three different personalities. In its upright position, it helps to prevent the fatigue and back strain that often accompany long hours at the computer. And after you're done programming, switch into intermediate mode. Your chair will follow, turning into an easy chair that also rocks. Finally, its full-lounge position allows you to put your feet up and luxuriate in its lush, woven-wool upholstery. Its forty pound, Norwegian beechwood frame provides plenty of support, and assembly is easily performed with the Allen wrench included in the purchase price.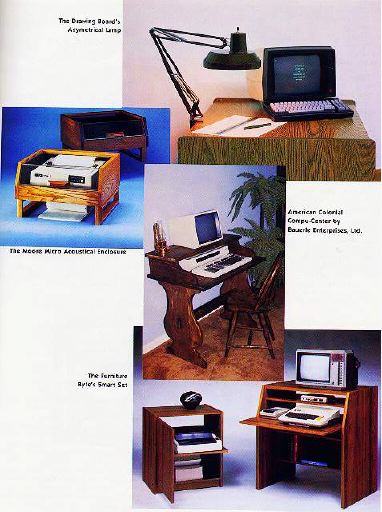 SMART SET
The Furniture Byte
P.O. Box 1757
Longview, WA 98632
(800) 426-5301
In WA - (206) 423-7277
Smart Desk DL34 - $149.00
Smart Printer Stand PL24 - $119.00
Smart Set (both of the above)
$259.00
If you believe that an intelligent machine deserves an equally sharp abode, you may be interested in Smart Set - a furniture duo that is at once attractive, functional and economical.
Smark Desk, at 34" wide by 36" tall by 24" deep, provides plenty of storage area and leg room. And its strategically placed shelves position both keyboard and monitor at an optimum-viewing height.
Smart Desk's counterpart, Smart Stand, can accommodate a variety of rear-feed or bottom-feed printers. Its design is said to provide substantial storage space for paper and accessories, and to help reduce irritating printer noise.
Both Smart components have doors that fold up to conceal and protect their contents, and both units are crafted of durable simulated wood. Be sure to specify which finish you prefer: Natural Oak or Walnut Woodgrain.
SERIES 580
Furniture Concepts International
720 Fifth Ave.
New York, NY 10019
(212) 586-1303
CD 580 (desk) - $199.95
CD 581 (printer stand) - $159.95
CD 582 (corner expander) - $74.95
CC 773 (chair) - $129.95
The folks at F.C.I. believe that design has been slighted in the realm of computer furniture. Their remedy is the Series 580 Work Station. This top-of-the line, modular system is constructed of wood solids, wood veneers and melamine, and is said to be more durable and less scratchable than the more traditional vinyl systems on the market. All three components of the system - the desk, printer stand and corner expander - feature slanting oak borders, which add to the user's comfort. The desk and printer stand also provide cord storage areas. For those who would rather sit than stand while computing, the CC 773 tweed chair might be just the thing. Its height and backrest are both adjustable. MOORE MICRO ACOUSTICAL ENCLOSURE
Moore Business Center
RO. Box 20
1400 South Wolf Rd., Suite 300
Wheeling, IL 60090
(800) 323-6230
In IL - (312) 520-3245
Starts at $139.00
You can now experience the same level of printer-noise reduction at home that is enjoyed by many businesses, thanks to the Moore Micro Acoustical Enclosure. Patterned after the larger enclosures commonly used in offices, this home-version surrounds your printer with a sound-absorbent foam liner and a quarter-inch-thick acrylic top. The clear, hinged cover makes all printouts visible and allows for easy access to the printer itself. The enclosure can rest directly on a work-station countertop, or it can be raised to accommodate bottom-feed printers by attaching the accompanying hardwood legs. Entry for cables, power cord and outfeed of printout is supplied by the slotted rear panel. This unit is available in four different sizes that vary in price, so be sure to call Moore for assistance in determining which model would be best for you.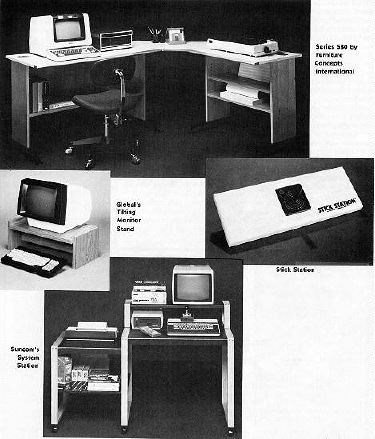 ASYMETRIC LAMP
The Drawing Board
Computer Supplies
Greenwoods Industrial Park
PO. Box 2995
Hartford, CT 06104
(800) 243-3207
$54.95
Taking its cue from the fashion industry, which is currently touting the concept of asymetry, The Drawing Board has introduced its Asymetric Lamp Beyond being stylish, however, it also brings relief from the eyestrain and fatigue often caused by glare. Easily attachable to any table or work station that has a flat, one-inch overhang, this work light has been designed to illuminate your keyboard and paper-work without washing out the monitor's display. The shade and reflector can be rotated 360 degrees horizontally, which enables you to direct the beam to the area of your choice. The lamp's forty inch, movable arm allows you to adjust the light even more to your liking. The unit comes in two earth-tone colors: Putty or Chocolate Brown.
AMERICAN COLONIAL
COMPU-CENTER
Bauerle Enterprises, Ltd.
P.O. Box 743
Lynbrook, NY 11563
(516) 599-1189
$169.95
If Benjamin Franklin had owned an Atari computer, he might have housed it in a piece of Americana such as this. This version of Compu-Center would fit in perfectly with an American Colonial decor. Hand-rubbed and oiled to emphasize its authentic-looking detail, the unit features a traditional "Trestle" design in 1 1/4" thick pine, and can help organize all of your hardware, software and accessories. Complete instructions for assembly are included. A matching Colonial printer stand (not shown) is available for $89.95. And, for those of you with more up-to-date tastes, Bauerle Enterprises also carries more contemporary versions of Compu-Center.
SYSTEM STATION
Suncom, Inc.
650 Anthony Trail, Unit E
Northbrook, IL 60062
(312) 291-9780
Basic Unit - $79.00
The 1984 Winter Consumer Electronics Show introduced many an innovative item into the home-computer market. Among these was Suncom's System Station, a versatile, modular storage unit that rides on casters. Lightweight and airy in design, it is nonetheless quite capable of holding all of the elements a computer owner dreams of. The basic unit consists of a desk of comfortable, typing-table height. Add-ons include a detachable monitor stand, a printer stand and a book/diskette storage area. The desk alone is $79.00.
STICK STATION
539 W. Market St.
Louisville, KY 40202
(800) 251-3550 Ext. 3
$14.95
Add $2.50 for shipping and handling
Bring the ambiance of the arcade into your home with Stick Station. This hardwood joystick platform is said to help increase game-playing skills, while reducing or eliminating the pain brought on by muscle fatigue. To put the product to use, simply place a joystick into the platform's square slot and mount it with one or two screws. During game play the station can either be set on a flat surface or held in the user's lap. Stick Station makes joystick operation a one-handed task, so your other hand is free to perform other functions, such as keyboard input. The platform is approximately 17 1/2 " long by 6" wide by 1 1/2" thick, and is configured for either the standard Atari or the Wico joystick. When ordering, be Sure to specify which joystick you own. If you mention that you read about Stick Station in this article, the company will sell it to you at a bonus price of only $9.95.
THE HOME BASE - CT 125
Weber and Sons, Inc.
3468 Highway #9, RD #4
Freehold, NJ 07728
(800) 225-0044
$119.95
The Home Base - CT 125 is both a full-size computer table and a member of a family of modular computer furniture. With a work surface that is 35 3/4" wide by 21" deep, CT 125 can accommodate your computer and a full line of peripherals, as well as providing a storage unit for books, disks or printout paper. And when the included monitor platform is added, space is used even more efficiently. A printer-paper opening and wire harness clips are featured on the back of the desk. Adjustable floor levelers keep things in balance, and the unit's beautiful oak finish is sure to enhance the atmosphere of any home. Although The Home Base comes unassembled, it can be put together quickly with basic tools.
TILTING MONITOR STAND
Global Computer Supplies
Dept. AN
63 Hemlock Dr.
Hempstead, NY 11550
(800) 645-6393
In NY - (516) 292-3400
$48.00
Many maladies, such as eye fatigue and back or neck strain, are the result Of long periods spent it the computer. These, and similar problems, are said to be alleviated by Global's Tilting Monitor Stand. Because it elevates the monitor 8" above the desk top, and has an adjustable, twelve-inch deep shelf that tilts the monitor plus or minus ten degrees, the stand lets each user suit his or her individual need. There is also room for the computer's keyboard and accessories to be stored underneath the shelf. Finished in either oak or walnut, the shelf is constructed of one-inch thick wood.