BUYER'S GUIDE
Antic is pleased to present our annual Buyer's Guide. This guide is a collection of old standbys and new products as suggestions for your holiday gift giving. All of us here at Antic Publishing wish you a happy holiday season.
COMPUTERS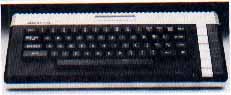 600XL HOME COMPUTER
Atari, Inc.
$199.00
Designed for beginners, this personal computer can grow with the user's ability and needs. 16K RAM can be ballooned to 64K, while built-in BASIC, full-stroke keyboard, and a self-help key all contribute to ease of use. Other features include an expansion bus, cartridge slot and, of course, joystick ports.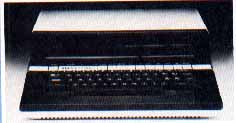 1450XLD HOME COMPUTER
Atari, Inc.
$999.00
Seekers of Atari's holy grail can stop here. This top-of-the-line, deluxe system is the last word in the integration of Atari computer capabilities. It contains all of the features of the 1400XL, as well as a built-in, double-sided, dual-density disk drive (repeat that several times quickly) which provides 256K storage per disk. A second drive can be installed in the same housing.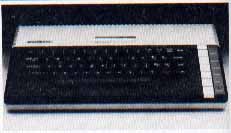 800XL HOME COMPUTER
Atari, Inc.
$299.00
The 800XL will probably be the workhorse of the new Atari line. With full 64K memory available, and BASIC built in, it can do - or can be connected to peripherals to do - anything any general-purpose microcomputer should do. The new Operating System is compatible with all earlier Atari software and devices legally designed according to Atari specifications.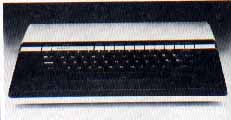 1400XL HOME COMPUTER
Atari, Inc.
$545.00
Modem and speech synthesizer are housed under the same roof in this ambitious, 64K Atari computer. Selected programs can be easily worked via one-touch cursor control. Built-in BASIC, TV and monitor outputs, four programmable-function keys, and a fullstroke board of 66 keys complete the impressive list of features.
DISK DRIVES
1050 DUALDENSITY DISK DRIVE WITH DOS 3.0
Atari, Inc.
$449.00
Store and retrieve your computer programs and important data with this streamlined, single-sided disk drive. It operates quietly in both single and enhanced-density modes, and comes with DOS 3.0. Novices will find the updated beginner's manual a valuable aid, and an all-new technical manual is handy, too. With its127K bytes per disk (100 pages) in enhanced density and a maximum transfer rate of 19.2 Kbps, this drive will appeal to many Atari users.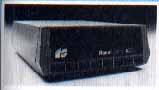 RANA 1000
Rana Systems
21300 Superior St.
Chatsworth, CA 91311
(800) 421-2207
(800) 262-1221
The long awaited Rana drives have hit the market as an economical alternative to previous drives. They are low profile and quiet, though not yet equipped for double density. Five function buttons and an LED display status of machine operation.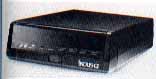 GT DISK DRIVE
Indus
9304 Deering Ave.
Chatsworth, CA 91311
(213) 882-9600
$449.00
According to Indus, the GT "looks like a ferrari, drives like a rolls, and parks like a beetle." Though it contains standard drive elements, such as single-density and double-density DOS 3.0, and digital display, it also offers a sleek design style. The unit arrives in a portable carrying case, which your disk library can be stored; its built-in, plexiglass dust cover features push-button, up-and-down motion. Included with purchase are a database program, a word processor, and a spreadsheet program.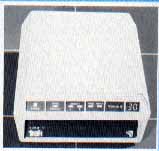 AT-DI and AT-D2
Trak Microcomputer Corporation
1511 Ogden Ave.
Downers Grove, IL 60515
(312) 968-1716
$469.00 (single density)
$499.00 (double density)
These two new intelligent drive systems -- single and double density - feature an on-board microprocessor and programmed memory, and they're only 3" high! Any Centronics-type printer will plug directly into the drive, eliminating the need for an interface. A digital track counter tells you where every bit of data is located.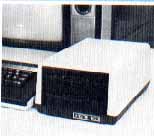 ASTRA 1620
Astra Systems
5230 Clark Ave.
Lakewood, CA 90712
(213) 804-1475
$595.00
Experience the convenience of multiple drives with this double-disk drive. This is like getting two drives for the price of one. It can be obtained in single or double density. When used as double density, it has the same capacity as four Atari 810s.
PERCOM DATA AT-88
Percom Data Corp.
11220 Pagemill Rd.
Dallas, TX 75243
(800) 527-1222
$488.00
Percom's AT-88 offers 88 formatted Kbytes in single-density, and can be smoothly attached to your Atari via a plug-in system. Other features are integral power supply, "no-patch" to Atari DOS, and critical constant-speed regulation.
MODEMS
CERMETEK 212A
(modem)
Micro Systems Exchange
P.O. Box 4033
Concord, CA 94524
(415) 355-7130
$560.00
A bilingual modem, the 212A communicates at both 1200 baud and 300 baud - using DSPK and FSK signaling techniques. It connects via a standard phone line and includes a convenient auto-dialer. You select from a menu of standard options and can develop custom features entirely in software.
1080 VERSAMODEM
Bizcomp
P.O. Rox 7498
Menlo Park, CA 94025
(408) 745-1616
$139.00
A new direct-connect modem that can be used for remote databank acceses, time-sharing, stock broker systems, videotex and electronic mail. You can link to The SOURCE, CompuServe, Dow Jones and other information utilities as well as online services via standard data terminals. VersaModem operates at 300 baud or below, using Bell Standard 103 protocol.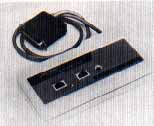 AM/FM LOADER
Microperipheral Corp.
2565 152nd Ave.,
N.E. Redmond, WA 98052
(206) 881-7544
$69.88
As radio stations and cable operations begin to download computer programs, this receive-only modem may be in demand. It operates at speeds up to 4800 baud, but can get worked up to 9600 baud to allow for four-second down loading of any video game.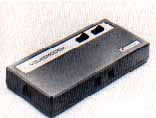 VOLKSMODEM
Anchor Automations
6624 Valjean Ave.
Van Nuys, CA 91406
(213) 997-6493
$79.95; $12.95 for each cable
Your search for an inexpensive 300-baud originate/answer modem should lead to the Volksmodem. Five different cables are available to connect it to almost any computer terminal, making it compatible with most systems. A hybrid of the direct/connect and acoustic modems, it has no cups, yet allows the user to monitor line status through the telephone. Includes a subscription to The SOURCE, itself a $100 value.
SURGE PROTECTORS
NO ZAP
KIS Engineering
10D College Lane
Methuen, MA 01844
$12.95 plus $2.00 postage and handling
Keep static electricity from causing you uncomfortable shock or crashing your computer system. To save you or your Atari from getting "zapped", install this small inexpensive peripheral next to your keyboard.
VOLTAGE-SURGE SUPPRESSOR
PANAMAX
150 Mitchell Blvd.
San Rafael, CA 94903
(415) 472-5547
$127.00 (includes noise-filter option)
For Atari systems the manufacturer recommends the four-outlet unit, SS120/ 4LCSN, which handles both surge and noise. Unit has a response time of one trillionth of a second and clamps the voltage well below damaging levels.
THE DATASAVER
Cuesta Systems, Inc.
3440 Roberto Court
San Luis Obispo, CA 93401
(805) 541-4160
$395.00 -- 90 watt
$695.00 -- 200 watt
Don't let interference or power outages destroy all your programming efforts. This battery-powered backup unit is availble in 90 watt and 200 watt capacities. Both versions utilize a precision frequency standard and provide overvoltage suppression and EMI noise filtering.
SPIDER PAC AND BLACK MAX
Compu-Tech
P.O. Box 5058
Glendale, AZ 85306
(602) 979-2100
$134.95 Spider Pac
$124.95 Black Max
Plug all your system components into one power source, the Spider Pac, designed for Atari computers and peripherals. It sports a row of five 9-VAC outlets, five detachable power cords and three 120-VAC outlets. Other features include a 15-amp circuit breaker, illuminated on/off switch, spike protection, EMI filtration and RFI filtration. Black Max is a six-outlet spike filter with a mounting bracket, and a remote on/off switch so you can stop crawling under the desk.
TOCH TABLETS
TOUCH TABLET CONTROLLER
Atari, Inc.
$79.95
With the wave of a wand (actually a stylus with a switch), over 1500 colors and patterns are at your command. The 41/2"X6" drawing area can accommodate your masterpieces while instantly transferring them to the screen. The package also includes an Atari Artist cartridge.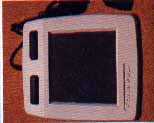 KOALA PAD
Koala Technologies Corporation
4962 El Camino Real, Suite 125
Los Altos, CA 94022
(415) 964-2992
$125.00 (including software)
Koalapad is a small, lightweight, touch tablet that can reproduce drawn or written images, serve as a custom keyboard, move cursors or objects around a video display, and act as a game controller. Comes with software for basic painting, drawing and graphics.
POWER PAD
Chalk Board, Inc.
3772 Pleasantdale Rd., Suite #140
Atlanta, GA 30340
(800) 241-3989
$99.95
At one square foot in size, Power Pad appears to be the largest touch tablet on the market. Its multiple-contact-point Surface allows the user to draw in more than on area of the board at a time. An entire software collection, dubbed Leonardo's Library, has been developed for use with the product; however, it must be purchased separately.
MEMORY EXPANSION
ATARI 400 48K UPGRADE KIT
Micro Systems Exchange
P.O. Box 4033
Concord, CA 94524
(415) 355-7130
$99.95
This kit contains the necessary chips, wiring and resistors to upgrade the Atari 400 to a 48K computer. The instructions are designed for the novice, and lead through a simple installation procedure. Use your current memory board so as not to change in any way the designed features of the Atari 400. The memory chips replace the chips on the memory board (all are pop-outs). Several small wires must be soldered.

64K RAM SELECT
Mosaic Electronics
P.O. Box 708
Oregon City, OR 97045
(503) 653-7885
$199.00
$29.95, Cable connector #1
$29.95, Cable connector #2
This product makes available four banks of 4K RAM above the normal 48K limit. You get 48K RAM hard-wired memory plus four 4K RAM banks of software-selectable additional memory for 52K of RAM continuous and 64K RAM total. ROM cartridges will not interfere with this product, and its memory is fully compatible with the 400/800 and all Atari software and peripherals.
RAMCRAM PLUS 48K
Axion, Inc.
170 N. Wolfe Road
Sunnyvale, CA 94086
(403) 730-0216
$229.95
Atari 400 owners can expand their memory to 49,062 bytes of RAM (48K) with this new, easy-to-install module. This plug-in compatible board requires no soldering and you need only a screw- driver to begin using it in ten minutes.
THE POWER MODULE
AMIGA Corporation
3350 Scott Boulevard
Santa Clara, CA 95051
(408) 748-0222
$44.95
An alternative to ROM cartridges for the Atari VCS. Plugged into the game machine, it provides 6K RAM and amicroprocessor to receive and use game programs loaded from a cassette recorder. Pre-programmed tapes for the module are much cheaper than ROM cartridges, and the extra RAM enhances graphics and play.
PRINTERS
For information on printers, consult our January 1984 issue. Extensive coverage will be provided there.
CONTROLLERS
For information on controllers, consult the ANTIC PIX CONTROLLERS section in this issue.
TRACK-ADAPT
ACECO
P.O. Box 631-A
Hicksville, NY 11802
(516) 733-3439
$9.95
$2.00 for shipping and handling
Two controllers for two-player games are no longer needed when Trak-Adapt plays too. Both people may use the same trackball or joystick without having to switch game ports. It can be used with controller extension cables and helps eliminate clutter from the gaming area.
BOOKS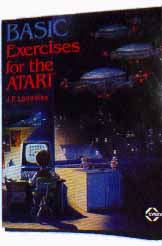 BASIC EXERCISES FOR THE ATARI
SYBEX
2344 Sixth Street
Berkeley, CA 94710
(415) 848-8233
258 pages
$12.95
Step-by-step examples show how to solve problems with Atari BASIC. You will learn programming techniques to do mathematical, financial and statistical computations as well as write games and data processing. Can be used with the Atari 1200XL.
ADVANCED PROGRAMMING TECHNIQUES FOR YOUR ATARI, INCLUDING GRAPHICS AND VOICE PROGRAMS
Tab Books, Inc.
Blue Ridge Summit, PA 17214
(717) 794-2191
The book's lengthy title is an apt description of its content. For the computerist who understands BASIC, but wishes to go beyond its limitations. Written by Linda M. Schrieber, a professional programmer and co-owner of an educational software firm.
THE DIRECTORY OF SOFTWARE PUBLISHERS: HOW AND WHY TO SELL YOUR PROGRAM
Van Nostrand Reinhold
153 W. 50th St.
New York, NY 10020
(212) 265-8700
Assume you've just created the most brilliant program in the world, but you don't know what to do next. If yourintent is to share it with the rest of us, as well as collect a few dollars, this guide will be of service to you. It delivers the inside scoop on software publishers; who is buying and what is selling. Also, legal areas, such as copyrighting, marketing agreements, and contracts are covered.
THE COMPUTER TUTOR: ATARI HOME COMPUTER EDITION
Little, Brown and Co.
34 Beacon St.
Boston, MA 02106
(617) 227-0730
Youngsters may move out the sandbox and into introductory portfolio management with the help of this text. Designed for parents and teachers who wish to work on computer skills with children, this 350 page book allows the youths to work on math and verbal skills, learn the metric system, and play the stock market, while the adults modify and personalize the programs.
WORDSTAR IN EVERYDAY ENGLISH
Devin-Adair Publishers
143 Sound Beach Ave.
Old Greenwich, CT 06870
(203) 637-4531
$9.95
Penned by a journalist who was initially reluctant to give up her electric typewriter, this book makes word processing simple for even the most computer illiterate. It is organized by the task required, and not by computer function. Over 200,000 sold.
USMI: MARKET DIRECTORY
Technique Learning Corp
40 Cedar St.
Dobbs Ferry, NY 10522
(914) 693-8100
$195.00 including all six updates
Published in a looseleaf format, this current and comprehensive profile of software publishers is updated and expanded six times per year. All information is obtained firsthand, and includes important tidbits, such as product line descriptions, ordering policies, contact names, and much more. The publishers are also cross-referenced in six ways for easy access.
INSIDE ATARI BASIC
(book)
Reston Publishing Co.,Inc.
Reston, VA 22090
$12.95
"Friendly" is the word to describe this introduction to Atari BASIC. Illustrations and examples provide a walking tour through the bewilderness of BASIC. It's as good a start as you can get before leaving the beaten path. Includes simple color and sound commands.

GENESIS II
Reston Publishing Co.
11480 Sunset Hills Rd.
Reston, VA 22090
(800) 336-0338
$15.95 paperback
$24.95 hardback
Author Dale Peterson presents the relationship between technology and the arts from Da Vinci to Warhol to the makers of Star Wars in this compelling book. Focusing on selected American artists, writers, composers and game designers, Genesis II explains how they have embraced or turned away from technology. An entire chapter is devoted to contemporary visual arts, and another segment covers the history and development of video games.
GAMES
TRIAD
Adventure International
P.O. Box 3435
Longwood, FL 32750
(800) 327-7172
(305) 862-6917
48K -- diskette $34.95
You and a friend can battle the nine unique and deadly foes in this fast-paced shoot-em-up game. Joystick and keyboard controls move your player(s) in up to ten levels. Victories and defeats are tallied on a tic-tac-toe-like scoreboard.
SUBMARINE COMMANDER
Thorn EMI
1370 Ave. of the Americas
New York, NY 10019
(212) 977-8990
16K -- cartridge
$44.95
Your mission is to destroy all enemy merchant shipping in the Mediterranean Sea. The sub is equipped with a map, sonar, periscope, and torpedos. You have a full instrument panel to help you evade the enemy's shells and depth charges, and to attack him undetected. Controls are: Surface, Dive, Rudder, and Neutralize Buoyancy.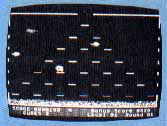 MR. COOL
Sierra On-Line
36575 Mudge Ranch Road
Coarsegold, CA 93614
(209) 683-6858
8K - cartridge
$37.78
Warch this uppity ice-cube character - Mr. Cool - invade the pyre-pyramid and freeze out the Hot Springs and the Fireballs. His enemies constantly try to melt him and he has to act fast to avoid contact. The playfield simulates a furnace and you are the ice-cube in hostile territory.
LIFESPAN
(simulation game)
Roklan Corporation
3335 North Arlington Heights Road
Arlington Heights, IL 60004
(312) 392-2525
16K- cartridge
$44.95
This game is based on a unique concept in video games: you follow the birth of a character and affect is development and personaliry throughout its "lifespan." Many life-like situations occur where the player must interact with others and often in humorous ways.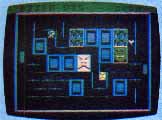 DRELBS
Synapse Software
5221 Central Ave.
Richmond, CA 94804
(415) 527-7751
16K -- cassette
32K -- diskette
$34.95
This isn't the first time a bunch of squares have nudged peaceful, wide-eyed creatures off their own turf. In this case, however, the hapless victims really are wide eyes (called Drelbs), while the four-cornered invaders are known as Trollaboars. When the drelbs become sick of being pushed around and hunted for kicks, they seduce the baddies to midtown and stage a showdown on the atomic flip grid. Do the eyes have it?
INFIDEL
Infocom, Inc.
55 Wheeler St.
Cambridge, MA 02138
(617) 492-1031
48K -- diskette
$49.95
The first in the new Infocom "Tales of Adventure Series," this prose adventure challenges you to find the buried entrance to the last great pyramid. Written by the author of Suspended, the game also features INTERLOGIC, a system that enables you to use complete sentences instead of the standard two-word commands.
BRISTLES
First Star Software, Inc.
22 E. 41st St.
New York, NY 10017
32K diskette or cassette - $29.95
cartridge -- $39.95
Fernando Herrera, winner of the Atari Star Award for My First Alphabet, has created this action game in which players frantically paint rooms and dodge flying paint buckets. Players can choose to be one of eight characters (four of each gender), each of whom has his/her own theme music.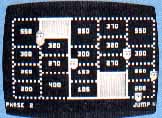 TIME RUNNER
Funsoft
28611 Canwood St.
Agoura, CA 91301
(213) 991-6540
16K -- cassette and diskette
$29.95
Here is the first game in this company's Funarcade series for the Atari. You must rush to stake out as much space for yourself as possible before time runs out. Watch out for the defender-droids and the Hyperspace traps. You may choose COAST or DIRECT moves and BEGINNER or EXPERT modes.
NIGHIT MISSION
Sublogic Software
713 Eaglebrook Rd.
Champaign, IL 61820
(217) 359-8482
32K -- diskette
$29.95
Bombs away! This pinball game recalls the nostalgic days following WWII when pinball was the most vicious waste of time in town. Flashing bumpers, spinners, rollovers and targets simulate a classic battle for two players. Its careful design rewards flipper skill and discourages tilting. Activated by electronic "quarters."
WINGMAN
Microprose Software
1 Caribou Court
Parkton, MD 21120
(301) 357-4739
48K - cassette and diskette
$34.95
This aerial combat simulation for one to four players comes as close to real-life dogfighting as possible without risking life and limb. Programmer Sid Meier flew regularly with fighter pilots from the National Guard for three months before he wrote the program. The screen is divided into two independently scrolling horizontal displays. Your wingman protects you on raids.
SPACE KNIGHTS
Reston Publishing Co. Inc.
1l480 Sunset Hills Rd.
Reston, VA 22090
(703) 437-8900
24K -- diskette
$24.95
Roll over Isaac Asimov, and tell Roger Zelazny the news. Atari sound, graphics and color capabilities are combined here to create a series of stimulating sci-fi adventure games. A novel with illustrations is included in this packet.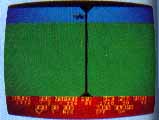 FINAL FLIGHT
MMG Micro Software
P.O. Box 131
Marlboro, NJ 07746
(201) 431-3472
24K -- cassette & diskette
$23.95
This is a real-time flight and landing simulator for a small plane similar to a Cessna. You're approaching the air strip, and must use your instruments and the view from your cockpit to land safely. You control pitch (angle to the ground), yaw (angle about the plane's vertical axis), and power with your joystick. You may choose flying conditions and decide whether or not to use your instruments.
GWENDOLYN
Artworx
150 North Main Street
Fairport, NY 14450
(716) 425-2833
40K- diskette
$27.95
Find and save the fair princess Gwendolyn in this colorful new graphics adventure by Marc Benioff. It features extensive graphics and sound (on both sides of the disk) and in your quest it takes you into a mysterious maze of tunnels.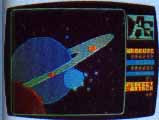 A.E.
Broderbund Software
1938 Fourth St.
San Rafael, CA 94901
(415) 456 6424
48K -- diskette
$34.95
The A.E. are coming! Beware! Squadrons of menacing sting rays are streaking down from the sky to attack you. You're doomed to be pestered forever unless you drive the A.E. away (A.E. is Japanese for "sting rays"). It's a fast-paced arcade game with eight levels of play that can be played with joystick or paddle.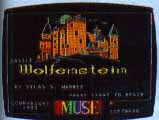 CASTLE WOLFENSTEIN
Muse Software
347 N. Charles St.
Baltimore, MD 21201
(301) 659-7212
32K -- diskette
$29.95
Atari owners can now play this popular and prize-winning game by Silas Warner. It is a sight-and-sound spectacular which requires quick responses and thinking to escape the Castle alive.
POO YAN
Datasoft, Inc
9421 Winnetka Ave.
Chatsworth, CA 91311
(213) 701-5161
32K--diskette and cassette
(sold together in both media)
$34.95
An exciting new arcade game, Poo Yan (which means "piglet" in Japanese) combines color graphics with fast action. It requires quick reflexes and fast thinking as you battle a pack of vicious, hungry wolves to protect the helpless piglets roaming the forest.
CRISIS MOUNTAIN
Synergistic Software
830 North Riverside Dr., Suite 201
Renton, WA 98055
(800) 426-6505
40K -- diskette
$34.95
Arcade game mirrors life, as terrorist plants nuclear bomb in active volcano. Players attempt to defuse it. Levels include such obstacles as boulders, lava, and a radioactive bat.
THE SPY STRIKES BACK
Penguin Software
830 4th Ave.
Geneva, IL 60134
(312) 232-1984
24K -- cassette
32K -- diskette
$19.95
Diabolical Dr. X has managed to blackmail the entire world with his threat to impose nuclear disaster upon a major international center. Meanwhile, an ex-spy named OOP is dragged out of his cushy administrative position, in order to stalk the 120 sections of the castle in which X is holed up. Even James Bond would be a little nervous.
TEMPLE OF APSHAI
EPYX/Automated Simuiations
1043 Kiel Court
Sunnyvale, CA 94086
(408) 745-0700
32K -- cassette & diskette
$39.95
A giant mantis, laying in wait in an insect god's temple, sounds like an escapee from a 1950's mutation movie. Unfortunately, this is the deadly challenge you face in this search for buried treasure. You create your own character via role-playing and must answer questions posed by the Dunjonmaster as you move along the dangerous path to riches.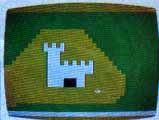 GALAHAD AND THE HOLY GRAIL
APX Atari, Inc.
P.O. Box 3705
Santa Clara, CA 95055
(408) 727-5603
32K - diskette
$29.95
Add $2.50 for shipping & handling
For Sir Galahad, encountering dragons and giant spiders are all in a day's work as he plunges ahead in his quest for the Holy Grail. The 100 galleries through which he moves not only provide plenty of action, they also house the tools with which he can save his shining armor.
KID GRID
Tronix, Inc.
701 W. Manchester Blvd.
Inglewood, CA 90301
(213) 215-0529
16K - cassette and diskette
$29.95
One of the fastest video games, Kid Grid is designed specifically to take full advantage of the Atari's great graphics, sound and color capabilities. The Kid darts around a grid, attempting to connect all the dots. In hot pursuit are four bullies - Squashface, Thuggy, Muggy and Moose - and if they catch the Kid, the results are explosive.
EDUCTIONAL
GALACTIC TRAVEL
Centurion Software
1714-B Marshall Court
Los Altos, CA 94022
(415) 965-9355
48K- diskette
$49.95
Take a star-hopping galaxy tour with this unique space travel simulation program. Students of astronomy and mathematics can learn about the stars and three- dimensional Cartesian (X,Y,Z) and polar coordinate systems while exploring the great beyond.
THE FACTORY: EXPLORATIONS IN PROBLEM SOLVING
Sunburst Communications
Room T 161
39 Washington Ave.
Pleasantville, NY 10570
(800) 431-1934
16K- diskette
$35.00
Test a machine build a factory and yield a product while developing inductive reasoning skills and understanding of sequence, logic, and efficiency. Created for grades four through adult. Advanced color graphics and random generation of problems delight and challenge all ages.
THE PRESCHOOL LIBRARY
Program Design, Inc.
95 E. Putman Ave.
Greenwich, CT 06830
(203) 661-8799
16K-- cassette
24K-- diskette
$18.95 (each tape)
$23.95 (each disk)
Help a child from ages three to six develop listening skills; learn shape, letter and number recognition; and improve hand-eye coordination while having fun with these PDI Challengers. The Library includes Pre-School IQ Builders 1 and 2, Sammy the Sea Serpent and The aventures of Oswald.
MUSIC MAJOR
Educational Software, Inc.
4565 Cherryvale Ave.
Soquel, CA 95073
(408) 4764901
32K -- cassette or diskette
$39.98
Fundamentals of music are taught in comprehensive lessons designed for all learning levels. Exercises also contain a teaching mode, and a quiz-master utility generates tests. Manual serves as study guide and reference book.
SAFETYLINE and STORYLINE Maximus, Inc.
6723 Whittler Ave.
McLean, VA 22101
(800) 368-2152
48K -- cassette only -- $29.95 each
48K -- cassette/disk -- $34.95 each
Maximus calls these "software movies," for they incorporate color graphics, animation, lip-synched human voices and musical scores. Lessons in life are taught in both programs; Safetyline demonstrates child safety rules, while Storyline features fairy tales. Sold individually.
SUCCESS WITH MATH
CBS Software
#1 Fawcett Place
Greenwich, CT 06830
(203) 622-2670
cassette -- $19.95 per program
diskette - $24.95 per program
16K - Add-subtract and multiply-divide programs
48K - Linear equation and quadratic equation programs
Teacher-created and classroom-tested, this series of four math programs allows students to learn and practice math algebra concepts at their own pace. All problems are randomly generated and each must be completed before moving on.
APPLICATION PROGRAMS
CP/M ADD ON MODULE
Atari, Inc.
$329.00
You've been waiting for this one. Now run CP/M, the world's largest base of business applications software, on your Atari system. The Z-80 microprocessor boasts 64K RAM, CP/M 2.2 Operating System and 80-column display capability. Business and professional users in particular will appreciate its compatibility with all Atari disk drives and computers.
ICS 800
Sierra Digital Research, Inc.
P.O. Box 50089
100 Washington St., Suite 104
Reno, NV 89513
(702) 323-3856
32K -- cassette
40K -- diskette
$135.00
A complete inventory program for the 800, it features price fields up to $100,000, and keeps track of 500 inventory items per disk. You can generate five different kinds of reports, including summary statistics, file contents, re-order reports, vendor lists and price lists. A sample data base is available for training purposes.
MILES ORDER/ENTRY INVOICING MODULE
Miles Computing
7136 Haskell Ave., #204
Van Nuys, CA 91406
(203) 994-6279
48K -- diskette
$79.95
This package can be fully integrated with Atari's Bookkeeper program and automatically posts information to the Atari software. It is designed for the entry of sales orders and shipping data, and will print invoices, keep address records, and generate back-order reports.
THE MONEY PROCESSOR
Luck Software
1160 Niblick Road
Paso Robles, CA 93446
48K -- diskette
$80.00
Retire your pencil and calculator and handle all your personal accounts with this easy-to-use accounting program.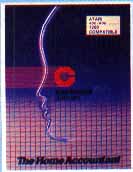 THE HOME ACCOUNTANT
Continental Software
11223 South Hindry Avenue
Los Angeles, CA 90045
(203) 417-3003
(800) 421-3930 (orders)
48K - diskette
$74.95
This top-selling financial management system is now available for the Atari computers. It can perform a variety of accounting functions -- from balancing several checkbooks to monitoring cash flow, checks, credit cards, assets, liabilities, income and expenses, as well as printing statements.
STOCK UTILITY
Janpro Products
P.O. Box 1028
Ontario, CA 91762
(714) 983-3817
16K - cassette
24K - diskette
$19.95
This program plots stock prices or other values entered into a vertical line chart. You can make hard copies of a stock at regular intervals (weekly, monthly) and can tape them side by side to form an endless chart - useful in tracking a stock. It has a chart range of 11.5 points or $11.50 with 1/2 point (50 cent) increments.
DATABASE PROGRAMS
HOME FILING MANAGER
Atari, Inc.
P.O. Box 427
Sunnyvale, CA 94086
(408) 942-1900
$49.95
Automate your card-file records with this easy-to-implement program. The Home Filing Manager requires only 16K memory, and has a capacity for 18 fields and 38-character field-size. Because of its simplicity, this system is well-suited for handling index-card information that is searchable on any field. Do your input editing and updating with ease.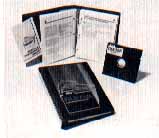 FILE FAX
TMQ Software, Inc.
82 Fox Hill Dr.
Buffalo Grove, IL 60090
(312) 520-4440
$129.00
When your applications require you to store hefty quantities of records, enlist File Fax as your ally. This database system holds records by the thousands in a maximum of 31 fields, and provides 40-character field size and 800-character record size. A helpful manual is included.
DATA PERFECT
LJK Enterprises, Inc.
P.O. Box 10827
St. Louis, MO 63129
(314) 846-6124
Looking for a database program that's flexible yet easy to use? Find it in Data Perfect's appealing report features, change capability and computed fields. With its record size of 511 characters and 32-field capacity, you can enter sizeable quantities of data in Data Perfect and merge them into Letter Perfect.
CCA DATABASE MANAGEMENT SYSTEM
Custom Electronics, Inc.
238 Exchange Street
Chicopee, MA 01013
(413) 592-4761
$99.50
For the record - here's a full-scale data base management system capable of storeing 249-character records with as many as 24 fields. Fields can contain 110 characters. Helpful prompts assist the user, and CCA allows system modification. Supports Percom double-density mode.
SYNIFILE +
Synapse Software
5221 Central Ave.
Richmond, CA 94804
(415) 527-7751
48K -- diskette
$99.95
Successor to the popular FileManager database programs, Syn-File + improves on them in capacity (66 fields per record, 16 disks per file), and flexibility - you can search across drives if necessary. You can also load your old data files from other programs without rekeying. Other Syn programs include Syn-Trend, Syn-Calc, Syn-Comm and Syn-Tax.
WORD PROCESSORS
ATARIWRITER
Atari, Inc.
1265 Borregas Ave.
Sunnyvale, CA 94086
(408) 942-1900
AtariWrirer is a simple, yet sophisricated word processor that improves in many ways upon the previous Atari mainline product. AtariWriter is document oriented, rather than page oriented, and has many features. Editing is easy and accidental text loss is well protected against. With some printers, special print styles can be invoked. In addition, files that have been written with most other word processors can be loaded onto AtariWriter, then edited as desired.
BANK STREET WRITER
Broderbund Software
1938 Fourth Street
San Rafael, CA 94901
(415) 456-6424
48K - diskette
$69.95
The first truly home-oriented word processing system, Bank Street Writer has heavily tested among students and young adults, and is designed for the whole family. Every function and command is fully and clearly prompted on screen. Many powerful features are inc]uded. Bank Street Writer requires a disk drive and 48K RAM, and comes with a special tutorial.
LETTER PERFECT
LJK Enterprises, Inc.
7852 Big Bend Blvd.
St. Louis, MO 63119
(314) 962-1855
16K - cartridge or diskette
$99.00
Letter Perfect is a character-oriented word processor with many powerful features. It is the only one that works with the 80-column boards, an advantage. It can merge data from LJK's Data Perfect database program, and can use the Spell Perfect spelling checker (both sold separately).
SPELL PERFECT
LJK Enterprises, Inc.
7852 Big Bend Blvd.
St. Louis, MO 63119
(314) 962-1855
16K - cartridge or diskette
B9.00
Users of Letter Perfect word processor will appreciate this companion program. It checks all of the words used in a text file against its dictionary and will make corrections as ordered. Has "sounds-like" feature, and dictionary is expandable. Program also gives count of words in document.
THE ALOG PAGEWRITER
Alog Computing
1040 Veronica Springs Road
Santa Barbara, CA 93105
(805) 964-4660
32K- diskette
80 column printer, 850 interface
$39.95
A simple word processor, this program turns your Atari into an electronic type-writer. The entire page layout is displayed while you type and edit. In just five minutes you can begin using it to write letters, memos or term papers. Features a help screen with command summary.
GRAPHICS
LIGHT PEN
Atari, Inc.
$99.35
Drawing on the television screen is no longer limited to industrious toddlers - all age groups will enjoy testing Atari graphics capabilities with this space-age quill. Simple to use, it plugs into Port 1, and is activated by pressing the tip against the CRT surface. Graphic Works software is a bonus.
VISUAL SYNTHESIZER
QuinTech Systems, Inc.
1271 W. Dundee Rd., Suite #44B
Buffalo Grove, IL 60090
1-800-621-0660, outside Illinois
1-800-572-0440, in Illinois
48K - diskette
$34.95
add $3.00 for shipping and handling
Creating your own dynamic computer art is easily accomplished through the use of menu selections. These productions are not static pictures, but a continuous flow of ever-changing designs that can be saved on disk for later playback. Interactive functions provided during playback include tempo control, color effects, and screen scrolling.
MOVIEMAKER
Reston Publishing Co.
11480 Sunset Hills Rd.
Reston, VA 22090
(703) 437-8900
16K -- cartridge
$60.00
Anyone can become a director with this innovative new tool. You devise the action, set the scene, create the actors and play back the computer "movie." Use your imagination and your Atari to make professional-looking animation.
FUN WITH ART
EPYX/Automated Simulations
1043 Kiel Court
Sunnyvale, CA 94089
(408) 745-0700
32K - cartridge
$39.95
Express yourself artistically with computerized brush and palette. Fun With Art offers a choice of 24 design modes to delight users at all levels of artistic skill and computer experience. Fill your video screen with your renderings in eight shades of each of sixteen colors, for a total of 128 color variations. Insert the cartridge in your Atari 400, 800 or 1200, and use it with your joystick. Incorporate pictures you create in your BASIC program.
UTILITIES
MONKEY WRENCH
Eastern House Software
3239 Linda Drive
Winston-Salem, NC 27106
(919) 924-2889
$59.95
ROM cartridge that plugs into the right-hand slot of the 800 to augment Atari BASIC. It provides a total of 18 BASIC commands and 16 machine language commands. These commands include automatic line numbering, hex and decimal conversion, finding and exchanging strings and scrolling up and down.
PINBALL CONSTRUCTION SET
by Bill Budge
Electronic Arts
2755 Campus Drive
San Mateo, CA 94403
(415) 571-7171
48K -- diskette
$39.95
Computerized erector set allows you to design and play your own pinball games, built from a library of pinball-machine parts. These include bumpers, balls, flippers, targets, and more. Construction is accomplished with joystick. Options include a sophisticated graphics painting and editing system, on-screen "wiring," and user-defined physical properties like time and gravity. Three complete examples come on the disk.
DISKED
Amulet Enterprises
P.O. Box 25612
Garfield Heights, OH 44125
(216) 475-7766
24K -- diskette
$89.95
These utility programs can view and edit the contents of any sector in hex, decimal or character (ATASCII or screen code). Also disassembles programs into 6502 mnemonics using virtual addressing. You can recover deleted files, map used and crashed sectors, copy any sector or block of sectors, and move cassette files onto disk or back to cassette.
ULTRA DISASSEMBLER
Adventure International
P.O. Box 3435
Longwood, FL 32750
(800) 372-7172
(305) 862-6917
$49.95
The second program in its Ultra Utility series, AI has just released this sophisticated labelling disassembler which closely re-creates the source code from which a machine language program was assembled. It reads code in from memory, but it also disassembles DOS files and even code from a list of specified disk sectors. Source code may be edited and reassembled with other popular Atari assemblers.
DISKWIZ
Allen Macroware
P.O. Box 2205
1906 Carnegie #E
Redondo Beach, CA 90278
(213) 376-4105
16K - diskette One or two disk drives
Provides disk editing, repair and duplication for Atari and Percom drives. Repairs DOS and non-DOS sectors with on-screen Hex/ASCII editing. Will print all modes to any printer and inverse and special graphics characters to Epson with Graftrax and NEC 8023A printers. Has an an onboard disassembler and a complete manual.
OTHER
1010 PROGRAM RECORDER
Atari, Inc.
$99.95
The least-expensive mass storage technique is to use standard audio cassettes. With the Atari you will need a special Program Recorder; this is the most recent. Though somewhat improved in reliability, the essential technology of the recorder remains as before. One track is used for data, while the other is available for sound at the discretion of the user. Two I/O connectors permit placement anywhere in the system chain.
ATARI NUMERICAL KEYPAD
Atari, Inc.
$124.95
Now number entry is made easy! Here's a keypad that accommodates you when you're working with large amounts of numerical data. This 17-key numerical keypad comes with program diskette, and works with The Bookkeeper, VisiCalc. For added versatility, you can redefine key functions.
HEAD MASTER
(media head and video screen cleaners)
SSK Enterprises, Inc.
2488 Townsgate Road
Westlake Village, CA 91361
(213) 889-1831
Dissolve and remove contaminants from your disk drive and cassette player heads with the non-abrasive cleaner in this complete line of cleaners and accessories for microcomputers. The Aerosol Anti-Static Treatment reduces damages caused by static electricity for up to two months with one treatment. The Screen Cleaner cleans and protects your VDT from static dust build-up and prevents yellowing on the plastic coating.
THE CRITICAL CONNECTION
(CP/M interface)
USS Enterprises
6708 Landerwood Lane
San Jose, CA 95120
(408) 997-0264
$175.00
In our October issue, we made an error in our description of this product. If one has a CP/M system, Critical Connection makes it possible to use an Atari computer and Atari software with the CP/M peripherals. Also, the price is $175.00, not $75.00 as we printed.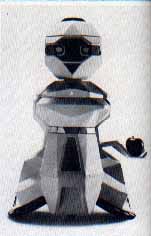 TOPO
(robot)
Androbot, Inc.
101 E. Daggett
San Jose, CA 95134
(408) BOB-TOPO
$795.00
Former Jetsons cartoon fans have been waiting for this since 1963. Topo, a 36.5"x 24" plastic and metal robot, moves, speaks, and interfaces with most computers via a remote infrared communications link. He (she!) can be controlled with either joystick or keyboard. TopoForth software package is included, thus enabling users to write original programs for the compliant creature. Battery operated.
VISICALC PROGRAMMING: NO EXPERIENCE NECESSARY
(instructional package)
Little, Brown and Co.
Order Dept.
200 West St.
Waltham, MA 02154
(617) 277-0730
48K - diskette
$59.95
Three to eight hours is all the time required to master VisiCalc, via this disk- and-guide aide. Divided into three lessons, it takes the user from beginning to advanced functions, and is the only tutorial that interacts directly with booted VisiCalc.