ANTIC PIX CONTROLLERS
by DAVID DUBERMAN
ANTIC Staff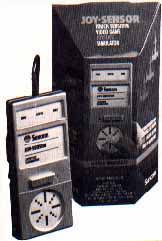 JOY-SENSOR
by Suncom
Instead of a stick, Joy-Sensor uses a flat, round, touch-sensitive disk to control on-screen movement. It's somewhat like using a track ball that you only control with your thumb. For games that require only four directions of movement (e.g. Pac-Man), a switch on the panel lets you lock out sensitivity to diagonal movement. At top, a flat rectangular strip is used to control firing functions. Press at either end for manual fire, and at the center for rapid fire. Joy-Sensor makes for a unique game-playing experience. Suncom, Inc., 650 E. Anthony Tr., Northbrook, IL 60062.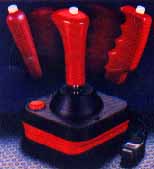 COMMAND CONTROL THREE-WAY DELUXE JOYSTICK
by WICO
A new concept in joysticks, the Wico lets you switch your joystick handle to fit the game you're playing. All three grips allow you to fire from either the top of the stick or the base. Wico has extensive experience in the controller business, so they know how to build a stick to last -- as witnessed by their two-year warranty. This is a smooth-handling, solidly built joystick. WICO Corp., 6400 W. Gross Point Rd., Niles, IL 60648.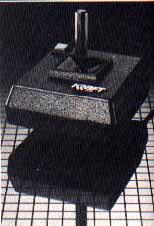 KRAFT JOYSTICK
by Kraft
Kraft, the nation's largest manufacturer of control sticks for various applications, has produced a precision controller for Atari VCS and computers. The base is suitable for table-top use, but is small enough to fit in your hand if you prefer. The fast-acting internal switches are built to endure heavy use. The Kraft Joystick features a spring-return stick mechanism and an eight-foot cord. Kraft Systems Co., 450 W. California Ave. Vista, CA 92083.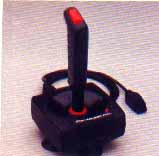 POINTMASTER PRO
by Discwasher
The PointMaster Pro combines design ingenuity with sturdy workability resulting in a fine joystick. The first thing you notice is that the base has suction cups allowing you to keep one hand free. The sensitive fire button is located at the top of the contoured pistol-type hand grip. An effective rapid-fire circuit is built into the stick, and actuated by pressing a red button. A red LED lights when this condition is in effect. All in all, this is a well-designed joystick intended for increasing your arcade scores. Discwasher, 1407 N. Providence Rd., Columbia,MO 65205.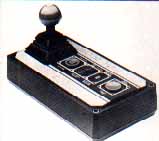 THE HS2O TOURNAMENT MASTER
by High Score
The Tournament Master looks more like the control panel on a piece of high-tech equipment than it does like a joystick. Controls include a ball-head joystick with a trigger at top, manual and autofire, coin-up size firebuttons, and a left/right-handed mode selector. This last reverses up, down, left, and right directions when the HS20 is turned around for left-handed play. The console is balanced and weighted for a minimum of unwanted movement during frenetic game play.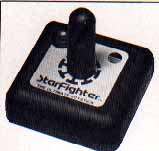 STARFIGHTER
by Suncom
A more conventional type of joystick than those described heretofore, the StarFighter is, however, by no means inferior. The base is about the same size as the original Atari joysticks, but this is the only similarity. The stick is fairly short and wide, with a rounded top. The best thing about the StarFighrer is the way the switches close - there is no question about when a contact is made. A definite "click" is felt, both in th joystick and the fire button. StarFighter comes with a two year warranty.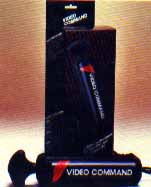 VIDEO COMMAND
by Zircon
Built like a jet fighter joystick, the Video Command gives you ultimate control over your on-screen counterpart, helping to improve your scores. The jovstick's tapered grip is held in the hand, not placed on a table. Zircon provides a booklet entitled "The Power to Win" with tips on using the stick to best advantage with different types of games. Zircon International, Inc., 475 Vandell Way, Campbell, CA 95O08.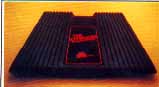 JOYBOARD
by Amiga
The first joystick you stand on, the Joyboard is controlled by your entire body. Plug a normal joystick into the joyboard for a fire-button function. Now you can get in shape as you destroy the aliens! The Joyboard's price has recently been reduced by 20%. The Joyboard comes with a VCS skiing game called Mogul Maniac. AMIGA Corp., 3350 Scott Blvd., #7, Santa Clara, CA 95051.
POWER-STICK
by Amiga
Probably the tiniest joystick is the Power- Stick, and smaller may be better in many ways. For one thing it is easy for small children to hold, and control is exercised with delicate movements of the fingers instead of gross (and tiring) movements of the wrist and hand. Design features fire buttons on each side and "twice as many" contact points for precise direction control.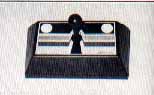 QUESTAR CONTROL CONSOLE
by Questar
No controller gives you more of a feeling of being in a real arcade than this one. It's quite handsome, and is also the biggest jovstick we have seen. Measuring 8" by 12'/2" at the base, the Questar is made with full-sized arcade components. The switches are leaf type, and you can adjust them for sensitivity to your joystick movements. As long as you have enough room for this baby, it will serve you well.
Also from Questar comes the Blaster, an adjustable-speed, rapid-fire module. Simply attach the Blaster between your joystick and your computer or game console. You'll achieve new high scores on games like Zaxxon and Defender immediately. Questar Controls, inc. 670, N.W. Pennsylvania Ave., Chehalis, WA 98532.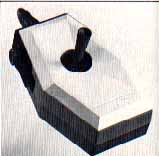 ENJOYSTICK
by TG Products
TG is one of the few companies that produce both games and controllers, and this time they've come up with a winner. The Enjoystick was designed to fit comfortably in the palm of the hand, and that it does. The stick itself operates very smoothly and is self-centering. The fire button is on the left side, but can be flipped around to the other side for use by left-handed players. This hexagonal controller is excellent for maze games and those that require motion about the entire screen. TG Products, Inc., Plano, TX 75074.