NEW PRODUCTS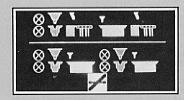 THE FACTORY: EXPLORATIONS IN PROBLEM SOLVING
(educational program)
Sunburst Communications
Room T 161
39 Washington Ave.
Pleasantville, NY 10570
(800) 431-1934
16K-diskette
$35.00
Test a machine, build a factory and yield a product while developing inductive reasoning skills and understanding of sequence, logic, and efficiency. Created for grades four through adult. Advanced color graphics and random generation of problems delight and challenge all ages.
---
LIFESPAN
(simulation game)
Roklan Corporation
3335 North Arlington Heights Road
Arlington Heights, IL 60004
(312) 392-2525
16K-cartridge
$44.95
This game is based on a unique concept in video games: you follow the birth of a character and affect is development and personality throughout its "lifespan". Many life-like situations occur where the player must interact with others and often in humorous ways.
---
FANTASY PLAZA
(home shopping program)
P.O. Box 6055
Burbank, CA 91510
(800) 824-7888
Use your modem to buy new software or hardware from this unique personal computer store. As an ATARI owner, your screen will display a map of the second floor of the shop so you can "walk" through and select your purchases.
---
THE PRESCHOOL LIBRARY
(educational games)
Program Design, Inc.
95 E. Putman Ave.
Greenwich, CT 06830
(203) 661-8799
16K-cassette
24K-diskette
$18.95 (each tape)
$23.95 (each disk)
Help a child from ages three to six develop listening skills; learn shape, letter and number recognition; and improve hand-eye coordination while having fun with these PDI Challengers. The Library includes Pre-School IQ Builders 1 and 2, Sammy the Sea Serpent and The Adventures of Oswald.
---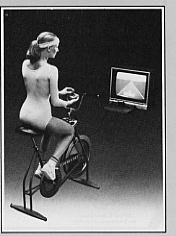 THE AEROBICS JOYSTICK
(game controller)
Suncom, Incorporated
650 E. Anthony Trail
Northbrook, IL 60002
(312) 291-9780
$39.95
Now you can keep fit while playing your favorite video games. This joystick was designed as an interface between most standard stationary exercise bicycles and an ATARI 2600 or the computers. The joystick can be installed in ten minutes and works best with Activision's Enduro road race game.
---
GRADECALC
(grade and attendance management program)
Tamarack Software
P.O. Box 247
Darby, Montana 59829
(406) 821-4596
4OK-diskette
$34.95
Teachers who need help managing their students' grade and attendance records can save time with this program. It averages grades by several methods and generates various other reports.
---
ATARI KID'S LIBRARY
(educational games)
Atari Game Club
Atari, Inc.
1312 Crossman Ave.
Sunnyvale, CA 94086
(800) 538-8543
The Atari Kid's Library is a growing collection of educational fun and games for children under age 12. These games were produced in cooperation with Children's Television Workshop and include characters from Peanuts, Walt Disney Productions, and The Muppets.
---
MULTIBASE CALCULATOR
(utility)
Ultraware
Dept. TN
801 E. Harrison St., Suite 105
Seattle, WA 98102
32K-diskette
$27.45
Explore the world of computer logic and mathematics with this powerful and useful tool. It converts numbers among hex, BCD, decimal, octal or binary forms. Helpful for writing more powerful programs in BASIC or assembly language.
---
RAMCRAM PLUS 48K
(memory expansion module)
Axlon, Inc.
170 N. Wolfe Road
Sunnyvale, CA 94086
(408) 730-0216
$229.95
ATARI 400 owners can expand their memory to 49,062 bytes of RAM (48K) with this new, easy-to-install module. This plug-in compatible board requires no soldering and you need only a screwdriver to begin using it in ten minutes.
---
PRINTOUT BASKET
(hard copy basket)
See, Inc.
P.O. box 40215
Indianapolis, IN 46240
(317) 844-8817
12" Basket - $22.50
18" Basket - $24.50
add $3.00 for shipping and handling
A tisket. a tasket, a low-cost printout basket. Will accommodate both bottom-feed and rear-feed printers. Can be placed on any flat surface - no stand required. A special retainer rod prevents signal cables and power cords from entering paper path.
---
JUMPMAN
(arcade game)
Epyx/Automated Simulations
1043 Kiel Court
Sunnyvale, CA 94086
(408) 745-0700
32K diskette
$39.95
As Jupiter Jumpman, your mission (if you decide to accept it) is to defuse bombs planted by the enemy Alienators. You must overcome perilous obstacles and outwit a treacherous cast of sci-fi/fantasy characters. Five difficulty options and 30 different screens challenge all levels of difficulty.
---
GALACTIC TRAVEL
(simulation/educational game)
Centurion Software
1714-B Marshall Court
Los Altos, CA 94022
(415) 965-9355
48K-diskette
$49.95
Take a star-hopping galaxy tour with this unique space travel simulation program. Students of astronomy and mathematics can learn about the stars and three-dimensional Cartesian (XYZ) and polar coordinate systems while exploring the great beyond.
---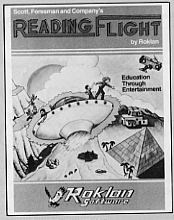 READING FLIGHT
(educational game)
Roklan Corporation
3335 N. Arlington Heights Rd.
Arlington Heights, IL 60004
(312) 392-2525
16K-cassette
$44.95
Want to go on a "Space Adventure"? Can you identify the evil "Traitor Among the Trolls?" Have you ever seen a "Curious Undersea Species"? Children ages 10 to 12 can choose from several different adventures - all designed to help them read better.
---
GWENDOLYN
(adventure game)
Artworx
150 North Main Street
Fairport, NY 14450
(716) 425-2833
40K-diskette
$27.95
Find and save the fair princess Gwendolyn in this colorful new graphics adventure by Marc Benioff. It features extensive graphics and sound (on both sides of the disk) and in your quest it takes you into a mysterious maze of tunnels.
---
ALGEBRA ARCADE
(educational game)
Wadsworth Electronic Publishing Co.
8 Davis Drive
Belmont, CA 94002
(415) 594-1900
48K-diskette
$49.95
The villanous Graph Gobbler, the autocratic Committee, the Whirlwind and ten little critters called Algebroids conflict in this mathematical education program. Kids can have fun while learning to construct an algebraic equation.
---
TRIAD
(arcade game)
Adventure International
P.O. Box 3435
Longwood, FL 32750
(800) 327-7172
(305) 862-6917
48K-diskette
$34.95
You and a friend can battle the nine unique and deadly foes in this fast-paced shoot-em-up game. Joystick and keyboard controls move you player(s) in up to ten levels. Victories and defeats are tallied on a tic-tac-toe-like scoreboard.
---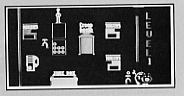 SPARE CHANGE
(arcade game)
Broderbund Software
1938 Fourth St.
San Rafael, CA 94901
(415) 456-6424
48K-diskette
$34.95
Watch the zany antics of the Zerks as they dance and play in this simulation of a coin-op arcade. In this game, you are the owner of a video arcade and the Zerks are your irresponsible business partners. When you put tokens into a machine many colorful comedy routines appear.