PRODUCT REVIEW
New Atari Product Line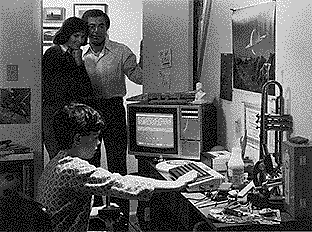 Four new computers and more than eight new peripherals were announced by Atari at the June Consumer Electronics Show in Chicago.
NEW COMPUTERS:
Atari's top-of-the-line home computer is now the new 1450XLD. Selling for less than $1000, this new computer boasts a built-in double-sided doubledensity disk drive, a built-in modem, and a built-in voice synthesizer. The disk drive will operate two to three times faster than current models because it directly accesses the processor buss. An extra bay for a second drive is designed into the computer. Atari surprised the home computer industry by announcing this powerful machine at such a low price.
To complement this new Atari line are the new 1400XL, 800XL, and 600XL computers. The 600XL is aimed at the "low end" of the market. It will sell for less than $200 with 16K built-in memory, expandable to 64K. The 1400XL is essentially the same as the 1450XLD, but lacks a built-in disk drive.
Exceptional features are:
Contemporary high-tech styling.
Built-in ATARI BASIC (Rev. B).
Voice-synthesizer (1400/1450 Models only).
Connection of peripherals without special hardware.
Access to data buss for easy connection to third-party hardware such as expanded memory, music synthesizers, and 80-column cards.
Of special significance are three new expansion units:
A CP/M expansion unit opens the world of CP/M business and data management programs in either 40-or 80-column format (existing programs only require reformatting).
An Expander Box available for the new computers provides eight special plug-in slots plus two RS-232 ports and a bi-directional parallel buss to accommodate third-party software and peripherals.
The ATARI 600XL, delivered with 16K, can be expanded to 64K with a new Memory Module.
PERIPHERALS:
Compatible computer peripherals announced at the show are headed by the new ATARI 1027 letter-quality printer which requires no interface and will retail for less than $400. It is bidirectional at 20 characters per second.
The ATARI 1025 80-column printer and the ATARI 40-column color plotter/printer were also shown.
The 1050 Disk Drive in single-density format will be released soon with DOS 2.0S for less than $500. DOS 3.0 will be available in September, and provides double-density capability.
In the telecommunications area, the new ATARI 1030 direct-connect modem will auto-dial from the computer keyboard, answer automatically, will dial pulse or tone, and switch the printer on and off. It is fully compatible with TeleLink I and TeleLink II.
Rounding out the line are new joysticks (wired and remote control), TRAK-BALL, light pen, and a graphics touch tablet.