PRODUCTS UPDATE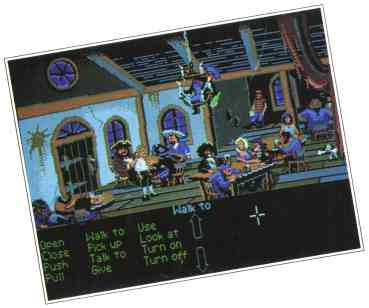 Lucasfilm Games
The Secret of
Monkey Island
The Secret Of Monkey Island $59.95
Lucasfilm Games
P.O. Box 10307
San Rafael, CA 94912
(415) 721-3300
The Secret of Monkey Island is a comedy set in the "golden age" of piracy in the Caribbean. The game's twisting plot leads our hero, fresh from the Old World, on a hilarious, complex, swashbuckling search for the fabled secret of Monkey Island. Like other graphic adventures from Lucasfilm Games, The Secret of Monkey Island features cinematic storytelling, high-resolution graphics and a unique point-and-click interface.
Antic Software's City Icons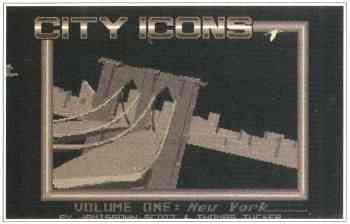 City Icons Design Disk $39.95
Antic Software
544 Second St.
San Francisco, CA 94107
(800) 234-7001
Antic Software's latest 3D Object Design Disk Series, City Icons, unveils a new generation of animation realism that pushes the ST/Mega/TT to its limits.
City Icons, Volume 1: New York City presents the Big Apple's famous skyscrapers and other landmarks with a painstaking realism never before seen in the 3D universe. Antic plans to release several other major cities in the City Icons series, including London, Rome, Paris, Athens, Moscow and the long-awaited Taj Mahal in Agra, India. At press time, designers were busy reconstructing San Francisco, complete with the Golden Gate bridge, TransAm Pyramid and cable cars. Each City Icons collection is compatible with the Cyber line from Antic.
WHATCH IT WORK!
CITY ICONS DEMO ON DISK!

SYSUTIL $39.95
Inland Specialty Products
3403 N. Molter Road
Otis Orchards, WA 99027
(509) 927-4677
With over 15 built-in utilities, SYSUTIL is one of the most complete systems-utility programs available for the ST. SYSUTIL is GEM-based and runs in either medium or high resolution on a minimum of 512K. The utilities include the ability to restore deleted files, view disk sectors, and edit disk sectors and either update the sector with the changes or write the changed sector to a file. Files can be printed in hex or ASCII format. Files/disks can be searched for specific data patterns. Other features include copy, move, locate, delete, verify, rename, change attributes and compare, and a graphic tree of subdirectories.

TransporT $24.95
Artisan Software
P.O. Box 849
Manteca, CA 94336
(209) 239-1552
Artisan recently released a software system that lets you transfer data between the Portfolio, Atari's PC palmtop, and the ST. TransporT offers two levels of interaction. The initial menu appears on bootup and permits efficient ASCII file transfers to the Portfolio and back to the ST without special software on the Portfolio. More advanced users will be able to enter two extended menus which support Xmodem, non-ASCII character stripping, online help and file viewing. A serial interface and null-modem cable are required. TransporT is Artisan's fifth software release. Other titles include the WordQuest series of word-search and crossword-puzzle construction systems, and Graph Maker.