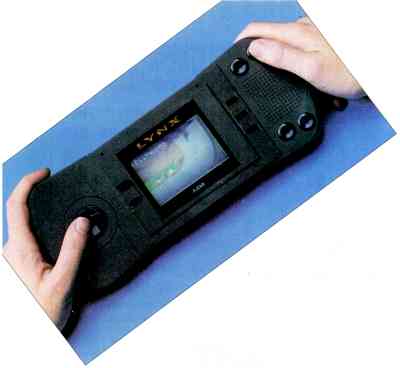 Whether you own a Lynx or are tempted to buy one, the following capsule reviews will bring you up to date on the "state of the Lynx."
The
Lynx Collection
BY CLAYTON WALNUM
Blue Lightning
In Blue Lightning, you take to the skies in a top-secret combat jet and attempt to complete nine wartime missions. Your objective in Mission 1, Dog Fight, is to cruise the blue, blasting down any enemy that crosses your sights, while in Mission 2, Bombing Run, you must destroy enemy emplacements on the ground. Other missions have you maneuver your screaming jet through tight canyon walls, deliver secret documents to hidden airstrips, and fly nighttime bombing runs.
The 3D perspective is dazzling, with missiles and jets coming at you with such realism, you want to duck. It's especially magnificent when you blast an enemy at the last second and fly through the debris. One thing's for sure: The Lynx's built-in scaling features are used to the max in Blue Lightning. Luckily, the gameplay is as good as the graphics, making this a must-have game for every Lynx owner.

AT A GLANCE

Game:

Type:

Price:

Summary:

Blue Lightning

Flight simulator

$34.95

A dazzling 3D perspective
makes this awesome flight
simulator a must-buy.

California Games
In this West Coast-contest collection, you compete in four beachside sports: BMX Bike Racing, Surfing, Half-Pipe Skateboarding and Foot Bag.
The BMX event, in which you race your bike over hills, cliffs and other obstacles, is the star, with lots of action and stunts. The surfing competition is also a blast, mostly because you can easily perform outrageous tricks like triple spins, cutbacks and "catching air" high above the waves. The foot-bag competition is a pleasant diversion, but how long can you bounce a bean bag without getting fidgety? Half-pipe skateboarding, with its difficult controls, is a frustrating event that'll give you sore thumbs and a sour disposition.
All told, California Games isn't a bad package, especially since it comes free with the Lynx.

AT A GLANCE

Game:

Type:

Price:

Summary:


California Games

Arcade action

Included with every Lynx

This excellent collection of
high-action games is made
especially great by the fact
that they're "free."
Chip's Challenge
If there's one game that will sell Lynxes, Chip's Challenge is it. As Chip, you must search over 140 mazes, gathering computer chips as you go. A multitude of tools, traps, devices and monsters make each puzzle a visual and intellectual delight. Ice floors slide you out of control. Fire traps fry you to a frazzle. Force floors drag you screaming to destinations unknown.
Some of the tools and devices include keys, which open color-coded doors; dirt blocks, which may be pushed around to make bridges or to set off traps; water shields, which let you walk over water; teleport squares, which zap you instantly to another location; and one-way walls, which turn solid when you walk through them. Chip's Challenge will give you a serious case of gamer's grin.

AT A GLANCE

Game:

Type:

Price:

Summary:

Chip's Challenge

Strategy action

$34.95

This challenging action puzzle
will give you a severe case
of gamer's grin.
Electrocop
Adventure lovers will drool over Electrocop, which drops you into a large, 12-level fortress through which you must battle in order to rescue the president's daughter from the crafty Criminal Brain. Each level contains one or more doors that lead to other levels - not always in the expected order. Even expert explorers will need time to find the best path to the Criminal Brain.
Another game drawn in 3D perspective, Electrocop's outstanding graphics feature long hallways and rooms packed with robot walkers; python machines that pop up from the floors; virus robots hopping from tile to tile, leaving death in their wake; and mines and stingrays floating in the air. To add to the fun, computer consoles throughout the game offer data files and programs to desperate detectives in need of help.

AT A GLANCE

Game:

Type:

Price:

Summary:

Electrocop

Action adventure

$34.95

Outstanding graphics and
sound coupled with a few
surprises.
Gates of Zendocon
Gates of Zendocon is the obligatory, horizontally-scrolling, outer-space shoot-em-up. A game with limited depth, play consists of cruising each of the over 50 universes, searching for exits and blasting anything that moves. To assist in the destruction, four friendly alien weapons - flying eyeball, death arising, cosmic destroyer and sonic dart - will, when you find them, automatically attach to your ship, and boost your firepower.
Although Gates of Zendocon makes little use of Lynx's scaling abilities, this blastathon is populated with more varieties of cosmic crawlies than can be described here. In addition, a variety of obstacles, such as falling crystals and floating space junk, will keep galactic gun jockeys busy Ofl the control pad. Gates of Zendocon is recommended for shoot-em-up fans only.

AT A GLANCE

Game:

Type:

Price:

Summary:


Gates of Zendocon

Shoot-em-up

$34.95

Got to have a token shoot
-em-up. This is it.
Gauntlet, The Third Encounter
Fans of previous Gauntlet adventures will be pleased with Gauntlet, The Third Encounter. In this sequel, adventure addicts can choose an alter ego from eight characters each with unique attributes - and then descend into the multilevel dungeons in a quest to recover the legendary Star Gem. The game's difficulty varies with the character chosen.
Although The Third Encounter is basically a shoot-em-up, spells and other special items take the game a step beyond that genre. Moreover, tricky obstacles like illusory walls make this dungeon diversion as much a treasure hunt as a shooter. The display is vivid and imaginative and the gameplay fast and smooth. Most everyone will enjoy this magic-filled fantasy.

AT A GLANCE

Game:

Type:

Price:

Summary:


Gauntlet, The Third Encounter

Maze

$39.95

Tricky obstacles like illusory
walls make this dungeon
diversion as much a treasure
hunt as a shoot-em-up.
KIax
Klax, a vaguely Tetris-like puzzle contest, has already captivated the video-game world. As such, its a guaranteed hit for the Lynx. Although more visually appealing than Tetris, KIax's gameplay, which is based on colors rather than shapes, is similar: colored blocks flip-flop down a conveyor. You must catch the blocks before they fall and stack them in bins in such a way as to align three or more identically colored blocks, thus forming a klax. The klax blocks then vanish and those above settle into the vacated space.
Once you start playing Klax, a maniac with an Uzi won't be able to tear you away. Not only are the graphics clean and vivid, the music is darn near good enough to dance to and the digitized sound effects and speech are astonishing for such a small unit.

AT A GLANCE

Game:

Type:

Price:

Summary:



Klax

Brain teaser

$39.95

This Tetris-like brain challenger
has awesome sound and
gameplay.
Ms. Pac-Man
Anyone not familiar with this all-time classic has been living on the moon. Sure enough, galloping gourmets once again have a chance to conduct Ms. Pac-Man through a series of mazes, gulping dots and fruit and playing tag with four pesky ghosts.
The original four mazes are included, but with a quick keystroke, 21 new, super-tough mazes can be dumped onto the screen for your dietary pleasure. In the new mazes, lightning bolts, which can be scooped up to provide a burst of speed, appear intermittently, adding yet another twist to the venerable Pac-Man theme.

AT A GLANCE

Game:

Type:

Price:

Summary:



Ms. Pac-Man

Maze

$39.95

Everyone's favorite arcade
game translates very nicely
to the small screen.
Paperboy
A shrewdly disguised shoot-em-up, Paperboy has you peddling your bike down city streets, tossing newspapers and avoiding obstacles. To complete a level, you must throw a paper onto the porch or into the paper box of each paying customer. What? Some jerks didn't subscribe? Try giving free samples - through their windows!
After completing a street, you take on the paperboy training course, where you flip papers at targets and guide your bike over obstacles.
Winning Paperboy means keeping your subscribers happy for an entire week. Paying customers who don't receive their paper - or who get a broken window - will cancel their subscriptions. Too many cancellations and you're out of a job.
Boasting well-rendered graphics and convincing sound effects, Paperboy offers Lynx lovers hours of newspaper nonsense.

AT A GLANCE

Game:

Type:

Price:

Summary:



Paperboy

Arcade action

$39.95

This arcade classic is really just
another shoot-em-up without
the shooting.
Roadblasters
Every video-game system needs a car-racing game, and, for the Lynx, Roadblasters fits the bill quite nicely, combining standard racing with heaps of action. Not only must you stay on the road, you must also wipe out your opponents. To this end, your car comes equipped with a laser. Occasionally, your alien partners provide additional weapons, as well as defensive items, including cruise missiles, electro shields and nitro injectors.
Roadblasters boasts 50 levels of play, and while the early levels are easy to complete, only a demon racer will make it to the end. If you liked Roadblasters on another system, you won't he disappointed in the Lynx version.

AT A GLANCE

Game:

Type:

Price:

Summary:



Roadblasters

Race-car simulator

$39.95

Like shoot-em-ups, every game
system needs a token car-racing
simulation.
Todd's Adventures in Slime World
One of the grossest games ever, Todd's Adventures in Slime World features a planet full of green, yellow and red slime - not to mention boogers. Yep, boogers. Slime World's six, lengthy, underground mazes contain more monsters than a Clive Barker film, all of them anxious to coat you with yucky slime and stomach-churning boogers. Luckily, there are water pools in which to wash it off and slime shields to protect you.
Each of the adventures has a different objective. For example, in adventure #1, you must search for the cavern exit, while in adventure #4, you must get out of Slime World before it melts. In adventure #5, you must solve each room's arcade-type puzzle. Combine all of the above with hidden rooms, secret doors and slippery, sticky, bouncy, moving slime floors, and Slime World comes up a guaranteed hit.

AT A GLANCE

Game:

Type:

Price:

Summary:

Todd's Adventures in Slime
World

Action adventure

$39.95

Wonderfully gross.
Xenophobe
In Xenophobe, your task is to exterminate aliens who have overrun nine space stations. Although your primary objective is to eradicate the aliens, you also can pass a level by surviving past the time limit, or by using the station's self-destruct code.
In this shooter, you maneuver from room to room, taking elevators to higher or lower levels, blasting aliens and gathering equipment. The graphics in some rooms are more detailed than in others, and, in general, aren't as impressive as those in Electrocop, a similar game. Also, the complicated controls take some getting used to.

AT A GLANCE

Game:

Type:

Price:

Summary:



Xenophobe

Action adventure

$34.95

Complicated controls and
mediocre graphics make this
shooter a so-so offering.
Zarlor Mercenary
The newest member of the Lynx collection, Zarlor Mercenary, is guaranteed to leave your trigger thumb bruised. In this futuristic shooter, you blast not only everything that moves, but everything that doesn't: ships, buildings, monsters, even people. To keep your flier on the cutting edge, 12 special upgrades can be found during battle or purchased at the end of a level. These include wing cannons, super shields, invisibility, lasers, back shooters and side shooters.
You'll need those upgrades, too. Swarms of alien craft, all firing at once, pepper the air with shots. As you struggle to destroy the attacking aliens and blast the ground targets, you'll begin to understand what people mean by the term "control pad ache." This blastathon will please all players with a thirst for destruction.

AT A GLANCE

Game:

Type:

Price:

Summary:



Zarlor Mercenary

Shoot-em-up

$34.95

This blastathon will please
any Lynx fan with a thirst for
destruction.
Clayton Walnum is the former editor of ST-Log. He is currently preparing a book on the Lynx for Hayden Books.