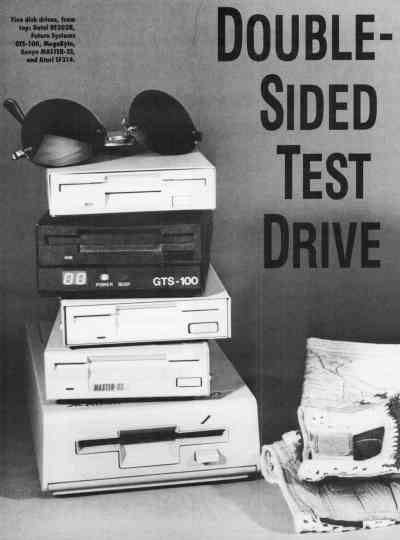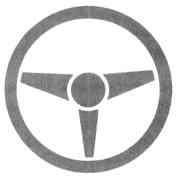 Five Floppy Systems Compared
BY JAMES BURTON
Technical Editor
Yes, it's time to upgrade that single-sided floppy drive! Way back when the 520ST was introduced, a single-sided drive, the SF354, was all that was available. These days, however, all the STs and Megas come equipped with double-sided drives, and more and more software is being released only on double-sided disks. In fact, next month the START disk goes double-sided,
If you're itching to upgrade to the de facto standard, but need a few clues on what to choose, here are the results of our test laps around the 720K tracks.
Similarities
All of these drives are external, which means they connect to the ST with a cable. With the exception of the MegaByte, which we'll discuss later, all of these drives have a separate power supply, which means more cables to clutter your workspace. Each drive has a busy light, which glows when writing to or reading from the drive.
Atari SF314
The largest drive of the units reviewed here, the Atari SF314 has a suggested retail price of $199.00. The plastic case of the SF314 is styled to match the ST computer, a bonus to those concerned with aesthetics. The SF314 has everything that should be considered standard on an external drive, including a port for daisy chaining a second drive to the system.
Datel RF302R
The Datel RF302R, costing $159.95, is much smaller than the Atari SF314. In fact, its tan-colored metal case is barely larger than the drive mechanism. Like the Atari drive, it has an On/Off switch in the back of the unit. But it does not have a daisy-chain port, which relegates it to being the B: drive in a two-drive system. Also, the data cable is permanently attached; a bad cable means sending the whole drive for service.
GTS-100
Future Systems' GTS-100 is a sharp-looking drive with a power-on indicator and a LED readout which displays the track being accessed, as well as the familiar busy light. While I question the typical user's need for a track-number display, the power light is a welcome addition. The black-matte metal case is taller than the Datel's in order to accomodate the LED display. This drive is definitely the best-looking of the lot, and also the most expensive, costing $269.00. (Future Systems also sells the $239.00 GTS-100X, a ST-colored drive without a LED track display. It wasn't available for review.)
MASTER-3S
The MASTER-3S from Konyo International looks very much like the Datel drive. The MASTER-3S, however, has a standard connector, so you can replace the cable if it fails. It also sports a daisy-chain connector, making it suitable as either an A: or B: drive. The MASTER-3S sells for $169.00; the MASTER-3SD, $189.00, displays the track number.
MegaByte
The MegaByte drive from MegaByte Computers is almost the twin of the Datel RF302R. Approximately the same size as the Datel, it also lacks a removable cable and a daisy-chain connector, plus, it does not have a power switch.
The unique thing about the MegaByte drive is that it draws its five volts of power via a cable attached to the ST's joystick port. This arrangement leaves your joystick port unusable, unless you have a connector which allows you to plug two joysticks into one port. Another option is to buy the external power supply from MegaByte, which costs $19.95. The drive itself has a price of $139.95, making it the least expensive drive in this comparison.
Performance
To most users, performance is the deciding factor when shopping for hardware. In this case, however, the performance of all these drives is pretty much equal. I wrote and read a 32K test file with each of these drives, timing the operation in two hundredths of a second. The results (see the comparison chart) are close enough that speed need not he an issue in comparing these drives.
These units also are highly reliable. The START staff uses these drives every day and the only complaint we have is that the MegaByte will sometimes fail to read the disk directory after a new disk has been inserted and the [Escape] key pressed to refresh the Desktop window listing its contents.
Going Double
Remember, the START disk will have a double-sided format beginning with the January 1991 issue. Single-sided drives cannot read such a disk.
We strongly recommend you upgrade your system to double-sided drives, and not just so you can use
the START disk. Double-sided is fast becoming the standard in the ST community, and more software is being released solely in this format.
Upgrading is easy. Compare price and features and pick the double-sided drive that's best for you!
Products Mentioned
SF314, $199.00. Atari Corp., 1196 Borregas Ave., Sunnyvale, CA 94089 (408) 745-2000.
RF302R, $159.95. Datel Computers, 3430 E. Tropicana Ave. #67, Las Vegas, NV 89121 (800) 782-9110.
GTS-100, $269.00; GTS-100X, $239.00. Future Systems Inc., 21634 Lassen St., Chatsworth, CA 91311 (818) 407-1647.
MASTER-3S, $169.00; MASTER-3SD, $189.00. Konyo International, 1073 North Batavia St., Suite B, Orange, CA 92667 (714) 633-1026.
MegaByte, $139.95; optional power supply, $19.95. MegaByte Computers of North Texas, 909 Melbourne, Hurst, TX 76053 (817) 589-2950.
ASK DR. DISK DRIVE
A Troubleshooting Guide
I keep getting the error message that my drive "Is not responding." I've checked the connections, but it won't read the disk. What's wrong?
To determine if the problem is with the drive or a disk, put another disk that you know is good into the drive and try to open it. If its window opens on the Desktop, then the problem is with the first disk. The disk is probably damaged or unformatted.
(NOTE: some commercial games with heavy copy protection are not readable from the Desktop. They must be auto-booted. Also, if your drive is single-sided, you won't be able to read a double-sided disk.)
If none of your disks will open, then the problem is with the drive or the computer. To test an external drive, make sure it is switched on - it can be hard to tell if the drive is on - and double check all connections. If that doesn't solve the problem, borrow a friend's drive and hook it up. If his drive works on your machine, your drive is the culprit. If his drive won't work, suspect your ST, with a bad FDC (Floppy Disk Controller) chip or circuitry the most likely cause of your problem.
In either case, or if your internal drive is bad, you should take your ST or drive for servicing at an authorized Atari dealer. Do not attempt to fix it yourself.
I've tried chaining three disk drives to my ST. The first drive works fine, but not the second or third.
The ST can access only two floppy drives. When you chain a third drive to your computer, it tries to access it whenever you access the second drive, and vice versa. Very confusing. Remove the third floppy drive.
Sometimes I get "garbage" on the Desktop window when I open a disk.
The most likely cause is a dirty or worn read-write head. Purchase a 3 1/2-inch disk-drive cleaning kit from your dealer and follow the instructions to clean your drive. If the problem persists, the head may be worn out, and will need to be replaced. Hair or other debris sucked into the mechanism will interfere with the head, too. Open the slot on your drive and use some tweezers to remove the hair, but do not use force and do not touch the read-write heads. If you're not sure what you're doing, take it to someone who does.
How often should I clean my drive?
Not often. Too much use of the cleaning disk may wear out the read-write heads. One cleaning every two or three months is all you need, unless your workspace is particularly dirty.
When I try to save something, I get a message that the disk "is physically write protected."
Write protection prevents data on a disk from being accidently erased or overwritten. If the sliding tab on the upper-left corner of the disk is open, such that the hole is uncovered, then the disk is write protected and cannot be written to or formatted. Slide the notch down to unprotect the disk.
It's possible to protect a single file from being erased or changed by highlighting the file on the Desktop, then choosing Show Info from the File menu. Click on Read Only, then OK. This file is now protected. To unprotect it, choose Read/ Write from the Show Info menu.
Can my disk drive read disks from other computers?
The Atari ST drive can read 3 1/2-inch disks formatted on IBM PCs and compatibles. The Macintosh and Amiga disks use different formats, however, so the ST cannot read them. If you have the appropriate emulator, however, you can read and run programs from other computers.
My drive won't read disks from my friend's ST.
Either your drive or your friend's drive is spinning at the wrong speed. ST drives should spin at a rate of 300 rpm. If a disk is formatted at a slower or faster speed, a drive operating at the correct speed may not read it, and vice versa.
An easy way to determine if your drive is working at the correct speed is to load programs from a commercially-produced disk. If your drive has problems loading programs from such disks, which are always produced at 300 rpm, but has no problem with disks formatted on your computer, then you need to take your drive to your dealer to have its speed adjusted. There are public-domain programs available for testing drive speed, too. Check with your user group.
What, exactly, is the difference between a single-sided and double-sided drive?
Very simply, a single-sided drive only has one read-write head, and it can access only one side of a disk placed inside it. Such a drive can format a disk so that it can hold 357376 bytes of information (using the standard Desktop formatter.) A double-sided drive has two read-write heads, one that can access each side of a disk. A double-sided disk can hold 726016 bytes of data. Single-sided drives cannot read double-sided disks, but double-sided drives can read single-sided disks.
What kind of drive do I have?
You can tell if you have a double-sided drive by attempting to format a disk double-sided. A double-sided drive will be able to format the disk, but a single-sided drive will whir for a while, then an error message will appear on the screen saying "An error has occurred during Format. . ." . This happens because the ST attempts to access a non-existent read-write head.
TEST DRIVE RESULTS

DRIVE

Manufacturer


Suggested Retail Price

Power Switch

Power LED

Removable Cable

Daisy-Chain Connection

Read Speed (Seconds)

Write & Verify Speed
(Seconds)

Dimensions In Inches

Height

Width

Length

Warranty

SF314

Atari
Corp.

$199.00

Y

N

Y

Y

3.0


11.75



2.50

5.60

9.40

90 day

RF302R

Datel
Computers

$159.95

Y

N

N

N

3.0


12.15



1.25

4.12

8.00

90 day

GTS-100

Future
Systems

$269.00

Y

Y

Y

V

3.0


12.12



1.90

4.12

8.00

120 day

MASTER-3S

Konyo
International

$169.00

Y

N

Y

Y

3.0


11.75



1.50

4.12

9.00

1 year

MegaByte

MegaByte
Computers

$139.95

N

N

N

N

3.0


12.12



1.25

4.25

8.12

1 year