New Atari Hand-Held Color Game System
Portable arcade quality at $149.95
By Andrew Reese, START Editor
Atari's new $149-95 handheld color game machine was unveiled at the Consumer Electronics show in June. The one-pound unit, powered by six AA batteries, is titled the Atari Portable Color Entertainment System. I tested several of the units and found the games easy to use and quite playable.
The Portable Color Entertainment System competes with Nintendo's recently announced GameBoy which is to retail at only $89.95, but does not have color. The PCES has a 3.5-inch (diagonal) LCD color screen with 160 X 102 resolution and :t 4,096-color palette. It uses a 65C02 microprocessor running at a blazing 16 mHz clock speed. The 64K Portable Color Entertainment System can access credit card-sized "game cards" with as much as 16 megabits of ROM, allowing the system to run highly complex games. Four sound channels are included and there is a built-in headphone jack for private listening.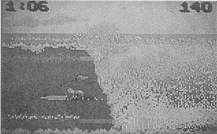 A unique feature of the Portable Color Entertainment System is its ability to network with as many as seven additional units for multi-player games. A communications cable comes with each unit. The package also includes an AC adaptor, a carrying pouch and Epyx's California Games card.
The Portable Color Entertainment System was developed in conjunction with Epyx. It is controlled by an 8-way joypad, plus two fire buttons and five function buttons. The screen image can be turned upside down to make the controls more comfortable to left-handed players.
According to Atari president Sam Tramiel, the unit has already passcd FCC testing and goes on sale in earls Autumn. Five additional games are also to be available - Blue Lightning, Time Quests, Treasure Chests, Gates of Zendocon, Impossible Mission and Monster Demolition. Each game will retail for $34.99. A