Song Challenge Winners!
"Rhapsody In Blue" playing on your Atari
By Carolyn Cushman, Antic Assistant Editor
Antic Music Processor, our December 1988 Super Disk Bonus, proved to be one of Antic's most popular programs ever. We received many letters praising the program and suggesting improvements--and dozens of entries for the Antic Song Challenge. The editorial staff had a great time playing all the tunes.
The songs ranged from Vivaldi to Led Zeppelin and Billy Joel. One hardy soul entered Mussorgsky's "Pictures at an Exhibition" in two files for a total of 465 sectors of music. We received ragtime, polka, rock and pop tunes--and even one original symphony. Despite the lack ofa lyric editor in our first version of Antic Music Processor, two entries even had lyrics!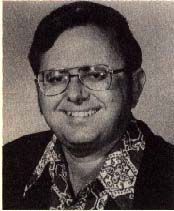 Our Grand Winner is G.R. Poole of Virginia Beach, virginia. His five ragtime tunes, all "Music of Scott Joplin", showed an outstanding sensitivity to dynamics, tempo and sound envelopes. "The Augustan Club", a lively waltz tune, proved a favorite with several editors.
Mr. Poole uses his computer in his work in the beverage wholesale business. He comments:
"I have been an Antic reader since its beginning. Most of the programs never caught my interest. Stephen Lashower's Antic Music Processor is the first program that I can't get enough of. Being a retired Navy Musician who never mastered the keyboard, I have always been frustrated by the fact that the piano and I were not meant to be. Well, thanks to Antic I can do what I always wanted to do--play Scott Joplin. Thank you for a superb program."
The winner will receive an Antic Software product from The Arcade Catalog.
RUNNER-UPS
We received so many excellent entries we have eight runner-up winners. All of the runners-up will receive this month's Antic Disk issue.
Unfortunately, many of the best song files we received were very large. There were so many good runner-ups, in fact, that we won't be able to put them all on disk. To fit in as many songs as possible we have even cut some of them to give you a sampling. Full versions of the contest winners will be available for downloading from ANTIC ONLINE this month. After you log onto CompuServe, type GO ANT-2550 and follow the on-screen instructions.
Runner-up Kevin O'Neil of West minster, Colorado produced the huge "Pictures At An Exhibition" files, definitely pushing the Atari's limits. A programmer by day and a rock keyboard player by night, he demonstrated a real talent for meter and dynamics in translating this complex piece into four voices. Thoughtfully, he also included a thorough description of Mussorgsky's piece, the movements, and the artworks they were based on.
The "Promenade" portion of this piece will be familiar to owners of XE/XL computers--the Audio-Visual Self-Test plays the first measure of this piece. (To see this Self-Test, type BYE from BASIC, then [SELECT] the Audio-Visual test.)
Glenn Saunders of Needham, Mass. sent in six Led Zeppelin tunes (and one from The Monkees). The bouncy Led Zeppelin tune "D'yer Mak'er" was selected as a runner-up. It's definitely got a beat you can dance to!
Lee Vaughan took another runner-up spot with his rendition of a Bach Prelude. We picked this particular piece for its interesting trills and use of contrasting slurs and staccato.
Lyle Davis of Cleveland, Ohio sent in an original composition, "Symphony #1 in A". Considered "interestingly Modern" by one judge, others found it somewhat discordant, but the First Movement, with its heavy bass beat, was considered definitely worth a runner-up position.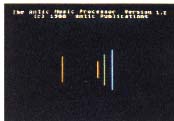 Peter Fries of Piano, Texas sent in a long version of Ravel's "Bolero" that deserves extra runner-up credit for including text in the form of a title screen and "program notes" on composer and arranger. This is a much handier system than trying to identify song files with just a file name! At 165 sectors, however, the whole song is too long to include on disk--and cutting it short would remove the gradual build in volume that makes "Bolero" so intense.
Mitch Cohen also produced an impressive, longer runner-up, with some interesting percussion effects--"Roundabout" by Yes.
Cornelius Robinson of St. Rose, Louisiana, entered several classic pieces. We picked his lyrical version of Antonio Vivaldi's "Spring" (from "The Four Seasons") as a runner-up.
Charles Anderson receives a runner-up award for his rendition of "Rhapsody in Blue" by George Gershwin--at 245 sectors, the longest single song file we received.
HONORABLE MENTIONS
Honorable Mentions go to Roger Jensen of West Jordan, Utah, who sent in 13 songs (including "Chopsticks", "Beer Barrel Polka" and "Music Box Dancer"); David Warren of Poway, California ("Black Magic Woman"and "Dance of the Hours"); Nathan Becker of Thousand Oaks, California ("Splish Splash", "Wipe Out" and "Barbara Ann"); Robert Labelle of Ottawa, Ontario, Canada ("Summer of '69", "Stairway to Heaven").
Listings: AMP 2 song files.
AUGUST Download

DYERMAKE Download

FIRST2 Download

RHAP4 Download

SPRING Download

PRE20.JSB Download