ST NEW PRODUCTS
ALL AT SEA
Tower Toppler takes you to the planet Nebulus, where evil forces have built seabed-based towers. As senior operative for Destructo, Inc. you race your MK-7 minisub to the towers, which you must scale while avoiding mutant molecules, falling boulders, attack robots, slime, disintegrating ledges, and apparently impenetrable barriers. The towers' 3-D rotatation adds an extra dimension to this action-packed maze race.
$49.95, color. Epyx, 600 Galveston Drive, Redwood City, CA 94063. (415)368-3200.
CHRONO-QUEST
Chrono-Quest ($49.95) is the first adventure game from Psygnosis, and takes up a whole four disks with its fiendish plot twists. A hit in France under the name "Explora," the game sends you from 1920 into the future and around the world, in a quest to find your father's Time Machine and clear yourself of his murder.
$49.95, color. Computer Software Service (Psygnosis), 2150 Executive Drive, Madison, IL 60101. (800) 422-4912; in Illinois (800)331-SOFT.
WARLOCK
You and several endearing, Tolkienesque characters search for the stolen Karna in Warlock, a full-color, animated action-adventure game featuring 20 increasingly difficult levels and digitized sounds. This new game from the people who brought you Dark Casfie is geared toward the beginner, although it's still challenging for more experienced players.
$34.95, color. Three-Sixty Pacific, Inc., 2105 South Bascom Avenue, Suite 290, Campbell, CA 95008. (408)879-9144.
BIONIC COMMANDO,
STREET FIGHTER
CAPCOM U.S.A., Inc., a leading manufacturer of arcade and home video entertainment, enters the ST market with two translations of their successful arcade games. In Bionic Commando ($29.95), you are an android soldier of the future, struggling against the relentless onslaught of invading forces, trying to fight your way into their fortress headquarters.
Going from science fiction to martial arts adventure, CAPCOM's other game is Street Fighter ($39.95). Gentlemanly conduct won't get you any points in this no-holds-barred contest. Karate sluggers Ryu and Ken travel the world, punching, kicking and screaming through Japan, England, China, Thailand and the US.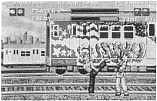 $39.95, color and joystick. CAPCOM U.S.A., 1283-C Mountain View/Alviso Road, Sunnyvale, CA 94089. (408)745-7081.
BETTER DEAD THAN ALIEN
Prepare to do battle as you and galactic hero Brad Zoom face the most revolting life forms ever to pollute the universe in Better Dead Than Alien, a spiffed-up Space Invaders clone with sharp graphics, plenty of sound effects and a bit of humor. As the waves of colorful aliens attack in this multi-level shoot-'em-up, you can wipe them out by yourseif or in competition with a friend in simultaneous dual player mode.
$34.95, color. Discovery Software (Oxford Digital), 163 Conduit Street, Annapolis, MD 21401. (800)342-6442.
SKYCHASE,
OPERATION: CLEAN STREETS
SPACE RACER
SkyChase ($39.95), designed by Maxis, is a fast-paced jet combat game and flight simulator that promises accurate jet-flight physics and fast, smooth action – with seven different jets to choose from. In the two-player option you can engage in head-to-head combat with a friend or solo against the computer.
As Cleanup Harry, an undercover cop, you'll track down criminals in Operation: Clean Streets ($39.95). Using hand-to-hand combat skills, you must defeat your opponents and confiscate their drugs – all throughout the worst part of town.
You are Earth's sole representative in an intergalactic contest in Space Racer. 3-D animation and graphics add to the fun as you dodge other racers or blast them out of the sky, speeding over three alien worlds in a desperate attempt to stay alive.
Color and joystick. Broderbund Software, 17 Paul Drive, San Rafael, CA 94903. (415)492-3200.


---
New ST product notices are compiled from information provided by the products' manufacturer. Antic assumes no responsibility for the accuracy of these notices or the performance of the product.