ST NEW PRODUCTS
by Gregg Pearlman, Antic Assistant Editor
ROADWARS
You've been zapped into the 25th century, where the Galactic Federation rules the roost while robots and computers do all the work. Previous wars have so devastated the planet Armageddon that the population must now live on the moons. A series of safe, convenient space roadways link the moons together. One day the main computer goes a little silly and starts tinkering with these roadways. That's where you come in. In Roadwars, you and your interplanetary tank will, in effect, perform road maintenance while sweeping the roads clean of vicious aliens--who were probably there first.
$29.99, color. Electronic Arts, 1820 Gateway Drive, San Mateo, CA 94404. (800) 245-4525.
DAY AT THE RACES
Go to the races without leaving your house. A Day at the Races simulates all parts of horse racing, from buying and selling horses to choosing jockeys to placing bets to the race itself. You and as many as 14 other players have up to 500 horses and 50 jockeys to choose from, each of which has distinct attributes and abilities that affect the outcome of each race--which is run in real time
You'll use the racing form, racing program, cheat sheet and tote board to help determine your bets. Special bets include the Daily Double, Exacta, Quinella, Big Exacta. Trifecta and Jackpot.
$39.95, color. Team Software, P.O. Box 7332, Washington, DC 20044. (703) 533-2132, (603) 679-1211.
8-BIT EMULATOR
Now you can run all your favorite unprotected Atari 8-bit software on your ST with ST Xformer, Darek Mihocka's much-heralded 8-bit emulator. Several different 8-bit "memory sizes" are available, as well as the ability to run Apple II and Commodore programs. This shareware is in download library 5 of the Atari Developers' Forum on CompuServe.
Darek Mihocka, CompuServe ID 73657,2714.
WHAT'S HE HITTING?
Baseball fans have no doubt noticed "IBM's Tale of the Tape" on the scoreboard. The Tale of the Tape measures how far a home team player's home run would go if there were no obstacles. Well, IBM and Major League Baseball have teamed up once again. The MLB-IBM Baseball Information System provides daily statistics for each player and team, including box scores, cumulative batting and pitching records, a play-by-play account of each ballgame and more than 300 reports.
Sportswriters and statisticians all over the country use this system. Stats are compiled and sent to a host computer by a home team representative. This information is now available to ST owners, too--at least, those who own pc-ditto.
IBM Corporation, Old Orchard Road, Armonk, NY 10504. For information, contact Rita Black, (914) 765-6408.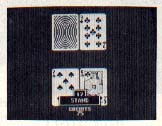 DEAL 'EM
Home Casino gives you the thrill of gambling without the expense of losing. The Draw Poker coin machine provides options such as Wild Joker, Deuces Wild, Cut on Double and Random Bonus. Or you can play five, six or seven-card Stud Poker, also with Wild Joker and Deuces Wild options, plus Limied Joker. You can also select from six computer opponents to play against.
In Blackjack 21, you have your choice of standard or face-up blackjack. Options include double down, split (and resplit) pairs, insurance, surrender and bonuses. Play with one to six decks and up to four players.
$39,95, color or mono. Omega Soft, P.0. Box 139, Harrells, NC 28444. (919) 532-2359.
ARTWORX TRIO
Thai Boxing ($14.95) is the computer version of kick-boxing and, just as in the real thing, you'll see the effects of the bout on your fighters' faces. Thai Boxing has six backgrounds, 3-D display, one or two-player option, music and realistic sound effects.
In Hole In One Golf ($9.95), you have complete control over club selection, swing strength, topspin or backspin, even hook or slice. Your course is full of trees, rough, sand and water traps--unless you don't like such hazards, in which case you can customize your own course.
In the Strip Poker tradition is Centerfold Squares (price not set). Artworx imitates life, as once again you try with might and main to plan your strategy and make your opponent bare her all. The twist here is that you battle for strategically placed squares. The more you win, the more she reveals. You'll have more than 10 opponents, each with a different skill level. Spectacular digitized graphics round out this provocative game.
Color. Artworx Software Company, Inc., 1844 Penfield Road, Penfield, NY 14526. (716) 385-6120, (800) 828-6573.
BLACK LAMP
It's you, Jolly Jack the jester, against skull-dropping buzzards, evil eagles and spitting witches in Black Lamp, a medieval melodrama that sends you on a quest for enchanted lamps--including the black lamp. The main thing standing between you and the black lamp is a large and certainly dangerous fire-breathing dragon. If you're successful, you'll win the hand of the lovely princess Grizelda. If you lose, they won't be able to find enough of you to bury.
$24.95, color. Rainbird Software, 3885 Bohormon Drive, Menlo Park, CA 94025. (415) 322-0412.
New ST product notices are compiled from information provided by the products' manufacturers. Anticassumes no responsibility for the accuracy of these notices or the performance of the product.