Runner-up Prize Best Article
Ecclesiastic Atari
"Our XL is a godsend."
by Rev. Earl Smith
The church's ability to keep track of its records and writings has come a long way since the days of the solitary scribe. It used to be a long, difficult task to reproduce a Bible or another document of religious significance. The church scribe would sit alone in a little cubicle meticulously copying each verb, noun and punctuation mark from one papyrus sheet to another. The job was time-consuming and often error-ridden.
Not so these days! With the advent of computers and photocopiers, the modern church office can handle large quantities of information quickly and efficiently.

Rev. Earl Smith gets ready to word-process a sermon with his 800XL.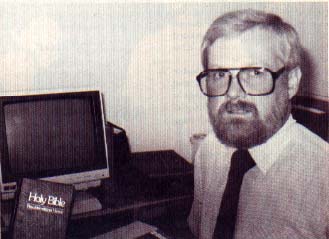 At St. Paul Trinity, our small United Methodist church in Elmore, Ohio, the main administrative problem we faced was how to incorporate the latest information-processing technology at the lowest cost. We certainly couldn't afford an IBM system or the expensive church software programs on the market at the time. The real question was, "What can we get for around $1,000?" The solution--an Atari 8-bit system.
With some information under our belts and much hope, we walked out of the computer store with an Atari 800XL upgraded to 256K memory ($300), an Epson RX-80 printer (on sale at $200), an Indus GT double-density disk drive ($250), one box of blank disks, and four programs--AtariWriter Plus, SynCalc, SynFile+ and Print Shop (about $40 each). We borrowed an old black-and-white
television and were up and running by the end of the day.
That was three years ago. Since then we've added some more software, but we still use the old TV. The secretary and pastor save time, our records are more accurate than ever before and we have yet to return any of the equipment for repairs. Here's a look at what we're doing.
AtariWriter Plus and now PaperClip are our mainstays. It's amazing how much word processing a church office can generate. Business correspondence, newsletters, Sunday bulletins, meeting minutes and letters of celebration and condolence must he produced constantly.
As pastor, I use the Atari to write sermons and to format the pages for easy reference in the pulpit. I developed a system of gathering, logging and sorting illustration files to aid in Sermon preparation. Since our secretary works for us only one day a week, I've been able to function better in that role myself because of the computer. I even taught myself to type because the Atari is so much fun to use.
With the availability of such fine public domain programs as Roy Goldman's Daisy-Dot and Epson printer drivers we can print some pretty professional looking documents. We save money too! No longer do we need to buy letterhead or preprinted bulletins. Print Shop makes these for us.
We use SynFile+ in many valuable ways. A database file has been created to keep track of our membership. It includes not only addresses and telephone numbers, but also birthdays, baptisms and confirmation dates. Members' talents, interests and committee responsibilities are also filed. Because of the versatility of SynFile+ we use it as a filing system, as a mail merge and for generating mailing labels in several formats.
A selection of the main tools used to keep this church functioning.
Another database file keeps track of major spiritual and emotional events in the lives of the members. I keep records of when people came to me for counseling, experienced a hospital stay or family death, etc. The Atari is a helpful aid in my pastoral care work.
We use the SynCalc spreadsheet as a budget worksheet and ledger. That's pretty basic.
We also use it to keep track of Sunday worship attendance. One of the great problems a church faces is knowing when members begin to become inactive. By recording individual attendance on the Atari and reviewing it frequently, we can identify patterns of inactivity and deal with them constructively. We also use several graphics programs. We generate the front cover of our Sunday bulletins with Print Shop, plus making get-well cards, thank-you notes and sympathy cards. Several public domain disks contain Print Shop graphics of church symbols to help in making these cards spiritually meaningful.
AwardWare from Hi-Tech Expressions helps us develop certificates for teacher appreciation, student recognition and Vacation Bible School participation, to name a few. We use Typesetter and Page Designer from XLEnt Software for attractive church newsletters. With the varied 8-bit resources available on the market and in public domain these days, desktop publishing is within our reach.
Religious education is a primary task of the church. Many public school programs translate well for church learning. Some small software companies are specializing in this area. Bible Baseball by Davka is an exciting trivia game that teaches Bible facts in a fast paced, colorful way. And using Create-A-Quiz, I've been able to stimulate my confirmation class students into learning church history and policy--usually quite boring stuff.
All in all, the Atari has been a godsend for us. Professional church software costs far more than the price we paid for this entire package. Except for some fancy bells and whistles and an 80-column screen, they do little more than what we can accomplish. And since I have an old reliable Atari 800 at the house, I can carry unfinished business home with me (and occasionally carry to work Star Raiders II or Orbit).
Machines with mega-memory may be the wave of the future, but for the 350-member congregation of St. Paul-Trinity, the Atari 8-bit serves us well. SynFile+ alone helps tell the story. With our 256K of memory we can hold 5,457 separate files. When the membership grows that large, we might just consider buying an ST.