NEW PRODUCTS
Return the favor. When you call a manufacturer or supplier about a product you've seen advertised or otherwise mentioned in ANTIC, please tell them so. This will help us to continue to bring you the latest information about products that will make your Atari computer an even more valuable investment in the future. --ANTIC ED
TURBO BASIC KIT
(programming utilities)
Ron Fetzer
22 Monaco Avenue
Elmont, NY 11993
(516) 352-1569
$5, 64K disk
The powerful public domain programming language Turbo BASIC is packaged on this disk with original add-ons. The Complete Turbo-BASIC Kit has a 37-page documentation file, tutorials on arrays, matrixes and sorting, and two utilities--a disk cataloger and a bulk disk formatter. Turbo BASIC adds 42 more commands and 22 more functions to Atari BASIC, and increases usable RAM by 1.7K to 34K. All the add-on material has been put into public domain, but you can obtain the entire package from the author.
GENEALOGICAL COMPUTING
(quarterly magazine)
Ancestry Inc.
P.O. Box 476
Salt Lake City, UT 84110
(800) 531-1790
$25, per year
Genealogical Computing will help you and your Atari find out exactly where Uncle Todd got those ears. The Beginner's Board column helps the genealogy newcomer in finding appropriate computer hardware and software, and the Tech Notes column discusses programming and advanced techniques for those who want to expand their capabilities beyond the user manual. Utility programs are also included. Subscribers add $5 in Mexico or Canada, $l0 in other foreign countries.
BISMARCK: NORTH SEA CHASE
(Datasoft) Electronic Arts
1820 Gateway Drive
San Mateo, CA 94404
(800) 245-4525
$25.95, 48K disk
Bismarck: The North Sea Chase simulates the historic 1941 battle in the icy Atlantic when the German ship Bismarck sunk the British warship Hood, killing all but three of its 1,415 crewmen. As either the British or German commander, you can select a fullscale battle or specific action sequences. You direct the anti-aircraft and heavy guns, launch torpedo attacks while dodging minefields and and icebergs.
CLASSIC COVERS
(equipment covers)
Phoenix International
1090 South 350 East
Provo, UT 84601
(801) 377-2272
$7.99 to $18
Durable, water resistant Classic Covers fit over all your Atari equipment, as well as monitors and third-party printers. The special naugahyde anti-static material eliminates static charges that harm electronic equipment. These custom-fit covers won't trap moisture or heat either.
ORGANIZER II
(lifestyle computer)
Psion Inc.
320 Sylvan Lake Road
Watertown, CT 06779
(203) 274-7521
$249.99
About $250 and a single 9-volt battery can place at your fingertips a diary, alarm system, 12-digit calculator, rolodex, calendar--in fact, almost anything you use to record important facts and figures. With 32K memory built in, the Organizer II has enough room for about 2,000 entries, each with a limit of 256 characters. Memory expansion is available through external cartridges, and the Organizer II can be connected to any home or office computer, monitor, printer or other peripheral.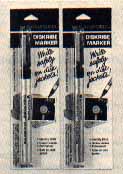 DISKRIBE MARKERS
(marking pens)
Sanford Corp.
2740 Washington Blvd.
Bellwood, IL 60104
(312)547-6650
$2.50
With Diskribe markers, you can write directly onto floppy disks, eliminating not only the use of disk labels but also the confusion that could result from misplacing disk jackets. The gold or silver ink from these pens dries quickly and is high visible, permanent and safe.
AL/65 DEVELOPMENT SYSTEM
(program utility)
Omega Soft
P.O. Box 139
Harrells, NC 28444
(313) 532-2359
$47.95, 48K disk
AL/65, a linker-based assembler, compiles your source code into relocatable code which can be used in other programs. And the linker connects all of your relocatable files into one object file, to make a ready-to-run program. Most source files should take less than 20 seconds to assemble. It would take only about 25 seconds to link even a longer program made from 17 relocatable files containing 500 instructions, 48 external labels and 140 label references. AL/65 offers full screen editing, user-defmable macros, custom character sets and a command processor DOS.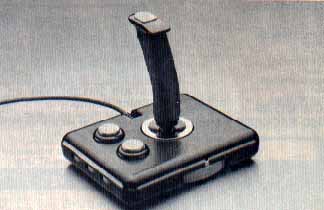 GRAVIS MK VI JOYSTICK,THINGI
(accessories)
Advanced Gravis
6894 Palm Avenue
Bumaby, British Columbia
Canada V5J 4M3
(604) 434-7274
The Gravis MK VI switch Controller ($39.95) is state-of-the-art joystick featuring eight-position centering tension control that tailors the stick to your preference. The rugged MK VI has a six-foot cable and three independent fire buttons, as well as a one-year warranty.
Create workspace out of thin air with THINGi ($7.95), an indestructible copy holder that you can mount on your monitor or at virtually any workstation. With THINGi, you can keep your hard copy mere inches from your monitor and at monitor level, thus reducing neck and eyestrain. The strong plastic clip holds single or multiple pages.
POCKET WORDMASTER
(electronic thesaurus)
Franklin Computer Corp.
Route 73 and Haddonfield Road
Pennsauken, NJ 08110
(609) 488-0600
$129.95
Need another word for "insouciant?" Try the Pocket Wordmaster WM-1200, which contains over 35,000 entry words and 470,000 synonyms from Merriam-Webster's Collegiate Thesaurus. The Pocket Wordmaster organizes synonyms grouped aecording to the different meanings of the entry word. It also gives you hyphenation points, inflected forms of the word, and parts of speech. And if you enter a variation of your word ("insouciantly"), it will return a synonym that reflects that variation ("indifferently").
If this isn't enough, the Pocket Wordmaster has an 80,000-word spelling checker built in, and can help you with crossswords and Scrabble. If you want to goof off, but still look as if you're doing something important, you can play challenging word games such as hangman and anagrams.
KARATEKA,LODE RUNNER
(arcade games)
Broderbund Software
17 Paul Drive
San Rafael, CA 94903-2101
(415) 492-3200
$14.95, 48K disk
Broderbund has reduced the price of classic best-selling action games Karateka and Lode Runner to $14.95--a savings of as much as 57% off the original prices.
MINI-VAC
(vacuum cleaner)
Mini-Vac Inc.
217 S. Orange Street
Glendale, CA 91204
(818) 244-6777
$29.95
Mini-Vac is a lightweight vacuum cleaner designed to remove those minute particles of dust and grunge that settle into the most inaccessible cracks of your computer. Mini-Vac comes with two interchangeable wands, two fine bristle brushes and a cloth vacuum bag. It can use either DC or AC power.
SSI CLASSICS
(Strategy games)
Mindscape Inc.
3444 Dundee Road
Northhrook, IL 60062
(312) 480-7667
$14.95, 48K disk
Mindscape has entered an exclusive arrangement with Strategic Simulations Inc. to publish classic SSI titles such as Fortress, Battalion Commander, Nam and Geopolitique 1990 under its Thunder Mountain budget label. Upcoming titles include Cartels and Cutthroats, Combat Leader, Galactic Gladiators and Queen of Hearts.
CORD-MINDER
(telephone cord)
Preco, Inc.
415 N. Maple Grove
Boise, ID 83704
(308) 323-1003
$14.95
Pick up the phone, and Cord-Minder reels out up to seven feet of cord smoothly and easily. When you hang up, Cord-Minder automatically takes up the slack and keeps the cord out of your way. Just unplug your existing handset cord and plug in Cord-Minder. It's that easy.
New Products notices are compiled by the Antic staff from information provided by the products' manufacturers. Antic welcomes such submissions, but assumes no responsibility for the accuracy of these notices or the Performance of the products listed.