DISK BONUS
By STEPHEN STOUT
Adventure Creation Contest Winners!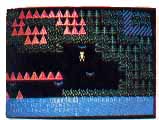 Runner-Up "Castles" by Mark Hobler. Luke Gardiner's Runner-up "Kingdom".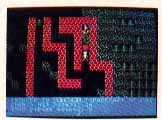 Grand Prize Winner "Aaron" by Robert Loux.
(This issue of Antic features an Extra Disk Bonus--the three winners of our March 1988 Adventure Creation Contest. Next month's Antic Disk will include another special bonus, a flashy upgrade of the original graphic adventure creator. Don't miss Stephen Stout's Deluxe Adventure Creation Kit on the November 1988 Antic Disk---ANTIC ED)
When I submitted Adventure Creation Kit (Antic, March 1988) I included an idea for a contest, which Antic agreed to sponsor. I didn't know what I was getting into.
In no time at all I received an unassuming little package from Antic Publishing. "Oh good, the contest entries," I exclaimed. But what I found inside was a veritable Pandora's Box--32 disks from all over the globe, many with five or six entries a piece.
Daunted by the size of my task, I nevertheless set to it immediately. For hours upon hours, I played the contest entries. Eventually I came to hate my own program, as it started to give me visions of one of those funny little white jackets with leather straps and great big sleeves--often worn in rooms with nice, soft walls. And yet I pressed on.
My head throbbed and my eyes became bloodshot as I slowly narrowed down the contest entries. I missed almost an entire episode of "My Mother the Car," but on I pressed. I couldn't let those contest entrants down.
I stayed alert by consuming vast quantities of a name brand cola-like beverage (I don't do product endorsements). All I remember, once the caffeine-related amnesia wore off, is that when I woke up, only three contest entry disks remained, and someone had scribbled "Winner" on one of them. I don't know what happened to the other disks, but I do recall a dream I had in which I ate a lot of large, black, square tortillas while a guy named Juan sang the theme from "The Addams Family."
Anyway, something good did come out of all this--a Winner and two Runner-Ups.
First prize goes to Robert Loux of Allentown, Pennsylvania for his game, AARON. He wins his choice of one Antic Software product from The Catalog and a disk issue of this magazine.
The runner-ups are Marc Hobler of Homestead, Florida for his game, KINGDOM, and Luke Gardiner, all the way from Hong Kong, with CASTLES. They both win a free disk issue of this magazine.
I'd like to thank everyone who entered the contest, especially those who took the time to include letters with their entries and those who made alterations to the original program. (My lawyers will be in touch.)
Extra Disk Bonus
Listing 1: AARON.ADV Download

Listing 2: KINGDOM.ADV Download

Listing 3: CASTLES.ADV Download