LATE NEWS FLASHES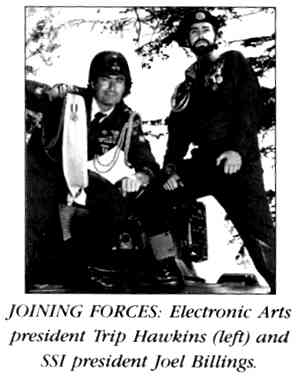 SSI GOES TO EA
Strategic Simulations Inc., the biggest publisher of wargames, has enlisted with Electronic Arts for affiliated label distribution. It is EA's largest affiliated label deal ever. No word yet if this means a cutback in SSI Atari releases. Meantime, SSI has launched a recall drive for defective XL/XE disks of Sons of Liberty.
NEWSROOM 850 GLITCH
Antic and Springboard Software are looking into complaints that the Newsroom page designer program (reviewed July 1988) sporadically prints an extra linespace or some garbage characters when used with the Atari 850 interface. Antic's early investigations suggest that the problem is restricted to older 850 units. We'll report more details next month.
Meanwhile, Springboard is also searching for a fix and will give a full refund to purchasers who don't want to wait (only three takers so far). The company reports that it is very satisfied with the direct sales of 8-bit Atari Newsroom and associated picture library disks.
EA SUED
In a separate Electronic Arts story, the publisher has been sued for $7.3 million by Bethesda Softworks, developers of the Gridiron! football simulation. EA had contracted for exclusive Atari ST and Amiga rights to Gridiron!, which won a 1987 Family Computing Award. Bethesda's lawsuit claims that EA halted release of Gridiron after incorporating major portions of the program into a proposed John Madden Football game.- NAT FRIEDLAND, ANTIC EDITOR