Prolong the Life of Your ST Mouse
One school's maintenance method
By PATRICK MCSHANE, PCS School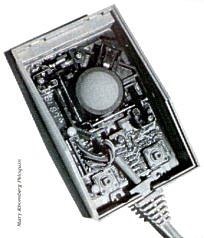 The most vulnerable piece of hardware on the ST is the mouse. At PCS computer school we have kept ours alive for over a year – through heavy use by 152 kids – by performing the following maintenance procedures:
Always use a mouse pad. This keeps the ball from picking up deposits of oil and dirt that stick to furniture surfaces. Vacuum the mouse pad at least once a week.

Once a week:


Remove the mouse ball and wipe it off with a clean, soft cloth.

Unscrew the top plate, exposing the inside of the mouse.

Using cotton swabs and a light solution of isopropyl alcohol, clean the deposits on the thick surfaces of the sensor wheels – the three surfaces that come in direct contact with the mouse ball – to assure smooth and even wear of the mouse ball. You may need a small, plastic-tipped tool to scrape away the deposits if the cotton swabs don't work.

Gently blow out any dust that may have settled into the cavity. Replace the top and secure the screws.


Since the article Maverick Atari School appeared in the October 1987 issue of Antic, Patrick McShane's PCS School of Advanced Learning in Nampa, Idaho has grown from 85 to 152 students. This summer for the first time, PCS hosts students from other parts of the US in a National Summer Camp, August 8-19. Cost for the session is only $100, because visiting campers will stay with PCS student families. In addition to the daily classes a raft trip down the "River of No Return" is planned. – ANTIC ED