PRINTPOWER
Hi-Tech Creations, Inc.
1700 N.W. 65th Avenue, Suite 9
Plantation, FL 33313
(305) 584-6386.
$14.95, 48K disk
Reviewed by Jim Pierson-Perry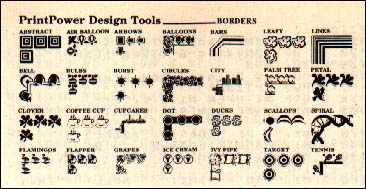 The second generation of home printing software is here. PrintPower lets you create the same types of artwork as Broderbund's Print Shop, but offers many more options for layout and style.
This unprotected two-disk program requires minimum 48K memory, an Atari 1050 disk drive or a compatible drive that can use enhanced density disks (as many as eight drives are supported). The software includes 22 printer drivers for standard dot-matrix graphics printers which will require an interface such as the ICD P:R: Connection.
You can create cards, signs, stationery and banners. All except banners can be printed using either horizontal or vertical orientation. Tent cards are a new layout, made by folding a piece of paper vertically in half and standing it on the edges. Signs and stationery can be printed in full page or half-page sizes. Banners can have multiple text lines, each with a different font size, and occupy as many as 42 pages.
All artwork can include a border and one graphic design per layout page. This means you can have graphics and text on all faces of a card. The graphic can be copied and pasted at will over the layout page using the arrow keys for freehand positioning. Five graphic sizes can be used, ranging from one inch to full page. Borders, if included, can be one inch or a half inch wide.
All text, regardless of artwork type, is entered via a common editor. Seven fonts are included, ranging from old English to modern. Three different fonts can be mixed on a layout page. Banners can use 11 text sizes while all other artwork uses only three. Text can be justified left or right, or centered. Special text effects include bold, italics, outline, shadow, 3-D and shadow italics. A masking option selects whether the text will overwrite or be hidden by background graphics.
Progress throughout the design process is shown by a template on the upper half of the screen display. Blocks and lines are used to show layout, rather than the actual text and graphics, which saves on time and memory consumption. The screen displays are primitive but functional. While printing, a lot of garbage appears on the screen:ignore it. The printout is just fine and the screen eventually comes back to normal.
Despite the new artwork features, success of this program will depend partly on increasing the number of available graphics. The program comes with a starter library of 60 graphics and 20 borders. Additional graphics disks in Hi-Tech's AwardWare series can be directly converted for use with PrintPower. Further graphics, font and border disks are also planned. I would like to see a graphic editor available for users to make their own pictures. This is the only significant feature of Print Shop not met or equalled by PrintPower.
Those who have been frustrated by the limitations of earliar home printing programs ought to take a look at PrintPower. I am impressed by its features and performance, espeeially considering its low $14.95 price. I give PrintPower a "best buy" recommendation.