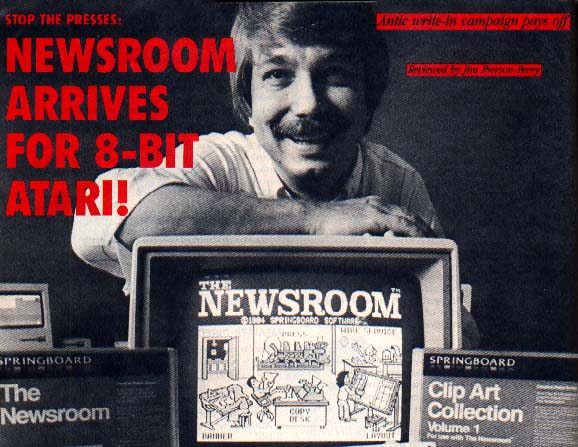 Newsroom ($49.95) is an easy-to-use page design application that puts the basic power of the press into your hands. You can quickly and easily create personalized newsletters, flyers and other short publications. This software is all you need for writing articles, adding pictures and designing the overall page layout.
As long-time 48K Atari 800 owner, I started reviewing the 64K Newsroom on a borrowed XE model. My family and I liked Newsroom so much that we bought an Atari 65XE computer just to continue using this program.
In May 1987, Antic kicked off a write-in campaign to convince Springboard Software to make an 8-bit Atari conversion of its popular Newsroom home publishing program. Two months and hundreds of letters later, Spring board president John Paulson gave the go-ahead. The Atari Newsroom was released in March, 1988.
SETTING UP
Newsroom requires an Atari XL/XE with at least 64K memory, an Atari 1050 disk drive (or a compatible drive that reads enhanced density disks) and a graphics-capable dot-matrix printer. Most likely you'll also need a printer interface such as ICD's P:R: Connection or the Atari 850, because the only direct-connect printer supported by the software is the Atari XMM801. However, the 64 printer drivers included in Newsroom should cover just about any standard printer.
Newsroom also requires Atari BASIC, so keep your finger off the [OPTION] button when loading the program. The Newsroom disks are copy-protected and formatted in enhanced density (DOS 2. 5). Your data file disks must be formatted by the Newsroom program.
The Newsroom manual is clear and well-written, with numerous illustrations and screen shots. The provided tutorial gives step-by-step instruction in preparing a sample one-page newsletter.
Newsroom comes with more than 600 pieces of clip art. Three more $29.95 clip art disks are available, providing an additional 2,000 general, business and sports/recreation images. Springboard discounts the entire product line if you order directly from them--$39.95 for Newsroom and an extra $9.95 for each clip art collection.
PANEL DISCUSSION
Figure 1.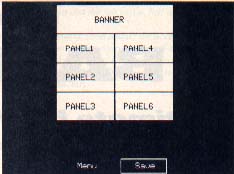 Newsroom publications are designed and printed one page at a time. A page is made up of individual panels (see Figure 1) that can each contain pictures and/or text. Standard 8 1/2 x 11 inch paper can hold eight panels, or six panels with a double-panel banner across the top of the page. Longer (14-inch) legal paper adds an extra two panels to the bottom of the page.
Each panel and banner is stored on disk as a separate data file. An additional page layout file controls panel positioning. All files for a given page should be kept on the same data disk.
The Newsroom main menu leads to five simulated departments--Photo Lab, Copy Desk, Banners, Layout and Press. The natural flow is to create pictures in the Photo Lab, then add text to form individual panels in Copy Desk. A banner, if needed for the page, is composed in Banners. You set the overall page format in Layout by deciding what panels to use and in what order. Then you print the page in Press.
Throughout the program, commands are selected by using either a joystick or the keyboard control arrows to pick from a menu of icons. This system is easy and intuitive. An undo command, appropriately called Oops, can be called from the Photo Lab, Banners or Copy Desk to cancel the most recent action.
SAY CHEESE
Artwork can be included in your publications as "photos" created in the Photo Lab by combining clip art, text and graphic enhancements. You can use 30 pieces of clip art in a single photo. However, only Springboard clip art can be used! There's no way to import art from other sources such as Print Shop icons or MicroPainter pictures.
(If you can develop a method to incorporate Print Strop icons or other graphics, as well as additional fonts,fills, etc. send it to Antic for possible publication.--ANTIC ED)
Clip art is stored on disk in families of two to eight related pictures. A directory of all artwork is given in the program manual. Manuals for the other volumes of clip art contain their own pictorial directories. After you choose a family name, the art is copied to the screen where you can select the desired piece and put it in your working area. Clip art can be moved around the work area and flipped across the Y-axis to give a mirror image. It cannot be scaled or rotated.
The graphics toolbox provides shapes, fill patterns, lines, circles and rectangles. Freehand drawing and erasing are supported along with 10 pre-defined pen shapes and 10 fill patterns. The zoom magnifies small areas of the panel on a pixel-by-pixel scale for fine tuning.
WRITE STUFF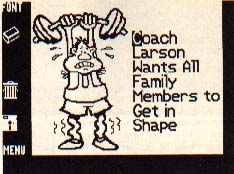 After assembling the artwork and using the toolbox for any touchup work, you're ready to "take a photo." A set of cursors appear which you can position to define the area of the picture to be included in the photo. The photo is then saved to disk for use at the Copy Desk.
Text is added at the Copy Desk, one panel at a time. Three large fonts are available for headlines and two normal fonts are provided for the text itself. These normal fonts are scaled-down versions of large fonts, not new styles. All five fonts are easily readable. No capabilities are provided for creating new fonts, importing any of the hundreds of existing screen fonts in the public domain or changing font size.
Each panel can contain a photo, text or both. One large and one normal text font can be used in a panel, but not mixed on a single line. First a photo is positioned within a panel. As text is added, it flows across and down from the upper left, automatically wrapping around the photo. You can reposition the photo any time and the text will adapt to the new set-up.
When editing text, you can delete, copy, or move a text block, delete characters, or delete all. Panels can be saved to disk and recalled for later editing.
Banners are put together similarly to a single panel. Art can be added from clip art and/or the graphics toolbox. Once a banner is made, it can be saved and used repeatedly with any small editing changes that are needed (such as the date).
PRESSING ENGAGEMENT
After all the individual panels are done, the final page format is set in Layout. You specify either standard or legal page size, format with or without banner, select panels and their positions on the paper. This is saved to disk as a separate page layout file and then you're ready to roll.
Printing is done in the Press Department. On your first visit, you must select the appropriate printer driver. Several test routines can be used to make sure your printer responds properly to the program. When the configuration is set, select Print Page to get your printout.
A typical page takes seven or eight minutes to print. Only one page can be printed at a time. I'd have preferred to be able to make multiple copies. You can also print individual banners, panels or photos rather than an entire page.
Newsroom is a welcome addition to the ranks of useful, high-quality Atari 8-bit software. It was well worth the effort needed to get it for our computers.
NEWSROOM, $49.95
CLIP ART VOLS. 1-3, $29.95 each
($69.80 for all above, direct from mfr.)
Springboard Software, Inc.
7808 Creekridge Circle
Minneapolis, MN 55435
(612) 944-3912
Visa/MC Orders: (800) 654-6301, ext. 3011
Jim Pierson-Perry recently co-wrote an article in Clinical Chemistry titled "Automated Assay of Effective Heparin Activity in Plasma. " He also programmed Designer labels (Antic, April 1987) and last month's Super CZ MIDI application.