NEW PRODUCTS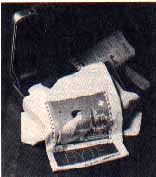 POWER DRESSING
(t-shirts)
Computer Lust
P.O. Box 61734
Honolulu, HI 96839
(808) 988-5979
$15
Power Dressing is Computer Lust's new line of a dozen zany witty and arty silkscreened T-shirts which target the computer industry and users. The humorous designs include such pun-filled titles as "Good to the last Byte," "BASIC Training," "Getting Loaded" and "RAM-bo". Write for a descriptive brochure. For your company or user group's promotional giveaways, Computer Lust will also personalize shirts with a company name or logo, or even create a customized design.
AUTOPREP
(disk formatter)
Helpways
P.O. Box H
Rochester, NY 14623
(716) 334-3928
$17.45, 16K disk
AutoPrep automatically forformats any number of blank disks in single or dual density and writes your choice of DOS and AUTORUN files to them. The entire effortless process is much simpler than doing it from Atari DOS. Price above includes $2.50 shipping.
TURBOWORD
TURBOBASE 80
(word processor, database)
MicroMiser Software, Inc.
1635-A Holden Avenue
Orlando, FL 32809
(305) 857-6014
48K disk
Turboword ($49) is a word processor for the Atari XEP80's 80-column screen. DOS 2.5 and SpartaDOS compatible, its features include automatic formatting, mail merge, macros, spelling checker, auto RAMdisk load and formfeed for laser printers.
Also utilizing the XEP80, Turbobase 80 ($179) works like the original database, but with the 80 column screen making output formats more readable and easier to create. Turbobase 80 interfaces with Turboword. Owners of Turbobase can upgrade for $39.
DIAMOND
(operating system)
USA Media
7810 Malcolm Road
Clinton, MD 20735
(301)868-5494
$29.95 each, 64K disk
Developed by Reeve Software and now brought out by USA Media, Diamond OS brings a complete windowing graphics operating environment to your Atari XL/XE/GS--just like the ST, says USA Media. Use the ST mouse, Atari joystick, touch tablet, trackball, or cursor keys to activate a pointer. Diamond lets you use icons, windows, drop-down menus, dialog boxes and desk accessories. Diamond can even access up to 16 megabytes of memory, for those who've been wondering what to do with their upgraded 8-bits. The disk version already available requires 64K memory. An enhanced cartridge version requiring only 48K is scheduled to be released in November 1988.
Diamond OS is the first release in the ST, Jr. line and will be required for using the other programs including Diamond Paint, a paint program complete with draw, block move, line, k-line, box, circle and airbrush features. Diamond Paint also accepts Degas pictures from the ST and MacPaint pictures. Diamond Write is a word processor that includes cut and paste, a complete spell checker, and an 80-column display. Diamond Publish is a desktop publishing system that creates text wraparound graphics, text flow from column to column, and works with multiple-page documents. Diamond Programmer's Kit includes complete documentation for the Diamond environment and a resource editor that simplifies the creation of icons, drop-down menus, and dialog boxes. Programming samples in both BASIC and assembly language are also included in the kit.
SFP
(utility programs)
SFP
4 Forest Drive
Palmyra, VA 22863-2118
$21.95, 48K disk
SFP is a set of utility programs for use with Broderbund's SynFile+ file management system. Using the SFP utility programs you can create, save and produce reports in either list or label format; print or display the structure of a SynFile+ file; modify look-up tables; alter values associated with record number and counter fields; change justification of any data item and recover deleted records. SFP comes with DOS 2.5 and Turbo-BASIC (64K version) and supports the same densities as SynFile+ when used with appropriate DOS versions.
New Products notices are compiled by the Antic staff from information provided by the products' manufacturers. Antic welcomes such submissions, but assumes no responsibility for the accuracy of these notices or the Performance of the products listed.