More than 100 best products for 8-bit Atari computers.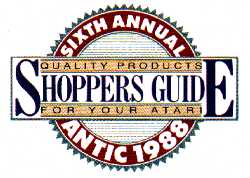 The Sixth Annual Antic Shoppers Guide is this magazine's selection of over 100 best software and peripheral products currently available for 8-bit Atari computers including the 130XE. 65XE, XE Game System, 800XL, 800, 600XL, 1200XL and 400. For users of Atari ST computers, a complete ST Buyers Guide is featured in the current special issue of START: The ST Quarterly.

By GREGG PEARLMAN, Antic Assistant Editor

DISK DRIVES
ATARI XF551
Atari's new XF551 is a double-sided, double-density 5 1/4-inch disk drive that runs almost three times as fast as the reliable 1050 model which it replaces. The XF551 features a new DOS from Optimized Systems Software, but it also operates all previous Atari software. Atari is bustling to try to get out this powerful new disk drive in time for the holidays.
$199.95. Atari corp., 1196 Borregas Avenue, Sunnyvale, CA 94086. (408) 745-2000.
CIRCLE 100 ON READER SERVICE CARD

ASTRA ONE
Astra's The One ($275) is a double-sided, double-density drive with direct-drive motors. The Astra 1001 ($225) disk drive is single-sided, double density, and the 2001 ($400) is a single-sided twin disk drive. The Big D ($475) is the double-sided version of the 2001. All prices are approximate.
Astra Systems, 2500 South Fairview, Unit L, Santa Ana, CA 92704. (714) 549-2141.
CIRCLE 101 ON READER SERVICE CARD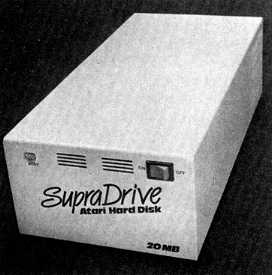 SUPRADRIVE HARD DISK
With 20 million bytes of data available virtually instantly at the touch of a key, the SupraDrive will dramatically change the way you use your computer. The first hard disk made for Atari 8-bit computers has proven itself a dependable performer and operates many Atari bulletin boards today The SupraDrive stores the equivalent of more than 200 floppy disks.
$699. Supra Corp., 1133 Commercial Way, Albany, OR 97321. (503) 967-9075.
CIRCLE 102 ON READER SERVICE CARD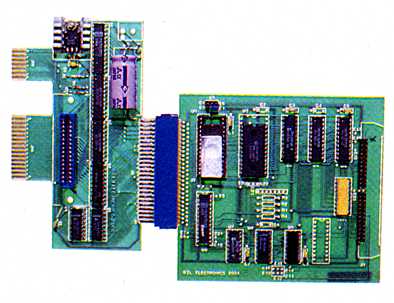 BTL HARD DISK
This system combines standard hard disk units with BTL's own customized Atari interfaces. The BTL 2001 (for 800XL) or 2002 (for l30XE) connects to the computer's parallel bus slot, The BTL 2004 Hard Disk Adapter attaches to a standard SASI hard disk controller-and supports one or two hard drives for a potential total of 128 megabytes of information storage. BTL packages complete hard disk systems up to 85Mb-which can be easily configured and upgraded. Or you can supply your own hard disk and just purchase the adapter and connector.
$550 (10Mb with MYDOS). William Lurie & Associates, P0. Box 7546, Van Nuys, CA 91409. (818) 780-1723.
CIRCLE 103 ON READER SERVICE CARD

PRINTERS


ATARI XMM801 & SMM804
Atari's XMM80l and SMM804 dot-matrix printers offer many (but not all) of the features currently considered standard in the marketplace-and at unusually low street prices. In most respects, the printers are identical. The XMM801 has a serial interface that plugs directly into 8-bit Atari computers or their disk drives. The SMM804, with its parallel interface is intended for direct hookup to STs, but it can be connected to 8-bit models via the Atari 850 Interface or ICD's P:R: Connection.
In fact, if you already own an interface and are considering buying an ST, the SMM804 will give you more speed and features than the XMM801. The XMM801 is compatible with Epson's medium-resolution graphics mode, 960 dots per line. The SMM804 supports as many as 1,280 dots per line,
$199.95 each. Atari Corp., 1196 Borregas Avenue, Sunnyvale, CA 94086. (408) 745-2000.
CIRCLE 100 ON READER SERVICE CARD

STAR NL-10
The NL-l0 is a direct descendant of the discontinued Gemini 10X and Star SG-10, and the current NX-10 ($349). The NL-l0 is compatible with the Epson FX-80. An outstanding near letter-quality font and an expanded set of control buttons on the top panel are major attractions of the fast, sturdy, easy-operating NL-10. This printer provides every standard feature at a most affordable price. The NL-10 requires a Star $60 interface cartridge.
$319 plus $60 parallel interface. Star Micronics, Inc., 200 Park Avenue, New York, NY 10166. (714) 768-7203.
CIRCLE 104 ON READER SERVICE CARD

SPEECH/SOUND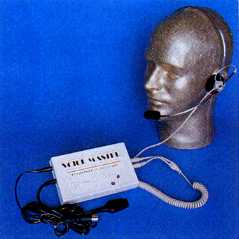 COVOX VOICE MASTER
The Covox Voice Master digitally records and manipulates your own voice, storing the electronic signals in the memory of your Atari. Voice Master consists of a small white box, a telephone operator-type headset, connecting cables, a program disk and documentation.
Voice Master repeats what you said- in your own voice. It shows off its voice-recognition capabilities in a talking blackjack game. Say how much you want to bet, whether you'll hit or stand, and Voice Master will respond with the correct deal.
$89.95, 48K disk. Covox Inc., 675-D Conger Street, Eugene, OR 97402. (503) 342-1271.
CIRCLE 111 ON READER SERVICE CARD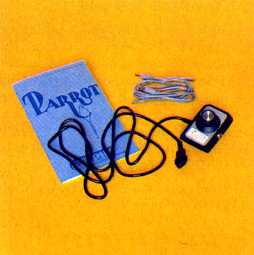 PARROT
Alpha's Parrot sound digitizer can play back almost anything, from birds singing to sirens blaring. The Sound Sampler hardware plugs into joystick port 2 and feeds the sound into the Atari. Parrot's mini-plug jack accepts sounds from microphones, tape recorders, radios, televisions, VCRs or compact disk players. Play mode turns your computer's keyboard into a synthesizer. Load sounds you've created, select the type of sound you want-horns, telephones, etc. ,-and the top three keyboard rows give you three octaves of notes for each sound.
$39.95, 48K disk. Alpha Systems, 4435 Maplepark Road, Stow, OH 44224. (216) 374-7469.
CIRCLE 112 ON READER SERVICE CARD

ENHANCEMENTS
ATARI XEP80
The long-awaited plug-in 80-column card is here at last, according to Atari. It boasts a razor-sharp text display, plugs into a joystick port and carries its own built-in Centronics parallel printer interface. It works with color monitors but is at its best with monochrome. The XEP80 produces bit-mapped graphics, international and graphics characters, inverse video or blinking text, underlining, double-high or double-wide text. Just keep in mind that it may be a little while before your favorite software is made compatible with this smart little 80-column box.
$79.95. Atari Corp., 1196 Borregas Avenue, Sunnyvale, CA 94086. (408) 745-2000.
CIRCLE 100 ON READER SERVICE CARD

ICD ENHANCEMENTS
The P:R: Connection ($89.95) makes it easy to connect Atari 8-bits to standard printers and modems. This inexpensive replacement for Atari's discontinued 850 Interface provides one Centronics parallel port and two serial ports. It uses the same cables ($14.95 from ICD) as the Atari 850. Drawing power from your computer, it doesn't require its own outlet. There's a built-in R-handler with complete documentation for tbe RS-232 driver source listing.
If you just want to hook up your printer, ICD's Printer Connection ($59.95) contains a single parallel interface.
The most impressive add-on product for the 8-bit in years is ICD's Multi I/O Board. The Multi I/O plugs into the parallel bus at the back of your Atari 800XL, 65XE or 130XE (the XE requires a $19.95 adapter) and gives your computer 1Mb ($349.95) or 256K memory ($199.95) which can be partitioned into multiple RAMdisks and a printer spooler plus a hard disk interface that can support eight SASI and SCSI controllers at once, using standard 5 1/4-inch and/or 3 1/2-inch hard disk drives. You also get an 850-compatible parallel printer interface, a serial interface for modem or printer.
RAMBO XL ($39.95) is a 256K memory upgrade for the Atari 800XL and 1200XL. It sets up a l30XE-compatible 192K RAMdisk that runs current software such as the 130XE version of AtariWriter Plus on your XL. The 130XE version of PaperClip (Batteries Included) supports RAMBO's full 256K, loading the entire spelling checker into memory for rapid-fire operation.
lCD Inc., 1220 Rock Street, Rocklord, IL 61101. (815) 968-2228 (Voice), (815) 968-2229 (BBS).
CIRCLE 106 ON READER SERVICE CARD

RAMCHARGER
Enhance your 8-bit computer's memory with RAMcharger RAMboards and get 256K to 1088K memory. Installation is simple and you can have an 800 with more memory than an ST. Just plug in the board and get 288K available with SynCale and SynFile +, up to 8,000 sectors of RAMdisk. MYDOS software is included.
Atari 800: $149.95, 256K; $199.95, 512K; $299.95, 1Mb. 600/800/1200XL: $120, 256K. I30XE: $120, 320K: $180, 576K; $280, 1088K. Magna Systems, 147-05 Sandford Avenue, Suite 4E, Flushing, NY 11355. (718) 939-0908.
CIRCLE 107 ON READER SERVICE CARD

MICROFLYTE JOYSTICK
Instead of renting a real airplane for an hour, why not pick up the MicroFlyte ATC Joystick and take control of Sublogic's Flight Simulator II with a minimum of keystrokes? This self-centering analog joystick uses two potentiometers to recognize the direction and magnitude of a turn-it helps you fine-tune your flying. However, it works only with Flight Simulator II or the programs you write yourself.
$59.95. MicroCube Corp., P0. Box 488, Leesburg, VA 22075. (703) 777-7157.
CIRCLE 109 ON READER SERVICE CARD

MODEMS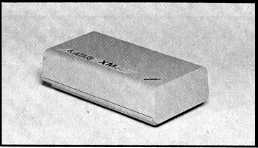 ATARI XM301 & SX212
The XM301 ($ 59.95) builds advanced features into an inexpensive 300 baud modem that plugs directly into your 8-bit Atari. This worthy successor to the Atari 1030 has auto-dial and auto-answer and doesn't need a separate power supply. Included in the package are a fine 49-page manual and XE-Term software.
Atari announced the SX212 ($99.95) some time ago, but it has not yet come to market. The SX212 is a speedy 1200 baud, Hayes-compatible modem that plugs directly into Atari 8-bits or daisy-chains with your peripherals. Comes complete with built-in speaker, signal lights and software.
32K disks. Atari Corp.. 1196 Borregas Avenue. Sunnyvale, CA 94086. (408) 745-2000.
CIRCLE 100 ON READER SERVICE CARD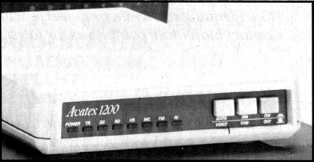 AVATEX 1200
The Avatex 1200 modem gives you inexpensive Hayes compatibility and reliable operation. It operates with a subset of the Hayes commands that gives you virtually all the important functions. The Avatex can often be found between $79 and $129 at dealers and is widely used in the Atari community. It requires an 850 or P:R: interface and can also be used with an ST.
$159. E+E Datacom, 1230 Oakmead Parkway #310, Sunnyvale, CA 94086. (408) 732-1181.
CIRCLE 113 ON READER SERVICE CARD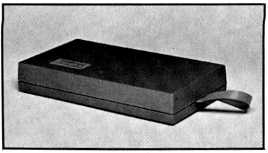 SUPRA 300/1200/2400
This fully Hayes-compatible modem is about half the size of the current Hayes 2400 baud modem. Featuring a speaker, two telephone ports and an LED display on the front, Supra's new multi-speed modem works with both the 850 interface and lCD's PR: Connection. Supra's R-Verter cables convert the 8-bit Atari's SIO port to an RS-232 port.
$199.95, including cables and software; $179.95 for the modem only. Supra Corp., 1133 Commercial Way, Albany, OR 97321. (503) 967-9075.
CIRCLE 102 ON READER SERVICE CARD

ONLINE SERVICES
Hourly rates and membership fees for commercial online services are subject to change. Contact individual companies for latest information. You'll need a modem to hook up.

COMPUSERVE
CompuServe is the leading online information service, and with good reason. You can get stock quotes, news and weather reports, make airline reservations, buy merchandise, play games, enter special interest groups (SIGs) on dozens of topics. CompuServe is where you'll find the ANTIC ONLINE edition and three bustling Atari SIGs (8-bit, 16-bit and Atari Developers) with hundreds of 8-bit and ST programs to download. Upload time is free. Hourly rates anytime are $6 for 300 baud, $12.50 for 1200 and 2400 baud. $39.95 sign-up fee.
500 Arlington Center, Box 20212, Columbus, OH 43220. (800) 848-8199. In Ohio, (614) 457-8600.
CIRCLE 114 ON READER SERVICE CARD

GENIE
GEnie, the General Electric Information Service, is the newest and least expensive online service, costing $5 an hour between 6p.m. and 8a.m. on weekdays, and all day on evenings and weekends, even for 1200 baud modems ($10 for 2400 baud). Prime-time rates are more business-oriented, $35 per hour for 300/1200 baud and $45 for 2400 baud. Upload time is free. The SIG-like Atari RoundTable software library has 11 categories and is growing fast.
GEnie, 401 N. Washington Street, Rockville, MD 20850. (800) 638-9636.
CIRCLE 115 ON READER SERVICE CARD

GRAPHICS

RAMBRANDT,
RAMbrandt paint software (AP0157) produces color images with KoalaPad or Atari Touch Tablet in five graphics modes and multiple text fonts. You can load pictures from Moviemaker, Micro Illustrator, Micro-Painter, Animation Station's Design Lab and Computereyes. The window mode lets you vertically or horizontally rotate, flip (for T-shirts), animate your picture, or scale it up or down in size. RAMbrandt has unlimited user-defined brushes, 130XE RAMdisk support and printer dumps for Epson, Star Micronics, C. Itoh, NEC and compatibles. Its Okimate 10 color printer dump produces fine color images.
$19.95 each, 48K disk. The Catalog, 544 Second Street, San Francisco, CA 94107. (800) 234-7001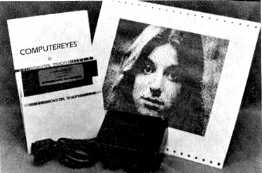 COMPUTEREYES
Connect your Atari to any video camera or VCR and you'll get a digitized black-and-white image in less than six seconds. The image can then be modified with standard graphics software. The Computereyes package includes an interface module, software and an owner's manual. For $399.95, you also get a black-and-white video camera.
$129.95. 48K disk. Digital Vision, Inc., 66 Eastern Avenue, Dedham, MA 02026. (617) 329-5400.
CIRCLE 117 ON READER SERVICE CARD

DESKTOP PERFORMANCE STUDIO
With this long-awaited multimedia software, your 8-bit Atari becomes a live performance instrument and you instantly become a composer, artist, recording engineer and video animation director. Your movements of the graphics can control your music in real-time-or your changes of graphic music patterns can control the animation images. The software scrolls your words in sychronization too. A true software breakthrough.
$49.95, 48K disk. Virtusonics Corp., 123 Duke Ellington Blvd., New York, NY 10025. (212) 316-6945.
CIRCLE 118 ON READER SERVICE CARD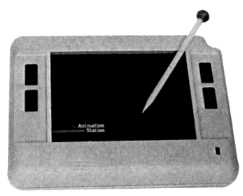 ANIMATION STATION
Packaged with DesignLab software (actually Baudville's Blazing Paddles), Suncom's Animation Station is a touch tablet that might be even easier to use than the discontinued KoalaPad. DesignLab loads and saves pictures in the popular 62-sector Micro-Painter format. The software's "shape tables" include buildings, animals, weapons and cars. These can be flipped or rotated and placed in your picture. You can print on graphics-capable Epson printers and compatibles plus Star/Gemini, Panasonic and Okimate printers.
$89.95, 48K disk. Suncom, 260 Holbrook Drive, Wheeling, IL 60090. (312) 459-8000.
CIRCLE 119 ON READER SERVICE CARD

EDUCATION
ATARI PLANETARIUM
Atari Planetarium shows you the stars tonight-or any night between 9999 B.C. and AD. 9999-from anywhere on Earth. View any celestial event at up to 64 times normal speed, forwards or backwards, from the appearance of Halley's comet over Australia on April 5,1986 to the earliest recorded solar eclipse.
$24.95, 64K disk. Atari Corp., 1196 Borregas Avenue, Sunnyvale, CA 94086. (408) 745-2000.
CIRCLE 100 ON READER SERVICE CARD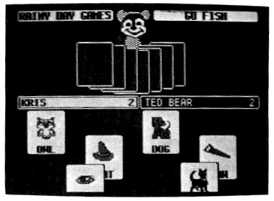 RAINY DAY GAMES
Younger children will love the company of Ted Bear on Baudville's Rainy Day Games. Ted always plays fair and he shows little ones how to have fun playing such favorites as Concentration, Old Maid and Go Fish.
$29.95, 48K disk. Baudville, 5380 52nd Street, Grand Rapids, Ml 49S08. (616) 957-3036.
CIRCLE 130 ON READER SERVICE CARD

TALK & TEACH
The Dorsett Talk & Teach interactive tutorials encompass about 800 lessons ranging from pre-school to adult level. The lessons involve languages, mathematics, self-development, science, technology and vocational study. The lessons are all cassette-based-two per tape-and full of sound and graphics.
$9.95 per cassette; eight cassettes, $59.96. Dorsett Educational Systems, Box 1226, Norman, OK 73070. (405) 288-2301.
CIRCLE 141 ON READER SERVICE CARD

TYPING TUTOR, WORD INVADER
Learn to use your keyboard quickly and properly, or just brush up on your typing skills. Typing Tutor evaluates your performance. Then play Word Invader to reinforce what you've learned. This two-in-one package comes on both disk and cassette.
$24.95, 48K disk; $21.95, 32K cassette. Academy software, P0. Box 6277, Mill Valley, CA 94903. (415) 499-0850.
CIRCLE 142 ON READER SERVICE CARD

QUIZMASTER, USA CONSTRUCTION SET
Quiz anybody on any subject, from riddles to nuclear physics, with the Quizmaster Construction Set. Create your own multiple-choice quizzes with an unlimited number of questions. As the screen displays a question, a counter rapidly counts down from 500, and you get the number of points still left when you press the key for the right answer.
The USA Construction Set gives you a program disk, plus data disks containing questions for all of the states. The files can easily be edited and enlarged, so you'll have a constant variety of questions to be answered.
$9.95 each, 48K disk. EZuse Software, 2850 Enea Way, Antioch, CA 94509. (415) 754-6026.
CIRCLE 143 ON READER SERVICE CARD

LINKWORD LANGUAGES
The Linkword Languages series swiftly teaches you German, French, Italian and Spanish by using images that link foreign words to acoustically similar English words. Words are introduced one at a time, with the computer giving the English word, foreign equivalent, phonetic spelling and quick image to keep in mind for each. Linkword also teaches the beginning elements of grammar and topics such as dining out and going to the doctor. Vocabulary ranges from clothes and furniture to business and travel. The program comes with an audio cassette featuring a native speaker pronouncing the words you've just learned.
$24.95 each, 48K disk. Artworx Software Co., Inc., 1844 Penfield Road, Penfield, NY 4526. (800) 828-6573. (716) 385-6120 in New York.
CIRCLE 144 ON READER SERVICE CARD

MATH BLASTER!, WORD ATTACK!, SPELL IT!
Math Blaster!, for grades 1 through 6, contains more than 600 problems in ascending difficulty levels covering addition, subtraction, multiplication, division, fractions, decimals and percents. Word Attack! gives 4th-graders through 12th-graders 675 new words in 27 lists and various tests. Additional data disks are available for $19.95. Spell It! has 50 word lists covering 1,000 commonly misspelled words in five difficulty levels.
$49.95 each, 48K disk. Davidson & Associates, 3l35 Kashiwa Street. Torrance, CA 90505. (800) 556-6141 (213) S34-4070 in California.
CIRCLE 145 ON READER SERVICE CARD

COMPUTE YOUR ROOTS
Compute Your Roots takes genealogical information from you, stores it on disk and prints it neatly in standard diagram formats called pedigree charts and family group sheets. Trace your family tree back to the source, with your Atari.
$34.95, 48K. Requires BASIC. Wasatch Genealogical Software, 2899 West 7550 South, West Jordan, UT 84084. (801) 483-3357.
CIRCLE 138 ON READER SERVICE CARD

THUNDER MOUNTAIN SOFTWARE
Whether your musical skills are limited or extensive, Songwriter featuring unique, easy to use "piano roll" graphics and on-screen commands, will have you playing your own tune in 15 minutes-on your computer or home stereo.
Mission In Our Solar System puts you behind the controls of a spacecraft that can travel across the entire solar system. Use what you learn to land on planets and moons.
You're a Bizling whose spaceship has been damaged while visiting the Planet Simian. In Run for the Money, you must raise enough money to repair the ship by manufacturing and selling synannas to the Simians.
At the Batty Builders Construction Yard, you must construct the foundation walls for a new project, test the new conveyor system, catch the falling stones before they hit bottom, and build a wall with just the right pattern.
$9.95 each, 48K disks. Thunder Mountain, P0. Box 1167, Northbrook, IL 60065-1167. (800) 221-9884.
CIRCLE 160 ON READER SERVICE CARD

COMMUNICATIONS
EXPRESS!
With Backtalk ($19.95, AP0154), your Atari can autodial other bulletin boards in the middle of the night and upload or download files in XMODEM or other standard formats. l30XE owners can save money on CompuServe with Backtalk's RAMdisk support. You have total modem compatibility and can create unlimited macro libraries.
Express! is the first choice of Atari online users, according to an ANTIC ONLINE 1986 survey. Keith Ledbetter's telecommunications programs are perhaps the most sophisticated, user-friendly software ever put into public domain. ($10, 48K disk. PD0081 for 1030/XM30l, PD0082 for 850 and ICD interfaces.)
The Catalog, 544 Second Street, San Francisco, CA 94107. (800) 234-7001.

BBS EXPRESS!
BBS Express! runs on the Atari 1030 and XM30l modems, supporting both XMODEM and ASCII downloading. Sysops can customize their bulletin boards with powerful features. BBS Express! uses all currently available memory upgrades, and full remote sysop capabilities can be accessed from anywhere in the world.
$39.95, 48K disk. (Specify 850 or 835/1030/XM301 version.) Orion Micro Systems, 2919 Ennismore Court, Richmond, VA 23224. (804) 794-9437.
CIRCLE 108 ON READER SERVICE CARD

LANGUAGES & TOOLS
BASIC XE, ACTION!
BASIC XE ($79, cartridge plus 48K disk) from OSS runs programs at least twice as fast as Atari BASIC. BASIC XE has powerful new statements, automated editing features and extra utilities. This language harnesses the full 128K memory of the l30XE computer.
The fast, powerful ACTION! programming language ($79, 16K cartridge) blends elements of Pascal and C, but is much easier to program on the 8-bit Atari. The ACTION screen editor makes programming a joy and was the basis of Batteries Included's Paper Clip word processor. Particularly outstanding for speedy graphics and game programs.
Optimized Systems Software, 1221B Kentwood Avenue, San Jose, CA. 95129. (408) 446-3099.
CIRCLE 146 ON READER SERVICE CARD

ADVAN BASIC
Never has a BASIC given the programmer such effortless command of the special sound and graphics capabilities of the Atari. Advan BASIC is a speedy compiled BASIC with powerful new commands and built-in Player/Missile graphics.
$39.95, 48K disk. Advan Language Designs, P0. Box 159, Baldwin, KS 66006. (913) 594-3420.
CIRCLE 147 ON READER SERVICE CARD

BASIC VIEW
Lighten your debugging load with BASIC View, a machine language programming utility that traces BASIC programs as they run. As each line of your code is executed, the BASIC tracer highlights it in a screen window, enabling you to find bugs right away.
$19.95, 48K disk, APO 192. The Catalog, 544 Second Street, San Francisco, CA 94107. (800) 234-7001.

PRINTING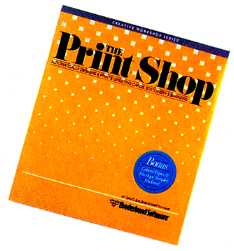 PRINT SHOP
Design your own greeting cards, banners, letterheads, logos and more with Broderbund's versatile Print Shop ($44.95, 48K disk). You don't need computer graphics experience. Print Shop will guide you through the process. Design elements include eight typestyles, nine border designs, a graphics editor that lets you create original pictures, and the ability to superimpose text over any design.
Volumes I, II and III of the Print Shop Library ($24.95 each, 48K disk) are collections of graphics, ranging from Presidents to plumber's helpers, from chess pieces to choppers. These illustrations feed right into Print Shop.
The Print Shop Companion ($34.95, 64K disk) adds extra features to the basic program, such as calendars, enhanced borders, fonts, fill-in patterns and more powerful graphics editing.
Broderbund Software, 17 Paul Drive, San Rafael, CA 94903. (415) 492-3200.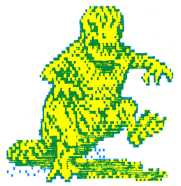 NO FRILLS GRAPHICS
No Frills disks ($19.95 each) are filled with a wide variety of icons, fonts and borders for 64K Ataris running Print Shop Companion. The company also markets two disks of Judaic images and Hebrew letters, plus a $22.95 Christian symbols disk. A new addition to the line is four disks from the jersey Atari Computer Society ($12.95 each).
No Frills Software, 800 East 23 Street. Kearney, NB 68847. (308) 234-2975, (308) 234-6250.
CIRCLE 148 ON READER SERVICE CARD

TYPESETTER, PAGE DESIGNER, RUBBER STAMP
Typesetter ($34.95), Page Designer ($29.95) and Rubber Stamp (29.95) are three related 48K disk programs. They combine into a flexible and powerful package which lets you mix graphics and text elements that you have created from scratch. The software goes beyond Print Shop in control of the printed page. Due to the array of powerful choices, this software can be somewhat challenging to learn.
XLEnt Software, P.O. Box 5228, Springfield, VA 22150. (703) 644-8881.
CIRCLE 131 ON READER SERVICE CARD

QUIK PIX
The two versions of Quik Pix merge Print Shop Library pictures into word processor pages from either PaperClip or from AtariWriter and AtariWriter Plus. (Actually you can merge any picture, if you convert it to Print Shop format first.) Pictures can be saved as "pix," letterhead, or as labels using the Mail Merge features of these word processors.
$29.95 each, 48K disk. White Lion Software, P0 Box 357, Ridge, NY 11961. (516) 472-6657.
CIRCLE 150 ON READER SERVICE CARD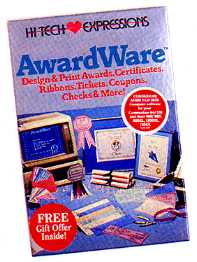 AWARDWARE
Design and print awards, licenses and certificates of recognition with AwardWare ($14.95, 48K disk). The software has 99 award templates sized 8 x 10 inches and 5 x 7 inches. You can print mock "checks," admission tickets, ribbons, plaques, trophies and "keys to tbe city." AwardWare also offers 20 borders, five fonts, 20 graphics and five seals.
With the other Hi-Tech products. HeartWare ($9.95), Love Note Maker ($14.95), CardWare ($9.95), PartyWare ($14.95) and Ware With All ($14.95), you can express yourself almost without limit.
Hi Tech Expressions, 1700 Northwest 65th Avenue, Suite 9, Plantation, FL 33313. (800) 848-9273. In Florida, (305) 584-6386.
CIRCLE 151 ON READER SERVICE CARD

FORMS GENERATOR
Create customized purchase order forms, statements, invoices, proposals, job work orders, gift certificates. Forms Generator's scrolling spreadsheet-style WYSIWYG screen makes it easy design and print almost any form you need. Not only does Forms Generator create forms-it makes all calculations automatically. You can even save forms to disk and keep records with this program.
$23.95, 48K disk. Twenty-Fifth Century, Software Division, Dept. AT I. 234 Fifth Avenue, New York, NY 10001. (800) 346-6000.
CIRCLE 153 ON READER SERVICE CARD

WORD PROCESSING

PAPERCLIP
We write and edit every word at Antic with PaperClip before transmitting the copy to our typesetter via modem. Paper-Clip is a professional-strength word processor that's easy to learn. Its features include a split screen with cut-and-paste between both windows, one-key macros, readable characters with true descenders, double-column printing, configuration files for many different printers and fine documentation. The l30XE version contains the SpellPack spelling checker.
$59.95, 48K disk. Batteries Included, distributed by Electronic Arts, 1820 Gateway Drive. San Mateo, CA 94404. (415) 571-7171.
CIRCLE 121 ON READER SERVICE CARD

FIRST XLENT WORD PROCESSOR
Put pictures into the text, use the joystick for cursor movement, edit two documents at once with the First XLEnt Word Processor. This program boasts near-instantaneous search-and-replace and adjustable cursor or joystick speeds on XL/XE computers. There's also no problem loading First XLEnt files to other word processors. It comes with Atari DOS 2.5, but you can substitute your own DOS-meaning that you can use a high-speed DOS, custom RAMdisk, etc. First XLEnt has a visible, editable cut-and-paste buffer and true file insert-you can insert a disk file anywhere in your text without losing the end of your document. And you can save any portion of the document in memory to disk:
$29.95, 48K disk. XLEnt Software, P0. Box 5228, Springfield, VA 22150. (703) 644-8881.
CIRCLE 131 ON READER SERVICE CARD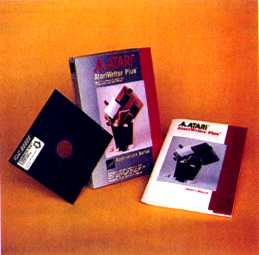 ATARIWRITER PLUS
A disk-based upgrade of the popular AtariWriter cartridge, AtariWriter Plus includes a spelling checker and mail merge. It takes advantage of the l30XE's full 128K memory. AtariWriter Plus lets you send your file directly to devices other than P:-for instance, you might want to send it to the modem port or to another Atari computer.
$49.95, 48K disk. Atari Corp.. 1196 Borregas Avenue, Sunnyvale, CA 94086. (408) 745-2000.
CIRCLE 100 ON READER SERVICE CARD

PRODUCTIVITY
CREATIVE PROCESS
Creative Process ($19.95, 48K disk, AP0l5l) is a tremendous aid in report writing, for business or school. This outline processor features pop-up menus and can help you manage projects, make sense out of long meetings, or monitor works in progress. Creative Process supports the l30XE RAMdisk.
The Catalog, 544 Second Street, San Francisco, CA 94107. (800) 234-7001.

TURBOBASE
The MicroMod TurboBase Integrated Business Application takes full advantage of the 1Mb RAMdisk capability of lCD's Multi I/O Board and speedy SpartaDOS 3.2. This program does the job for business owners seeking a central software system to handle all their financial and administrative data. TurboBase tracks customer and vendor addresses and phone numbers; accounts receivable and payable; inventory and payroll. It contains a word processor and a flexible report generator.
$179.95, 48K disk. MicroMiser Software, Inc., 1635-A Holden Avenue, Orlando, FL 32809. (305) 857-6014.
CIRCLE 154 ON READER SERVICE CARD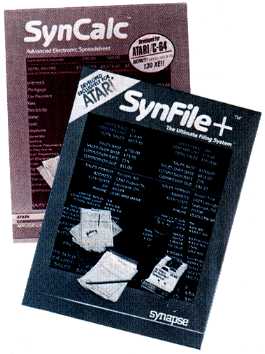 SYNCALC, SYN FILE +, B/GRAPH
The SynCalc spreadsheet and SynFile + database ($49.95 each, 48K disk) are currently the most widely used integrated productivity applications for 8-bit Ataris. Each program is powerful, while pop-up menus and clear commands simplify operation. SynCalc is compatible with VisiCalc .DIF files.
B/Graph ($39.95,48K disk) creates pie charts, 2-D and 3-D bar charts, line and area graphs. You can graph three factors with 100 data points each and convert instantly between graph types without reentering data. B/Graph also reads and writes to SynCalc .DIF files-enter data with SynCalc, then graph it with B/Graph.
Electronic Arts, 1820 Gateway Drive, San Mateo, CA 94404. (415) 571-7171.
CIRCLE 121 ON READER SERVICE CARD

BUSINESS MANAGER
Business Manager is for the small business-person who needs a simple accounting system to track sales and inventory without getting lost in fancy features, Written in Atari BASIC, Business Manager also runs with BASIC XL from OSS. This program also takes advantage of the extra RAM in a 130XE.
$49.95, 48K Disk. Reeve Software, 29W150 Old Farm Lane, Warrenville, IL 60555. (312) 393-2317.
CIRCLE 149 ON READER SERVICE CARD

MUSIC
MIDITRACK
The hardware/software system from Hybrid Arts is a professional MIDI sequencer that can control a bank of synthesizers. MlDItrack II ($194, XL/XE) uses your Atari to emulate a 16-track digital recorder with synchronizer and MIDI remote control. There's 16-track overdubbing, auto-locate and optimizing. MlDItrack III (l30XE only) is $187.
Hybrid Arts, 11928 W, Olympic Blvd., Los Angeles, CA 90064. (213) 826-3777.
CIRCLE 156 ON READER SERVICE CARD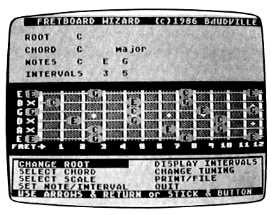 GUITAR WIZARD
Master guitar chords and scales with this innovative program. Guitar Wizard is more than just a computerized chord-fingering book. It includes scale guides, alternate string tunings and guidance for improvisational playing. There are 32 chord types, along with more than 12 roots and nine positions, totaling 3,456 variations.
$24.95, 48K disk. Baudville, 5380 52nd Street, Grand Rapids, Ml 49508. (616) 957-3036.
CIRCLE 130 ON READER SERVICE CARD

COLLEEN MUSIC CREATOR
Colleen Music Creator features Colleen Fun-Play, which provides realtime rhythm accompaniment in boogie, country, disco and waltz styles. The Drum Machine lets you create infinite drum patterns, and the Creator pushes your Atari sound chip to the limit, compressing music into an editable, compact machine language file. A sound effects library is provided too. All tunes created with the Creator can be combined into multiple music files.
$29.95, 48K disk. Colleen Limited, Hallwood 1,7535 S.W. Hall Blvd., Beaverton, OR 97005. (503) 641-6538.
CIRCLE 157 ON READER SERVICE CARD

ENTERTAINMENT
INFOCOM TEXT ADVENTURES
Dead Uncle Buddy Burbank, the Hollywood mogul, and Aunt Hildegarde have left you their entire estate-assuming you can find 10 treasures hidden throughout their lavish Malibu home, Hollywood Hijinx ($34.95) is loaded with memorabilia from Uncle Buddy's B-movies, which include A Corpse Line and Vampire Pengums of the North.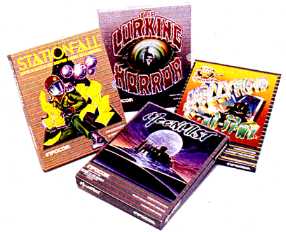 Fans of Stephen King or H.P. Lovecraft will feel right at home with Lurking Horror (34.95). Your worst nightmares seem like "Gilligan's Island" reruns compared to the goings-on at the George Underwood Edwards Institute of Technology (Gooey Tech).
Floyd's back in Stationfall ($34.95). Steve Meretzky's unforgettable Planetfall robot Floyd returns to help (?) you in your paperwork task force duties-routine at first, but watch out.
48K disks. Infocom, 125 CambridgePark Drive, Cambridge, MA 02140. (617) 492-6000.
CIRCLE 120 ON READER SERVICE CARD

ELECTRONIC ARTS ACTION
As a member of the Alliance, you must protect its outer regions against the invading Krellan and Zaldron empires in Star Fleet ($49.95). After graduating from the academy, you'll command one of 36 cruisers with a sophisticated array of weaponry at your fingertips.
Age of Adventure ($14.95) is a two-game reisssue package containing Ali Baba and the Forty Thieves plus The Return of Heracles. In Lords of Conquest ($14.95) the object is to be king of everything around. Lords has 20 prepared maps- infinitely more, if you decide to create your own world with the map-making utility or have the computer generate one.
"HOW DO YOU DO? PLEASE TELL ME YOUR PROBLEM." That's Eliza, the computer version of Dr. Ruth. Eliza, Pong, Adventure and Life constitute Software Country's Golden Oldies package ($14.95).
48K disks. Electronic Arts, 1820 Gateway Drive, San Mateo, CA 94404. (415) 571-7171.
CIRCLE 121 DN READER SERVICE CARD

SSI STRATEGY GAMES
In Gettysburg: The Turning Point ($59.95), the tide of victory turns frequently throughout the game, just as it did more than a century ago in Pennsylvania. Whenever the battle seems to be under control, reinforcements pour in for the other side.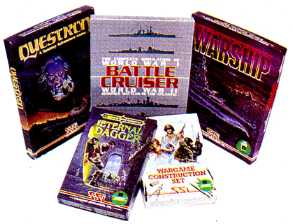 With the Wargame Construction Set ($29.95), you can set up and play out conflicts ranging from individual hand-to-hand skirmishes to extended campaigns between great forces. You can build worlds that are real, modified or idealized. Then populate them with armies of "grunts" and tanks, starship troopers and space battle stations, dwarves and dragons or whatever you want.
SSI has packed all the major elements of surface engagements and command under fire into Warship ($59.95). While oriented toward the war in the Pacific from 1941-45, an experienced gamer can use the game's utilities to construct a wide range of naval warfare scenarios. The package comes with four ready-to-play scenarios from World War II, three of them taken from historical battles at sea and one using hypothetical battle-groups.
48K disks. Strategic Simulations Inc., 1046 N. Rengstorff Avenue, Mountain View, CA 94043. (415) 964-1353.
CIRCLE 122 ON READER SERVICE CARD

COLOSSUS CHESS
Colossus Chess ($15.95, AP016l) is for any chess-lover, whether you're a beginner or a master. The space bar toggles between two screens-one showing the board and the other showing Colossus' "brain" considering thousands of moves. Onscreen elapsed-playing-time clocks add realism, and a game can be saved to disk to be picked up later.
48K disks. The Catalog, 544 Second Street, San Francisco, CA 94107. (800) 234-7001.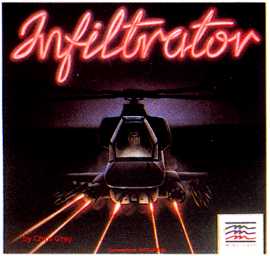 INFILTRATOR, TRAILBLAZER, RAMBO
In Infiltrator ($29.95), you'll zoom through enemy airspace in your helicopter toward strategic targets and try to destroy the Mad Leader's military force. This animated graphic adventure combines realistic helicopter flight simulation with exciting military ground action.
The fast-paced TrailBlazer ($29.95) is sort of a combination of Ballblazer and Marble Madness, featuring crisp graphics and interesting playing challenges. You must maneuver an extraterrestrial soccer ball down the "hyperspatial color grid" and across the finish line before time runs out.
As do all titles in Mindscape's new Thunder Mountain line, Rambo, an adventure graphics game costs $9.95-"the software industry's equivalent to the paperback book."
48K disks. Mindscape Inc., 3444 Dundee Road, North-brook, IL 60062. (800) 221-9884.
CIRCLE 159 ON READER SERVICE CARD

MERCENARY: SECOND CITY
In Mercenary (29.95), you've crash-landed on the war-ravaged planet Targ, home of the organic Palyars and their robot adversaries, the Mechanoids. With you is Benson, a portable computer that tells you what's going on (in a limited way). In this first-person, 3-D game, your goal is to escape-by any means.
Mercenary: The Second City (14.95) is a sequel that must be played in conjunction with Datasoft's original game disk. The Second City is on the other side of the Planet Targ, and once again you must escape.
48K disks. Intellicreations (Datasoft), 19808 Nordhoff Place, Chatsworth, CA 91311. (818) 886-5922.
CIRCLE 124 ON READER SERVICE CARD

LEADER BOARD, TRIPLE PACK
Leader Board ($39.95) is a realistic golf game with three progressively tougher ability levels. The joystick-controlled game doesn't present roughs, sand traps or trees. But its hazards are dangerous enough-everywhere you look, there's water.
Triple Pack ($19.95) is an inexpensive three-game reissue. Beach-Head features aerial reconnaissance and the navigation of your ships through a hidden passage to destroy a castle. In Beach-Head II, you can assume the role of either The Dictator or J.P. Stryker, youngest man ever to make Allied Chief Commander. In Raid over Moscow, you must stop a nuclear attack by launching your fighter pilots out of the U.S. Space Station. They must fly through enemy territory to attack the missile silos.
48K disks. Access Software, 2561 South 1560 West, Woods Cross, UT 84087. (800) 824-2549. In Utah, (801) 298-9077.
CIRCLE 125 ON READER SERVICE CARD

TOP GUNNER, F-15 STRIKE EAGLE
Top Gunner ($24.95) features three best-selling MicroProse aerial combat programs. Hellcat Ace gives you a first-person 3-D perspective of 14 scenarios that recreate air battles from 1940 to 1944. MIG Alley Ace, set during the Korean War, has five scenarios, but a plane can be flown by a two-player crew. In the above games, the screen is split into cockpit views for each opposing plane. In Air Rescue, you're a chopper pilot trying to rescue a team of trapped archeologists in Northern Africa. The view is third-person 2-D in a treacherous underground labyrinth.
48K disks. MicroProse Software, 120 Lakefront Road, Hunt Valley, MD 21030. (301) 771-1151.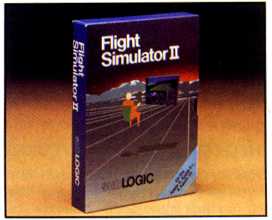 FLIGHT SIMULATOR II
Zoom your Piper Cherokee Archer around Chicago, New York, Seattle, Los Angeles or any of 80 realistic airports in this advanced flight simulation program. This sophisticated pilot training software provides believable flying practice after you learn the precise and detailed operating instructions. Additional Scenery Disks include San Francisco and Tokyo-Osaka ($19.95 each) or a six-disk Western U.S. set for $99.95.
$49.95, 48K disk. Sublogic Corporation, 713 Edgebrook Drive, Champaign, IL 61820. (217) 359-8482.
CIRCLE 127 ON READER SERVICE CARD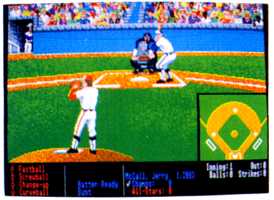 HARDBALL, ACE OF ACES
Hardball, an arcade-style baseball game, features enticing graphics and 3-D perspective from three views. The joystick is used to choose lineups, select pitches and move fielders.
Ace of Aces simulates the thrill and challenge of flying a British Royal Air Force mission over World War II Europe. Fly the remarkable RAF Mosquito in four different air battles, each requiring special weapons, flying and navigational skills.
$29.95 each, 64K disks. Accolade, 20813 Stevens Creek Blvd., Cupertino, CA 95014. (408) 446-5757.
CIRCLE 158 ON READER SERVICE CARD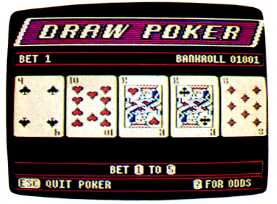 VIDEO VEGAS
Video Vegas gives you the chance to be a big winner without actual monetary risk. You'll get plenty of inexpensive practice at Blackjack, which includes a card-counting tutorial, the Lucky 7 slot machine, Keno and Draw Poker.
$29.95, 48K disk. Baudville, 5380 52nd Street. Grand Rapids, Ml 49508. (616) 957-3036.
CIRCLE 130 ON READER SERVICE CARD

CHESSMASTER 2000
The Antic reviewer says that Chessmaster 2000 beat his copies of Colossus Chess 3.0 and Odesta Chess 7.0. If you are an avid chess buff, you will want the power of Chessmaster 2000 with its 20 levels of play and its library of almost 100 classic games. Outstanding graphics too.
$39.95, 48K disk. Software Toolworks, One Toolworks Plaza, 13557 Ventura Blvd., Sherman Oaks, CA 91423. (818) 907-6789. (Distributed by Electronic Arts.)
CIRCLE 132 ON READER SERVICE CARD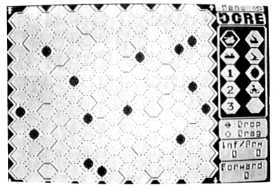 OGRE
Ogre takes place on a hypothetical battlefield in the 21st century where "Ogres"- huge computer-controlled cybernetic tanks, battle human-run, high-tech weapon systems. Ogre players must maneuver across most of the board to destroy or preserve the command post. Ogre is incredibly easy to play: GEM-like tools including dialog boxes, drop-down menus and "double-clicking" are used via joystick.
$29.95, 48K disk. Origin Systems, Inc., 136 Harvey Road, Manchester, NH 03053. (603) 644-3360.
CIRCLE 132 ON READER SERVICE CARD

GUILD OF THIEVES
The Guild of Thieves, long-awaited sequel to the ST hit, The Pawn, combines witty dialogue, challenging puzzles and outstanding graphics, as well as a humorous 40-page novella and other goodies.
$39.95, 48K disk. Firebird Licensees, Inc., 71 Franklin Turnpike, Waldwick, NJ 07463. (201) 920-7527.
CIRCLE 134 ON READER SERVICE CARD

LOTTO PROGRAM
The Lotto Program performs an analysis of the past winning lotto numbers, attempting to show the probability of which numbers are likely to surface in the next few drawings. This menu-driven program produces easy-to-read charts from which you can try to pick hot and cold numbers, frequency, patterns, sums of digits, odd/even numbers, digit groups and more.
$24.95, 48K disk. Soft-Byte, P.O. Box 556, Forest Park, Dayton, OH 45405. (513) 278-8044.
CIRCLE 135 ON READER SERVICE CARD

GUDERIAN
In this challenging simulation of the German Blitz across western Russia in the summer of 1941, the German player must capture and hold several key locations, fighting not only the Soviet player, but also the clock, just as General Heinz Guderian did 46 years ago. The Russian commander, however, does not have an easy job: those early Soviet units required constant leadership or else they wouldn't perform at all.
$30, 48K disk. Avalon Hill, 4517 Harford Road, Baltimore, MD 21214. (800) 638-9292.
CIRCLE 136 ON REDDER SERVICE CARD

NEW ALADDIN
This disk magazine features news articles, graphics, reviews of films and computer products, games, short stories, humorous pieces and celebrity interviews by Chantal, the Hollywood correspondent for ABC-TV's "Good Morning America." Six times a year, you'll find a package containing three or more floppy disks in your mailbox-which in turn contain volumes of material that will occupy you for hours.
$19.95 each, $799S per year. 48K disk. The New Aladdin, 12200 Park Central Drive, Suite 310, Dallas, TX 75251. (800) 345-6467. In Texas, call collect: (214) 788-4441.
CIRCLE 137 ON READER SERVICE CARD

WHITE BAG SOFTWARE
TK has released eight new discount titles at $14.95 each. Money Spin, the 8-bit Atari's answer to Wheel of Fortune, lets you put your own puzzles onto data disks. In Balloon Pop, use joysticks or paddles to help clowns bounce higher and higher to pop hundreds of balloons. Barnstorm brings back the challenges of the biplane pilot era, in 26 difficulty levels.
Play backgammon in Gammon with colored dice, doubling cube and screen-wide playing field, or go on a space mission to destroy all enemy missile launchers in Laser Fed. Air Hockey is a fast-moving, computerized version of the table-top game. Lottery tracks winning lottery numbers and gives probabilities of future winners. Bowling (Version 2, $20), features arcade action for up to four bowlers, with sound and graphics.
$14.95 each, 48K disks. TK Computer Products. P.O. Box 9617, Downers Grove, IL 60515. (312) 382-5244.
CIRCLE 139 ON READER SERVICE CARD