Bonus Game
Sting Rayer
PROGRAM BY STEVE ARGYLE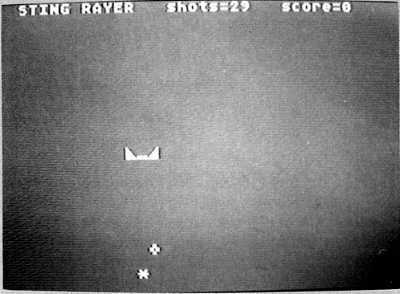 Sting Rayer is a quick shoot-em-up that gives your tie-fighter a session of none-too-easy target practice. This BASIC program works on all 8-bit Atari computers of any memory size, with disk or cassette.
Sting Rayer is a short program that offers a complete, interesting game of arcade space action. (The Antic technical staff condensed it even more.) Just use your joystick to position a tie-fighter in line with the target, and press the fire button. Each hit scores at least 100 points, and you have 30 shots before you run out of ammunition.
To play Sting Rayer, type in STINGRAY.BAS, check it with TYPO II and SAVE a copy before you RUN it. The only special characters are those used to create the tie-fighter and the target. Happy hunting.
Steve Argyle is the nine-year-old son of Bruce Argyle, MD-creator of Mad Scientist Software's Cardiac Arrest! simulator (reviewed in Antic, May 1987).
IF YOU'D ENJOY SEEING MORE ARTICLES LIKE THIS ONE, CIRCLE 179 ON THE READER SERVICE CARD.
Listing 1 STINGRAY.BAS Download