Atari News Update
XE Game System, New Fair Dates
BY THE ANTIC EDITORS
XE GAME SYSTEM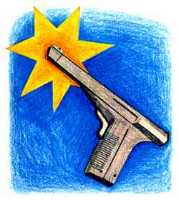 More details are now available about Atari's 64K XE Game System (under $150) which Antic first wrote about in the May 1987 issue. The Game System is essentially a two-piece 65XE computer-with detachable keyboard and some game peripherals. It is sold with a joystick and a new video gun that "shoots" electronically at the on-screen images.
The XE Game System also comes with three game cartridges-a fast-action arcade-style game, a sophisticated computer game requiring keyboard interaction and a new shooting game for the video gun.
The full XE Game package premiered at the February International Toy Fair in New York and was received enthusiastically by dealers. It is expected on store shelves in autumn 1987.
The XE Game System hooks up to your television set or video monitor. A standard XE disk drive may be purchased separately for $99. Atari is also marketing the original 2600 game cartridge player for under $50 and the more powerful 7800 system for under $90
ATARI FAIR UPDATE

Here are our latest updates to the Antic January 1987 list of Atari Fairs coming this year. In May, the Atari Corp. will help local users groups put together fairs in three cities.
DAL-ACE and the North Texas ST Users host an Atari Fair at Dallas Infomart May 8-9. The Seattle Center FLAG Pavillion is the site of a fair on May 16-17, hosted by five Seattle users groups. The Boston Computer Society's Atari User Group hosts a fair May 27-28 at Worcester Centrum in Worcester, Massachusetts.
This summer, Chicago-area users groups including SCAT, CLAUG and LCACE will host an Atari Fair July 25-26 at the Ramada Hotel O'Haire in Rosemont, Illinois. MAGIC (Michigan Atari General Information Conference), Genessee Atari Group and ST Users Group, will host a fair at the Southfield Civic Center in Detroit, August 29-30.
September 19-20 takes Atari to its second consecutive Southern California fair at the Glendale Civic Auditorium, sponsored by ACENET. NOVATARI's Atarifest has been set for October 17. The location is not yet final and, at this writing, NOVATARI (Northern Virginia Atari Users Group) will host the fair independently for a third consecutive year.
See ANTIC ONLINE on CompuServe for up-to-the-minute changes and additions to the 1987 Atari Fair schedule, plus all the other latest Atari news.
IF YOU'D ENJOY SEEING MORE ARTICLES LIKE THIS ONE, CIRCLE 180 ON THE READER SERVICE CARD.