New Products

New Products notices are compiled by the Antic staff from information provided by the products' manufacturers. Antic welcomes such submissions, but assumes no responsibility for the accuracy of these notices or the performance of the products listed.


OASIS BBS
(communications software)
Leo Newman
3900 N. Woodlawn #17 Chisholm
Wichita, KS 67220
CIRCLE 169 ON READER SERVICE CARD
The Oasis BBS System works on all Hayes and Hayes-compatible modems and is the system used by the ACE bulletin board in Eugene, Oregon, and the HELP BBS in Wichita, Kansas. It's been tested on almost every Atari disk drive setup, from an 810 to a 10Mb Supra hard drive.
GAUNTLET
(entertainment software)
Mindscape Inc.
3444 Dundee Road
Northbrook, IL 60062
(312) 480-7667
$34.95, 48K disk
CIRCLE 295 ON READER SERVICE CARD
Gauntlet, the highly successful arcade game, reunites Thor with his pals, Thyra the Valkyrie, Questor the Elf and Merlin the Wizard as the team encounters all the traps, treasures and dungeons you remember from the arcade version. Gauntlet has a two-player, join-at-any-time play system.


BRIDGE, VERSION 5.0
(entertainment software)
Artworx Software Company, Inc.
1844 Penfield Road
Penfield, NY 14526
(716) 385-6120 (800) 828-6573
$29.95, 48K disk
CIRCLE 167 ON READER SERVICE CARD
Bridge 5.0 features improved bidding based on the Standard American Five-Card Major approach, as well as Stayman convention (the ability to request an opening hand), auto-bid and auto-play options. And you can replay interesting hands later.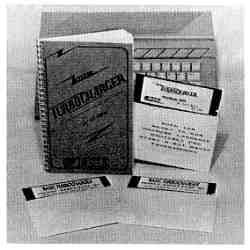 BASIC TURBOCHARGER
(programming book/disks)
Alpha Systems
1012 Skyland Drive
Macedonia, OH 44056
(216) 467-5665
$24.95, 48K disk
CIRCLE 293 ON READER SERVICE CARD
BASIC Turbocharger is a book/disk package packed full of machine language routines to make your BASIC programs easier to write and faster to run. Just merge the routines from disk, and you're ready to go. The book includes a listing, demonstration and detailed explanation of how each routine works. Source code is available as an extra two-disk package. It costs $15-or $10 if purchased at the same time as BASIC Turbocharger.


XE GAME CARTRIDGES
(entertainment software)
Atari Corp.
1196 Borregas Avenue
Sunnyvale, CA 94086
(408) 745-2000
$19.95 each
CIRCLE 294 ON READER SERVICE CARD
The following new cartridge adaptations of well-known disk-based or arcade games are now available for the Atari XE Game System (or any 8-bit Atari computer):
Lode Runner
Baliblazer
Star Raiders II
Blue Max
David's Midnight Magic
Barnyard Blaster
Hardball


PAGE MARSHAL
(page design software)
115 Vale Road
Portslade
Sussex BN4 1GE
England
Brighton (0273) 417370
CIRCLE 297 ON READER SERVICE CARD
This page processing program introduces new techniques making it easy to mix text and graphics on a page for spectacular results. 'Asynchronous Strobe Coincidence" enables the human eye to distinguish between two superimposed images being drawn at the same screen location several times a second. "Underimpose" lets you paste a new item under the existing item-so that the new item becomes the new background.


COMICBOOKING YOUR ATARI
(database software)
Freelancers R Us
3900 Hampton Drive
Anchorage, Alaska 99504
(907) 333-9052
Requires Atari BASIC
$19.95, 48K disk
CIRCLE 296 ON READER SERVICE CARD
Now comic book collectors can keep complete, accurate records of the X-Men, Little Lulu and other comics. Soon you'll know how much they cost you, what they're worth and how much you might get for them if you sell them today. Comicbooking your Atari keeps track of each comic book's content and title, date of issue (and issue number), grade (mint, near mint, fine, or good), quantity and monetary figures.
---
Return the favor When you call a manufacturer or supplier about a product you've seen advertised or otherwise mentioned in ANIC please tell them so. This will help us to continue to bring you the latest information about products that will make your Atari computer an even more valuable investment in the future.
-ANTIC ED