PROGRAM BY CHET WALTERS
Words Are Fun
500-Sector Disk Bonus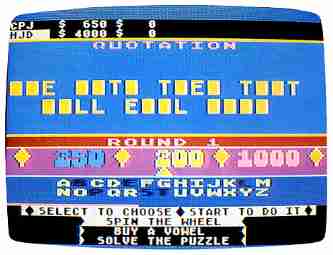 Words Are Fun is a slick BASIC version of the Wheel of Fortune word-guessing game. Unfortunately, it is far too long to be printed as a type-in magazine listing. It consists of 273 sectors-plus 13 different puzzle files (about 100 words each) averaging 23 sectors apiece. So instead, we're offering it as a Special Disk Bonus for our Antic Fifth Anniversary issue.
The programmer of Words Are Fun is Chet Walters, whose Non-Standard Magic! company created Lister Plus and Picture Plus. A frequent Antic contributor, Walters' most recent appearance here was SSSnake in October 1986.
Words Are Fun will not RUN from the Antic Monthly Disk! Before you play the game, you must prepare a special Words Are Fun disk. Use DOS 2 or DOS 2.5 to format this disk. Be sure to WRITE DOS FILES to the disk, and make a back-up copy after you are done.
These files from your Antic Monthly Disk must be copied to your Words Are Fun disk:
WORDFUN.BAS
WORDFONT
HELP
All WFPZZL files
To play, insert your Words Are Fun disk into your drive, type RUN "D:WORDFUN.BAS" and plug a joystick into joystick port one.
After you have loaded the game, you will see instructions for accessing a detailed BASIC Help file which is also on the disk. Following are a few key points from the Help file:
For each puzzle you play, the filename extender increases by one and is used as an index to keep you from repeating puzzles whenever you return to the file. Once the file is exhausted, the extender is reset to 000 and the file gets locked. To play the file again, unlock it using DOS menu option G.
After you've played a puzzle file, load it into a word processor to see how the file is constructed. Also note how the puzzle file names are changed on your disk. You can create your own files consisting of words, phrases, things, people and places.
IMPORTANT: Don't write-protect your puzzle disk. Don't remove the disk during a game. And by all means, no cheating! Don't read puzzle files that you haven't played.
IF YOU'D ENJOY SEEING MORE ARTICLES LIKE THIS ONE, CIRCLE 206 ON THE READER SERVICE CARD.
On Disk: WFUN.DOC Download / View
, WORDFONT Download
, WORDFUN Download
, WORDFUN.SYS Download
, HELP.BAS Download

Puzzles: WFPZZL1.018 Download
, WFPZZL2.000 Download
, WFPZZL3.000 Download
, WFPZZL4.000 Download
, WFPZZL5.000 Download
, WFPZZL6.000 Download
, WFPZZL7.000 Download
, WFPZZL8.000 Download
, WFPZZL9.000 Download
, WFPZZL10.000 Download
, WFPZZL11.000 Download
, WFPZZL12.000 Download
, WFPZZL13.000 Download
,