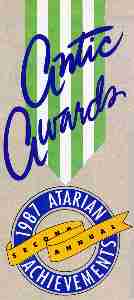 Antic Awards
BY NAT FRIEDLAND, ANTIC EDITOR
The first awards ever given for outstanding contributions to the Atari users community were featured in our Fourth Anniversary Issue last May. The Antic Awards proved so popular that we are now planning to make them an annual event.
Because the concept of these unique Atarian awards continues to evolve, don't expect to see the exact same categories each year. The highest priority of Antic's editors when judging for these awards is to recognize the year's most significant accomplishments in the Atari world. Specific wording of an award is based on the actual accomplishment, not on some pre-defined category such as "Best Word Processor of the Year,"
A basic decision we came to when planning these second Antic Awards is that no award-winner will be eligible to repeat for a second consecutive year. Our reasoning for this restriction goes as follows:
The universe of companies and individual professionals supporting the Atari computers is still comparatively small. Within this universe is a handful of truly outstanding producers who could normally be expected to win the major awards just about every year-thus limiting the rewards of recognition for other deserving but smaller-scale Atarian professionals. (However, Antic reserves the right to reconsider the no-repeat rule in future years, if a change seems appropriate.)
Certainly, most of last year's award-winners have had another great 12 months. Batteries Included's newest generation of hits include DEGAS Elite (see Programmer of the Year Award), Thunder!, I*S Talk, Isgur Portfolio and Time Link. Microprose broadened its product line with Conflict in Vietnam and Crusade in Europe while releasing a powerful ST version of Silent Service.
As for the Atari Corp. itself, a separate story elsewhere in this issue reports details of the advanced new line of computers and other hardware being introduced by Atari this year. Atari also became a publicly held company with its successful $50 million stock issue. And that stock price has more than doubled as business analysts increasingly take Atari seriously as a major force in the computer market.
All in all, the past 12 months were a highly satisfying period for the Atarian community. Antic is proud to have shared in this impressive growth. In mid-January, Antic Publishing, Inc. moved into an entire three-floor building with three times as much space as our previous quarters. The company now has some 55 employees and is launching a new publication. Antic, START and now Model Shopper for the entire spectrum of model - builders. This is quite an expansion for a company that began five years ago on the kitchen table of former NASA programmer James Capparell.
Anyhow, here are the 1987 Antic Awards representing this magazine's judgement of the most significant Atari developments during the past 12 months. See you again next year for our Sixth Anniversary Awards Issue.
Programmer of the year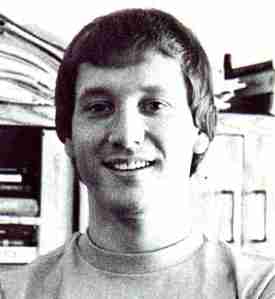 TOM HUDSON
Tom Hudson is the author of DEGAS Elite-the popular choice for Program of the Year -and the earlier DEGAS for Batteries Included, plus CAD-3D for The Catalog. As more than one reviewer has put it-this spectacular graphic arts software is all the reason people might need for buying an ST computer.
Yet Hudson, a friendly 27-year-old Missourian, still finds time to write about advanced programming topics in START Magazine and to help users of his software on CompuServe's SIG *Atari Tom Hudson's addictive programs have given state-of-the-art computer graphics power to thousands of users who previously could only dream about taking control of such a high level of creative artistic techniques.
Outstanding users group
WAACE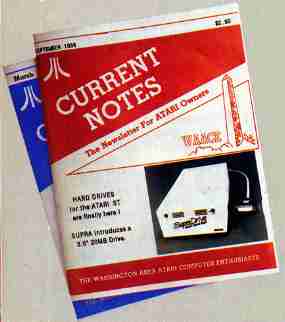 As Antic explained in a February 1987 feature story, WAACE (Washington Area Atari Computer Enthusiasts) is a pioneering regional federation of nine Atari users groups serving some 1,500 members in the nation's capital, Virginia and Maryland. WAACE is the vehicle for these clubs to coordinate their efforts in a number of major regional activities- which serve as an important model for other area-wide affiliations of Atari groups.
WAACE publishes an ambitious monthly magazine, Current Notes, that is sold commercially in local stores. WAACE has also organized successful regional Atari festivals since 1985. NOVATARI, the largest club in WAACE, operates an area-wide bulletin board, ARMUDIC, that largely pays for itself by charging small subscription fees to all users. WAACE has shown the way for local users groups to band together and produce large-scale results.
Outstanding products
ICD MULTI I/O BOARD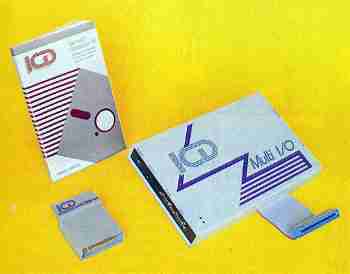 ICD's powerful line of hardware enhancements turbocharges 8-bit Ataris right into the forefront of today's computing capabilities. The affordable Multi I/O Board carries as much as one megabyte of lightning-fast RAMdisk memory that can be retained even when the computer is turned off. The Multi I/O also has a parallel port for printers, a serial port for modems and a SASI/SCSI interface that can connect virtually any standard hard disk to the 8-bit Atari. Promised soon is an 80-column screen display unit that attaches to the Multi I/O.
Other valuable products from ICD include the P:R: Connection, a longneeded replacement for the discontinued Atari 850 interface, and the sophisticated SpartaDOS operating software that uses the full power of the Multi I/O RAMdisks.
FIRST XLENT WORD PROCESSOR
The First XLEnt Word Processor was reviewed in the January 1987 Antic as one of the best available for the 8-bit Atari-offering numerous unique and useful features. This is perhaps the biggest breakthrough product yet from XLEnt Software, a feisty little company from Springfield, Virginia that built up an impressive line of affordably-priced software for both the Atari 8-bit and ST.
Until now, XLEnt has been best known for its useful series of graphics printing utilities, including Megafont and Typesetter in various versions for the both the 8-bit and the ST Now, with First XLEnt Word Processor, XLEnt Software stakes out a claim at the leading edge of Atari software development.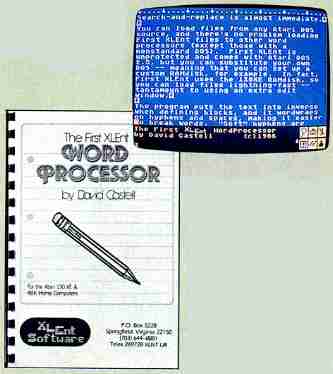 SSI-WAR GAME CONSTRUCTION SET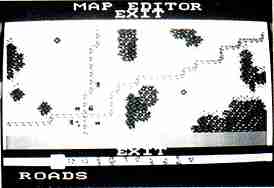 The premier developer of computer wargames, Strategic Simulations, Inc. has consistently (like 1986 award-winner Infocom) released Atari 8-bit versions of all its major titles and is starting to release ST titles too. Hardly a month goes by when Antic doesn't review a new strategy wargame from SSI. Some of the company's recent best-sellers are Nam, Gettysburg and Warship.
Now, for many SSI fans, Wargame Construction Set is a dream come true. This software enables wargamers to design their own complete games from the battleground up-anything from sword-and-sorcery fantasy through historic tactical combat or science fiction interspace wars.
HYBRID ARTS- MIDITRACK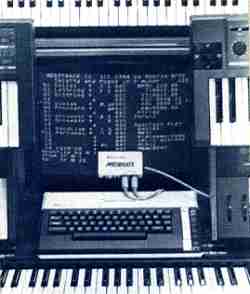 Back in the June 1985 Antic, we reviewed a brand-new professional music product called MIDITRACK II that enabled the 8-bit Atari to emulate a real-time digital 16-track recording studio. When we asked Hybrid Arts why they selected Atari over then-more-popular computers to run their MIDI system, they explained that only the Atari was rugged enough to survive a typical road tour. It could well be possible that the success of MIDITRACK II helped Atari decide to build MIDI ports into the ST computer.
In December 1986, our reviewer called EZ-TRACK ST "the best sequencer available for the ST." Although this is admittedly Hybrid Arts' entry-level ST product, it boasts 20 recording tracks and a storage capacity of 63,000 notes on a 1040ST Even more advanced features are provided in MIDITRACK ST, which was previewed at the January 1987 Consumer Electronics Show.
COVOX-VOICE MASTER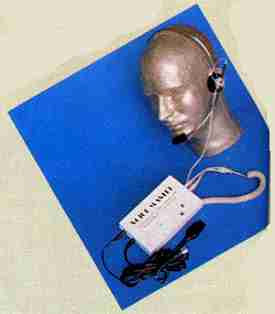 The Covox Voice Master is a fascinatingly inventive hardware/software system that digitally records your own voice on the 8-bit Atari for computerized manipulation and playback. It comes with sample programs like a voice-recognizing blackjack game and the Voice Harp Composer that provides powerful editing of any music you can sing, hum, or whistle into the Covox microphone.
Introduced by Covox at the January 1987 Consumer Electronics Show was an ST version of the Voice Master, which should provide additional impressive uses, thanks to the ST's bigger memory. Due to the memory-intensive nature of digital sound sampling, the 8-bit Voice Master needs about 32K of RAM to store 15 seconds of sampled sound.
BECKEMEYER- MT C-SHELL
Beckemeyer Development tools of Oakland, California is a pioneering specialist in avant-garde ST program developer's environments. It will take some time before the full impact of mainframe-power software like MT C-Shell is absorbed into the marketplace. MT C-Shell supports multi-tasking for multi-users, electronic mail and print spooling. It is a Unix-like system that also runs the ST's standard TOS software.
MICHTRON
MichTron is being given an Antic Award in recognition of the breadth and scope of its entire ST software line. Michtron was one of the very first developers to start releasing ST programs, and its product library has already grown to more than 40 titles. MichTron ST software is available in just about every category you could ask for: entertainment, productivity, utilities, telecommunications, business, graphics, printing, word processing. If you own an Atari ST computer, MichTron has plenty of good software for you.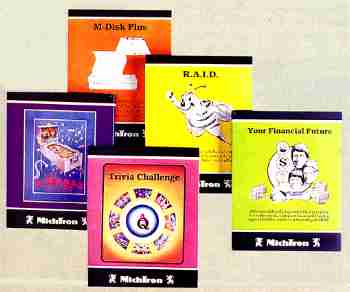 ACTIVISION- MUSIC STUDIO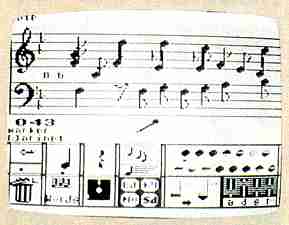 Activision's Music Studio is an outstanding example of how to bring out software simultaneously for the Atari 8-bit and ST computers. Except for MIDI capability, virtually all the important features of this easy-to-use music composition program were packed into the XL/XE version as well as bigger-memory ST. Our September 1986 review called Music Studio "a fine addition to the growing list of Atari music programs for home use.
Activision also continued to bring out software for the Atari even during the period when other major publishers did not. Hacker for the 8-bit and ST, and the ST-only Hacker II are among Activision's most memorable recent graphic adventure titles.
ABACUS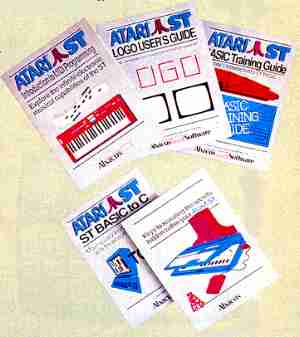 Abacus is a leading ST software publisher, with titles like the DataTrieve filing program and the TextPro word processor. However, the company has earned an Antic Award for an even more unique contribution to Atarians. Abacus is the number one publisher of reference books for ST programmers.
The first Abacus ST book was available within a few weeks of the computer's opening shipments. By now with over a dozen volumes already in print, the Abacus ST bookshelf is at invaluable source for all levels of ST programmers GEM Programmer's Reference and ST Internals are just two of the Abacus titles regularly relied on by this magazine's technical staff.
SUBLOGIC-ST FLIGHT SIMULATOR II
Flight Simulator II has been a number one best-seller on just about every make of computer, including (since 1984) the 8-bit Atari. But when the ST version was reviewed in the January 1987 issue, we found that this hit program has taken off into an entire new realm of satisfaction.


The ST edition of Flight Simulator II offers more features than many professional pilot training units. The scope of the scenery and the precise flight maneuvering make Sublogic's latest version a superb example of how to enhance existing software to take advantage of the ST's power.
LC TECHNOLOGIES- STEREOTEK 3-D GLASSES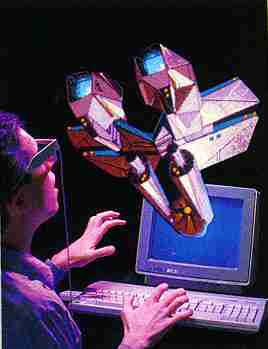 Previewing at computer shows since the autumn of 1986, these liquid crystal shutter (LCS) Stereotek 3-D Glasses have consistently proven to be a sure-fire crowd attraction. The LC Technologies glasses plug into the ST cartridge port to display animated three-dimensional images in color or monochrome, using DEGAS Elite or CAD-3D software.
Using PI-cell technology developed by Tektronix, the LC Technologies glasses alternately open and shut the left and right lenses in synchronization with the ST video image refresh-60-70 times per second. The Stereotek 3-D effect is a spectacularly innovative use of ST graphics power.
TIME WORKS
The first three ST releases from Timeworks are so new that our review is still in process. But we have already used these integrated business/productivity programs enough to be positive they are a real breakthrough of affordable power and convenience in the ST market.
Timeworks' Data Manager database includes the best ST business graphing program we have seen, plus a full-scale report writer and a convenient label maker. The SwiftCaic spreadsheet can also generate the same fine business graphs and has a built-in sideways printing utility. The Word Writer word processor has an outline processor, a spell checker and realistic onscreen display of special formats.