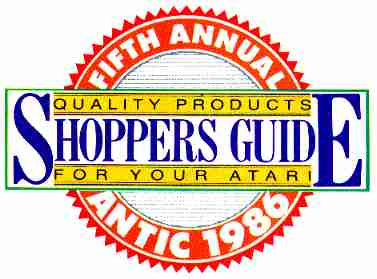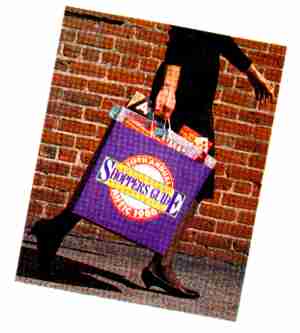 THE FIFTH ANNUAL ANTIC SHOPPERS GUIDE is this magazine's selection of 100 best products- software, hardware and peripherals-available for 8-bit Atari computers during the 1986 Holiday Season.
Because this has truly been a year of renaissance for the entire Atari community, we Atarians currently have many outstanding products on the market to choose from. In order to provide sufficient coverage of all these 1986 products, this year's Antic Shoppers Guide will report only on products for the 8-bit Atari Computers. A full-scale ST Shoppers Guide is currently featured in the Winter issue of Antic's sister publication, STart: The ST Quarterly.
In certain major categories such as printers, modems and video monitors, so many makes and models are Atari-compatible that we cannot possibly test every product on the market. For these categories, Antic picks the best products with which we have had first-hand experience.
BY GREGG PEARLMAN, ANTIC JUNIOR EDITOR

HARDWARE
8-BIT COMPUTERS
ATARI 130XE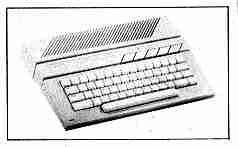 The Atari 130XE is a 128K-memory computer that's capable of running "serious" productivity software without any compromise-word processors with built-in spelling checkers, large spreadsheets and databases, etc. Yet it also has Atari's traditionally excellent graphics and ease of programming. The l30XE runs all the software written for any previous 8-bit Atari model, and the keyboard action is nothing short of outstanding. Overall, the 130XE is the best value in 128K personal computers today.
$149.95
CIRCLE 150 ON READER SERVICE CARD

ATARI 65XE
The 65XE is essentially the Atari 800XL repackaged in sturdy gray plastic to match the rest of the new Atari computer line. It is a worthy successor to 800 and 800XL, continuing in the tradition of the best 64K personal computers ever brought to market. Available for considerably less than the low list price at mass merchandisers, the 65XE is a fine choice for first-time computer buyers with its solid base of good software and self-teaching books.
$99.95
CIRCLE 150 ON READER SERVICE CARD

16-BIT COMPUTERS
ATARI 1040ST
The 1040ST has a full megabyte of memory along with all the sterling features of the 520ST It is also a bit more self-contained than its little brother, with a built-in double-sided disk drive that stores 720K and a built-in power supply to help cut down on the number of outside cables. The 1040ST is sold primarily at specialty computer stores, unlike the more mass-merchandised 520ST.
$999.95 with monochrome monitor
$1,199.95 with color monitor
CIRCLE 150 ON READER SERVICE CARD


ATARI 520ST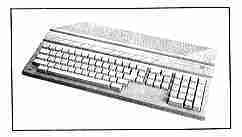 In only 18 months, the Atari 520ST has established itself as a major winner, with an impressive and fast-growing software base. This state-of-the-art personal computer boasts a fast, powerful Motorola 68000 microchip with 512K memory. (Independent upgrades to 1Mb are widely available for about $150.) The ST comes fully equipped with a 360K, 3 1/2-inch disk drive, a two-button mouse and the easy-handling GEM operating software with its icons and drop-down menu windows. You also get a choice between a 512-color RGB monitor and a 640 x 400 highresolution monochrome monitor.
The ST's built-in connector ports include parallel and serial interfaces, MIDI for professional music-making and three types of video output. The keyboard includes a 10-key pad, one-touch cursor section and 10 programmable function keys.
$799.95 with monochrome monitor
$999.95 with color monitor
CIRCLE 150 ON READER SERVICE CARD
See the December-January issue of START: The ST Quarterly for an in-depth ST Shoppers Guide with full listing of software and perpherals.

DISK DRIVES
ATARI 1050
The straightforward, reliable 1050 disk drive is the proven workhorse of Atari data storage. Just pop in your floppy disk and click down the latch. The busy light starts flashing and your software goes to work. The 1050 holds 86K of disk data in standard density. Using the enhanced density option of Atari DOS 2.5, the 1050's disk storage capacity goes up to 122K. Planned for debut at the November, 1986 COMDEX trade show is a new 3 1/2-inch disk drive for 8-bit Atari computers, with a new DOS and dramatically greater storage capacity.
$199.95. Atari Corp., 1196 Borregas Avenue, Sunnyvale, CA 94086. (408) 745-2000.
CIRCLE 150 ON READER SERVICE CARD

ASTRA ONE
Astra's The One ($299) is a double-sided double-density drive with direct-drive motors. The Astra 1001 ($250) disk drive is single-sided, double density, and the 2001 ($395) is a single-sided twin disk drive. The Big D ($495) is the double-sided version of the 2001. All prices are approximate.
Astra Systems, 2500 South Fairview, Unit 1, Santa Ana, CA 92704. (704) 549-2141.
CIRCLE 151 ON READER SERVICE CARD

SUPRADRIVE HARD DISK
With 10 million bytes of data available virtually instantly at the touch of a key, the SupraDrive will dramatically change the way you use your computer. The first hard disk made for Atari 8-bit computers has proven itself a dependable performer and operates many Atari bulletin boards today. The SupraDrive stores the equivalent of more than 100 floppy disks. Our Antic Supradrive contains every 8-bit program ever published in the magazine-and we have seven megabytes left.
$799. Supra Corp., 1133 Commercial Way, Albany, OR 97321. (503) 967-9075
CIRCLE 163 ON READER SERVICE CARD


PRINTERS
ATARI XMM801
The
XMM801
dot-matrix printer prints bi-directionally, has graphics capabilities and is easy to operate. Our Atari Planetarium printouts on the XMM801 were every bit as good as those on the Star Micronics SG-10. The printer is easy to set up and has a well-indexed 73-page manual. (See review elsewhere in this issue.)
$219.95 Atari Corp., 1196 Borregas Avenue, Sunnyvale, CA 94086. (408) 745-2000.
CIRCLE 150 ON READER SERVICE CARD

STAR NL-10
The NL-10 is Star Micronics' latest in the ultra-popular line of full-featured printers that included the discontinued Gemini 10X and Star SG-10, as well as the current NX-10 ($349) which is compatible with the Epson FX-80. An outstanding new near-letter-quality font and an expanded set of control buttons on the top panel are among the additions to the fast, sturdy, easy-operating NL-10 that provides every standard feature at a most affordable price. The NL-10 requires Star's $60 interface cartridges, which are also available for the IBM PC and Apple.
$319 plus $60 parallel interface. Star Micronics, Inc., 200 Park Avenue, New York, NY 10166. (212) 986-6770.
CIRCLE 155 ON READER SERVICE CARD


MONITORS
COMMODORE 1802
It's unexpected for Antic to publicize a monitor by Atari's arch-rival. But the Commodore 1702, predecessor of the new 1802, was the most widely-used color monitor reported in our recent ANTIC ONLINE survey. Commodore monitors are an outstanding price value and boast excellent color with separate chrominance and luminance input. Someday Jack Tramiel will probably get around to bringing out a fine Atari color monitor for 8-bit computers the way he did at Commodore. Until then, check out the 1802.
$249. Commodore Computer, 1200 Wilson Drive, West Chester, PA 19380. (215) 436-4200.
CIRCLE 157 ON READER SERVICE CARD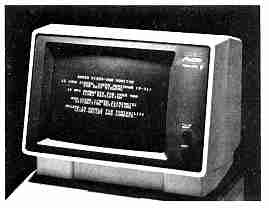 AMDEK 300A
This amber monochrome monitor is ideal for word processing and database or spreadsheet entry because it's so easy on the eyes. Amdeks were the most popular monchrome monitors with Atari owners responding to our ANTIC ONLINE survey.
$199. Amdek, 2201 Lively Blvd., Elk Grove Village, IL 60007. (312) 364-1180.
CIRCLE 158 ON READER SERVICE CARD


COLOR PRINTER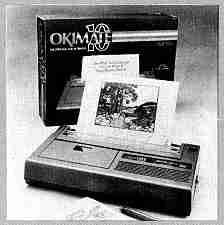 OKIMATE 10
Color printing is what you get from the small, quiet and inexpensive Okimate 10 thermal printer. The Oki prints 8"x5 1/4" color images on single-sheet or tractor-feed paper. Its color printouts can be bright and crisp, if you use coated ink-jet paper plus the RAMbrandt graphics software described in the Shoppers Guide software section.
$238 including Atari interface. Okidata Corp., 532 Fellowship Road, Mt. Laurel, NJ 08054. (609) 235-2600, (800) OKIDATA.
CIRCLE 156 ON READER SERVICE CARD

ENHANCEMENTS
ATARI XEP80
The long-awaited plug-in 80-column card is here at last. It boasts a razor-sharp text display, plugs into either joystick port and carries its own built-in Centronics parallel printer interface. It works with both monochrome and color monitors to produce bit-mapped graphics, international and graphics characters, inverse video or blinking text, underlining, double-high or double-wide text. Just keep in mind that it may be a little while before your favorite software is made compatible with this smart little 80-column box.
$79.95. Atari Corp., 1196 Borregas Avenue, Sunnyvale, CA 94086. (408) 745-2000.
CIRCLE 150 AN READER SERVICE CARD

ICD MULTI I/O BOARD
This important new I/O peripheral adds five functional devices to your 800XL (or 130XE with $19.95 adaptor) via the parallel bus. A 256K or 1Mb RAMdisk can partition its memory into multiple disks and be used as a print spooler. A parallel printer interface can be used with standard cables. An RS-232 port will work with serial modems or printers and includes a built-in 850 handler. A hard disk interface supports multiple drives in a variety of formats. An optional monochrome 80-column board ($99.95) is due for the holidays.
$199-256K, $349-lMb. ICD Inc., 1220 Rock Street, Rockford, IL 61101. (815) 968-2228.
CIRCLE 159 ON READER SERVICE CARD

RAMBO XL
Make your 800XL or l200XL twice as powerful as a l30XE with the RAMBO XL, a 256K hardware modification for XL computers. It makes your computer compatible with the I30XEs RAMdisk in "CPU mode" for extended memory, meaning that the Atari DOS 2.5 RAMdlsk and BASIC XE can run on your XL after installation of RAMBO XL.
$49.95, $30 installation, $28 for 256 RAM chip set. lCD Inc., 1220 Rock Street, Rockford, IL 61101. (815) 968-2228.
CIRCLE 159 ON READER SERVICE CARD

RAMCHARGER
Enhance your 8-bit computer's memory with RAMcharger RAMboards (2 56K, 512K or 1Mb memory). Installation is simple. Just plug in the board-and get 288K available with Synapse Software's SynCalc and SynFile +, up to 8,000 sectors of RAM-disk, and included MYDOS software.
$149.95-256K; $199.95-512K; $299.95- 1Mb. Magna Systems, 147-05 Sandford Avenue, Suite 4E, New York, NY 11355. (718) 939-0084.
CIRCLE 160 ON READER SERVICE CARD

THE RAT
If you're clicking on icons and getting things done on your Atari without touching the keyboard, chances are you're using an ST Now you can have that same convenience on your 8-bit computer with The Rat from Zobian Controls. Software such as Super 3-D Plotter, RAMbrandt and AtariArtist are Rat-compatible, and more is on the way.
$69.95. Zobian Controls, P.O. Box 6406, Wyomissing, PA 19610. (215) 374-5478.
CIRCLE 161 ON READER SERVICE CARD

MICROFLYTE JOYSTICK
Instead of renting a real airplane for an hour, why not pick up the MicroFlyte ATC Joystick and take control of Sublogic's Flight Simulator II with a minimum of keystrokes? This self-centering analog joystick uses two potentiometers to recognize the direction and magnitude of a tum-it helps you fine-tune your flying. However, it works only with Flight Simulator II or the programs you write yourself.
$59.95. MicroCube Corp., P.O. Box 488, Leesburg, VA 22075. (703) 777-7157.
CIRCLE 164 ON READER SERVICE CARD

EPYX 500XJ JOYSTICK
It's curved to fit your hand, The fire but. ton is angled for your trigger finger. Shaft switches allow you to hear each move of the stick. And you might have to run it over in the car to break it. The 500XJ joystick has been a real joy to the Antic staff and saved us a lot of cramped hands. Our game scores seem to be better too.
$16.95-$19.95. Epyx Inc., 600 Galveston Drive, Redwood City, CA 94063. (415) 366-0606.
CIRCLE 165 ON READER SERVICE CARD

U. S. DOUBLER
The U.S. Doubler adds 128 bytes of RAM and a new ROM chip to your Atari 1050 disk drive, allowing true double density with 256-byte sectors. The drive can still be used in its normal single or enhanced density modes. When packaged together with SpartaDOS the price rises to $69.95. Version 1-4 allows your drive to be configured as drive 1 to drive 4. Version 5-8 allows you to configure the drive as 5 to 8, which is useful if you have a RAMdisk.
$39.95. lCD Inc., 1220 Rock Street, Rockford, IL 61101. (815) 968-2228.
CIRCLE 159 ON READER SERVICE CARD


INTERFACE
P:R: CONNECTION
The Atari 850-compatible P:R: Connection is a better mousetrap. Connections, software and applications remain the same. But the P:R: Connection gets its power from the host computer, eliminating need for an external power supply. The P:R: connects your Atari to a printer, a modem and one other device, such as a serial EPROM programmer. The outstanding documentation contains the complete R: driver source listing.
$69.95, 48K disk. ICD Inc., 1220 Rock Street, Suite 310, Rockford, IL 61101-1437. (815) 968-2228.
CERCLE 159 ON READER SERVICE CARD


SPEECH/SOUND
VOICE MASTER
The Covox Voice Master is to sound what Computereyes is to pictures: it is a sound digitizer. This hardware-software system grabs sounds, converts them into digital code (in any of three speeds) and stores them for manipulation in various interesting ways. The Voice Master lets you compose digital music by humming or singing into the Covox headset/microphone. It also features surprisingly good speech recognition. Included BASIC demonstration programs are a talking alarm clock, a voice-recognizing calculator and a blackjack game that listens and talks back.
$89.95, 48K disk. Covox Inc., 675-D Conger Street, Eugene, OR 97402. (503) 342-1271.
CIRCLE 167 ON READER SERVICE CARD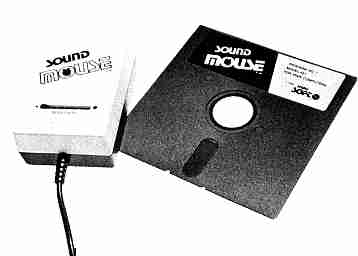 SOUNDMOUSE
It works like a mouse, but it isn't. It's a sound-activated controller that plugs into the joystick port and listens for sounds, particularly low-pitched tones. It continuously translates the sound volume into a value for the paddle register. The Sound-Mouse responds to the sounds-perhaps your program can be activated with a shout or hand clap. You could use the SoundMouse as a joystick trigger with some games, steering with the stick and shooting by yelling "Fire!"
$29.95, 48K disk. Soundsoft Inc., P.O. Box 740, 10 Maple Avenue, Andover, NJ 07821. (201) 786-6060.
CIRCLE 168 ON READER SERVICE CARD

MODEMS
ATARI SX212
Brand-new from Atari is this speedy 1200 baud, Hayes-compatible modem that plugs directly into Atari computers or daisychains with your peripherals. Comes complete with built-in speaker, signal lights and software.
$99.95. Atari Corp., 1196 Borregas Avenue, Sunnyvale, CA 94086. (408) 745-2000.
CIRCLE 150 ON READER SERVICE CARD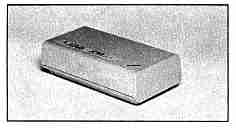 ATARI XM301
This worthy successor to the Atari 1030 builds several advanced features directly into an inexpensive 300 baud modem that plugs directly into your Atari computer. It has auto-dial and auto-answer and doesn't need a separate power supply. Included in the package are a fine 49-page manual and the powerful XE-Term software.
$49.95, 32K disk. Atari Corp., 1196 Borregas Avenue, Sunnyvale, CA 94086. (408) 745-2000.
CIRCLE 150 ON READER SERVICE CARD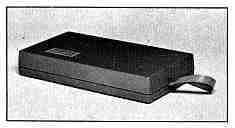 SUPRA 300-AT
Formerly the MPP 1000-E, the 300 baud Supra 300-AT comes with Smart Term software that allows uploading, downloading, auto-dialing, auto-answer and XMODEM protocol. It plugs directly into your Atari computer.
$49.95. Supra Corp., 1133 Commercial Way, Albany, OR 97321. (503) 967-9075
CIRCLE 163 ON READER SERVICE CARD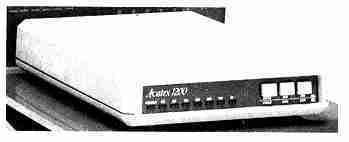 AVATEX 1200-BAUD MODEM
The new Avatex modem gives you inexpensive Hayes compatibility and reliable operation. It operates with a subset of the Hayes commands that gives you virtually all the important functions. The Avatex usually can be found between $79 and $129 at dealers. It requires an 850 or PR: interface and can also be used with an ST.
$199. E+E Datacom, 1230 Oakmead Parkway #310, Sunnyvale, CA 94086. (408) 732-1181.
CIRCLE 169 ON READER SERVICE CARD

VOLKSMODEM 10
This inexpensive 300 baud modem plugs directly into the Atari's joystick port 2. Not to be confused with the Hayes-compatible 1200-baud Volksmodem 12 that requires an 850-compatible interface.
$79.95. Anchor Automation, 6913 Valjean Avenue, Van Nuys, CA 91406. (818) 997-7758.
CIRCLE 170 ON READER SERVICE CARD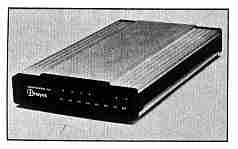 HAYES SMARTMODEM 1200
The Smartmodem 1200 is the industry standard that all other modems are judged by. The Hayes offers solid construction, automatically adjusted baud rate, internal speaker, auto-answering and outstanding documentation. Most commercial modem software is written to be compatible with the standard set of Hayes commands. It requires an 850 or P:R: interface and can also be used with an ST.
$599. Hayes Microcomputer Products, 5835 Peachtree Corners East, Norcross, GA 30092. (404) 449-8791.
CIRCLE 171 ON READER SERVICE CARD

SOFTWARE
ONLINE SERVICES

Hourly rates and membership fees for commercial online services are subject to change. Contact individual companies for latest information. You'll need a modem to book up.
COMPUSERVE
CompuServe is the leading online information service, and with good reason. You can get stock quotes, news, and weather reports; make airline reservations, buy merchandise, play games; enter special interest groups (SIGs) on dozens of topics. CompuServe is where you'll find the ANTIC ONLINE edition and three bustling Atari SIGs (8-bit, 16-bit and Atari Developers) with hundreds of 8-bit and ST programs to download. And upload time is free. Hourly rates are $6 evenings-weekends and $12.50 prime time for 300 baud, $12.50/$15 for 1200 baud, $15/$19 for 2400 baud. $39.95 entry fee.
500 Arlington Center, Box 20212, Columbus, OH 43220. (800) 848-8199; in Ohio, (614) 457-8600.
CIRCLE 174 ON READER SERVICE CARD

GAMES COMPUTERS PLAY
Let your Atari play games with a 300Mb minicomputer that offers spectacular interactive games in color, real-time conferencing, electronic mall and public domain downloading. Evening and weekend rate is $6 per hour, and prime time rate is $15 .per hour. A $29.95 sign-up fee includes disks, documentation and $18 free connect time.
112 E. Market Street, York, PA 17401. (717) 848-2660
CIRCLE 175 ON READER SERVICE CARD

GENIE
GEnie, the General Electric Information Service, is the newest and least expensive online service, costing $5 an hour on evenings-weekends, even for 1200-baud modems ($10 for 2400-baud). Weekday rates are more business-oriented, $25 per hour for 300/1200 baud and $45 for 2400 baud. Upload time is free. The SIG-like Atari RoundTable software library has 11 categories and is growing fast.
401 N. Washington Street, Rockville, MD 20850. (800) 638-9636.
CIRCLE 176 ON READER SERVICE CARD


GRAPHICS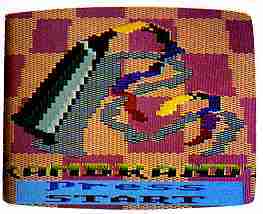 RAMBRANDT
RAMbrandt paint software produces color images with KoalaPad or Atari Touch Tablet in five graphics modes and multiple text fonts. You can load pictures from Moviemaker, Micro Illustrator, Micro-Painter and Computereyes. The window mode lets you vertically or horizontally rotate, flip (for T-shirts), animate your picture, or scale it up or down in size. RAMbrandt has unlimited user-defined brushes, l30XE RAM-disk support and printer dumps for Epson, Star Micronics, C. Itoh, NEC and compatibles. Its Okimate 10 color printer dump produces fine color images. New Solid Object Module ($15.95, AP082) adds easy 3-D object creation to RAMbrandt.
$19.95, 48K disk. The Catalog, AP0157.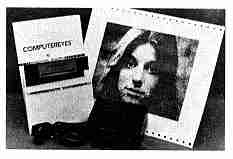 COMPUTEREYES
Connect your Atari to any video camera or VCR and you'll get a digitized black-and-white image in less than six seconds. The image can then be modified with standard graphics software. The Computereyes package includes an interface module, software and an owner's manual. For $399.95, you also get a black-and-white video camera.
$129.95, 48K disk. Digital Vision, Inc., 14 Oak Street, Suite 2, Need ham, MA 02192. (617) 444-0940.
CIRCLE 178 ON READER SERVICE CARD

SUPER 3-D PLOTTER
With this 3-D design and animation program, all you need to do is draw straight-line images from point to point. The program remembers the points of your line drawing, adjusts, redraws and page-flips the completed new image, resulting in a smooth, impressive animation display
$39.95, 48K Disk. Elfin Magic Company, 23 Brook Place, East slip, NY 11730. (516) 581-7657.
CIRCLE 179 ON READER SERVICE CARD

ENVISION
Envision is "the RAMbrandt of character graphics," giving you multi-screen, eight-way scrolling pictures and letting you build animations of up to 128 frames at 10 speeds. Envision's 50-plus commands give you total control over the Atari's text modes. And the program supports GTIA modes 9 and 11. It can create standalone pictures from pictures created by any popular paint program, or produce BASIC and Assembler source code.
$19.95, 48K disk. The Catalog, AP0185.
VIRTUOSO
Create full-color graphics with the keyboard, joystick or touch tablct, move them in any direction at different speeds, instantly make them larger or smaller- while they're moving-and turn them 360 degrees with Virtuoso Software. If that's not enough, put music in motion. The graphics you create and the movements you choose, simultaneously produce and control music. Text can be inserted too.
$49.95. Virtusonics Corp., 125 Duke Ellington Blvd., New York, NY 10025. (800) 528-6060.
CIRCLE 180 ON READER SERVICE CARD

ARTIST UNLEASHED
Using a joystick, KoalaPad or the Rat to control the onscreen painting dot, you can create high-resolution Graphics 8 pictures for saving to disk, inserting in BASIC programs or printing on an Epson-compatible. Enhance or alter the pictures by stretching, inverting, displaying in inverse video, changing colors and rotating in 90-degree increments. The picture editor breaks down a picture into grids for detail work. Used with MTS's Layout ($39.95), you can compose newsletters, posters and advertising materials.
$49.95, 48K disk. MTS Software, P.O. Box 623, Williamsville, NY 14221. (716) 634-0578.
CIRCLE 181 ON READER SERVICE CARD


GAMES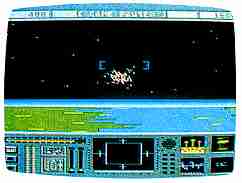 STAR RAIDERS II
More of a sequel than an update to the original Star Raiders, this game has you jumping between two star systems in your ship, the Liberty Star, and wiping out hordes of Zylons in an attempt to save the Celos IV system. Just fire away at the bad guys, but don't run out of fuel.
$19.95, 48K disk. Atari Corp., 1196 Borregas Avenue, Sunnyvale, CA 94086. (408) 745-2000.
CIRCLE 182 ON READER SERVICE CARD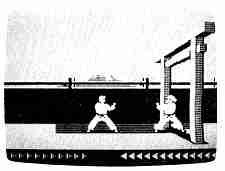 KARATEKA
Rescue your loved one from the evil warlord's castle by thwarting his guards with your karate know-how, using the joystick to kick and punch. Karateka has cartoon-quality graphics, realistic even to the swishing robes as you make your moves.
$29.95, 48K disk. Broderbund Software, 17 Paul Drive, San Rafael, CA 94903. (415) 479-1170.
CIRCLE 183 ON READER SERVICE CARD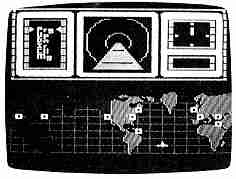 HACKER
Not unlike the film "War Games," you've broken into the computer of a large multinational corporation, where you discover dirty deeds. Make deals with foreign spies and pick up clues, all very hush-hush and all from the comfort of your chair.
$34.95, 48K disk. Activision, P.O. Box 7286, Mountain View, CA 94039. (415) 960-0410.
CIRCLE 184 ON READER SERVICE CARD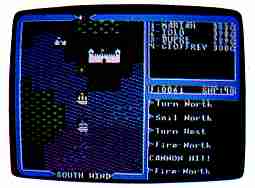 ULTIMA IV
The latest entry in Lord British's popular graphic fantasy role-playing adventure series lets you carry on complete conversations with other characters as you try to attain perfection in the values of honesty, compassion, valor, spirituality, humility, sacrifice, justice and honor, after which you go to the final challenge: to become an Avatar.
$59.95, 48K disk. Electronic Arts, 2755 Campus Drive, San Mateo, CA 94403. (415) 571-7171.
CIRCLE 185 ON RCADER SERVICE CARD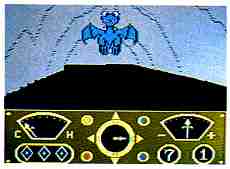 THE EIDOLON
One of the latest Lucasfilm computer games, The Eidolon sends you through a maze of caverns generated by fractal mathematics. Your goal in Epyx's point-of-view fantasy role-playing game is to find and vanquish a dragon on each of 10 levels.
$29.95-$39.95, 48K disk. Epyx Inc., 600 Galveston Drive, Redwood City, CA 94063. (415) 366-0606.
CIRCLE 184 ON READER SERVICE CARD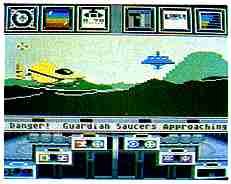 KORONIS RIFT
It's 2049, and you're exploring the Koronis Rift for super weapons left by the Ancients. If you can get by the saucer people and figure out how to use the weapons, you're in great shape. If not, you're Saucer People Chow. In this Lucas-film game, you'll get plenty of help from your science and retriever droids as you travel the fractal landscape of the planet in your surface rover.
$29.95-$39.95, 48K disk. Epyx Inc., 600 Galveston Drive, Redwood City, CA 94063. (415) 366-0606.
CIRCLE 184 ON READER SERVICE CARD


WISHBRINGER, SPELLBREAKER, BALLYHOO
Wishbringer ($34.95), Infocom's second introductory-level text adventure, opens on the New England coast, where you're dispatched to deliver a letter to an eccentric old lady Upon delivery, you are thrust into Witchville to rescue her cat, kidnapped by a sorceress called The Evil One. Your only aid is Wishbringer, a stone that grants seven wishes-don't misuse it.
Spellbreaker ($49.95) concludes Infocom's Enchanter and Sorcerer trilogy. You're now a member of the Circle of Enchanters and your only clue to the ominous disappearance of magic is the discovery of a strange white cube. As you go on, further cubes provide invaluable hints.
In Ballyhoo ($39.95) you're loitering under the big top after a performance of the Traveling Circus That Time forgot. You overhear a plot to kidnap the ringmaster's daughter. You've got to find her, but you must be stealthy and willing to slip into any disguise.
Infocom, 125 CambridgePark Drive, Cambridge, MA 02140. (617) 492-6000.
CIRCLE 186 ON READER SERVICE CARD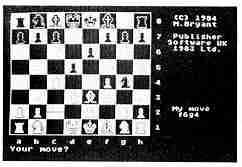 COLOSSUS CHESS
Colossus Chess is for any chess-lover, whether you're a beginner or a master. The space bar toggles between two screens- one showing the board and the other showing Colossus' 'brain" considering thousands of moves. Onscreen elapsed-playing-time clocks add realism, and a game can be saved to disk to be picked up later.
$15.95, 48K disk. The Catalog, AP0161.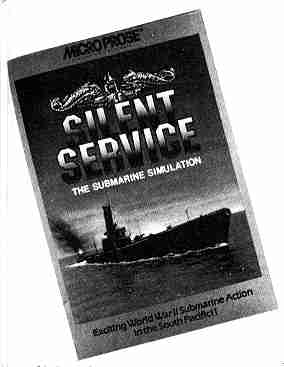 SILENT SERVICE
This impressive simulation of World War II submarine operations in the Pacific takes you right to the bridge of a sub as your periscope searches the ocean for enemy vessels.
$34.95, 48K disk. MicroProse Software, 120 Lakefront Road, Hunt Valley, MD 21030. (301) 667-1151.
CIRCLE 188 ON READER SERVICE CARD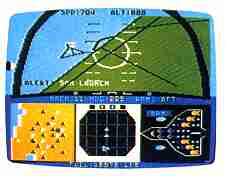 F-15 STRIKE EAGLE
Launch into aerial combat with this realistic, joystick-controlled computerization of seven sky battle-zones over the Middle East and Vietnam. You'll get state-of-the-art weapons systems, computerized radar, eight supersonic guided missiles, 18 bombs and a 20mm cannon.
$34.95, 48K disk. MicroProse Software, 120 Lakefront Road, Hunt Valley, MD 21030. (301) 667-1151.
CIRCLE 188 ON READER SERVICE CARD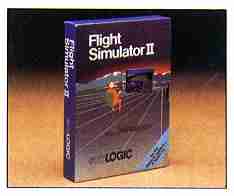 FLIGHT SIMULATOR II
Zoom your Piper Cherokee Archer around Chicago, New York, Seattle, Los Angeles or any of 80 realistic airports in this advanced flight simulation program. This sophisticated pilot training software provides believable flying practice after you learn the precise and detailed operating instructions. New this year are additional Scenery Disks including San Francisco and Tokyo-Osaka ($19.95 each) and a six-disk Western U.S. set for $99.95.
$49.95, 48K disk. Sublogic Corporation, 713 Edgebrook Drive, Champaign, IL 61820. (217) 359-8482.
CIRCLE 187 ON READER SERVICE CARD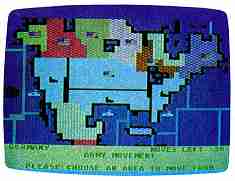 NAM, COLONIAL CONQUEST, BATTALION COMMANDER
Along the same lines as Conflict in Vietnam, SSI's Nam pits one player against a computer as tough as the Viet Cong and North Vietnam army units it simulates in six basic scenarios.
Battalion Commander, another solitaire game, lets players explore the strategy and tactics of the fictional battlefields of the 1990s and essentially design their own battle. Select a battlefield from 40 different terrain maps.
Colonial Conquest immerses as many as six players in the turbulence of the birth of the modern world. Besides being entertaining, the historic scenarios provide some interesting insights into the dynamics of imperialism as it grew from the strengths and weaknesses of the major nations.
$39.95 each, 48K disk. Strategic Simulations Inc., 1046 N. Rengstorff Avenue, Mountain View, CA 94043. (415) 964-1353.
CIRCLE 189 ON READER SERVICE CARD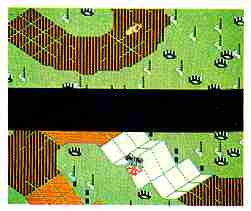 RACING DESTRUCTION SET
Build your own raceoracks and race nine different kinds of vehicles-even choose the graviry conditions. You'll have an endless variety of races in this digital slot-car set. Racing Destruction Set also has 50 built-in tracks, and you can save 58 tracks per disk.
$14.95, 48K Disk. Electronic Arts, 1820 Gateway Drive, San Mateo, CA 94404. (415) 571-7171.
CIRCLE 185 ON READER SERVICE CARD

CROSSWORD MAGIC
Designing your own crosswords can be just as challenging as solving them, and with crossword puzzles being so popular, Crossword Magic could be an income-producing tool as well as a fun challenge. Crossword Magic takes the drudgery out of trial-and-error testing of up and down word patterns-it's a word processor dedicated to the connection of words sharing one or more letters. You start with a 3-by-3 grid, which adjusts and increases in size to fit your words.
$39.95, 48K disk. Mindscape Inc., 3444 Dundee Road, Northbrook, IL 60062. (800) 221-9884.
CIRCLE 190 ON READER SERVICE CARD

MICROLEAGUE BASEBALL
Pit the greatest teams against each other, such as the 1927 Yankees and 1975 Reds-or even play them against the pitiful Washington Senators of 1955-in this baseball lover's delight. MicroLeague Baseball lets YOU hit-and-run, attempt squeeze plays and double steals, pitch out and make several other moves.
$39.95, 48K disk. MicroLeague Sports Association, 2201 Drummond Plaza, Newark, DE 19711. (302) 368-9990, (800) PLAYBAL.
CIRCLE 193 ON READER SERVICE CARD

HARDBALL
This arcade-style baseball game features enticing graphics and 3-D perspective from three views. The joystick is used to choose lineups, select pitches and move fielders.
$29.95, S48K disk. Accolade, 20833 Stevens Creek Blvd., Cupertino, CA 95014. (408) 446-5757.
CIRCLE 194 ON READER SERVICE CARD


EDUCATION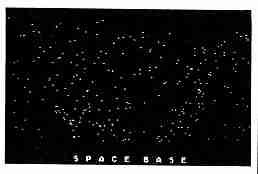 SPACE BASE
A must if you own a telescope. This graphically stunning scrolling map and space atlas offers detailed scientific data for hundreds of the brightest stars. With its extensive documentation, the program is equivalent to a college-level introductory astronomy class.
$19.95, 48K disk. The Catalog, AP0142.

ATARI PLANETARIUM
Look at the stars tonight-or any night between 9999 B.C. and AD. 9999-from anywhere on Earth with Planetarium. At up to 64 times normal speed, forwards or backwards, view any celestial event, from the appearance of Halley's comet over Australia on April 5, 1986 to the earliest recorded solar eclipse.
$24.95, XL/XE and disk. Atari Corp., 1196 Borregas Avenue, Sunnyvale, CA 94086. (408) 745-2000.
CIRCLE 182 ON READER SERVICE CARD

RAINY DAY GAMES
Younger children will love the company of Ted Bear on Baudville's Rainy Day Games. Ted always plays fair and he shows little ones how to have fun playing such favorites as Concentration, Old Maid and Go Fish.
$29.95, 48K disk. Baudville, 1001 Medical Park Drive, S.E., Grand Rapids, Ml 45906. (616) 957-3036.
CIRCLE 195 ON READER SERVICE CARD

QUIZMASTER
Quiz anybody on any subject, from riddles to nuclear physics, with the Quizmaster Construction Set. Create your own multiple-choice quizzes with an unlimited number of questions. As the screen displays a question, a counter rapidly counts down from 500, and you get the number of points equal to the counter display when you press the key for the right answer.
$9.95, 48K disk. Ezuse Software, 2850 Enea Way, Antioch, CA 94509. (415) 754-6026.
CIRCLE 196 ON READER SERVICE CARD

GRADESCAN
This user-friendly, menu-driven program helps a teacher track students, classes and grades. Among its options are Examine Averages, Examine Class Averages, Correct or Revise Records, and Print Reports.
$24.95, 48K disk, requires BASIC. C. Robert Blum, 1722 Golden Court, Crofton, MD 21114. (301) 261-3177.
CIRCLE 197 ON READER SERVICE CARD

EARTH VIEWS
Earth Views is an electronic world globe-a computerized atlas and exciting adventure game that features detailed high resolution maps and a 3-D view of earth rotating on any axis. Call up 250,000 different views at the touch of a button.
$19.95, 48K disk. The Catalog, AP0141.


COMMUNICATIONS

HOMEPAK
This package incorporates HomeTerm, a simple but powerful telecommunications program that accesses online services and bulletin boards; HomeFind, which stores information and instantly retrieves it; and HomeText, an easy word processor. All three programs can pass information to each other.
$49.95, 48K disk Batteries Included, 30 Mural Street, Richmond Hill, Ontario, L4B 1B5, Canada. (416) 881.9941.
CIRCLE 198 ON READER SERVICE CARD

BACKTALK
With Backtalk, your Atari can autodial other BBS's in the middle of the night and upload or download files in XMODEM (with or without Cydilcal Redundancy Checking), AMODEM (Atari-style Xmodem) or Xon/Xoff). 130XE owners can save money on CompuServe with Back-talk's RAMdisk support. You have total modem compatibility and you can create unlimited macro libraries.
$19.95, 48K disk. The Catalog, APO154.

PLATO LEARNING PHONE
This cartridge makes your Atari work like a Plato terminal. Plato is the largest educational online service In the world, devoting over 200,000 hours to languages, mathematics, sciences and more.
$24.95, 16K cartridge. Atari Corp., 1196 Borregas Avenue, Sunnyvale, CA 94086. (408) 745.2000.
CIRCLE 182 ON READER SERVICE CARD

BBS EXPRESS!
The newest member of the Express! family, which includes 1030, 850 and MPP Express! programs. The 1030 version of BBS Express! also runs on the new Atari XM30l modem, supporting both XMODEM and ASCII downloading. Sysops can customize bulletin board through powerful features. BBS Express! can run using all currently available memory upgrades, and full remote sysop capabilities can be accessed from anywhere in the world.
$39.95, 48K disk. Orion Micro Systems, 2919 Ennismore Court, Richmond, VA 23224. Specify 850 or 835/1030/XM301 version.
CIRCLE 199 ON READER SERVICE CARD


LANGUAGE & TOOLS

BASIC XE
BASIC XE from OSS. runs programs at least twice as fast as Atari BASIC. BASIC XE has powerful new statements, automated editing features and extra utilities. This language harnesses the full 128K memory of the l30XE computer.
$79, cartridge plus 48K disk. Optimized Systems Software, 1221B Kentwood Avenue, San Jose, CA, 95129. (408) 446-3099.
CIRCLE 200 AN READER SERVICE CARD

BASIC VIEW
Lighten your debugging load with Basic View, a machine language programming utility that traces BASIC programs as they run. As each line of your code is executed, the BASIC tracer highlights It in a screen window, enabling you to find bugs right away.
$20, 48K disk. Softview Concepts, P.O. Box 1325, Lisle, IL 60532. (312) 968.0605.
CIRCLE 204 ON READER SERVICE CARD

ACTION!
Fast and powerful, ACTION! blends elements of Pascal and C, but Is much easier to program on the Atari, The ACTION! screen editor makes programming a joy and was the basis of Batteries Included's PaperClip word processor. Particularly outstanding for speedy graphics and game programs.
$79, 16K cartridge. Optimized Systems Software, 1221B Kentwood Avenue, San Jose, CA 95129. (408) 446-3099.
CIRCLE 200 ON READER SERVICE CARD

MAC/65 ASSEMBLER EDITOR
MAC/65 is the assembler tor programmers who are serious about assembly language. MAC/65 is compatible with the Atari Assembler Editor, as long as you don't use MAC/65's powerful extra commands. It contains a speedy compiler and an excellent debugger.
$79, 16K cartridge. Optimized Systems Software, 1221B Kentwood Avenue, San Jose, CA, 95129. (408) 446-3099.
CIRCLE 200 ON READER SERVICE CARD

DEEP BLUE C
This C compiler code runs on other computers with only minor complications, making it one of the most transportable languages around. Faster than BASIC, Deep Blue C features pointers, recursive functions and high-level control functions. Mathlib ($19.95, AP0132) is a library of math functions designed to enable your Deep Blue C Compiler to do floating-point calculations.
$19.95. The Catalog, AP0114.

KYAN PASCAL
Kyan Pascal has all of the features of standard Pascal, the teaching and programming language widely used in colleges. Many of the Kyan Pascal programs you write on your Atari can run on the mainframe computers at your school or office. It comes with a built-in editor, native code compiler, macro assembler and a 300-page tutorial manual.
$69.95, 48K disk. Kyan Software, 1850 Union Street, Suite 183, San Francisco, CA 94123. (415) 626-2080.
CIRCLE 201 ON READER SERVICE CARD

ADVAN BASIC
Never has a BASIC given the programmer such effortless command of the special sound and graphics capabilities of the Atari. Advan BASIC is a speedy compiled BAS1C with powerful new commands and built-in Player/Missile graphics.
$39.95, 48K disk. Advan Language Designs, RO. Box 159, Baldwin, KS 66006. (913) 594-3420.
CIRCLE 202 ON READER SERVICE CARD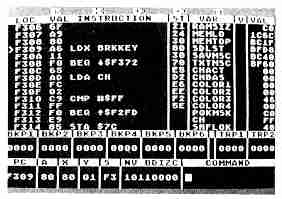 EXTENDED D.D.T.
An outstanding assembly language debugger made better with a built-in mini-assembler, over 150 system symbols for more understandable disassembly, and the ability to deposit to graphic control areas without affecting the screen.
$15.95. The Catalog, AP0171.

FLOATING POINT PACKAGE
The new Floating Point Package works with the MAC/65 assembler from Optimized Systems Software. Ambitious assembly language programmers can now use the precision of floating point mathematics to create more powerful and accurate software.
$19.95, The Catalog, AP0186.


PRINTING

GRAPHIC SHOP
Graphic Shop lets you use images from most standard Atari graphics software with Print Shop. Create designs and pictures with your KoalaPad or Atari Thuch Tablet and compress all or part of your work into Print Shop format. The Print Preview feature lets you choose pattern fills and solid black or white to replace colors in the printout. Graphic Shop requires Broderbund's Print Shop.
$19.95, 48K disk. The Catalog, AP0156,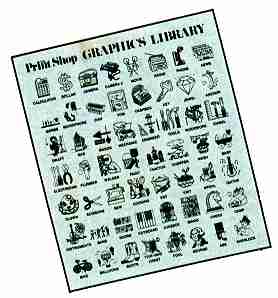 PRINT SHOP
Design your own greeting cards, banners, letterheads, logos and more with Broderbund's versatile Print Shop ($49.95). You don't need computer graphics experience: Print Shop will guide you through the process. Design elements include eight typestyles, nine border designs, a graphics editor that lets you create original pictures, and the ability to superimpose text over any design.
Volumes I, II & III of the Print Shop Library ($24.95 each) are collections of graphics, ranging from presidents to plumber's helpers, from chess pieces to choppers. These illustrations feed right into Print Shop.
The new Print Shop Companion ($49.95, 64K disk) adds calendars, enhanced borders, fonts and fill-in patterns to the basic program.
48K disk. Broderbund Software, 17 Paul Drive, Son Rafael, CA 94903. (415) 479-1170.
CIRCLE 205 ON READER SERVICE CARD

PRINT WIZ
This printer dump mixes text and graphics for hard copies from most popular printers and can print sideways on a page. Print Wiz includes special handlers for popular graphics programs and can change type size directly from your keyboard.
$29.95, 16K disk. Allen Macroware, P.O. Box 2205, Redondo Beach, CA 90278. (213) 376-4105.
CIRCLE 206 ON READER SERVICE CARD

LISTER PLUS,
PICTURE PLUS
Stretch your dot-matrix printer to its limits. Lister Plus dumps listed files (including programs) to the printer using any custom character set you choose. Picture Plus manipulates most types of picture files, so you can save them in standard files for use with a BASIC program, or dump them to the printer in any of four sizes.
$19.95, 48K disk. The Catalog, AP0179.

MEGAFONT II+
MegaFont 11+ is a lister program that has won many friends during its four years on the market. It speedily prints files that include graphics or Atari special characters. Megafont is compatible with popular paint programs and supports printers compatible with Epson, C. Itoh and Gemini 10X.
$25.95. 48K. XLEnt Software, P.O. Box 5228, Springfield, VA 22150. (703) 644-8881.
CIRCLE 220 ON REDDER SERVICE CARD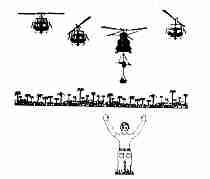 TYPESETTER ($34.95),
PAGE DESIGNER ($29.95),
RUBBER STAMP (29.95)
These three related programs form into a flexible and powerful package which lets you mix graphics and text elements that you have created from scratch. This software goes beyond Print Shop and Newsroom in control of the printed page. The array of powerful choices means that you have a lot of commands to learn.
XLEnt Software, P.O. Box 5228, Springfield, VA 22150. (703) 644-8881.
CIRCLE 207 ON READER SERVICE CARD


WORD PROCESSING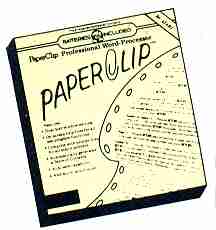 PAPERCLIP
We write and edit every word at Antic with PaperClip before transmitting the copy to our typesetter via modem. Paper-Clip is a professional-strength word processor that's easy to learn. Its features include a split screen with cut-and-paste between both windows, one-key macros, readable characters with true descenders, double-column printing, contiguration files for several different printers and excellent documentation. A new version for the l30XE contains a spell checker.
$59.95, 48K disk. Batteries Included, 30 Mural Street, Richmond Hill, Ontario, LAB 1B5 Canada. (416) 881-9941.
CIRCLE 198 ON READER SERVICE CARD

ATARI WRITER +
A disk-based upgrade of the popular AtariWriter cartridge, AtariWriter+ now includes a spelling checker and mail merge, as well as allowing 130XE owners to take full advantage of their computers' full 128K memory. AtariWriter+ lets you send your file to devices other than "P:"- for instance, you might want to send it to the modem port or to another Atari computer.
$49.95, 48K disk. Atari Corp., 1196 Borregas Avenue, Sunnyvale, CA 94086. (408) 745-2000.
CIRCLE 103 ON READER SERVICE CARD

FIRST XLENT WORD PROCESSOR
First XLEnt Word Proccssor is powertul and feature-packed, but beginners can easily learn its basic functions and produce impressive results. The six most useful commands are always available at the bottorn of the screen as icons, accessible via joystick or the keyboard. A simple printer driver maker construction set assures full control of your paper.
$29.95, 48K. XLent Software, P.O. Box 5228, Springfield, VA 22150. (703) 644-8881.
CIRCLE 220 ON READER SERVICE CARD


PRODUCTIVITY

INSYST!
InSyst! is aimed at the small businessman who needs a complete inventory tracking system. The program is written in compiled ACTION! for speed, but you do not need the ACTION! cartridge. The program allows-even encourages-the use of two drives. The manual is well-written and easy to understand. Includes an Edit/Add screen and Reports and Disk menus. Insyst! supports the 130XE RAMdisk.
$79.95, 48K disk. SoSoft Software, 2513E Sylvester Road, Albany, GA 31705. (912) 888-0821.
CIRCLE 213 ON READER SERVICE CARD

BUSINESS MANAGER
This is for the small businessman who needs a simple accounting system to track sales and inventory without getting lost in bells and whistles. Written in Atari BASIC, The Business Manager also runs with BASIC XL from OSS. This program takes advantage of the extra RAM in a 130XE.
$49.95, 48K Disk. Reeve Software, 29W150 Old Form Lane, Warrenville, IL 60555. (312) 393-2317.
CIRCLE 214 ON READER SERVICE CARD

INVENTORY MASTER
This business inventory package allows 1,700 items per disk and has five-second retrieval, multiple vendor history and five standard reports. Up to 12-digit part numbers are supported. Purchase orders and product invoice reports automatically update the records.
$89.95, 48K disk. Royal Software, 2160 W. 11th Avenue, Eugene, OR 97402. (503) 683-5361.
CIRCLE 215 ON READER SERVICE CARD

ELITE PERSONAL ACCOUNTANT
This personal finance package handles 79 categories divided into income, expense, asset and liability groups, and contains 17 different transaction codes. Its extensive HELP facilities are easily accessed without disturbing work in progress, and you can use three drives for data disks.
$48.95, 48K disk. Elite Software, 14897 Interurban Avenue 5., #60, Seattle, WA 98168. (206) 246-5122.
CIRCLE 208 ON READER SERVICE CARD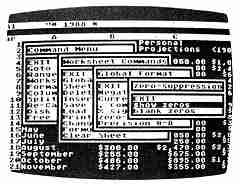 CALC MAGIC
This spreadsheet is a complete package, featuring programmable macros enabling you to run automated sequences, the ability to quickly test multiple what-if" conditions, pop-up menu windows and several math functions, including mean, standard deviation and variance. Standard spreadsheet DIF files are supported.
$24.95, XL or XE and disk. The Catalog, AP0177

MICROMOD
This software defies categorization. It's not just a record-keeping program, but it does the job well. It's not a real inventory program, but it can be with extra modules available from version 3.0. Its power lies in the record-design function providing a package which can be used to track most or all of a small business' records.
$79.95, six 48K disks. Micramiser Inc., 1635-A Holden Avenue, Orlando, FL 32809. (305) 857-6014
CIRCLE 212 ON READER SERVICE CARD

B/GRAPH
B/Graph creates pie charts, 2-D and 3-D bar charts, line and area graphs. You can graph three factors with 100 data points each and convert instantly between graph types without re-entering data. B/Graph also reads and writes to VisiCalc DIF files-enter data with VisiCalc, then graph it with B/Graph.
$39.95, 48K disk. Batteries Included, 30 Mural Street, Richmond Hill, Ontario L4B 185, Canada. (416) 881-9941.
CIRCLE 198 ON READER SERVICE CARD

MILES PAYROLL SYSTEM
This advanced, comprehensive payroll accounting system malntains cumulative totals for up to 50 employees per disk and features complete reporting, check writing and W-2 reporting. Covers all standard payroll deductions, unemployment insurance and worker's compensation. Easy to update for yearly IRS changes, the Miles package allows weekly, biweekly, semimonthly or monthly pay periods.
$99.95, 32K disk, requires two disk drives. Miles Computing, 21018 Osborne Street, Building5,Canoga Park, CA91304. (818)341-1411
CIRCLE 218 ON REDDER SERVICE CARD


MUSIC

MUSIC STUDIO
This easy-to-use music composer will have you playing songs on your Atari within minutes. The Music Studio has five screens from which to compose, edit and play music back. Up to three lines of lyrics can be added to scroll right along with your musical score. Other features include transposition, inserting, copying and moving blocks of music-much like working with word processors. You have a choice of 15 instruments, ranging from flute to drums.
$34.95. Activision Inc., P.O. Box 7287, Mountain View, CA 94039. (415) 960-0410.
CIRCLE 216 ON READER SERVICE CARD

MUSIC PAINTER
With Music Painter, you can play three different voices at a time. Colored lines placed on a musical staff with your joystick represent notes. You can play the music forward or backward, insert or delete spaces, and copy blocks of music anywhere within the song.
$19.95, 48K disk. Atari Corp., 1196 Borregas Avenue, Sunnyvale, CA 94086. (408) 745-2000.
CIRCLE 182 ON READER SERVICE CARD

MIDIMATE
The MIDIMATE series of hardware and software from Hybrid Arts are professional MIDI sequencers that can control a bank of synthesizers. The MidiTrack II uses your Atari to emulate a 16-track digital recorder with synchronizer and MIDI remote control. There's 16-track overdubbing, auto-locate and optimizing.
MIDIMATE Interface Box: $199.50; MidiTrack II Software, $149.50. Hybrid Arts, 11928W. Olympic Blvd., Los Angeles, CA 90064. (213) 826-3777.
CIRCLE 217 ON READER SERVICE CARD