ST New Products
BY GREGG PEARLMAN, ANTIC JUNIOR EDITOR
LATE NEWS FLASHES
Cartridge-based Fast BASIC is quick, powerful and easy to use, yet requires surprisingly little memory. The Antic technical staff is thoroughly impressed by our beta version. The language features keyword support of BIOS and XBIOS calls and makes good use of the GEM interface.
Computer Concepts, Gaddesden Place, Hemel Hempstead, Herts HP2 6EX, England. (0442) 63933. BETA.
CIRCLE 281 ON READER SERVICE CARD
On the day we closed this issue, Atari began shipping the ST version of their classic 8-bit game Star Raiders. The software is described as a faithful expansion of the original Star Raiders that uses the full power of the ST
$34.95 Atari Corp., 1196 Borregas Avenue, Sunnyvale, CA 94086. (408) 745-2000. FINAL.
CIRCLE 282 ON READER SERVICE CARD

MIDI
Midiplay stores more than 200,000 MIDI notes/events-approximately three hours of music-in 1Mb of RAM. A real-time record/playback system, Midiplay supports all 16 channels of MIDI information including velocity, key and channel aftertouch, pitch bend, program changes and all 128 MIDI controllers such as pedals. With Midiplay you can record and play back your own music from any MIDI keyboard or synthesizer, change the musical key, tempo and timbre of the playback independently, even retrieve music files from disks to create medleys.
$49.95. Electronic Music Publishing House Inc., 2210 Wilshire Blvd., Santa Monica, CA 90403. (213) 455-2025. FINAL.
CIRCLE 271 ON READER SERVICE CARD
SYS/EX is a universal and generic MIDI librarian that lets musicians store songs to disk. It works with about 60 different synthesizers, samplers, drum machines and other MIDI instruments. Files from different MIDI instruments can be appended from simultaneous uploading. MIDI dump files can be constructed from within the software.
$150. Key Clique, 3960 Laurel Canyon Blvd. Suite 374, Studio City, CA 91604. (818) 905-9136. FINAL.
CIRCLE 272 ON READER SERVICE CARD

MEGABYTE UPGRADE
EZRAM 520, a 512K memory upgrade kit, increases the RAM of the 520ST to 1Mb, improves the ST's capacity to process memory-intensive applications such as spreadsheets and databases and makes disk access more efficient through larger RAM-disk space. EZRAM 520 comes with a memory-check diagnostic program, three additional accessory programs and an entertainment program. Soldering is required.
$199. Terrific Peripherals, 17 St. Mary's Court, Brookline, MA 02146. (617) 232-2317. PRESS.
CIRCLE 277 ON READER SERVICE CARD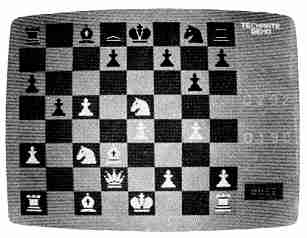 ST CHESS
TechMate Chess from Szabo Software is completely mouse-driven and boasts a powerful new algorithm for speedy, competitive play. Crisp RGB color graphics are featured, the program does not work on monochrome monitor. Each side has an adjustable tournament clock. The software plays under complete official F.I.D.E. chess rules.
$49.95. Szabo Software, P.O. Box 623, Borrego Springs, CA 92004. FINAL.
CIRCLE 270 ON READER SERVICE CARD

K-RESOURCE EDITOR
Kuma Software announces K-Resource, a complete resource editor for creating and updating AES icon resource files. The program operates fully through GEM and is a powerful tool for customizing the GEM interface for new applications programs in either monochrome or color. It features an Icon/Image Editor with auto-snap and auto-size. K-Resource produces files for inclusion in C, Pascal, Modula 2 and Fortran 77.
$39.95 in British pounds. Kuma Software, 12 Horseshoe Park, Pangbourne, Berks RG8 7JW, England. 07357 4335.
CIRCLE 283 ON READER SERVICE CARD

UNIX SHELL
MT C-Shell is a multitasking, multiuser operating system that runs TOS programs in a fully TOS-compatible file system. Included is the powerful UNIX C Shell and a full-featured set of UNIX commands. The software supports remote dumb terminals via modem and is compatible with Micro RTX TOS. Each user can run several tasks concurrently, both real-time and time-shared. The program supports existing compilers, linkers and editors.
$129.95. Beckmeyer Development Tools, 592 Jean Street #304, Oakland, CA 94610. (415) 658-5318. PRESS.
CIRCLE 273 ON READER SERVICE CARD
Pecan Software Systems has introduced a enhanced implementation of Softech Mirosytems' UCSD Pascal Power System, a development environment with facilities for creating and running application programs on a variety of machines and operating systems including MS-DOS. A Modula-2 compiler is under development.
Pecan Software Systems Inc., 1410 39th Street, Brooklyn, NY 11218. (718) 851-3100. FINAL. PRESS.
CIRCLE 274 ON READER SERVICE CARD

FAST/BASIC GEM
Version 1.35 of Philon Fast/BASIC-M now fully supports the GEM VDI graphics interface. Graphics output is produced by using PEEKS and POKES into VDI.
$129. Philon Inc., 641 Avenue of the Americas, New York, NY 10011. (212) 807-0303. PRESS
CIRCLE 276 ON READER SERVICE CARD
---
New ST product notices are compiled from information provided by the products' manufacturers. Antic assumes no responsibility for the accuracy of these notices or the performance of the product. Each mention is followed by a code word indicating that, at press time, Antic had seen a FINAL marketable version, near-final BETA, earlier ALPHA, incomplete DEMO, or PRESS release.