ST New Products

Atari is bringing an ST version of Microsoft Word to the marketplace. Microsoft Write is based on the Macintosh version of this best-selling word processor and will make full use of the powerful monochrome and color graphics capabilities of the STs
Atari Corp., 1196 Borregas Avenue, Sunnyvale, CA 94086. (408) 745-2000. PRESS
CIRCLE 230 ON READER SERVICE CARD


COLOR WRITE & MACROS
Shanner International Corp.'s GEM-based word processor Color Writer ($69.95), developed by Maxim Software, gives you full onscreen use of color for text, highlighting, cursor and the Find Color command. Four windows allow you to edit four documents at once, and you can exit the program without specifically having to close each document.
Shanner's STKey ($19.95) from Solid Applications Inc is a memory-resident system that provides support for user-programmable function keys, permitting customization of applications which might not otherwise allow it. With STKey, multiple key sequences, such as those used in spreadsheets and text editors, can be implemented by a single function key.
If you're interested in making MIDI music but don't know where to start, try Soundwave SW-1, ($49.95), a MIDI sequencer application developed by Sound-wave Software. By connecting a synthesizer to the ST'S MIDI ports, you can record in real-time and play back a single track of music up to 15,000 notes long with this entry-level program. Songs can be saved to disk for playback later.
For advanced MIDI users, Soundwave has developed the Soundwave SW-8 ($179.95), with which any number of synthesizers can be connected to the MIDI port for recording and playback of eight tracks totalling up to 155,000 notes. Individual tracks can be saved and loaded and music can be recorded in real-time or step-time. The user interface of this GEM-based product resembles the front panel of a professional audio tape deck.
MacroDesk ($39.95) is a multipurpose desk accessory designed to boost your personal productivity and simplify daily operation of your ST. Formerly by Blue Moon, MacroDesk is an entry-level version of Shanner's MacroManager desk accessory. MacroDesk includes an advanced 18-function, 10-memory calculator, an alarm clock/calendar with which you can set events up to 100 years in the future, an electric card file database including search, print and autodial features, and an alarm that can be set to sound once or at the same time every day, week, month or year.
Shanner International Corp., 453 Ravendale Drive, Mountain View, CA 94043. (415) 964-2992. FINAL.
CIRCLE 232 ON READER SERVICE CARD


PAINT, WORD & MIDI
GEM-based PaintPro ($49.95), Abacus Software's design and painting package, supports three active windows and has a complete toolkit of functions including free-form sketching, lines, circles, fill, copy, zoom and extensive text capabilities to help you draw graphic and artistic pictures. It works with either monochrome or color systems and can send hard copy to most popular dot-matrix printers.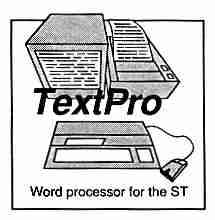 TextPro ($49.95) is a professional quality word processor featuring multi-column output, automatic indexing, sideways printing (to Epson printers), up to 30 user-definable function keys and a mode for editing C language source programs.
FilePro ($49.95) is a simple, flexible data manager with pull-down menus that let you quickly define your file and enter information through screen templates. FilePro stores data items in different type styles, creates subsets of a file, and supports RAMdisk for high-speed operation. It can handle records up to 64,000 characters in length and can access four files at once.
Finally, for those interested in the fundamentals of MIDI programming, Len Dorfman and Dennis Young, authors of XLEnt Software's ST Music Box, have written Introduction to MIDI Programming for the Atari ST, ($19.95) which includes the source listing for a comprehensive MIDI editor, driver and animated player for any Casio CZ-series synthesizers.
Abacus Software, 2201 Kalamazoo S.E., P.O. Box 7211, Grand Rapids, Ml 49510. (616) 241-5510. FINAL.
CIRCLE 231 ON READER SERVICE CARD


Activision's Paintworks ($69.95), created by Audio Light, is designed with the amateur graphic artist in mind, but offers capabilities sophisticated enough for professionals. This update of N-Vision (Antic review, August 1986) lets you create 8-l/2"-by-11" printouts of graphics or isolate individual segments of a larger picture. Paint-works' options include clip art, cut-and-paste, free-hand drawing, a multi-level magnification feature and hundreds of different colors and shades to blend. Paint-works can also be integrated with Activision's Music Studio to create music for "slide shows."
Activision Inc., P.O. Box 7286, Mountain View, CA 94039. (415) 960-0410. FINAL.
CIRCLE 233 ON READER SERVICE CARD


Metacomco's Menu + is an easy-to-use programming environment using pull-down menus and the mouse to control programs, thereby avoiding typing in complicated command lines. Users can add their own commands to the menu. And whenever a command is selected from a pull-down menu the full command is displayed and stored in a history window. It can be re-executed later by double-clicking on the appropriate line in the history. Menu+ costs $29.95, but is free with Metacomco's other languages.
Metacomco, 5353E Scotts Valley Drive, Scoffs Valley, CA 95066. (408)438-7201. FINAL.
CIRCLE 235 ON READER SERVICE CARD


Absoft's AC/FORTRAN ($195) is a full-featured ANSI-FORTRAN 77 compiler with debugger designed to run mainframe programs downloaded to an Atari ST with little or no modification. This disk-based compiler requires only 46K of RAM. It supports overlays and virtual arrays, as well as dynamic linking of programs at runtime. It can also interface with C, generate assembler code and support GEM.
Absoft Corp., 4268 N. Woodward, Royal Oaks, MI 48072. (313) 549-7111. FINAL.
CIRCLE 236 ON READER SERVICE CARD


3 INFOCOM ADVENTURES
Who knows? You may find the quadrisexual blond cauliflower of your dreams in Steve Meretzky's Leather Goddesses of Phobos, Infocom's first interactive comedy. Phobos is a Martian moon to which you've been abducted by the voluptuous Leather Goddesses, who want to perform their sexual experiments on you in preparation for their forthcoming invasion of Earth, whose inhabitants they plan to turn into their personal love slaves. Your only recourse is to make a special Anti-Leather-Goddesses Machine. But when you see how much fun can be had on Mars, you'll wonder why the Goddesses ever wanted to leave. This game has three levels of varying rudeness, and includes a 3-D comic book with glasses and a scratch-'n'-sniff card.
A bit tamer than that is Moonmist, a four-variation game geared to introductory level players age 9 and up. When you identify yourself as either male or female, the characters in the story respond accordingly.
Afterwards, step into an alternate universe where magic and physics coexist, where every atomic explosion that's ever happened is somehow connected. Part Alice in Wonderland and part Twilight Zone, Brian Moriarity's Trinity is an odyssey across the borders of reality. You must explore this realm, crisscrossing time and space in your struggle to shape history. Trinity is the first Infocom story to recreate actual locations and events. Its title is taken from the code name of the world's first atomic explosion, which took place in New Mexico in July, 1945.
$39.95 each. Infocom Inc., 125 CambridgePark Drive, Cambridge, MA 02140. (617) 492-6000. FINAL.
CIRCLE 237 ON READER SERVICE CARD


LANGUAGES & UTILITIES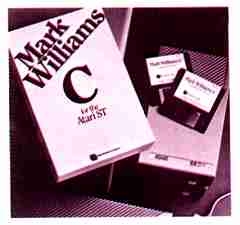 Mark Williams C ($179.95) implements the Kernighan and Ritchie C language and the recent extensions to C under UNIX. This C compiler includes utilities such as make, diff, cmp and sort, an assembler, loader, archiver and an advanced symbolic debugger. The program includes the full-screen editor MicroEMACS and contains a shell that supports I/O redirection, pipes, variable substitutions, path search capabilities and a history utility to execute prior commands.
Mark Williams Company, 1430 W. Wrightwood Avenue, Chicago, 1160614. (312) 472-6659. FINAL.
CIRCLE 234 ON READER SERVICE CARD


EDUCATIONAL & BETTING
Math Wizard, Decimal Dungeon and Fraction Action ($39.95 each) from Unicorn Software will help children with their math. Math Wizard (color monitor only) contains four games teaching basic addition, subtraction, multiplication and division in which the player might try to reach a destination or attain a goal. In Decimal Dungeon, you're trapped in the crystal caverns of the dungeon master, and the only way to escape is to correctly answer questions on percent and decimal numbers. In Fraction Action, you can emerge from the mad professor's basement only with the aid of strange keybearers, for whom you must answer questions concerning fractions. Dungeon and Action will work with either monochrome or color monitors.
Unicorn Software, 2950 E. Flamingo Road #B, Las Vegas, NV 89121. (707) FINAL.
CIRCLE 238 ON READER SERVICE CARD


No more playing hit-and-miss with the NFL betting line. Michtron's Pro Football Wizard provides both the football bettor and the casual fan with a method of reasonably predicting the outcome of an NFL game. And relax after the Game with 8 Ball, a one-or-two-player pool game that works on either a color or monochrome system. To help you save up money for these two, try Your Financial Future, which gives you charts and plenty of advice on how to save your money.
$39.95 each. MichTron, 576 South Telegraph, Pontiac, MI 48053. (313) 334-5700. FINAL.
CIRCLE 239 ON READER SERVICE CARD


Talisman, a relational database program for the ST, can process and link data from several files and generate reports. It works within GEM with icons, drop-down menus and mouse control. Frequent help windows and prompts aid the novice. The price is $89.95.
Talent Computer Systems, Curran Building, 101 St. James Road, Glasgow G4 0NS, Scotland. PRESS.
CIRCLE 211 ON READER SERVICE CARD


Now you can pack your ST into a suitcase. Port-A-Byte's Workstation IV ($268) will accomodate your ST, a monitor, two disk drives, transformers, mouse and disk storage, shielding and fan-cooling all components. Features include a retractable cord, covered power inlet, master switch, surge protector and power indicator light.
Port-A-Byte, 1901 Wilson Avenue S.W, Grand Rapids, MI 49504. (616) 791-9816. FINAL.
CIRCLE 241 ON READER SERVICE CARD


Timeworks Inc., known for their Commodore 64 software, has introduced three ST productivity programs. Word Writer ST with Spell Checker, Swiftcalc ST with Super Graphics and Sideways, and Data Manager ST with Report Writer ($89.95 each).
Word Writer ST is a word processor with an 85,000-word spelling checker and integrated thesaurus. It includes onscreen highlighting, headers and footers, speed keys and pull-down menus. Swiftcalc has high-resolution graphics, including pie charts, line graphs and 3-D bar charts. The Sideways option lets you print extra-wide spreadsheets. Data Manager is a general information storage and retrieval system with graphics and labeling capabilities.
Timeworks Inc., 444 Lake Cook Road, Deerfield, IL 60015. (312) 948.9200. PRESS.
CIRCLE 242 ON READER SERVICE CARD


Make Atari ST cartridges to save RAM, disk space and start-up time. The Hippo EPROM Burner reads, burns, verifies, copies and edits memory devices such as ROMs, EPROMS, EEPROMS and electrically erasable RAMs. The $139.95 price includes power supply, hardware and software compatible with both color and monochrome models.
Hippopotamus Software, 985 University Avenue Suite 12, Los Gatos, CA 95030. (408) 395-3190. PRESS.
CIRCLE 207 ON READER SERVICE CARD


Play simulated 18-hole golf on your ST with Leader Board ($39.95), featuring lifelike animated 3-D trees, sandtraps, a handicap system and strategy decisions.
Access Software, Inc., #A 2561 5. 1560 West Street, Woods Cross, UT 84087. (801) 298.9077. PRESS.
CIRCLE 214 ON READER SERVICE CARD


The Timekeeper, a plug-in, battery-backed, real-time clock calendar, is the first product for the ST from Navarone Industries. The Timekeeper program automatically gets the time and date from a module plugged into the ST cartridge port while booting. An interesting feature of the module is an extender slot which allows the Timekeeper to remain installed while you use other ST cartridges.
Navarone Industries, 21109 Longeway Road, Suite C, Sonora, CA 95370. (209) 533-8349. FINAL.
CIRCLE 243 ON READER SERVICE CARD
---
New ST product notices are compiled from information provided by the products' manufacturers. Antic assumes no responsibility for the accuracy of these notices or the performance of the product. Each mention is followed by a code word indicating that, at press time, Antic had seen a FINAL marketable version, near-final BETA, earlier ALPHA, incomplete DEMO, or PRESS release.