New Products

New Products notices are compiled by the Antic staff from information provided by the products' manufacturers. Antic welcomes such submissions, but assumes no responsibility for the accuracy of these notices or the performance of the products listed.
---
FIRST XLENT WORD PROCESSOR
XLEnt Software
P.O. Box 5228
Springfield, VA 22150
(703) 644-8881
$29.95, 48K disk
CIRCLE
221
ON READER SERVICE CARD
Written completely in machine language, this powerful word processor features icon-driven commands, multiple windows, file linking, 80-column preview and double-column printing. You can also use modified character sets and mix graphics and text


REFERENCE PAK, STAMP PAK
(reference cards)
Wise Products Co.
122 N. Euclid
Princeton, IL 61356
(815) 875-4728
$4.95 each, $9 for both
CIRCLE 222 ON READER SERVICE CARD
Reference Pak and Stamp Pak are handy keyboard template cards showing the main commands for XLEnt Software's popular Typesetter and Rubber Stamp printing utility programs.


MASTER DISK DIRECTORY II
(utility software)
Zobian Controls
1156 Old Mill Lane
P.O. Box 6406
Wyomissing, PA 19610
(215) 374-5478
$18.95, 16K disk
CIRCLE 223 ON READER SERVICE CARD
This program works with Zobian's Rat-a $69.95 mouse for 8-bit Ataris- to organize your disk collection using icons and pull-down menus. The program stores the name and a description of each program and can sort the collection alphabetically, numerically and in other ways.


YEMACYB
(printing software)
Electronical Software
P.O. Box 8035
Rochester, MI 48063
$19.95, 48K disk
CIRCLE 220 ON READER SERVICE CARD
This printer dump utility lets you create high-quality color printouts with a standard black-and-white dot matrix printer. With black, yellow, red and blue ribbons, printouts can have up to 128 colors. Images can be as large as 11 inches diagonal. The user can create custom color palettes or use a default palette. Printers supported are Epson MX-80 graphics compatibles, Star SG-10 and C. Itoh Prowriter.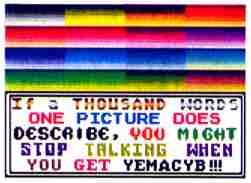 PRO FOOTBALL HANDICAPPER
(gaming software)
Software Exchange
P0. Box 5382
West Bloomfield, MI 48033
(313) 626-7208
$39.95, 16K disk
CIRCLE 225 ON READER SERVICE CARD
Available for all Atari 8-bit computers, this program lets you handicap NFL professional football with daily sports-page information that requires only five minutes to enter. Pro Football Handicapper performs the statistical analysis to predict the winner, the point spread and the total points. The manufacturer claims it predicted winners with 65 to 70 percent accuracy.


MINIATURE GOLF PLUS
(entertainment software)
XLEnt Software
P.O. Box 5228
Springfield, VA 22150
(703) 644-8881
$29.95, 48K disk
CIRCLE 226 ON READER SERVICE CARD
With Miniature Golf Plus, you can design custom miniature golf courses, play nine different holes per game, set up stationary and moving boundaries, have eight players per game and store 60 holes per disk. This game uses your Atari to simulate geometry, physics, gravity and friction.


THE LINGUIST
(educational software)
Gessler Educational Software
900 Broadway
New York, NY 10003
(212) 673-3113
$44.95, 16K disk
CIRCLE 221 ON READER SERVICE CARD
This multi-lingual tutorial system for the Apple II is now available for all Atari computers. With The Linguist, you can create teaching drills for 20 languages. Just select two languages and enter an unlimited number of paired words, phrases or definitions. The computer will quiz you by displaying one element in the pair and asking you to fill in its equivalent.


PERSISTENT RAM CARTRIDGE
(memory upgrade)
Intra-Tech Computer Products
2288 Portage Avenue
Coquitlam, BC
V3K 2Z3 Canada
(604) 942-7049
$57.50-32K
$47.5 0-16K
CIRCLE 224 ON READER SERVICE CARD
Intra-Tech's Persistent RAM Cartridge is a plug-in memory expansion, as well as a backup for Atari cartridges when used with the included disk software. The PRAM cartridge is even a memory storage device powered by a 7-year battery when not plugged into the computer.



---
Return the favor. When you call a manufacturer or supplier about a product you've seen advertised or otherwise mentioned in ANTIC, please tell them so. This will help us to continue to bring you the latest information about products that will make your Atari computer an even more valuable investment in the future.
-ANTIC ED