Reviewed by ERIC CLAUSEN
I*S TALK
BI's feature-packed modem software

I*S Talk is a GEM-based modem communications package offering a plethora of features.
There's a capture buffer with over 400K capacity and a number of powerful editing capabilities, a 50,000-word spelling checker, multiple file transfer protocols, input/output filtering, automatic logging on at boot-up, instant replays of online session commands, access to many TOS functions, macros and a message compose window.
Almost all these functions can be controlled by clicking on drop-down menus. A complete set of keyboard commands is also available.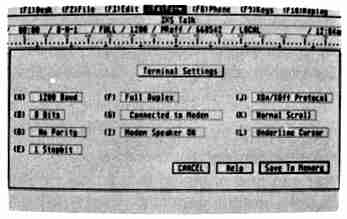 Batteries Included intended I*S Talk to be a full-featured telecommunications package for all levels of users and they generally succeed at this. The impressively packaged program kicks off BI's new "serious" business software line, Integral Solutions. BI has also done ST owners the courtesy of selling I*S Talk at an affordable price and without copy protection. The manual is well written, although suffering from a few minor typos and omissions.
I*S Talk's capture buffer, which toggles on and off, will be about 580K on an Atari 1040ST. On a 520ST you'll have around 425K minus any desk accessories. Although it was not noted in the manual, some desk accessory programs such as Solapack seem to interfere with proper functioning of I*S Talk. The program's 50,000-word spell-checking dictionary can be brought into memory when needed and then erased, or saved with your additions.
One great thing about I*S Talk is the variety of buffer content manipulations available. Buffer text can be routed to a disk file on any of four possible drives. Text files can be routed to the modem, the buffer, the printer or the screen. The user can also perform cut-and-paste and text search functions.
Because there is no horizontal scrolling available in the buffer, I*S Talk allows toggling the vertical scroll bar on and off. This is necessary be-cause the scroll bar obscures the last three characters when working with 80-column text. But whenever the scroll bar is switched on or off, the cursor drops to the bottom of the buffer and the last line of the previous screen becomes the last line of the buffer. This is especially annoying when you've got a large document in the buffer.
Error-free file transmissions are accomplished by XMODEM with CRC or checksum protocols, which are selected automatically. I*S Talk also incorporates Atari Binary Transfer Format (ABTF). This is not another file transfer protocol, but an additional error correction step used in conjunction with I*S Talk's XMODEM. You must find a host which supports this feature before you can use it. ABTF was originally proposed by Russ Wetmore and the technical specifications can be found in a text file on Compuserve's SIG * Atari ST section. For some reason, there is no mention of ABTF in the I*S Talk manual.
I had trouble with XMODEM file transfers while logged onto GEnie with I*S Talk. When using host-specified terminal parameters (seven-bit word and half duplex) I*S Talk wouldn't allow XMODEM transfers and I had to manually abort. No error messages and no timeouts were reported. I had no problem with I*S Talk on any other system.
FEATURES GALORE
I*S Talk can filter incoming and outgoing files. Input filtering can include suppression of control characters, stripping off the high bit and adding line feeds. Output filtering control is even more extensive and should allow connection to most other systems. Don't expect to be able to log onto ATASCII boards, but most ST users will find this a small inconvenience.
I*S Talk allows the user to obtain disk directories, format for single- and double-sided disks, and erase files. Graphic screen dumps are possible from within I*S Talk if you have a suitable dot matrix printer. Complete control over important RS-232 settings is provided. Baud rates from 110 to 9600 are possible. In addition, cursor shape and modem speaker can be toggled, and normal/medium/smooth scrolling are available. However, the smooth scroll is too slow to be truly practical.
The compose window holds in-progress messages up to 200 characters long. These don't get sent online until you press [RETURN]. All command characters will still be sent immediately to provide some system control while composing text.
I*S Talk allows the user to easily create disk files called "logon scripts," which contain all necessary information for logging onto information services automatically. The filenames become part of a pull-down menu and are activated simply by clicking on the desired name. This feature also lets the user input the hourly charge of the service and gives a running cash clock in the status line. I*S Talk even accounts evening/weekend rate changes if you enter the correct time from the desktop.
You can set I*S Talk to automatically run one of these logon scripts immediately when the program is booted. Up to 25 keyboard macros can be stored.
I*S Talk offers an interesting and useful feature called replay, which lets you record long strings of commands, store them and replay them again with a push of a button. The power of this feature lies in its ability to record every desired mouse movement, button press, keystroke and pause. I*S Talk can then replay these sequences at your command. When you combine this feature with auto-logon capability, you have powerful control over your online sessions.
These features make it possible for experienced users to configure I*S Talk as an almost completely automated tool for less experienced users. This could save a great deal of training time in a business environment.
Unfortunately, a few of I*S Talk's functions still have rough edges, leaving version 1.00 of the package with a slightly unfinished feel. I'm sure I*S Talk will have its following. Batteries Included -just needs to spend a little extra time straightening out future revisions of I*S Talk and they'll add another undisputed winner to their long string.


I*S TALK
Batteries Included
30 Mural Street
Richmond Hill, Ontario
Canada L4B lB5
(416) 881-9816
$79.95
CIRCLE 212 ON READER SERVICE CARD