New Products

New Products notices are compiled by the Antic staff from information provided the products' manufacturers. Antic welcomes such submissions, but assumes no responsibility for the accuracy of these notices or the performance of the products listed.

NEWS STATION
(desktop publishing)
Reeve Software
29W150 Old Farm Lane
Warrenvile, IL 60555
(312) 393-2317
Required printer: Epson, Gemini, or
ProWriter
$29.95, 48K disk
Design newsletters, brochures and poster combining graphics and text. Mix Print Shop icons, fonts, picture files, and text files created with any word processor. What you see on screen is what you get on the printer-to scale.
CIRCLE 160 ON READER SERVICE CARD

RAMBO II
(entertainment software)
Mindscape Inc.
3444 Dundee Road
Northbrook, IL 60062
(312) 480-7667
$9.95, 48K disk
Each title in the new Thunder Mountain line from Mindscape costs $9.95- "the software industry's equivalent to the paperback book," according to company president Roger Buoy The Thunder Mountain line kicks off with Rambo: First Blood Part II, an action graphics game.
CIRCLE 162 ON READER SERVICE CARD

HOLLYWOOD HIJINX
(entertainment software)
Infocom Inc.
125 CambridgePark Drive
Cambridge, MA 02140
(617) 492-6000
$34.95, 48K disk
Dead Uncle Buddy Burbank, the Hollywood mogul, and Aunt Hildegarde have left you their entire estate-with one stipulation. You get the lot only if you can find 10 treasures hidden throughout their lavish Malibu home. Hollywood Hijinx is a tribute to B-movies and is loaded with memorabilia from Uncle Buddy's films, which include A Corpse Line and Vampire Penguins of the North. The package includes a lucky palm tree swizzle-stick.
CIRCLE 164 ON READER SERVICE CARD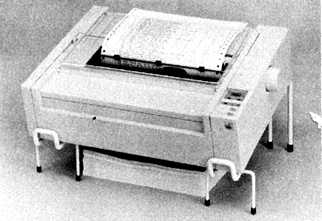 TAC5 JOYSTICK,
PRINT N STACK
(peripherals)
Suncom Inc.
260 Holbrook Drive
Wheeling, IL 60090
(312) 459-8000
The Tac5 ($16.99) joystick utilizes a sophisticated "MicroSwitch Array" technology, enhancing the Atari controller's level of responsiveness, user feedback and reliability. Suncom also offers three widths (12 to 18 inches) of Print N Stac, a paper tray and printer stand combination, at $18.99, $19.99 and $21.99. Paper is collected and folded neatly as it comes out of the printer.
CIRCLE 161 ON READER SERVICE CARD

MAIL ORDER MONSTERS
(entertainment software)
Electronic Arts
1820 Gateway Drive
San Mateo, CA 94404
(415) 571-7171
$14.95, 48K disk
Pit your ferocious garden fern with hypnoto-poison claws and laser-spitting wheels against a horrible mega-squid with deflector fangs and napalm nostrils in Mail Order Monsters. Merge 12 different body types, 20 body enhancements, 15 weapons and six defenses to create invincible "Morphs" for many evenings of entertaining mayhem. Three levels of play let you enter battle and win Psychons, the currency necessary to add photon phalanges to your electric acid-spewing amoeboids.
CIRCLE 163 ON READER SERVICE CARD

MIDWEST COMPUTER
CAMP
9392 Lafayette Road
Indianapolis, IN 46278
(317) 297-2700
$750-2 weeks
Housed on a lavish estate, Midwest Computer Camp is the largest full-time, year-round residential computer education camp in the country. Campers spend six hours daily on computer activities and there is a counselor for every four campers. Full camping activities are available and the sessions and open to boys and girls, ages 8 to 18.
CIRCLE 167 ON READER SERVICE CARD

INSYST!, VERSION 3.0
(business software)
SoSoft
2513 #E Sylvester Road
Albany, GA 31705
(912) 888-0821
$79.95, requires 130XE
This upgrade of InSyst! version 2.23 uses the extra memory of the 130XE to increase to over 4,000 items the business inventory maintained. This is an increase of about 250% over the previous version (which is also included on the double-sided disk). InSyst! 3.0 supports four disk drives and runs faster than version 2.23, since no overlays are used. Version 2.0 was reviewed in the November, 1986 Antic.
CIRCLE 165 ON REDDER SERVICE CARD
---
Return the favor. When you call a manufacturer or supplier about a product you've seen advertised or otherwise mentioned in ANTIC, please tell them so. This will help us to continue to bring you the latest information about products that will make your Atari computer an even more valuable investment in the future.
-ANTIC ED