new products
New Products are compiled by the Antic staff from information provided by the products' manufacturers. Antic welcomes such submissions, but assumes no responsibility for the accuracy of notices or the performances of the products listed.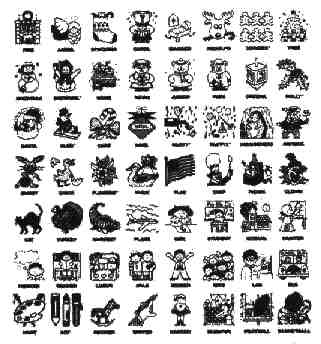 PRINT SHOP GRAPHICS LIBRARY
Broderbund Software
17 Paul Drive
San Rafael, CA 94903
(415) 479-1170
$24.95
48K disk, Print Shop program required
More graphic images for the Print Shop program. 120 designs, symbols and images, including speciality graphics for Christmas, Easter, Mother's Day and sports.

SIX GUN SHOOTOUT
Strategic Simulations, Inc.
883 Sterlin Road, Bldg. A-200
Mountain View, CA 94043
(415) 964-1353
$39.95, 48K disk
Another challenging game of strategy from the people who brought you war in Russia and Objective:Kursk. now you can simulate Old West man-to-man combat with Six Gun Shootout, featuring 10 scenarios and 18 weapon types ranging from tomahawks to shotguns.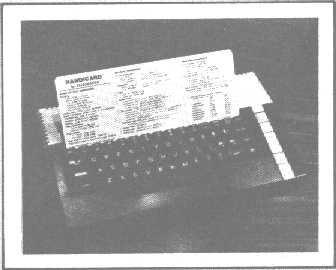 HANDICARDS
Handi Publishing, Inc.
P.O. Box 453
Ardsley, NY 10502
$8.95
Handicards are easy-to-use quick refernece guides now available for beginning BASIC and AtariWriter . Produced in sturdy yellow plastic, these guides list the most commonly used – and easily forgotten – commands.

kyan PASCAL
kyan Software
1850 Union Street, #183
San Francisco, CA 94123
(415) 775-2923
$69.95
64K double density disk
An advanced implementation of Pascal for the Atari, kyan Pascal was designed to meet the needs of both student and experienced programmers. According to the company, kyan Pascal features a full screen text-editor and built-in assembler.

PAGE DESIGNER
Xlent Software
P.O. Box 5228
Springfield, VA 22150
(703) 644-8881
$29.95
Powerful graphics printing utility mixes text and images on a page. Supports varied character sets. Co-written in machine language by Antic contributor Len Dorfman.

ALPHACOM PLUSWRITER
Alphacom, Inc.
2323 So. Bascom Avenue
Campbell, CA 95008
(408) 559-8000
A 20 cps daisywheel printer, Pluswriter is plug-compatible with Atari computers. It is said to feature superscript, subscript, boldfacing, incremental spacing and underlining. Ribbons and printwheels are standard Diablo or Qume styles.
---
MORE ARRIVALS
HOMEBASE
Kidstuff Software, P.O. Box 11528, Fort Wayne, IN 46859, (219) 456-1401, $24.95, 48K disk. Easy-to-use home database.
MATH MAGIC
Texas Software, 10165 Calder, Beaumont, TX 77706, (409) 866-9765, $29.95, 48K disk, Educational mathematics game.
CODE QUEST
Sunburst Communications, Inc., 39 Washington Avenue, Pleasantville, NY 10570, (800) 431-1934, $55, 48K disk, Educational decoding and problem solving.
ATARI TRIVIA DATA BASE
Howard W. Sams & Co., Inc., 4300 W. 62nd Street, Indianpolis, IN 46268, (517) 298-5400, $19.95 (book and disk) $8.95 (book), Teaches fundamentals of database management. Also includes trivia game.
EASY MODEM
ANSCO, 1243 W. 134 Street, Gardena, CA 90247, (213) 532-7780, $299, Hayes compatibIe 1200/300 baud modem.
POPCOM X150
Prentice Corporation, 266 Caspian drive, P.O. Box 3544, Sunnydale, CA 94088, (408) 734-9810, $499, Bell 212 and Hayes compatible 1200/300 baud modem.
---
Return the favor. When you call a manufacturer or supplier about a product you've seen advertised or otherwise mentioned in ANTIC, please tell them so. This will help us to continue to bring you the latest information about products that will make your Atari computer an even more valuable investment in the future. – ANTIC ED