eight new synapse games
Synapse merges with Broderbund
by JACK POWELL,
Antic
Technical Editor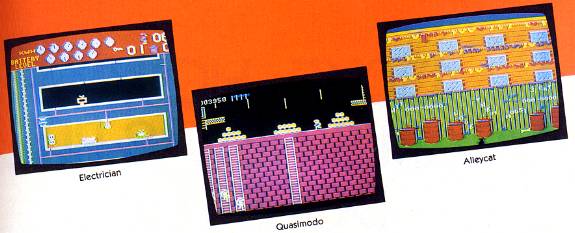 Eight Synapse action games for Atari have just been released-six of them in 2-for-1 packages priced at $24.95 - marking the completed merger of Synapse Software and Broderbund Software.
Contracts for the purchase of Synapse by Broderbund were actually signed in October, 1984. But details of the agreement between two of the top independent producers of Atari software only now have become available.
Some months before the purchase, Synapse came into financial difficulties. They had an exclusive distribution agreement with Atari for the business application series SynFile+, SynCalc and SynTrend. After Jack Tramiel bought Atari, he took the position that the contract was not binding on the new owners. Synapse stopped getting payments and filed a lawsuit.
The owners of Synapse and Broderbund had been close friends since the early days of home computers. A merger between the two Northern California companies seemed natural. The possibility had been discussed even before the SynApplications disaster.
Some changes at Synapse were immediate. Jon Loveless, formerly vice president of marketing, became acting president, and Brian Lee was named director of product development. Synapse president Ihor Wolosenko became-and remains- creative consultant for the two companies.
PHASED MERGER
For six months, Synapse continued to operate as a separate entity while agreements were worked out on how to shape the merging companies.
Starting in January 1985, Broderbund took over all Synapse operations except for research and development of new products, which remains at the original Synapse facility in Richmond, California..
Jon Loveless turned down a position as director of sales at Broderbund and became president of a venture capital firm. Brian Lee-a familiar face at Atari users group meetings in the San Francisco Bay Area-became director of the Synapse Division of Broderbund.
Broderbund says it is determined to retain the distinctive personality of the Synapse product line. It knows that Synapse is strong where Broderbund is weak and vice-versa. All Synapse products will retain the Synapse name and continue to be developed by Synapse programmers.
Customer service will continue with no interruption, according to both Synapse and Broderbund. The phone number on current Synapse packages remains valid. In fact, the only immediate noticeable change will be the addition of the Synapse line to the Broderbund catalog.
STRONGER NOW
What does all this mean for the future? Well, Antic is optimistic about the possibilities.
Broderbund has always developed Apple products first, porting its programs over to the Atari later. Synapse is one of the best of the independent Atari software producers. Each company produces polished, highly distinctive software and it should be fascinating to watch how they influence one another.
For example, Synapse has spent many months developing a sophisticated parser for adventure games, which will be seen in the upcoming "Electronic Novels" series. (See "Coming Adventures", Antic November 1984.) Now Broderbund will also be using this tool to produce all-text adventure games.
A more immediate boon is the eight new Synapse games for Atari which have just been released.
Six of the eight are being released as "Double Plays"-which means you get two games for only $24.95. And these are not inferior games!
Only one of the Double Play games, Rainbow Walker is not brand new. (It was reviewed in the September 1984 Antic.) Two new games are being released as singles- Blue Max 2001 (a lot of gamesters have been waiting for this one!) is $29.95 and Alley Cat is $19.95.
THE GAMES
Rainbow Walker is bundled with Countdown. Rainbow follows the colorful plight of Cedric as he jumps and leaves a rainbow puddle. Try to create a rainbow of colors as noxious critters undo your work.
Countdown lets you penetrate enemy missile silos and prevent the launch of a warhead aimed at your country's capital.
The noble successor to Blue Max is Blue Max 2001, which takes you into the future in a typical strafe-and-bomb aerial arcade game. Look for good graphics and a good challenge.
New York City is bundled with Electrician. Stuck in the Big Apple, you must successfully drive and walk between Central Park, City Hall, the Main Post Office and so on. Simply moving around is a challenge, and each station also contains an additional arcade puzzle
Success in Electrician comes when you connect the wiring to each room in a building. This gives you a key to another building, located one maze away. You'll have to contend with spiders, bats, rats, alligators and other stock nasties.
The third double pack is Quasimodo and Air Support. Quasimodo puts you in the enviable role of the notorious hunchback as he defends his belfry from archers and bats.
Air Support gives you control of a helicopter in either an arcade or strategy game. You can set levels of troop strength, difficulty and so on.
Finally, there's Freddy the Alley Cat. In case you haven't lived in an alley before, there are dead fish to be collected in garbage cans, open windows to jump through, mad dogs and bad people to avoid. All this so Freddy can get to his sweetheart, Felicia.