Buyer's Guide
By ANITA MALNIG,
Antic
Contributing Editor
With NAT FRIEDLAND, JACK POWELL, MICHAEL CIRAOLO & CHARLES JACKSON of the
Antic
Staff
Here are over 125 best products-of all types-available for Atari computers during the 1984 Holiday Season.
In certain wide categories, such as printers, modems and video monitors, so many makes and models are compatible with the Atari that were unable to conduct first-hand testing of every product on the market. Therefore, Antic's picks in these categories are the best of the products with which we have direct experience.
Hardware
ATARI 800XL
If you're thinking of buying an Atari computer-or if somebody just gave you one- Antic has this message for you. Don't worry, you're getting the best eight-bit 64K computer on the market!
That's right...the best. And here's why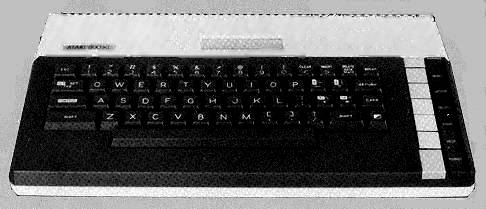 All Atari models are based on the 6502 microprocessor, the same chip used in the Apple II series and the Commodore 64, In fact, the 64K Atari 800XL has virtually the same amount of memory as either of these other two machines.
But in addition to the 6502, the Atari also has three specialized microprocessor chips-more than either Apple or Commodore-which deliver better all-around performance. These microchips and their specialties are: ANTIC for graphics, GTIA for video display, POKEY for sound and keyboard control.
The Atari does things with ease that other computers still can't handle. For example, Atari's fine scrolling graphics are unmatchable by the Apple II, Atari has 14 different graphics modes, far more display styles than the Commodore.
This list of Atari's outstanding capabilities goes on and on ... Atari sound can reproduce four-voice musical compositions. Atari has one of the best screen editing system around. All Atari models are upward-compatible-virtually all software for the earliest 400 model will work on every model through today's 800XL.
If you'd like independent testimonials...the Atari is the favorite personal computer of many (maybe even most) superstar programmers. Some names include Bill Budge, creator of Pinball Construction Set; Anne Westfall, Archon I & II; Steve Gibson, Apple & Atari Light Pens.
The blunt truth is that because of the computer marketing ineptitude of the Atari company's former owners, a superb series of machines never got the wide respect they deserved. But it's hard to imagine that Atari will continue to be the "Rodney Dangerfield" of personal computers after the 1984 holiday buying season. Not when Atari Corp. is now being run by the toughest and most successful executive in the history of computer mass merchandising, Jack Tramiel,
Tramiel may never win Mr. Nice Guy awards with his oft-quoted "business is war" approach, but he built Commodore into the dominant force in inexpensive personal computers and has out to knock his old company out of the #1 spot with Atari.
Note: There seems no danger of the 800XL line being discontinued as long as eight-bit 16K technology is still marketable. But the less popular 600XL, with only 16K memory, is not going to remain in production. So with the discount prices at which Atari products will be available this season (see Introduction to Buyer's Guide) we can't honestly recommend anything else but the 800XL.
Even the October, 1984 Consumer Reports called the Atari their "preferred system."
Approximately $160. Atari Corp., 1265 Borregas Avenue, Sunnyvale, CA 94086. (408) 745-2000, (1984 price not known at press time,)

ATARI PRICES
According to all information we received from insider sources ... Atari prices are going to be lower than ever, spectacularly low. Don't be surprised to find the 800XL computer on sale for under $160, and many top Atari software titles available for $10 to $20. We have little doubt that Atari products will be the best buys in the personal Computer market through 1985. During Labor Day weekend sales we found the 800XL advertised for as low as $149.

Disk Drives
ATARI 1050
Our August Disk Drive survey called this the "no frills" drive because it is designed to simply read and write disks, with no digital readouts, no printer ports, no onboard bells and whistles. But it is a proven reliable performer that does its job well, supports single and enhanced density and is immediately compatible with all Atari software.
Atari Corp., 1265 Borregas Avenue, Sunnyvale, CA 94086. (408) 745-2000. (1984 price not known at press time.)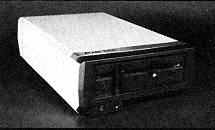 INDUS GT
This highly reliable disk drive has a sleek high-tech look. The accompanying software package includes DOS XL, the GT Word Processor, and a spreadsheet program. The front panel offers a digital display and 4 buttons to give access to information about drive status. It supports single, enhanced and double density and comes in a compact carrying case
$499.99. Indus Systems, 9304 Deering Avenue, Chatsworth, CA 91311. (800)334-6387, in California (800)544-6387.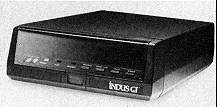 Printers
TRANSTAR 120
This daisy-wheel printer by Vivitar turns out excellent letter quality type at 14 characters per second. But because of its Diablo code configuration, Letter Perfect is the only Atari word processor it's compatible with (unless you re-program it in BASIC). Still it's a very good value, rugged, full-featured, quiet and so small it's almost portable. Parallel interface and friction feeding are standard, tractor optional.
$378. Winslow Sales, 2120 116th N.E.,Bellevue, WA 98005. (800) 821-6349.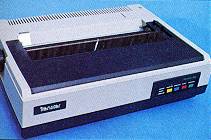 HEWLETT-PACKARD THINKJET
Ink jet technology is new to low-cost printers. Built with H-P dependability, the Thinkjet is whisper-quite, fast (150 characters per second), and small enough to fit in a briefcase. It's Atari compatible and well documented, but the printing doesn't look that different from what a good dot-matrix would produce. It also requires special ink cartridges and even special paper.
$495. Hewlett-Packard Co., 1501 Page Mill Road, Palo Alto, CA 94304. (415)857-1501
GEMINI 10X DOT MATRIX PRINTER
The Gemini 10X, one of the lowest priced dot matrix printers on the market, has no shortage of features. It offers both friction and adjustable-width tractor feed and a print speed of 120 characters per second, It has seven international character sets plus custom set download capability with control codes almost completely compatible with the Epson FX-80.
$299 average. Star Micronics, #3 Oldfield, Irvine, CA 92714. (714) 768-4340. Requires Atari 850 or parallel interface device.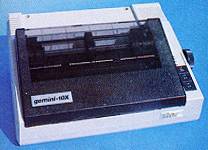 Interfaces
MPP 1150 PRINTER INTERFACE
Microbits Peripheral Products has established a good reputation for reliability with their Atari peripherals. If you don't have the rare and elusive Atari-built 850 interface, and you own a parallel printer such as an Epson or Gemini, you will need the 1150. It plugs directly from your printer to the peripheral daisy chain and includes a peripheral outlet so that it does not have to be the last item on the chain.
$99.95. Microbits Peripheral Products, 225 W. 3rd Street, Albany, OR 97321, (503) 967-9075. Works with all Atari computers.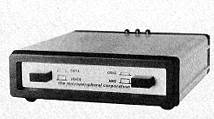 Buffers
QUADRAM MICROFAZER
The Quadram Microfazer may sound like a kitchen appliance for Darth Vader, but it is actually a printer buffer which will eliminate those frustrating pauses as you wait for that twenty-five page masterpiece to printout. The microfazer comes in various memory sizes. Three are listed below. When choosing, figure on 2K per printed page.
$179/8K, $299/64K, $1,395/512K. Quadram Corporation, 4355 International Blvd., Norcross, GA 30093,(404) 923-6666.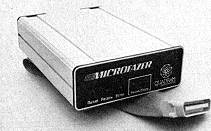 INTERFAST-1
The Interfast-1 is a programmable printer interface with 4K RAM for use as A printer buffer or as storage for custom character sets. A software utilities disk is included which allows for downloading character sets into the Interfast-1 and using those character sets with your word-processing program (or other software) and graphics printer. It provides a Centronics parallel interface. Used as a buffer, it stores about two text pages.
$129.95. Advance Interface Devices, P.O. Box 2188, Melbourne, FL 32901. (305) 242-2772.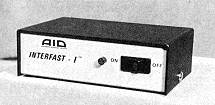 Memory Expansion
ATR8000
This is the only machine bringing CP/M and MS-DOS compatibility to the Atari. With the ATR8000, you can run software for the IBM and dozens of other PCs on your Atari.
$599.95,64K ATR8000 with CP/M. $400, add-on MS-DOS board. SWP Microcomputer Products, 2500 E. Randol Mill Road, Suite 125, Arlington, TX 76011. (817) 469-1181.
MICRORAM 64K MEMORY EXPANSION BOARD
Quadruple your 600XL's memory capacity with a 64K memory expansion board and kiss those ERROR 2's goodbye! With 64K at your fingertips, you can add a disk drive to your computer, play more games and run longer programs. The board, about the size of a paperback book, simply plugs into the back of your 600XL.
$149.95. Microbits Peripheral Products, 225 W. Third Street, Albany OR 97321. (503) 967-9075.
TINY TEK 48K MEMORY BOARD
While this has been around for some time, it's good to know about it if you have an Atari 400. With 48K of memory you can use a lot more software. The 48K board must be soldered to your Mother Board and Tiny Tek recommends that a technician do this.
$89.95, Tiny Tek, Route 1, Box 795, Quinlan, TX 75474. (214) 447-3025.
AXLON 128K RAMDISK
This is a hardware board that's easily installed in your Atari 800 computer without soldering. Just plug the board into slot 3, run the included software, and you've got 128K accessible as disk drive number 4. You can do anything with this simulated drive that you'd do with a standard one, except the Ramdisk is even faster (but naturally it won't save your files when the computer is shut off).
$299. Axlon, 1287 Lawrence Station Road, Sunnyvale, CA 94089. (408) 747-1900. Requires Atari 800, DOS 2.0 and one disk drive.
Monitors
SEARS PROFORMANCE TV/MONITOR
Antic wanted to review a video display that readers could he pretty sure of finding anywhere in the U.S. This Sears 13-inch set will adequately do anything you'd expect from either a TV or a monitor, so it's a good deal at $349.99. We particularly like the green screen setting for our word processing work. Unfortunately, our test unit had a distracting color ghost which Sears didn't get around to helping us fix before press time. So if you buy one, don't throw away the packing box till you check out the set with your Atari.
$349.99 Sears Department Stores and Business Systems Centers.
AMDEK 300A
This amber monochrome monitor makes for easy reading, especially when one is doing a lot of word processing or database entry. We use this here at Antic with a model 800 computer and our busiest letter-quality printer. It does the job well.
$199. Amdek, 2201 Lively Blvd., Elk Grove Village, IL 60007. (312) 364-1180.
NEC 1215
This color monitor offers clear, crisp hues with equally good sound. You can adjust the brightness, color, tint, volume and sharpness. At Antic it's a favorite for game-playing. (Note: Color monitors don't support 80 column screens well, a possible handicap for word processing.)
$399. NEC Home Electronics, 1401 Estes Avenue, Elk Grove Village, IL 60007. (312) 228-5900.
Modems
RM1000 RADIO MODEM
This unique modem translates radioteletype and Morse Code messages to English on your Atari. It connects a ham radio and a computer. You'll need the RM400 software/cabling package ($59, disk). Included are high-grade noise filters, excellent documentation and superb design.
$239. Macrotronics, Inc. 1125 N. Golden State Blvd., Suite G, Turlock, CA 95380 (209) 667-2888.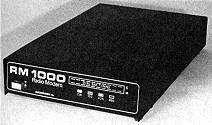 VOLKSMODEM
This 300-baud, direct-connect modem with its lifetime guarantee is an excellent deal. The simple, no-frills Volksmodem draws power from the phone line. You'll need a "C" cable ($12.95 from Anchor) to connect to the 850 interface, or the "F" cable ($39.95 from Anchor) to connect to joystick port 2.
$79.95. Anchor Automation, 6913 Valjean Avenue, Van Nuys, CA 91406.(808) 997-6493.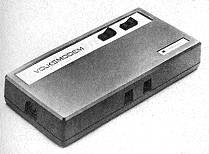 SMARTMODEM 1200
An industry standard, Hays offers solid construction, direct connection, automatically adjusted baud rate, an internal speaker, auto-answering and the best documentation around. You can use it with radioteletype, as a data line monitor, as a local network. Or you can configure internal DIP switches to suit any of your needs.
$699. Hayes Microcomputer Products, 5835 Peachtree Corners East, Norcross, GA 30092. (404) 449-8791.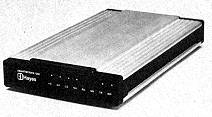 MPP-1000C
Unlike other direct-connect modems, the 300 baud MMP-1000C plugs into a joystick port, requiring no 850 interface. It comes with a Smart Terminal cartridge, which allows uploading, downloading, auto-dialing, auto-answering and x-modem protocol. Well documented, this is a good buy. Works with Atari's Plato cartridge too.
$149.95. Microbits Peripheral Products, 255 W. Third Street, Albany, OR 97321. (503) 967-9075.
SIGNALMAN MK XII
An excellent "smart modem," the Mark XII is a direct-connect, multiple-baud modem with auto-dial, auto-answer, status lights and good documentation. A Hayes competitor, the Mark XII's output is an RS-232 ribbon. You'll need an RS-232-to-DB9 cable (about $22) and a female/female gender changer ($25) to connect to the 850 interface.
$399. Anchor Automation, 6913 Valjean Avenue, Van Nuys, CA 94106. (818) 997-4593.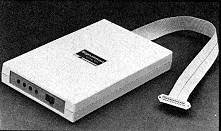 Joysticks
STARFIGHTER
This, sturdy, easy-handling joystick has a square base and a short, wide stick with a rounded top. You definitely hear a "click" when contact is made. It's a joystick that gets a lot of use by the Antic Staff.
$10.95. Suncom, Inc., 260 Holbrook Drive, Wheeling, IL 60090. (312) 459-8000.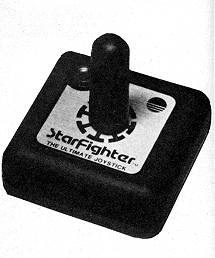 COMMAND CONTROL THREE-WAY JOYSTICK
This joystick lets you switch handles to fit the game you're playing. You can press a button on top of any of the three handles or on the base of the joystick. According to Antic Pix Controllers (Dec., 1983) "they know how to build a stick to last,"
$32.95. Wico, 6400 W. Gross Point Road, Niles, IL 60648. (312) 647-7500.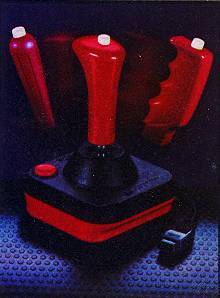 Miscellaneous
S.A.M.- THE SOFTWARE AUTOMATIC MOUTH
S.A.M. is a voice synthesizer on a disk that sounds just about as good as the much more expensive "blackbox" voicemakers. S.A.M. is fun, flexible, and easy to use. You can add speech to your own BASIC and machine language programs. S.A.M. has a good manual. It uses only 9K memory and works with all Atari computers.
$59.95. Tronix, 8295 S, LaCienega Blvd., Inglewood, CA 90301. (213) 215-0529.
3M FORMED PANEL FILM FILTER
Anyone who sits in front of a monitor or TV display for more than an hour a day could use a glare screen to ease eye strain and improve contrast on your screen. This filter works better and costs half of other models we've seen. Its only drawback: you must remove the shell around the monitor's tube to install it.
$45.33 for non-standard size works for most monitors; price varies depending on size of monitor. Industrial Optics, 3M, 223-4W, 3M Center, St. Paul, MN 55144. (312) 496-6500.
SCREENSHOOTER
Screenshooter is a cone that comes with a Polaroid One-Step camera and a special mount bracket (which will also accommodate most 35mm cameras). Simply press the cone against the monitor screen, snap the shutter and within seconds you have a Polaroid print of your favorite Micro Illustrator picture or anything else you choose.
$169. NPC Photo Division, 1238 Chestnut Street, Newton Upper Falls, MA 02164, (617) 969-3487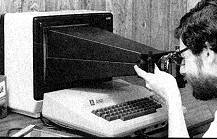 Software Utilities
MAC/65 ASSEMBLER EDITOR
This is it. No contest. If you want an assembler editor, MAC/65 is the one to buy, and if you don't believe us, pick up Antic October, 1983 and read what David and Sandy Small have to say in "Nightmare Mission." MAC/65 is compatible with the Atari Assembler Editor as long as you limit yourself to what the Assembler Editor can do. MAC/65 is more powerful and much faster in compiling. It's available in both disk and cartridge. Both versions contain excellent debuggers.
$80, disk; $99, cartridge. Optimized Systems Software, 1221-b Kentwood Avenue, San Jose, CA (408) 446-3099. Disk requires 48K, cartridge 16K.
ULTRA DISASSEMBLER
Ultra Disassembler is primarily aimed at the advanced programmer who is proficient in assembly language. As its name implies, it will disassemble binary object code into source code. Ultra Disassembler is considered by many to be the best of its kind. It can disassemble from disk files as well as from memory and it can also disassemble from disk sectors. The resulting source code will contain the Atari OS labels. Keep in mind, however, that no disassembler can recreate the original source code. Ultra Disassembler cannot accurately decode text strings or data tables and it will take some expert knowledge of assembly language to fully decipher the listings.
$49.95. Adventure International, P.O. Box 3435, Longwood, FL 32750. (305) 862-6917. Requires disk and 32K (48K recommended).
ACTION!
Action! is the amazingly fast language in the orange cartridge, a happy marriage of Pascal and C. Action! was designed specifically for the Atari. The language contains a screen editor that's superior to many word processors and makes programming a joy. Action! may be the most exciting thing to happen to the Atari since the GTIA chip.
$99. Optimized Systems Software, 1221B Kentwood Avenue, San Jose, CA 95129.(408) 446-3099. Cartridge, can be Used with disk or cassette.
MMG BASIC COMPILER
Converts your BASIC programs into binary machine language files that will run up to 15 times faster than the original. Unlike other compilers, MMG will also produce assembly source code which you can alter and analyze. You can choose between integer and floating point arithmetic and can put your data statements anywhere. It's available in both double and single density.
$99.95. MMG Micro Software, P.O. Box 131, Marlboro, NJ 07746. (201) 431-3472. Requires 48K, disk and BASIC.
LISTER PLUS
PICTURE PLUS
These two utilities (sold separately) can stretch your dot-matrix printer to its limits. Lister Plus, among many other things, will permit you to dump any listed file (including programs) to the printer using any custom character set you choose. Picture Plus will let you manipulate various types of picture files (including Micro Painter and Micro Illustrator). You can then save in a standard file that can be used with a BASIC program, or dump them to the printer in any of four sizes.
$19.95, Lister Plus. $29.95, Picture Plus. Non-Standard Magic, P.O. Box 45, Girard, OH 44420. (216) 539-6033. 48K-disk, requires BASIC.
Word Processing
BANK STREET WRITER
Especially created for home use, Bank Street Writer lets beginners simply sit down and write. While you do have to switch between write and edit modes, prompts are always available and editing functions are easy to grasp. Especially recommended for students and those whose writing needs are on a small scale. For them, this program could be the best.
$69.99. Broderbund Software, 17 Paul Drive, San Rafael, CA 94903. (415) 479-1170. 48K-disk.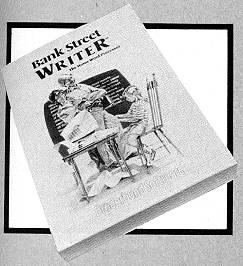 LETTER PERFECT, V.6
SPELL PERFECT, V.1
Moving from edit to print and other modes, as well as moving throughout your document is a breeze with Letter Perfect. You can chain files, but not move text from one file to another. This software runs easily with a variety of printers and will support an 80-column board on the Atari 800. It includes a spelling checker of approximately 30,000 words, which does a good job quickly. But if you want a larger dictionary, to which you can either add or delete words, you will want Spell Perfect. Antic uses Letter Perfect ... constantly!
$99.95, Letter Perfect; $79.95, Spell Perfect. LJK Enterprises, Inc., 7852 Big Bend Blvd., St. Louis, MO 63119. (314) 962-1855. Each requires 32K-disk.
WRITER'S TOOL
Here's a full-power word processing system that uses either disk or memory-saving cartridge. It has the usual features such as overstrike, insert, search and replace (which seemed to call for too many key presses). Some very nice extras include cursor movement with the arrow keys alone, an automatic switch between upper and lower case, a mail merge function. Documentation is good and has a helpful index.
$129.95. OSS, 1221-B Kentwood Avenue, San Jose, CA 95129. (408) 446-3099. 48K-disk or cartridge.
ATARIWRITER
This easy word processing system allows you up to 14 double-spaced pages of text in one file. You write in insert mode only. Setting margins is easy. It's menu-driven, has a full-page print preview, and losing your text is difficult.
Atari Corp., 1265 Borregas Avenue, Sunnyvale, CA 94086. (408) 745-2000. 16K-cartridge. (1984 price not known at press time.)
LETTER WIZZARD
SPELL WIZARD
Formerly Text Wizard, Letter Wizard offers a full range of word-processing capabilities. It's menu-driven and a status line at the bottom of the screen lets you know what's happening at all times. The program is compatible with a variety of printers and offers nice features such as letting you easily begin and end printing on specific pages. The associated dictionary program, Spell Wizard, is compatible with all Atari DOS files which is a great convenience.
$74.95 each. Datasoft, 19808 Nordhoff Place, Chatsworth, CA 91311. (800) 423-5916; in California (818) 701-5161. 32K-disk.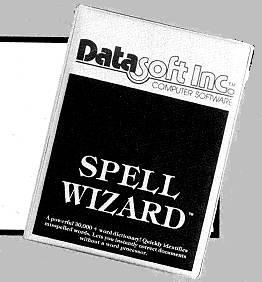 Business
DATA PERFECT
This powerful database comes from the same company that makes the Letter Perfect word processor-so it's no surprise that the two programs are compatible. While not as easy to learn as SynFile+, Data Perfect has better report writing and global change capability. Works best with two disk drives.
$129.95. LJK Enterprises, Inc., 7852 Big Bend Blvd., St.Louis, MO 63119. (314) 962-1855. 32K-disk.
SYNFILE+
SYNCALC
SYNTREND
SYNSTOCK
This series of compatible 48K disks is the most complete business applications package currently available for the Atari.
SynFile + ($79.95) is a powerful database system that's easy to use. But it has limited report generating ability. Like the rest of the series, it can transfer files to AtariWriter.
SynCalc ($79.95) is the best Atari spreadsheet on the market. It can share files with VisiCalc and other members of the Syn Series. Like SynFile +, it uses popup menus and simple commands.
SynTrend ($79.95) includes SynStat for statistical analysis and SynGraph for making business charts easily.
SynStock ($59.95) displays charts of your stock market holdings for technical analysis, prints out the data and even acts as software for downloading stock quotes from CompuServe.
Synapse Software, 5221 Central Avenue, Richmond, CA 94804. (415) 527-7751.

Financial
HOME ACCOUNTANT
TAX ADVANTAGE
These popular packages have been around a while on many different computers. Menu-driven Home Accountant ($74.95) tracks five checkbooks, makes balance sheets and forecasts, displays graphs. It can even print checks, a highly useful feature for professionals and small businesses that don't need a full accounting system. Compatible with Tax Advantage($69.95), which does year-round tax planning and then prints out your Form 1040 line by line-make sure you have the 1984 edition.
Continental Software, 11223 South Hindry Avenue, Los Angeles, CA 90045. (800) 421-3930; in California (213) 4103977. 48K-disk.

COMPLETE PERSONAL ACCOUNTANT
This 3-disk program seems useful for someone operating a small business or who is fascinated with keeping highly accurate, detailed home records. You'll find a chart of accounts, multiple checkbook balancing, budget analysis, figuring your net worth and more. As with most financial programs, be prepared to put some time into entering the data.
$79.95. Futurehouse, Inc., 310 W. Franklin Street, Chapel Hill, NC 27514. (919) 967-0861. 48K-disk.
Typing Tutors
TYPO ATTACK
Here's the program that lets you practice your typing while playing an action-packed game. Invading creatures fall towards your bases; hit the right key and save the base.
Atari Corp., 1265 Borregas Avenue, Sunnyvale, CA 94086. (408) 745-2000. 32K-disk. (1984 price not known at press time,)
WIZTYPE
More than typing practice, WizType teaches you proper finger positioning on the keys and lets You work up to the amusing typing game. With an editor you can create your own typing lessons, which is a real plus. The "Wizard of Id" comic strip characters are entertaining.
$34.95. Sierra-on-Line, P.O. BOX 485, Coarsegold, CA 93614. (209) 683-6858.
Self Improvement
RELAX
The first bio-feedback unit for the Atari to reach the market has a headband with three sensors that measure your stress level by monitoring the muscle tension in your forehead. Included software displays your relaxation scale, lets you control kaleidoscope patterns and float a balloon image. People who see Relax in action are usually fascinated by it.
$139.95. Synapse Software, 5221 Central Avenue, Richmond, CA 94804.(415) 5277751. 16K-disk.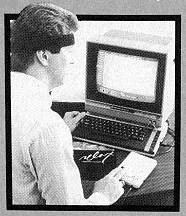 SPEEDREAD+
MEMOREASE+
Increase your reading speed with this excellent and well-documented program. Speedread + ($64.95) improves eye movement, character and word recognition, and peripheral vision. MemorEase+ ($79.95) seeks to increase memory retention by adding the Atari's graphic abilities to rote memorization practice.
Inet Corporation, 536 Weddell Drive, Sunnyvale, CA 94086. (415) 797-9600. 16K-disk.
Touch Tablets
KOALA PAD
Physically similar to Atari Touch Tablet, except KoalaPad is small enough for an adult to hold comfortably in one hand while drawing with the other. Also uses easy Micro Illustrator software like the Atari Touch Tablet.
$125. Koala Technologies Corp., 3100 Patrick Henry Drive, Santa Clara, CA 95050. (408) 986-8866. 32K-cartridge, 48K-disk.
ATARI TOUCH TABLET
The stylus has a built-in button controller and won't get lost because it's attached by cable to the sturdy tablet. The tablet couldn't be easier to handle. Cartridge runs the powerful, easy-to-use Micro Illustrator software (under AtariArtist brand name).
$89.95 (1983 list price). Atari Corp., 1265 Borregas Avenue, Sunnyvale, CA 94086. (408) 745-2000. 32K-cartridge. (1984 price not known at press time.)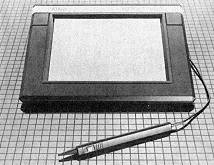 Graphics
PAINT
One of the best joystick paint programs. You can choose among literally hundreds of color and pattern "pots." Zoom feature. Uses Graphics 7, a medium-resolution 4-color mode- Excellent 147-page manual.
$39.95 (1983 list price), Atari Corp., 1265 Borregas Avenue, Sunnyvale, CA 94086, (408) 745-2000. 48K-disk. (1984 price not known at press time.)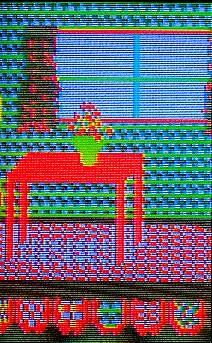 GRAPHIC MASTER
Specializes in creating, manipulating and editing images for graphic layouts. Draw with joystick or select from menu of shapes. It zooms, rotates images in windows, and is the only graphics software with built-in printer dump.
$34.95, Datasoft, 19808 Nordhoff Place, Chatsworth, CA 91311. (800) 423-5916; in California (818) 701-5161. 48K-disk.
MICROPAINTER
This widely-used originator of joystick drawing software established the graphics file storage standard for Atari. Uses Graphics 7-1/2 high-resolution four-color mode. Easy drawing and pattern fill.
$34.95. Datasoft, 19808 Nordhoff Place, Chatsworth, CA 91311. (800) 423-5916; in California (818) 701-5161. 48K-disk.
MOVIEMAKER
Create "movies" up to 300 frames long with this computerized animation studio. Add music, sound and title screens. It's menu-driven through four phases of combining shapes on-screen,
$60. Reston Software, 11480 Sun Hills Road, Reston, VA 22090. (800) 336-0338. 48K-disk.
FUN WITH ART
Use all 128 Atari colors in a single picture by easily manipulating video "scan lines." Load two pictures and transfer parts between them. Move- around parts of a picture. Uses Graphics 7-1/2.
$39.95. Epyx, 1043 Kiel Court, Sunnyvale, CA 94086. (408) 745-0700. 32Kcartridge.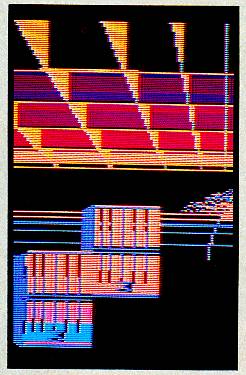 TECH-SKETCH LIGHT PEN
The package includes Micro illustrator software for powerful drawing and pattern filling flexilibity, The sturdy light pen has a control switch mounted on the barrel, making control even easier. Paint directly on your video screen.
$59.95. Tech Sketch, inc., 26 Just Road,, Fairfield, NJ 07006. (800) 526-5214. 48K-disk.
On-Line Services
Contact individual companies for latest information on membership fee and hourly rates. You'll need a modem to hook up.
COMPUSERVE
Probably the leading on-line information service, CompuServe offers stock quotes, news, weather, games, "Citizens Band" real-time bulletin board, shopping, and special interest groups on dozens of topics-including a highly active Atari SIG with hundreds of downloadable programs.
5000 Arlington Center, Box 20212, Columbus, OH 43220. (614) 457-8600, (800) 848-8199.
PLATO
The last word in on-line education, Plato offers over 2,000 hours of structured lessons, as well as games, electronic mail, graphics database and discussion files. You'll need the Learning Phone cartridge from Atari.
Contral Data Publishing Co., P.O. Box 261127, San Diego, CA 92126. (800) 233-3784; in California (800) 233-3785.

DIALOG Knowledge Index
This is the most complete collection of on-line Commercial databases-specialties are technology, business, news and microcomputers. Fairly complex and expensive, mostly for professionals.
3460 Hillview Avenue, Palo Alto, CA 94304. (800) 227-1927, in California, (415) 858-3785.
Games
GAMEBRANDS YOU CAN TRUST
In order to fit the greatest number of deserving game products into this 1984 Buyers Guide, we're going to single out some of the most popular entertainment software by entire product line. If you like the types of games described below, you probably cannot go wrong when you choose any title from these publishers ...
More often than not, you'll need 48K memory and a disk drive to use these games. Prices will probably fall between $30 and $60.
INFOCOM - Text Adventures
This is the consistently best-selling line of all-text adventure games, There should be close to 15 Atari titles available by Christmas. Themes range from detective mysteries (The Witness, Deadline) to science- fiction (Planetfall, Starcross, Suspended) and "Indiana Jones" settings (Infidel).
Antic staff favorites tend to be the pure fantasy worlds, which seem to lend themselves best to playing imaginatively with interactive fiction (the classic Zork trilogy, Enchanter, Sorcerer). There's even a new category of easier but still challenging adventures for younger or less experienced players (Seastalker).
Infocom, Inc., 55 Wheeler Street, Cambridge, MA 02138. (617) 492-1031.
ULTIMA-
Graphics Role-Playing
Ultima I, II and III by Lord British brought a new combination of map scrolling graphics and adventure puzzle solving to the computerized fantasy roleplaying Dungeons & Dragons game. Each episode of Ultima has been brought out by a different publisher, but now Lord British has his own company.
Origin Systems, Inc., P.O. Box 99,1545 lsgood Street, #7, North Andover, MA 08125. (617) 681-0609.
STRATEGIC SIMULATIONS INC.,
AVALON HILL GAME COMPANY
- Strategy War Games
If you ever played military simulation board games, taking the role of Napoleon or the Pacific Fleet Commander, the games probably came from one of these two publishers. SSI and Avalon Hill both also have large catalogs of computerized strategy games that simulate major battles from every historic age and on into the realm of science fiction (Epidemic).
These companies are starting to diversify into other kinds of games a bit. For example, SSI has a good scrolling fantasy game, Questron, that's somewhat easier than the Ultima series.
Strategic Simulations Inc., 883 Stierlin Road, Bldg. A-200. Mountain View, CA 94043. (415) 946-1200.
Avalon Hill Game Company, 4517 Harford Road, Baltimore, MD 21214.
MASK OF THE SUN
This is a graphics/text adventure set in Central America. You are Mac Steele searching for the mask, while frantically trying to stay alive. Like all great interactive adventures, there are hidden doors, suspicious people, treasure and puzzles.
$39.95. Broderbund, 17 Paul Drive, San Rafael, CA 94903. (415) 479-1170. 48K-disk.
SEVEN CITIES OF GOLD
You're a conquistador exploring the New World in one of the best role-playing simulations ever. You try to find your way across a 120-foot map of unknown territory by looking through a movable 3-1/2 inch window. You can encounter over 200 native villages and Inca or Mayan cities. Will you try to trade peacefully or plunder their gold by force?
$40. Electronic Arts, 2755 Campus Drive, San Mateo, CA 94403. (415) 571-7171. 48K-disk.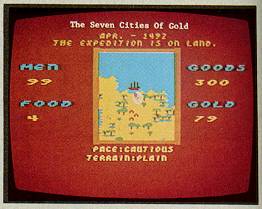 TEMPLE OF APSHAI
Enter the temple and you're in a classic Atari game. Start by consulting with the Innkeeper and equipping yourself. Then enter the dungeon in search of treasures, monsters, and adventure. The screen shows a top-down view of the dungeon, with status and options displayed on the side.
$40. Epyx, 1043 Kiel Court, Sunnyvale, CA 94089. (408) 745-0700. 32K-disk.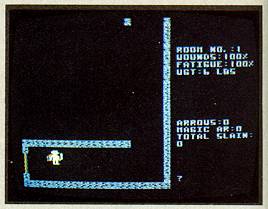 DRAGONRIDERS OF PERN
Based on Anne McCaffrey's book of the same name, this game offers a negotiation/strategy section and a dragon flight/fight sequence. Look for good graphics, music, story and staying power.
$39.95. Epyx, 1043 Kiel Court, Sunnyvale, CA 94089. (408) 745-0700. 48K-disk,
KEN USTON'S PUZZLE PANIC
A new combination of puzzle solving and arcade action. Solve 11 puzzles in the correct order while being chased by monsters, and you get an even bigger challenge, the "Metasequence" braintwister.
$34.95. Epyx Inc., 1043 Kiel Court, Sunnyvale, CA 94089. (408) 745-0700. 32K disk or cassette.
EASTERN FRONT 1941
This is the classic military simulation game based on the German invasion of Russia during World War II. You play the role of the German commander, viewing a map of Europe. Move the cursor to view and control blocks of troops.
Atari Corp., 1265 Borregas Avenue, Sunnyvale, CA 94086. (408) 745-2000. 32K-disk. (1984 price not known at press time.)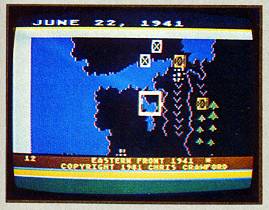 MILLIONAIRE TYCOON
Enter the fast-paced worlds of the stock market and commodities exchanges-safely! Playing these investment simulations gives you the feel of what it's really like to be a big-time speculator. So hopefully you'll know how to buy winners if you enter the markets for real.
$39.95 each. HesWare, 150 North Hill Drive, Brisbane, CA 94005. (800 HESWARE; in California (415) 468-4111. 48K-disk.
KEN UST0N'S PROFESSIONAL BLACKJACK
Want to win the casino's money every time you sit down at a blackjack table? With about 2O hours of practice at this program you should be good enough at point counting to tilt the odds in your favor. The practice disk and manual are very clear and practical.
$69.95. Screenplay, Box 3558, Chapel Hill, NC 27514@ (919) 493-8596.48K-disk.
ROME AND THE BARBARIANS
More than a stock military strategy game, Rome requires you to concentrate on economics and other historically accurate issues that led to Rome's collapse. This captivating game includes excellent documentation and decent graphics.
$34.95. KRENtek Software, P.O. Box 3379, Kansas City, KS 66103. (913) 362-9267. 32K-disk or cassette,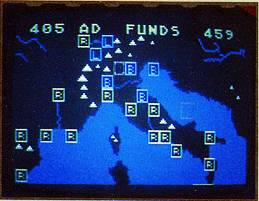 LODE RUNNER
Here is the "popcorn" of computer games: 150 screens to fight through and totally addictive. As you work your way to the higher levels, you begin to notice the bricks and ladders assuming strange shapes, such as the Broderbund logo and various programmers' initials. Strategy and variety are key elements and the crowning touch is that you can design your own screens. A classic.
$34.95. Broderbund Software, 17 Paul Drive, San Rafael, CA 94903. (415) 4791170. 48K-disk,
ONE ON ONE
New and innovative, One on One lets you assume the habits of basketball stars Julius Irving and Larry Bird. Let the computer put you on the court, and look for a longer review in this month's Antic.
$40. Electronic Arts, 2755 Campus Drive, San Mateo, CA 94403. (415) 571-7171, 48K-disk.
BOULDER DASH
Watch for falling rocks! Or-boulders, to be precise. Maneuver your character through underground mines in a quest for diamonds. An exciting game to challenge reflexes-terrific graphics.
$29.95. First Star Software, 22 E. 41 Street, New York, NY 10017, (212) 532-4666. 32K-disk. (or $39.95, 16K-cartridge.)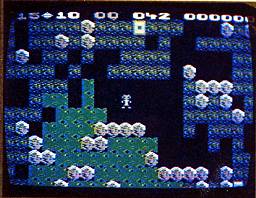 MONTEZUMA'S REVENGE
This is the best new game we've seen in months. Nothing startling different, but very well done, Montezuma's Revenge is another "caverns and ladders" game. You wander an underground labyrinth as Panama Joe, looking like a pudgy, lost tourist in the Mexican burial crypts. Along the way are snakes and spiders and bouncing skulls. Needless to say, You must avoid these things. There are, also treasures and swords and laser beams. We're not Sure how the laser beams got in there.
Approximately $30. Parker Brothers, 50 Dunham Rd., Beverly, MA 01915. (617) 927-7600. 48K-disk.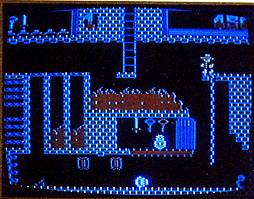 PIT STOP
An auto racing game, Pit Stop features driving reminiscent of Pole Position, and pit stop sequences requiring some strategy in loading gas and changing tires while the clock runs out. There are multiple skill levels and race courses.
$40. Epyx, 1043 Kiel Court, Sunnyvale, CA 94089. (408) 745-0700. 48K-cartridge.
STAR RAIDERS
Zoom through a highly realistic 3-D starfield while you defend your starbases against the marauding Zylons. Action is fast and visuals are great on all four playlevels of this all-time classic game.
Atari Corp., 1265 Borregas Avenue, Sunnyvale, CA 94086. (408) 745-2000. 16K-cartridge. (1984 price not known at press time.)

BRUCE LEE
Move Pharaohs' Curse to the Orient, add a few features, and you have Bruce Lee. Instead of shooting at the Pharaoh, you chop at the Green Yamo. The graphics are stylish Chinese red screens and oriental lanterns. If only the title screen didn't take so long!
$34.95. Datasoft, Inc., 19808 Nordhoff Place, Chatsworth, CA 91311. (800) 423-5916, in California (800) 701-5161. 48K-disk or cassette.
Flight Simulation
FLIGHT SIMULATOR II
Undoubtedly the most complex flight simulator program for the Atari. You must pilot a fully equipped single-engine Cherokee Archer over New York, Chicago, Los Angeles or Seattle. You control your plane with the joystick and about two dozen keys. The Flight Simulator II package contains two disks, several aeronautical charts, a double-sided "quick-reference" card, a 92-page text about aerodynamics. and a 90-page Pilot's handbook and flight manual. The simulator will probably best be enjoyed by pilots, student pilots and others familiar with aviation.
$49.95. SubLogic Corp., 713 Edgebrook Drive, Champagne, IL 61820. (217) 351-0837. 38K-disk,
SPACE SHUTTLE:
A JOURNEY INTO SPACE
Climb into your space suit, switch on your flight computer, and enter the adventure that bridges the gap between fantasy and reality. Pilot the Space Shuttle. NASA uses this software in its astronaut training program. Your mission: Fly the shuttle from the launch pad to an orbit 210 miles above the earth, rendezvous with a satellite, reenter the earth's atmosphere and land on a desert-based runway while battling a crosswind.
$34.95. Activision, Inc., 2350 Bayshore Frontage Road, Mountain View, CA 94043. (415) 960-0410. 16K-cartridge.
SOLO FLIGHT
Solo Flight, a real-time flight simulator game. Take off in clear skies and navigate through stormy weather as you race against the clock to deliver the mail. Your plane features retractable landing gear, realistic flight instruments, and can groundloop, slip, stall and crash!
$34.95. MicroProse Software, 10616 Beaver Dam Road, Hunt Valley, MD 21030. (301) 667-1151. 48K-disk or cassette.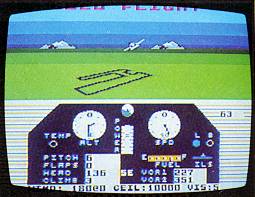 Game Construction
ARCADE MACHINE
One of the first and most comprehensive design-it-yourself programs. Arcade Machine lets you create your own arcade game. You can animate anything from monsters to missiles, design their flight paths and choose the Sounds they make when they blow up. The background creator alone is a nice graphics utility. A solidly programmed package.
$59.95. Broderbund Software, 17 Paul Drive, San Rafael, CA 94903. (415) 479-1170. 48K-disk.
ADVENTURE CREATOR
Build a graphics maze adventure game, then play the game yourself. Design a dungeon complete with trapdoors, shifting walls and creatures to guard treasures,
$39.95, Spinnaker Software, 1 Kendall Square, Cambridge, MA 02139. 16K-cartridge.
PINBALL CONSTRUCTION SET
Programmer Bill Budge's software classic fosters creative thinking as you move icons around to design the pinball machine of your dreams-and then play on it.
$40. Electronic Arts, 2755 Campus Drive, San Mateo, CA 94403, (415) 571-7171. 48K-disk.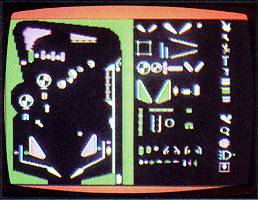 Education
STICKYBEAR NUMBERS
Amusing pictures of geese, penguins, trains and more teach children the basics of counting. The program comes with a book, poster and stickers. Bright, bold pictures.
$39.95. Xerox/Weekly Reader, 245 Long Hill Road, Middletown, CT 064571. (203) 347-7251. Ages 3 to 6. 48K-disk.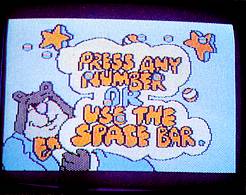 SPELLDIVER
In this spelling game, your deep sea diver must remove moss from letters and guess the hidden word. The program includes an editor so you can Add your own words, which is a useful feature,
$29.95. Scholastic, 730 Broadway, New York, NY 10003. (212) 505-3000. Ages 7 and up. 48K-disk.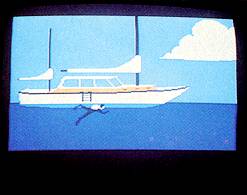 THE POND
A charming program that teaches logic to young children as they decide which series of jumps will move a frog across a series of lily pads to the final "magic" lily. Nice visuals.
$39. Sunburst Communications, 39 Washington Avenue, Pleasantville, NY 10570. (800) 431-1934. Ages 7 to adult, 32K-disk.
TROLLS TALE & DRAGON'S KEEP
Two similar but equally enjoyable graphic/text adventure games for children aged 7 and up. In Troll's Tale you must find 16 stolen treasures; in Dragon's Keep you free 16 animals. In both you must avoid the troll and dragon. By deciding which routes to follow, you deduce where the hidden animals and objects are.
$29.95 each. Sierra-on-Line, P.O. Box 485, Coarsegold, CA 93614. (209) 683-6858. 48K-disk.
TONK IN THE LAND OF BUDDY-BOTS
Young children must match delightfully colorful robots, decide which one is different and make their own from the Minibot factory Several unnamed members of the Antic staff enjoy this one a lot!
$39.95. Mindscape Software, 3444 Dundee Road, Northbrook, IL 60062. (312) 480-7667, Ages 4 to 8. 48K-disk.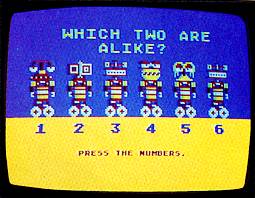 Music
MUSIC CONSTRUCTION SET
A very creative tool for someone learning an instrument. Use an on-screen pointing finger to choose notes, set tempo and move sections of music around. Sample music files demonstrate what can be done.
$40. Electronic Arts, 2755 Campus Drive, San Mateo, CA 94403. (415) 571-7171, 48K-disk.
BANK STREET MUSIC WRITER
This new program lets the user explore and compose music. Four voices can be programmed to play at once and simple editing modes let the user save and print the music.
$49.95. Mindscape, 3444 Dundee Road, Northbrook, IL 60062. (312) 480-7667. 48K-disk.
Books
MAPPING THE ATARI
By Ian Chadwick
YOUR ATARI COMPUTER
By Lon Poole
Don't expect to be called a programmer until your desktop has well-worn copies of these priceless guides. Your Atari Computer is packed with useful information about all aspects of the Atari and is easy to read.
Mapping The Atari is a comprehensive guide to the memory locations of the 400 and 800 computers. The purpose and significance of each location is described in detail. Program listings are often included to show you how to use these locations. The book is indexed by subject and by the location label.
Mapping the Atari, 14.95. 194 pages. Compute! Books, P.O. Box 5406, Greensboro, NC 27403. (800) 334-0868; in NC, call (919) 275-9809.
Your Atari Computer, $17.95. 458 pages. Osborne McGraw-Hill, 630 Bancroft Way, Berkeley, CA 94710.(415) 548-2805.
COMPUTER ANIMATION PRIMER
By David Fox and Mitchell Waite
If you're looking for a comprehensive guide to computer animation, get the Computer Animation Primer. The text covers all phases of computer animation, from PLOT statements to vertical and horizontal scrolling. It also contains an outstanding chapter on Player/Missile Graphics. If you enjoy computer graphics and animation, you need this book. Disk is available too,
$22.95. 501 pages. McGraw-Hill, 1221 Avenue of the Americas, New York, NY 10020. (212) 997-1221.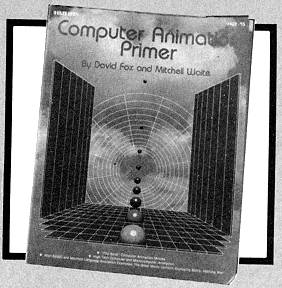 ATARI ROOTS: A Guide To Atari Assembly Language
By Mark Andrews
Simply the best-written and easiest-to-understand book for getting started in programming the fast and powerful machine language. Check out Antic's second excerpt from the book right here in this issue.
$14.95. 288 pages. Datamost, 19808 Nordhoff Street, Chatsworth, CA 9131 1. (818) 423-5916; in California (808) 701-5161.
ATARI BASIC
Faster And Better
By Carl Evans
This text will show you how to improve your BASIC programs with machine-language subroutines. The book contains listings and descriptions of more than 80 subroutines, including routines which can make your program unlistable, analyze your program's variables, generate AUTORUN.SYS files and create scrolling screen displays. You don't need to know any machine language to use this book; Evans translated each assembly listing into DATA statements to use in your BASIC programs.
$15.95. 300 pages. IJG, Inc. Order from Antic Publishing, Inc., 524 Second Street, San Francisco, CA 94107. (415) 957-0886.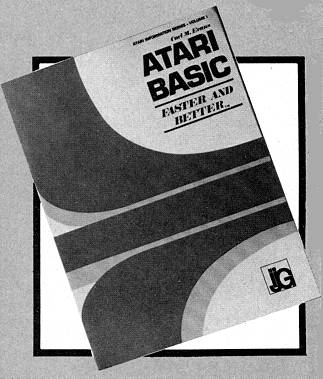 THE BEST OF ANTIC, VOL. I
Here's a collection of the most sought-after articles and programs from the first six issues of Antic. Subjects range from education to music to system guides, PLUS bonus games.
$12.95. 248 pages. Antic Publishing, inc., 524 Second Street, San Francisco, CA 94107. (415) 957-0886.

SHAPES AND SOUNDS FOR THE ATARI
By Herb Moore
This package, containing a book and two program disks, is for people who want to experiment with the Atari's sound and graphics capabilities. Some knowledge of BASIC is helpful, but not essential; the book is written for beginners. You will learn how to combine designs and sound effects ,such as falling boxes and blinking diamonds, bird calls, sirens and explosions. Any of these effects may be included in your BASIC programs.
$45. 122 pages. Wiley & Son Inc., 60 Third Avenue, New York, NY 10158.(212) 850-6500. 32K-disk.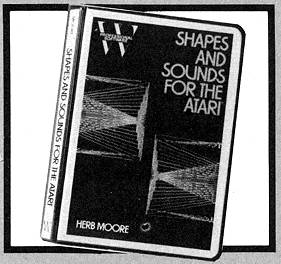 While the following books are not devoted to Atari programs and how-to information, anybody interested in Atari microcomputers would probably enjoy them a lot.
ZAP: The Rise And Fall Of Atari
By Scott Cohen
Short but detailed chronicle of how Nolan Bushnell invented Pong, founded Atari and sold the company to Warner Communications-who managed to run the video-game cartridge boom into the ground in just two years. It's packed with human interest and humor, although the author obviously knows nothing about computers and could care less. He has no comprehension of why Atari should be credited for the unique things it did right in the computer business: superb engineering, toll-free hotline, excellent service network and detailed professional documentation.
$14.95. 177 pages. McGraw-Hill Book Co., 1221 Avenue of the Americas, New York, NY 10020. (212) 997-1221.
FIRE IN THE VALLEY. The Making Of The Personal Computer
By Paul Freiberger And Michael Swaine
Deservedly a best-seller, this jaunty, exciting book brings alive the amazing triumph of a ragtag mob of computer hobbyists who made an end-run around the mainframe manufacturing establishment and created the microcomputer in a series of garage start-up companies.
$9.95, 288 pages. Osborne/McGrawHilli 2600 Tenth Street, Berkeley, CA 94710. (415) 548-2805.
HOW TO GET FREE SOFTWARE
By Albert Glossbrenner
The sections on free (and low-cost) Atari software contain more solid information than the entire book "Free Software For Your Atari." The book's thorough roundup of program sources-low-price mail order companies, users groups, bulletin boards and telecommunications services -becomes in effect a history of the entire public domain software movement. Incidentally, Antic is the only budget commercial supplier of PD software the author lists for the Atari.
$14.95. 436 pages. St. Martin's Press, 175 Fifth Avenue, New York, NY 10010. (212) 674-5151.