new products
GP-700AT FULL-COLOR PRINTER
(printer)
Axiom
1014 Griswold Ave.
San Fernando, CA 91340
(213) 365-9521
$599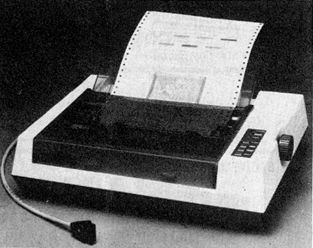 This Atari-Compatible printer plugs into the computer's serial port without the 850 interface. It can print up to 50 characters per second, using a four-hammer print head and a cassette ribbon inked in black, magenta, cyan and yellow. Color mixes without smearing. The GP-700AT also prints alpha-numerics, symbols and all types of graphic elements.

TAXAN 305 TELEVISION TUNER
(television tuner)
Taxan Corp.
18005 Courtney Court
City of Industry, CA 91748
(818) 810-1291
$129.95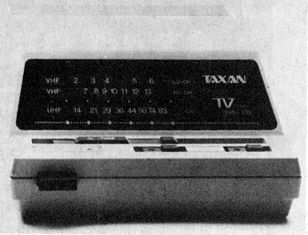 The model 305 tuner turns any brand of composite monitor with audio into a color television of higher quality than most regular television sets.
COUNTDOWN TEST SIMULATOR
(educational software)
Tyson Educational Systems, Inc.
PO. Box 2478
Miami, FL 33055
(305) 431-4268
For the Atari 800/1200/800XL, $49.95
Designed for children in grades K-12, Countdown allows teachers to write and edit banks of questions which are then used to test students with the computer. The game program keeps track of student and class results, and recycles frequently missed questions for improved learning,
PORTFOLIO MANAGEMENT SYSTEM
(personal business software)
Basic Byte, Inc,
PO. Box 924
Southfield, MI 48037
(313) 540-0655
48K - disk - $39.95
The system is to include three volumes -Stock Management, Options Management, and Graphics Analysis-of which only the first is currently available. The Stock program calculates long and short term capital gains and losses, dividends, and price per share after broker commission on a portfolio of up to 100 individual stocks. Future volumes will provide similar portfolio support for the speculative options trader and graphics tracking ability for stock market trends and individual stock performance.

CORDLESS JOYSTICKS and STREAMLINE DISK DRIVE
(hardware accessories)
Percom Data Corp.
11220 Pagemill Road
Dallas, TX 75243
(214) 340-7081
joysticks and receiver - $49.95
Streamline Atari disk drive - $419
Percom's remote joysticks use digital infrared transmission between a special receiver (plugged into the Atari) and the joysticks. The sticks are omnidirectional in an average-size room and require no antennae.
The new double density disk drive features an internal controller, three slave drives, front indicator lights and a front-mounted power switch. Total capacity (formatted) is 176K bytes.
OKIMATE 10
(printer)
Okidata
532 fellowship Road
Mt. Laurel, NJ 08054
(609) 235-2600
$239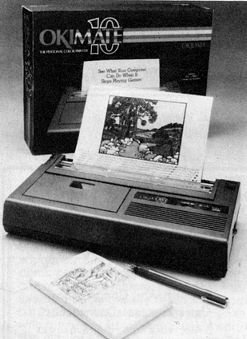 This seven pound printer produces full-color text and graphics at a rate of 60 characters per second. The ink and print head both come in easy, mess-free snap-in cartridges. The printer comes with a disk and cassette software package entitled "Learn to Print" and "Color Screen Print."