new products
BRUCE LEE
(game)
Datasoft, Inc.
19808 Nordhoff Place
Chatsworth, CA 91311
(818) 701-5161
48K-diskette/tape (game package)
$34.95
If you've ever wondered what it would be like to have the fast fists and reflexes of Bruce Lee, this action/strategy game will give you a good idea. As Bruce Lee, you must use all of your combative and strategic powers to get inside the forboding fortress of the Evil Wizard and capture his hidden treasure. Danger faces you at all turns.
C-221M and C-221S
(disk drives)
Concorde Peripheril Systems
23152 Verdugo Drive
Laguna Hills, CA 92653
(714) 859-2850
C-221M - $369.00
C-221S - $269.00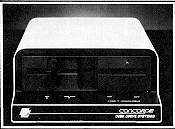 Concorde Peripheral Systems is introducing a totally new concept for Atari compatible drives-a master disk drive unit and up to three slave drives. The Atari disk-operating system-single and double density-is included with every Concorde drive unit, at no extra cost. The series uses sleek metal cases, simplified, easy-to-use controls and LEDs on the front panel to indicate essential data. The C-221M and C-221S are smaller than other models, giving the user more available workspace. A unique one-year warranty includes a simple over-the-counter exchange program. If the unit malfunctions, the user returns the drive to his dealer, shows him his receipt and gets a new drive at no charge.
PACK IT/CHAIN IT
(utilities)
Superware
2028 Kingshouse Road
Silver Spring, MD 20904
(301) 236-4459
Pack It: 32K-diskette-$19.95
Chain It: 32K-diskette-$19.95
Pack It lets you store an 8,000-byte picture in only 2,000 bytes. It can take any large data file and reduce its size. Its two machine-language programs let you pack any file down into a smaller file and then enter a subroutine into a BASIC program that will load and unpack it. Chain It lets you write large programs in BASIC and pass data from program to program. You can break big programs into smaller segments and transfer string and variable array data from one to the other in RAM, rather than with a disk file.
RELAX
(application)
Synapse Software\
5221 Central Ave.
Richmond, CA 94804
(415) 527-7751
16K-diskette and cassette
$139.95
Relax, a stress reduction system designed for use with your Atari, uses biosensory technology to help you monitor and reduce stress. This hardware/,software package represents muscle tension graphically on your monitor; a sensor head band is used to measure muscle tension. A workbook helps you understand your reactions to stress and suggests ways to change them, and an audio tape guides you into deep relaxation.

DISKETTE HEAD CLEANING KIT
(cleaning package)
Nortronics Company, Inc.
8101 Tenth Ave. North
Minneapolis, MN 55427
(612) 540-8674
$39.95
Program Diskette alone - $29.95
Diskette Head Cleaning Kit takes the guesswork out of maintaining disk drive heads. When you boot up the unique software-the Program Diskette-step-by-step instructions appear, instructing you how to clean your disk drive and how to prepare a separate cleaning disk. Other items in the kit include two cleaning diskettes, a reusable diskette jacket, head cleaning spray and instructions. The Program Diskette is also available separately, and can be used with any diskette head cleaning kit.
MODEL PDS-11/SUP
(surge protector)
Electronic Specialists, Inc.
171 So. Main St.
Natick, MA 01760
(617) 655-1532
$81.95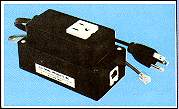 Intended to suppress damaging telephone and power-line spikes caused by lightning, spherics or office-phone switch gear, the KLEEN SECURITY system uses modern semi-conductor, Metal Oxide Varistor and Gas Discharge Tube suppression techniques. Models are available for standard 4-pin and 8-pin telephone modular connectors'. Pictured is Model PDS-11/SUP which has suppression on red and green phone lines (pins 3 and 4), with yellow and black lines brought straight through, A 6500 Amp suppressor protects the AC power line. Standard modular 4-pin telephone connectors provide simple, trouble-free hook-tip.
F CABLE
(cable connector)
Anchor Automation, Inc.
6913 Valjean Ave.
Van Nuys, CA 91406
(818) 997-6493
$39.95
Anchor Automation, the makers of Volksmodem, now make it possible for you to direct-connect their modem to any Atari computer, without using an Atari Model 850 Interface Unit. The new F-Cable package contains an adapter cable, one software tape cassette, one six-foot telephone cable and all the electronics needed.
HOW TO OPERATE THE ATARI 600XL AND 800XL HOME COMPUTER
(educational program)
Fliptrack Learning Systems
999 Main, Suite 200
Glen Ellyn, IL 60137
(800) 222-FLIP
$19.95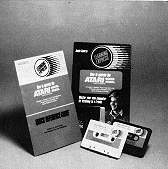 With this audio-cassette tutorial, users listen to the tape, follow the instructions and get immediate results. One spoken-voice audio cassette and one data cassette teach start-up procedures (including those for the Atari 1010 recorder). Additional instruction introduces the keyboard, BASIC programming skills and the Atari's color, sound, graphics and mathematical capabilities. A flip of the tape, at various stages of the lesson, allows the learner to pursue optional special-interest topics or get extra practice. The self-paced instructional aid operates on any standard cassette player, and requires no computer hookup.
QUANTERM
(terminal software and modem)
Quantum Microsystems, Inc.
P.O. Box 179
Liverpool, NY 13088
(315) 451-7747
modem with disk software - $169.00
modem with ROM cartridge - $199.00
This complete telecommunication system for all Atari: computers contains a direct-connect, auto-dial, auto-answer modem and full-featured terminal software. The modem connects to the Atari serial bus and does not need an interface module or power connection, The easy-to-use software includes many interactive functions: auto-dial phone directory, up-load and down-load editor, file transfer protocols for Xmodem and CompuServe, macro commands from keyboard or file, auto-answer message system, and more. The modem also works with most existing software intended for use with the Atari 850 interface,
VISUALIZER
(graphics package)
Maximus, Inc.
6723 Whittier Ave.
McLean, VA 22101
(800) 368-2152
In VA - (703) 734-4200
48K - diskette - $49.95
Audio option - $39.95
The multi-talented Visualizer is not only a low-cost method of originating color-animated graphics and text-it can also turn your Atari computer into a full-featured slide projector. With the audio option and an Atari 410 or 1010 recorder, pre-recorded narration or an audio tape can be synchronized with a graphics presentation. In addition, electronic black and white hard copy can be produced with any Atari-compatible printer.
MICRO ILLUSTRATOR
(graphics program)
Tech Sketch Inc.
c/o Ampower Technologies, Inc.
26 Just Road
Fairfield, NJ 07006
(800) 526-2514 48K - diskette
with LP-10 Light Pen - $69.95
without Light Pen - $39.95
Micro Illustrator transforms any color television into a canvas and a palette, while the LP-10 or LP-15 Light Pen acts as a video paint brush. Three available menus offer the artist a myriad of colors, shapes, modes and patterns from which to choose.
MICRORAM 64K MEMORY BOARD
(RAM expansion)
Microbits Peripheral Products
225 W Third St.
Albany, OR 97321
(503) 967-9075
$149.95
The first 64K expansion board for the 600XL, Microram allows you to run any 800XL software. It gives your 600XL memory to run word processing programs, spreadsheets and database programs. All you do is plug the board into the parallel bus connection on the back of the computer.
STICKYBEAR BOP and STICKYBEAR BASKETBOUNCE
(games)
Weekly Reader Family Software
245 Long Hill Road
Middletown, CT 06457
(203) 347-7251
48K - diskette - $39.95 each
Said to feature excellent graphics, these two games of skill and strategy star a full-color, animated bruin named Stickybear, who fosters the enjoyment of microcomputing in children while challenging the gaming abilities of adults. Stickybear Bop is a shooting gallery that calls for the player to knock down bears, planets, ducks and balloons as they whiz by. In Stickybear Basketbounce, the player must be quick to catch falling stars, bricks and donuts without getting clunked on the head.