ANTIC 1985 PRINTER GUIDE
Choosing the best printer for you!
by MICHAEL CIRAOLO Antic Associate Editor
No one ever said choosing the right printer would be easy, even if it is the first peripheral you add to your computer and disk-or-cassette storage device.
Dozens of printers on the market can be, hooked up to your Atari. You've got several different printing technologies to choose from. So what's the best printer for you? As usual, what's "best" really depends on what you need.
Instead of bringing you short reviews of every Atari-compatible printer we could find, Antic thought it would be more useful to go into more detail about the printers that seem to be most widely used with the Atari and its word processing software. We also selected enough other good printers to give you a choice at different prices. All printers reviewed were fully tested by Antic -ANTIC ED.
WHAT YOU NEED TO KNOW
PRINT QUALITY
There are currently two standard printer formats, dot-matrix and letter quality, representing several technologies.
Dot-matrix printers use pins or wires as tiny hammers to strike an inked ribbon against paper and form each letter out of a pattern (matrix) of dots.
The quality of dot-matrix printer lettering varies widely. Early dot matrix letters typically looked like a bunch of dots with lots of space in between, the stereotype "funny computer printing."
By now, most dot-matrix printing is "correspondence quafity," -individual dots are closer together or touching. Text is very readable, even if it still looks different from typewriter letters.
Dot matrix printers have three advantages. They're fast, they usually cost less than letter quality machines and they're the only type of printer versatile enough to print graphics or highly customized characters.
On the other hand, letter quality printers have one significant advantage-their printing looks exactly like it came from an office typewriter.
Most leading letter quality printers use a daisy wheel, a flat disk with over 100 spokes. Each spoke contains a character, which is hammered against a ribbon to create a one-piece image on the paper.
If you want different lettering fonts, you can simply change daisy wheels. Depending on which dot-matrix printer you select, you may well be able to program new fonts with readymade software. Because daisywheels must be changed while the printer is stopped, only dot-matrix printers allow you to change fonts within a line of text.
Some features can be found in both types of printers, but are not necessarily in every printer. These include proportional spacing, subscript and superscript, variable pitch (the number of characters per inch).
You also get a choice of paper feed methods. Friction feed is the familiar typewriter method, the paper is held by rollers pressed tightly against the platen. Tractor feed allows you to use the fan-fold computer paper with holes at the sides, and adjustable tractor feed lets you print labels.
CABLES AND INTERFACES
In this world without universally accepted computer standards, it's not easy to escape compatibility hassles.
This can get especially aggravating when you're setting up a printer. Because here you have an extra consideration-the special cables that connect your Atari and the printer of your choice.
Computers are connected to printers by cables. Many first-time printer buyers are shocked to find that these cables usually cost extra-$30, $40, $50 ... Not only that, it's often necessary to hunt around for the right cables because they're not manufactured by either the printer or the computer company.
All a cable really does is transfer electrical signals from the computer to the printer in patterns the printer can translate to letters, numbers, punctuation, spaces, carriage returns, etc.
Printer cable plugs come in standards called either RS-232C (serial), or Centronics (parallel). Or they may be in non-standard formats set by certain computer manufacturers ... including Atari.
Depending on what printer you choose for your Atari, you may need an interface. This can be the hard-to-find Atari 850, which will require a separate printer cable. Or you can get a combination of cable and interface, like the MPP Microprint. Most interface devices are designed for parallel printers, and plug right into your Atari's peripheral ports. Adjoining this story you'll find a list of these proven products.
One thing to watch for: if you have any peripherals with only one port (such as the Atari 410 cassette recorder) make sure the printer interface provides you with a second port for complete daisychaining.
SOFTWARE AND CODES
Printers are mostly used for listing programs, dumping screen graphics, or printing word processing documents.
If you are interested in listing programs, including the Atari special characters, or doing screen dumps, you'll need some of the readily available software for the Atari. See the Fontmaker or the Custom Print articles in this issue or, for more "bells and whistles", the accessory list with this story.
But if your main interest is word processing, the technical requirements become more complex.
A word processing program enters letters and command characters. These "invisible" commands stylize your document with underlining, boldface, centering, justification, and so on.
The command characters must be communicated to your printer by control codes. A good word processing program offers you some sort of step-by-step menu to permanently enter the control codes needed for your printer.
You find the correct control codes in your printer manual, usually listed in hexadecimal or ASCII format. Any printer listed in this issue's chart as having "good" or "excellent" documentation will provide detailed information on control codes.
The process of inputting a set of codes for your printer into your word processing software is called "configuring". The word processor is said to be configured for your printer when all codes are installed and the printed document looks like what you told the software to print. A configuration program that allows you to install all these codes is called a "printer driver."
PRINTER DRIVERS
You can save yourself possible agony by purchasing a printer using "standard" control codes. Although there is no official standard established, both Epson and Gemini codes have become standards because of these printers' popularity. When a printer is described as being "Gemini (or Epson) compatible," its control codes should be the same as those printers. If your printer is standard, you should be able to configure your system by simply selecting the make of your printer from a program menu.
We cover the compatibility of control codes for all printers reviewed in this issue.
Another factor that may be necessary for correct configuration is the proper setting of the "DIP" switches. These are banks of tiny switches, either inside or outside your printer, which control various functions such as line feeds or buffer allocation, depending upon the printer design. Again, a printer.that comes with good documentation will explain exactly what is required.
DOT-MATRIX PRINTERS
AXIOM GP-550AT
The Axiom GP-550AT ($319), made by Seikosha, offers instant connection, plugging directly into your Atari peripheral ports. It is less expensive than other dot-matrix rinters, yet offer's a variety of fonts and pitches. The GP-550AT can print text or high-resolution graphics. It also underlines, prints subscript and superscript. Both friction and adjustable tractor feed are provided.
The GP-550AT is also slow and noisy, but these are neglible shortcomings given the low price. More significant is that its print quality is not impressive.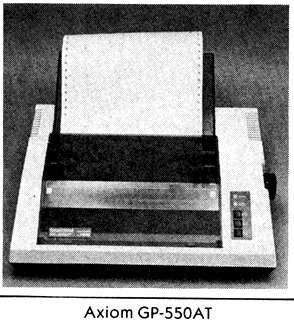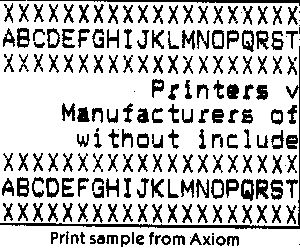 OKIDATA 92
Also known as the Okidata Microfine 92 ($440), this is a favorite of many Atari owners.
The Oki does all of the standard dot matrix tricks-superscript and subscript, expanded and boldface print, proportional spacing and correspondence quality printing, and so on.
It is slower than more expensive dot matrix printers, but also slightly quieter. However, it makes a high pitched sound which could be irritating to some.
The mean-time-between-failure, or reliability, is twice that of the Axiom.
But the print density for graphics is less than other printers. This is significant, because it determines the appearance of a graphics dump. The more dots per inch, the- better the picture's resolution and appearance.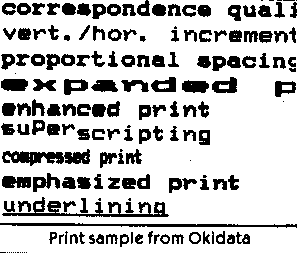 HEWLETT-PACKARD THINKJET
Ink jet technology is a recent addition to the printer scene. An ink-filled cartridge sprays ink onto special paper to form each character with the appearance of a good dot-matrix printer. The $7.95 cartridge replaces conventional ribbons and printheads.
The Hewlett-Packard Thinkjet ($495) was the smallest, fastest and quietest printer we reviewed. Epson-compatible, it is built HP tough. However, it does have a few drawbacks, including its need for a high-absorbency paper which is slightly more expensive than ordinary paper and must be ordered from HP.
If you print long files, say 30 pages, the ink cartridge gets clogged and needs to be wiped. Finally, all paper feed is accomplished only by membrane buttons, so manually adjusting the paper is difficult.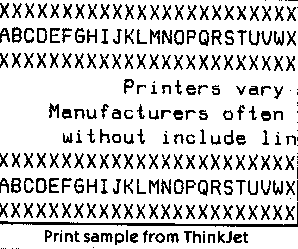 GEMINI 10X
The Gemini 10X ($549) is a favorite around the Antic office for its all-around versatility coupled with low cost and a work-horse disposition. It prints our labels, listings, memos, and articles.
The Gemini has all the features made standard by Epson-expanded, condensed and bold script, superscript and subscript, and so on. You can download character sets to the Gemini, and use it for graphics dumps.
Both the Gemini and the Epson are regarded as standards for the dot-matrix industry, but there are a few differences worth noting. The Gemini uses a standard two-spool typewriter ribbon-an easier-to-find ribbon could not be had. The Gemini comes with adjustable width tractor feed, perfect if you print variable size labels. It also comes with a roll-feed device, in case you want to use rolled European paper.
The Gemini is fully controllable from software. This includes both internal and external DIP switches, and also the out-of-paper sensor.
Although it is priced at $549, mail order houses (see Antic advertisers) frequently sell the Gemini for under $259.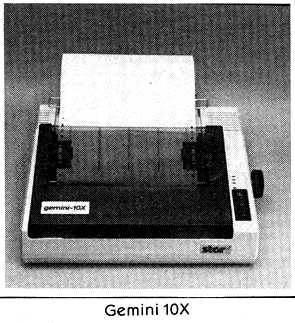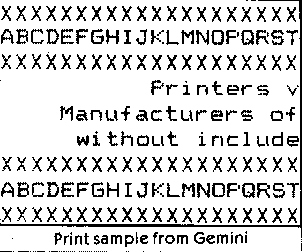 EPSON FX-80
The Epson FX-80 ($569) is a solid value and the choice of many Atari owners who want high quality dotmatrix printing. The FX-80 offers regular and italic fonts, regular or boldface printing, expanded and compressed print, and excellent graphics ability.
You can download custom fonts to the FX-80, and produce dot-matrix resolutions as high as 240 x 240 dots per square inch. The printer is fast. It also features an out-of-paper sensor that halts operation so you can replace the paper.
The clear competitor for the Epson is the previously discussed Gemini. What do you get for a $20 difference in suggested retail price? Primarily speed. The Antic bench test of the two printers indicated the Epson printed at 92 characters per second, including line feeds, to the Gemini's 72. The manufacturers claim 160 cps for the Epson to the Gemini's 120.
Finally, the Epson comes with the best documentation on the market. You will find technical data, a good index, well-described basics and challenges for advanced graphics programmers.
You can find the Epson for about $400 by checking mail order prices.
Incidentally, there are less expensive Epsons which we were not able to review here, but which carry the same reputation for quality as the FX-80. However, only the FX-80 has user-addressable RAM for character set dumps.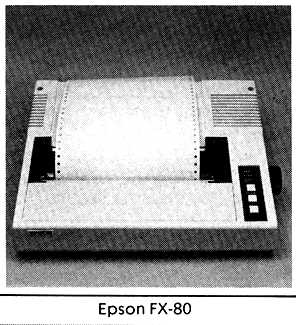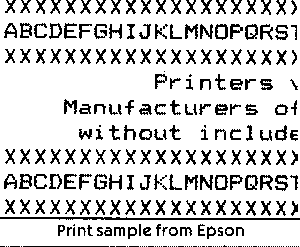 LETTER QUALITY PRINTERS
ATARI 1027
The Atari 1027 ($300) is to letter-quality daisywheel printers what an early Royal Standard is to an IBM, Selectric. The eccentric 1027 design uses five wheels on a spindle, each wheel containing characters. These spin over the paper, stopping to press against the ribbon and paper after receiving the proper codes.
The great advantage here is the cost-somewhere under $300, depending on the whim of your local retailer. (Atari officials, who asked not to be quoted by name, reluctantly said that their suggested retail price was $296.84.) The 1027 really is letter-quality and it really works. It also plugs directly into the Atari computer.
However, it takes nearly nine minutes to print a page of text-what a dot-matrix does in one minute. And it only accepts one piece of paper at a time. The construction of the 1027 does not seem convincingly firm, compared to more expensive printers. And it comes with the worst printer documentation we've ever seen.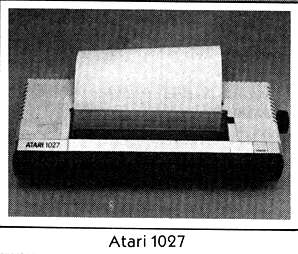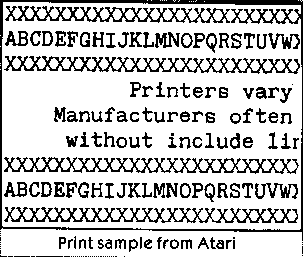 BROTHER HR-25
The wide-ranging Brother family includes excellent letter-quality printers.
We have included the Brother HR-25 ($ 699) as a reasonably-priced printer suitable for professional word processing. (You might also wish to consider its little brother, the HR-15. At $419, the HR-15 is slower and has less frills, but still offers excellent quality.)
The HR-25 can print in red and black with the proper ribbon. It is solidly built and has all the features required for a good letter-quality machine: proportional spacing, superscript and subscript, strikeout, underlining , paper-out detection, and so on.
The HR-25 also comes with a 3K buffer. This is not necessarily an advantage, as there is no way to turn off the buffer. For certain documents and printing jobs, it's handy to control the printing from the computer as you watch the output. But this is impossible with a buffer that's always on.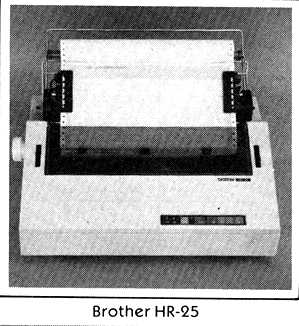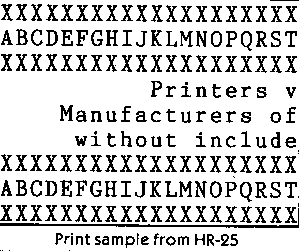 C. ITOH F10 STARWRITER
The Starwriter ($1795) is an impressive workhorse of a printer. Solidly built, it is noted for an overall lack of failures and service problems. Beyond having all the standard features of a top-notch printer, it is supported by a major manufacturer of printer/computer peripherals.
Although the list price is $1795, some stores sell this printer for $1295, and catalogs have listed the Starwriter for $949.
Ribbons and daisywheels for top Starwriter are common items used by many major printers-Qume and Sprint wheels and Diablo ribbons.
The Starwriter's one drawback is that its documentation is just barely adequate. The manual looks like unedited technical notes, with little help for the new user. There's plenty of information, but it's presented very badly.
PRINTER ACCESSORIES
The following is a list of leading printer accessory products designed especially for Atari computers. Here you'll find those essential cables and interfaces, memory buffers that free your computer during a long printout, and software for printing graphics dumps or the Atari special characters.
Microprint: Parallel printer interface, acts as replacement for 850. Plugging directly into serial bus, it works with full line of Atari computers and is compatible with NEC, Epson, Pro,writer, etc. $69.95.
MPP-1150: Basically an upgrade of the Microprint. Comes with serial and parallel plugs and 2K printer buffer. $89.95.
MicroStuffer: 64K printer buffer $149.95.
Microbits Peripheral Products. 225 Third Ave. SW Albany, OR 97321. (503) 967-9075.
Parallax-AT Printer Interface: Connects any parallel printer to an Atari. XL Compatible. Works with all parallel printers and software. 2 year warranty. $89.
Axiom Corp. 1014 Griswold Ave. San Fernando, CA 91304. (818) 365-9521.
U-Print: Low-cost printer interface. Works with all popular printers such as Epson, Gemini and NEC. Compatible with all Atari hardware & software. $89.95.
Printer Buffer: User-upgradable memory (16 to 64k) allows you to store up to 32 pages of text, freeing your Atari for more important tasks (like Lode Runner). Compatible with U-Print and all Atari computers. 16k-$119.95, 64k-$179.95.
Digital Devices. 430 10th St. Suite N205. Atlanta, GA 30318. (800) 554-4898 (Outside Georgia). (404) 872-4430 (Inside Georgia).
Printwiz: All-purpose graphics dump and program lister that works with all Atari-compatible printers and interfaces. Lets you list control and inverse characters, and dump screens created in BASIC, LOGO and graphics programs such as Micropainter and Paint. 16K-disk. $29.95.
Allen Macroware. PO. Box 2205. Redondo Beach, CA 90278. (213) 376-4105.
Lister Plus: This is the software Antic uses with a Gemini 10X printer for the program listings you see in the magazine. It dumps any listed file to printers, using any character set you choose. 48K-disk, requires BASIC. $19.95.
Picture Plus: Converts various types of picture files, including Micropainter and Micro illustrator, into a format that can be used wih your own BASIC program or dumped to a printer in four different sizes. 48K-disk, requires BASIC. $29.95.
Non-Standard Magic. PO. Box 45. Girard, OH 44420. (216) 539-6033.
Megafont II: Program lister and graphics dump. Allows you to list inverse and control characters, etc., from a BASIC program. Also dumps Gr. 7 + and Gr. 8 screens. Works with NEC, Prowriter, Epson w/Graftrax, and similar printers. 48K-disk. $24.95.
Xlent Software. P.O. Box 5228, Dept. B. Springfield, VA 22150. (703) 644-8881.
Magniprint: Reproduce your artistic genius in any size, from 1/8 of a page to giant wall-size posters, or enlarge and print any part of a screen. Works with B-Graph, Micropainter, Fun With Art, Koala, etc, compatible with Epson, NEC, C. Itoh Prowriter and Gemini printers. 48K-disk. $20.95. Alpha Systems. 4435 Maplepark Road. Stow, Ohio 44224. (216) 374-7469.

MANUFACTURER INFORMATION
C. Itoh
19750 South Vermont, Suite 220
Torrance, Ca. 90502
(213) 327-2110
Brother International
20 Goodyear Place
Irvine, Ca. 92714
(7l4) 859-9700
Atari Corp.
1265 Borregas
Sunnyvale, Ca. 94088
(408) 745-2000
Epson America
2780 Lomita Blvd.
Torrance, Ca. 90505
(213) 539-9140
Star Micronics
888 Washington Street
Dedham, Ma. 02026
(617) 329-8560
Hewlett Packard
Inquiries Manager
1020 NE Circle Blvd.
Corvallis, Or. 97330
Okidata
Mt. Laurel, NJ 08054
(609) 235-2600
Axiom Corporation
1014 Griswold Ave.
San Fernando, Ca. 91340
(818) 365-9521

PRINTER CHART CATEGORIES EXPLAINED
Footprint refers to the desktop space the printer occupies, its width and depth.
Proportional spacing is the kind of typesetting used in professional publications. In contrast, standard typewriters leave the same amount of space around wide letters (MW) as narrow letters (1,I).
Variable pitch is the ability to print different amounts of characters per inch (pitch).
Alternate fonts are available with most dot-matrix printers. You can change fonts with some daisywheel printers by manually switching the print wheel.
Graphics capability is measured in dots per inch-the more dots, the higher picture resolution.
Speed as measured by manufacturers (in characters per second) is generally faster than the actual time it will take you to print a document. The Antic test reflects real printing conditions, such as boldfacing and carriage return times.
DIP switches are found on most printers. Some allow you to change the data transfer settings, others load alternate character sets. The number of switches indicates the flexibility of the printer.
Noise rating is somewhat subjective. The Epson and Gemini are similar, although the Gemini is higher pitched. The Axiom and Atari are the noisiest of the bunch.
Mean time between failures, head life and ribbon life are all measures of reliability supplied by the manufacturer.
Documentation: Abysmal means a 6-page sales brochure that tells you nothing. Adequate means someone published the technical notes as is. Good means you'll easily find everything you need to know, and then some. Excellent means Epson went an extra step and included a 320-page book with their printer at no extra charge, with programs and project ideas.



PRINTER
AXIOM GP-550AT
OKIDATA 92
THINKJET
GEMINI 10X
EPSON FX-80
ATARI 1027
BROTHER HR-25
C.ITOH F10 STARWRITER
COMPANY*
AXIOM CORPORATION
OKIDATA
HEWLET PACKARD
STAR MICRONICS
EPSON AMERICA
ATARI CORPORATION
BROTHER INTERNATIONAL
C.ITOH
SUGGESTED RETAIL PRICE
$319
$440
$495
$595
$569
$300
$699
$1795
FOOTPRINT
WIDTHxDEPTH mm
420 x 305
355 x 323
194 x 282
393 x 315
420 x 347
369 x 156
538 x 385
574 x 405
WARRANTY
printer/printhead days
SEE NOTE 1 BELOW
90/1 YEAR
90
180/90
1 YEAR
90
90
1 YEAR
PRINTHEAD
IMPACT DOT MATRIX
9 x 9 DOT MATRIX
INKJET CARTRIDGE
9-WIRE, 5 x 9 DOT MATRIX
11 x 9 DOT MATRIX
FIVE-WHEEL HEAD
DAISYWHEEL
QUME DAISYWHEEL
PRINTING
UNIDIRECTIONAL
BIDIRECTIONAL
BIDIRECTIONAL
BIDIRECTIONAL
BIDIRECTIONAL
UNIDIECTIONAL
BIDIRECTIONAL
BIDIRECTIONAL
RIBBON
AXIOM CASSETTE
OKIDATA SPOOL
INKJET CARTRIDGE
UNDERWOOD SPOOL 13 x 50 mm
CARTRIDGE
CASSETTE
TWO-COLOR BROTHER NYLON OR CARBON FILM
DIABLO RIBBON
PROPORTIONAL SPACING
YES
YES
YES
YES
YES
NO
YES
YES
VARIABLE PITCH
YES
YES
YES
YES
YES
NO
YES
YES
SUPERSCRIPT SUBSCRIPT
YES
YES
YES
YES
YES
NO
YES
YES
ALTERNATE FONTS
YES
YES
YES
YES
YES
NO
BY SWITCHING DAISYWHEEL
SWITCH DAISYWHEEL
GRAPHICS CAPABILITY
120 x 120
72 x 72
192 x 96
240 x 144
480 x 792
NO
NONE
NO
PAPER WIDTH INCHES
4.5-10
8.5-9
8.5
8-10
9.5-10
8.5
UP TO 15
16.25
SPEED,MANUFACTURERS LIST, CPS
12-86; 50 AVERAGE
40-160 CPS (CORRESPONDENCE QUALITY IS 40)
120
120
160 CPS
20
24
40
SPEED,ANTIC BENCH TEST, CPS
35
N/A
100
80
92
7.5
19
N/A
FEED TYPE
FRICTION/TRACTOR
FRICTION/TRACTOR
FRICTION/TRACTOR
FRICTION/TRACTOR
FRICTION/TRACTOR
FRICTION
FRICTION
FRICTION
DIP SWITCHES
4
N/A
8
12
12
NONE
16
NO
CONNECTION
DIRECT ATARI CONNECTION
PARALLEL STANDARD, SERIAL OPTIONAL
PARALLEL OR SERIAL
PARALLEL STANDARD, SERIAL OPTIONAL
PARALLEL
DIRECT ATARI CONNECTION
PARALLEL STANDARD, SERIAL OPTIONAL
PARALLEL OR SERIAL
NOISE
LOUD
HIGH PITCHED BUT FAIRLY QUIET
VERY QUIET
FAIRLY QUIET
QUIET
LOUD
QUIET
QUIET
MEAN TIME BETWEEN FAILURES
2,000 HOURS
4,000 HOURS
5,000 HOURS
5 MILLION LINES
5 MILLION LINES
N/A
10 MILLION CHARACTERS
N/A
HEAD LIFE
N/A
N/A
100 MILLION CHARACTERS
100 MILLION CHARACTERS
100 MILLION CHARACTERS
N/A
10 MILLION CHARACTERS
N/A
RIBBON LIFE
500 FULL PAGES
N/A
500 FULL PAGES
N/A
3 MILLION CHARACTERS
N/A
60,000-500,000 CHAR. DEPENDING ON TYPE
N/A
DOCUMENTATION
ADEQUATE
ADEQUATE
GOOD
VERY GOOD, POOR INDEX
VERY GOOD
ABYSMAL
ADEQUATE
POOR
COMMENTS
INTERMIXING ALLOWED
BUFFER 256 CHARACTERS OPTIONS INCLUDE ADJUSTABLE TRACTOR
REQUIRES SPECIAL PAPER, REGULAR CARTRIDGES COST ABOUT $8.
INTERMIXING ALLOWED, BUFFER 816 BYTES, EXPANDABLE TO 4K OR 8K
ADJUSTABLE TRACTOR $40
BUFFER 3K OPTIONS INCLUDE ADJUSTABLE TRACTOR AND AUTO COPY FUNCTION
OPTIONS INCLUDE ADJUSTABLE TRACTOR
* See end of article for manufacturer information.
NOTES
Footnote 1: Warranty 1 year for nonbusiness user, 90 days for business.