New Products
VOLKSMODEM 12 MODEM
SIGNALMAN EXPRESS MODEM
(modems)
Anchor Automation. Inc.
6913 Valjean Ave.
Van Nuys, CA 9 1406
(818) 997-6493
$299 (Volksmodem)
$439 (Signalman)
Anchor's two new modems are both 300/1200 baud. The Volksmodem is a smart modem featuring autodial and autoanswering, dial tone detect, and busy detection. It requires an RS-232 interface or special cables to circumvent the Atari 850 interface.
The Express does everything the Volksmodem l2 does, but it also has a built-in speaker for audio line monitoring, volume control,. configuration switches for switched phone networks, permanent phone number storage autodial. With a full array of indicator lights, this rivals the Hayes 1200 Smartmodemn in specifications.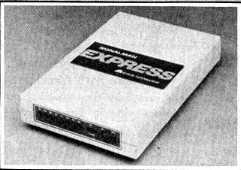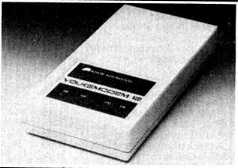 PAPER CLIP
(word processor )
Batteries Included
17875 Sky Park North
Suite P
Irvine, CA 92714
(714) 250-8723
48K-disk
$89.95
The highly acclaimed PaperClip word processor comes to the Atari with some spectacular new features. Batteries Included claims it will have dual window/dual file editing, auto-save for work in progress, single key saving and a print preview mode. (Psst, here's a secret for Antic readers. This software is apparently an expanded version of the high-powered ACTION! editor.)
SUSPECT
THE HITCHHIKER'S GUIDE TO THE GALAXY
(games)
Infocom
55 Wheeler Street
Cambridge, MA 02138
(617) 492-1031
48K-disk
$39.95 each
Suspect is Infocom's third detective thriller. In this ease, you're suspected of a murder and must prove your innocence.
Don't Panic! Douglas Adams, author of the mindbogglingly funny Hitchhikers series, has written an Infocom version largely composed of new material. You play the role of Author Dent, a hapless earthling travelling the universe following the destruction of Earth.

VPI 160
HSA 110
(accessories)
Video Peripherals Inc.
1667 West Ninth Street
Long Beach, CA 90813
(2I3)437-4883
VPI 160-$7.95
HSA 110-$5.29
The VPI is a six-foot monitor cable designed for the Atari. At one end is a DIN plug. The other end branches to a variety of RCA and mini-jacks. Also comes in gold-plated version.
According to the company. the HSA is "a gripper ball and extension stick kit" to improve your Atari joystick. It instantly improves your ability to score and reduces hand fatigue-just snap it on and play.

NEW IMPROVED MASTERTYPE
(software)
Scarborough Systems
25 N. Broadway
Tarrytown, NY, 10591
(800) 882-8222
cartridge
$39.95
America's top typing program has been revised to include finger positioning exercises and sentence practice. as well as the original action graphics format.
CONAN
LOST TOMB
(games)
Datasoft
19808 Nordhoff Place
Chatsworth. CA 91311
(818) 701-5161
18K-disk
$39.95 (Conan)
$34.95 (Lost tomb)
The hero of fiction film and comics is now a hero of software. Join Conan as he battles monsters and demons in an ancient castle.
The Lost Tomb takes you on a journey into an Egyptian tomb infested with deadly creatures and lethal traps.
IMPERIUM GALACTUM
(game)
Strategic Simulations. Inc.
883 Stierlin Road, Bldg. A-200
Mountain View, CA 904043
(415) 964-1353
48K-disk
$39.95
Play the computer or up to three humans as you seek to increase the power of your race among 50 star systems. You can design your own legions, negotiate with independent worlds or obliterate entire planets.