New Products
Casino Craps with Odds

(game for adults)
Janpro Products
P.O. Box 1028
1056 W. La Deney
Ontario, CA 91762
(714) 983-3817
16K--Cassette; 24K--Diskette
$19.95
Graphics roll the dice with pass-line and odds bets. Shows odds offered on different numbers and points. Designed to teach how to play "Craps" and take advantage of the odds that are offered while "shooting craps" in any gambling casino.
1080 Versamodem
(modem)
Bizcomp
P.O. Box 7498
Menlo Park, CA 94025
(408) 745-1616
$139.00
A new direct-connect modem that can be used for remote databank access, timesharing, stock broker systems, videotex and electronic mail. You can link to The SOURCE, CompuServe, Dow Jones and other information utilities as well as on-line services via standard data terminals. VersaModem operates at 300 baud or below, using Bell Standard 103 protocol.
Voltage Surge Surpressor
(voltage regulator)
PANAMAX
150 Mitchell Blvd.
San Rafael, CA 94903
(415) 472-5547
$127.00 (includes noise filter option)
For ATARI systems the manufacturer recommends the four-outlet unit, SS120 / 4LCSN, which handles both surge and noise. Unit has a response time of trillionth of a second and clamps the voltage well below damaging levels.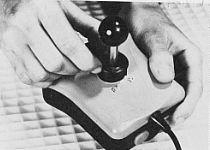 Prostick II
(game controller)
Newport Controls
15425 Los Gatos Boulevard
Los Gatos, CA 95030
(408) 358-3439
$24.95
Improved arcade-style joystick has redesigned gateplate to capture correct direction for maze-type games (PACMAN, Donkey Kong, etc.) Two "softtouch" firing buttons have been moved to the top end of the base allowing either right- or left-hand play. Backed by five-year limited warranty.
Pinball Construction Set
by Bill Budge
(game utility)
Electronic Arts
2755 Campus Drive
San Mateo, CA 94403
(415) 571-7171
48K—Diskette $39.95
Computerized erector set allows you to design and play your own pinball games, built from a library of pinballmachine parts. These include bumpers, balls, flippers, targets, and more. Construction is accomplished with joystick.
Options include a sophisticated graphics painting and editing system, on-screen "wiring," and userdefined physical properties like time and gravity. Three complete examples come on the disk.
Princess and Frog
(game)
Romox, Inc.
501 Vandell Way
Campbell, CA 95008
(408) 374-7200
16K—Cartridge $44.95
As in the fairytale, the frog becomes a prince when he kisses the.princess. The frog must cross a field of jousting knights to reach the castle, and hop over a perilous moat filled with alligators and . snakes. If your player doesn't hop through the lip-shaped castle gates, he's just another frog.
Cermetek 212A
(modem)
Micro Systems Exchange
P.O. Box 4033
Concord, CA 94524
(415) 355-7130
$560.00
A bilingual modem, the 212A communicates at both 1200 baud and 300 baud-using DSPK and FSK signaling techniques. It connects via a standard phone line and includes a convenient auto-dialer. You select from a menu of standard options and can develop custom features entirely in software.
Chess
(game)
Odesta
930 Pinter
Evanston, IL 60202
(800) 323-5423
(312) 328-7101 (inside Illinois)
48K—Diskette
$69.96
Explore the frontiers of intelligence with Odesta's new chess game by Larry Atkins, one of the foremost theoreticians of computer gaming. Play yourself, the computer or another player. Features a tenminute, auto-demonstration mode and a library of many classic games from the history of chess.
Monkey Wrench II
(utility)
Eastern House Software
3239 Linda Drive
Winston-Salem, NC 27106
(919) 924-2889
$59.95
ROM cartridge that plugs into the right-hand slot of the 800 to augment ATARI BASIC. It provides a total of 18 BASIC commands and 16 machine language commands. These commands include automatic line numbering, hex and decimal conversion, finding and exchanging strings and scrolling up and down.
The Power Module
(memory expansion module)
Amiga Corporation
3350 Scott Boulevard
Santa Clara, CA 95051
(408) 748-0222
$44.95
An alternative to ROM cartridges for the Atari VCS. Plugged into the game machine, it provides 6K RAM and and a microprocessor to receive and use game programs loaded from a cassette recorder. Preprogrammed tapes for the module are much cheaper than ROM cartridges, and the extra RAM enhances graphics and play.
Basic Excercises for the Atari
(book)
Sybex
2344 Sixth Street
Berkeley, CA 94710
(415) 848-8233
258 pages
$12.95
Step-by-step examples show how to solve problems with ATARI BASIC. You will learn programming techniques to do mathematical, financial and statistical computations as well as write games and data processing. Can be used with the ATARI 1200XL.
Diskwiz
(disk editor)
Allen Macrovvare
Post Office Box 732
Tehachapi, CA 93561
(213) 376-4105
16K--Diskette, preferably two disk drives
$31.95
Provides disk editing repair and duplication for ATARI and PERCOM drives. Repairs DOS/non-DOS sectors with on-screen Hex/ASCII editing. Will print all modes to any printer and will print inverse and special graphcs characters to Epson Graftrax and NEC 8023A printers. File trace. Block move. Retrieves deleted files. Has onboard disassembler and a complete manual.
Videomax Game Glove
(game glove)
Nancy and Company Video Accessories
22594 Mission Blvd., Suite 302
Hayward, CA 94541
(415) 582-2246
$6.95 each
Kid-leather, racing-style glove made exclusively for protecting your hands during joystick play. Available in white, navy or gold, for men, women and children, and for right or lefthanders.
Disk Fix Kit
(drive maintenance kit)
The Programmer's Workshop
5320 Clark Ave., Suite 23
Lakewood, CA 90712
(213) 804-1475
$29.95
Designed for use on the ATARI 810 Disk Drive. Contains the set up disk, including read, write, kill and speed adjustment, head and rail cleaner, rail oil, adjustment tool, swabs and instructions.
The Programmer's Workshop
(utility)
Synergistic Software
830 N. Riverside Dr., Suite 201
Renton, WA 98055
(206) 266-3216
32K-Diskette $34.95
Actually seven separate programs-designed to assist programmers with programming det,ails. Includes disk-tocassette transfer, BASIC-program comparison capabilities, cassette baud-rate increase, and two types of program-code analysis. MICRO-DOS, one of the crucial programs, resides in RAM and supplies easy access to the DUP.SYS functions.
Suspended
(game)
Infocom, Inc.
55 Wheeler Street
Cambridge, MA 02138
(617) 492-1031
$49.95
A science fiction nightmare that challenges players to save the entire population of a planet in deep space. One player controls multiple characters (the six robots that help save the planet). The player must work in a limited state of cryogenic suspension while coordinating the movements of the robots.
Castle Wolfenstein
(game)
Muse Software
347 N. Charles St.
Baltimore, MD 21201
(301) 659-7212
32K-Diskette
$29.95
ATARI owners can now play this popular and prize-winning game by Silas Warner. It is a sight-andsound spectacular which requires quick responses and thinking to escape the Castle alive.